Gone are the days when cat beds are eye sore at your home. Check out the 8 Comfortable and Modern Cat Beds we rounded up in this collection. They are not only comfortable for your feline loved ones but also with stylish design that flows with your home decor.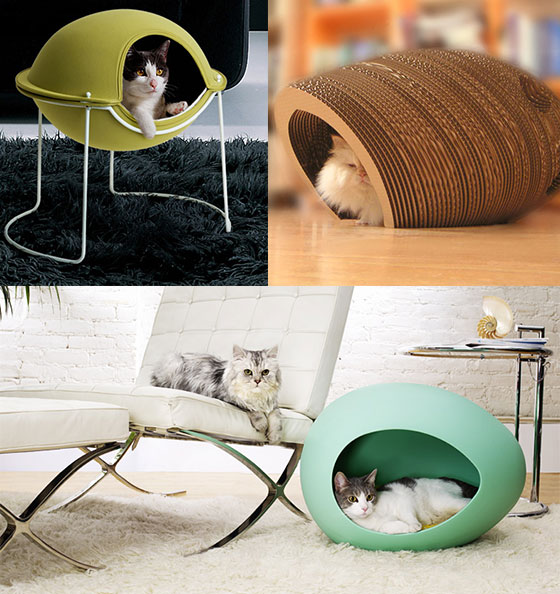 We are a participant in the Amazon Services LLC Associates Program, an affiliate advertising program designed to provide a means for us to earn fees by linking to Amazon.com and affiliated sites.
1. Pod Bed [buy on gnr8]
If you have a cat , then you know that there are probably three spots in your place that he loves; one for comfort, one to hide in, and one to gain a higher ground. Given that, it's pretty much guaranteed that your pet will be spending a lot of time in this bed snoozing, hiding and lording over all of those beneath him.
Dimensions:
20.5″W x 20.5″L x 20″H
Bottom of the door is 11″ off the ground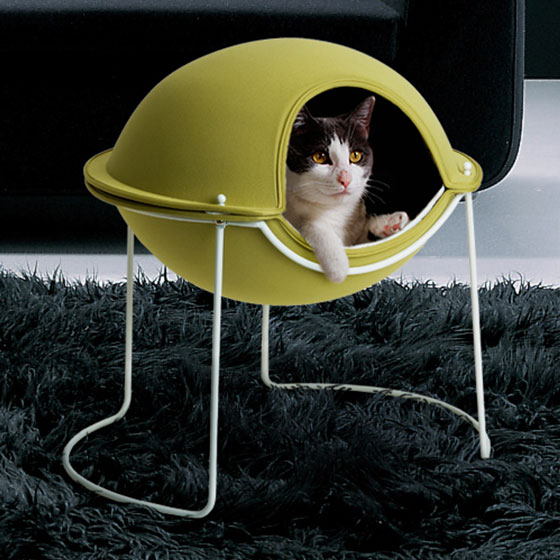 2. Mr. Herzher's Decorative Cat Pod [buy on amazon]
Tired of the cat taking over the living room and bedroom furniture leaving behind unsightly and ever present hair? Mr. Herzher's Decorative Cat Pod solves those problems and more. It's constructed of a durable steel frame wrapped in a tasteful medium brown resin Rhino Wicker for years of enjoyment and durability. The elevated bottom and free airflow design allows the ultimate comfort for kitty while allowing the cushion to breath thus not trapping odors, molds or mildews. The reversible cushion has a durable micro fiber suede cover that's removable and machine washable. The inner bag is filled with a high loft poly-fill thus retaining it's comfort for many cat naps. The timeless design will enhance almost any décor.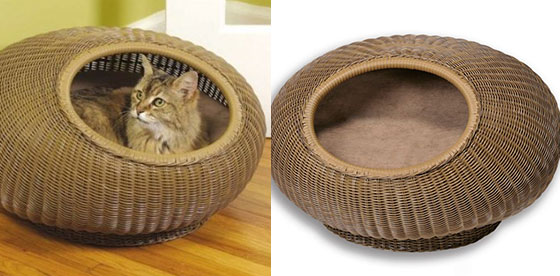 3. Sogno Bed [buy on pawsco]
Material: 100% sheep wool. Ideal to keep your pet warm and cozy during a cold night.
Dimensions of the cave approximately:
Small: length 50cm, width 44cm, and height 20cm.
Large: 60cm x 48cm x 24cm
Amazing colours: Stone Grey, Green and Red.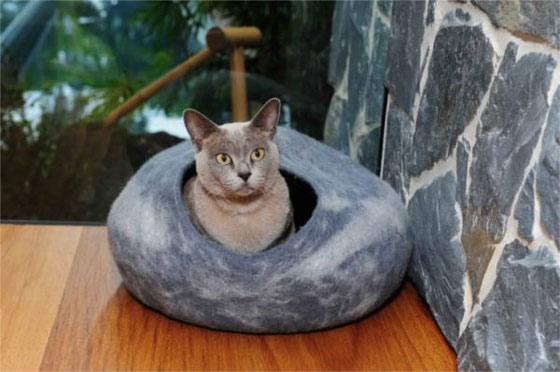 4. PetFusion Cat Scratcher Lounge [buy on amazon]
PetFusion's Cat Scratcher Lounge serves double duty as both a cat scratcher and lounge that promises to keep your finicky companions coming back for more. Custom made for cats who enjoy scratching, playing and lounging around. Instead of scratching your furniture, your cats will be more than happy to scratch the less expensive and better feeling cardboard.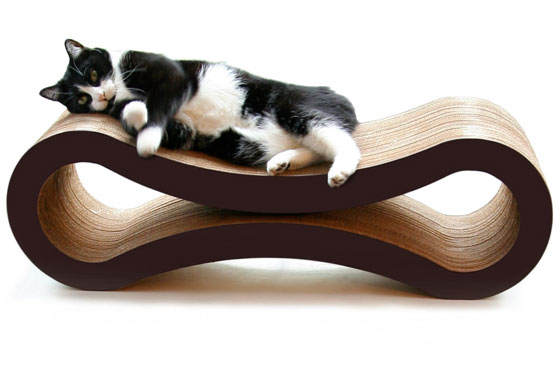 5. SkratchKabin [buy on amazon]
The SkratchKabin offers a curved, textured scratching surface to allow your feline to relax or exercise his or her natural instincts to scratch – while helping to ensure your sofas and soft furnishings are saved from claw damage.
Overall dimensions: 51 cms (20″) long x 40.5cms (16″) wide x 32 cms (13″) high
Comes complete with a machine washable KatKushion, a toy hanger and a sisal mouse.
Designed for indoor use.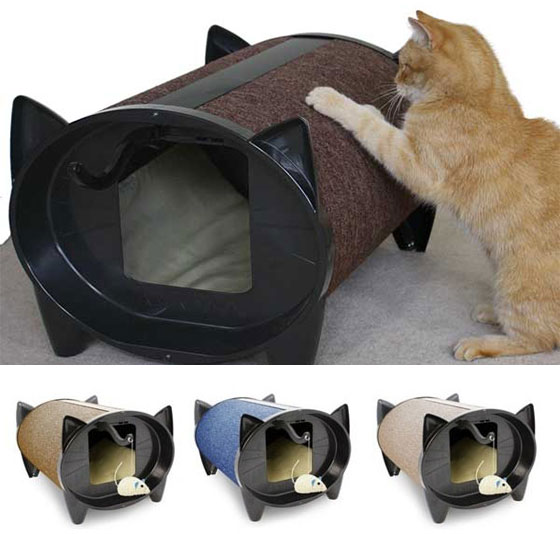 6. Two-Tier Cat Bed With Washable Pillows [buy on amazon]
Give your kitty a cozy, comfy refuge all its own with our Rattan Two-Tier Cat Bed With Washable Pillows. Rattan woven willow frame has two tiers and a cozy "house" to hide in, complete with a "window" so kitty can keep an eye on things. Removable pillows for both levels are machine-washable microfiber with polyfill. Two-tier cat bed with washable pillows; Great for kitty to nap, hide or play; Two tier design for more than one cat ; Durable rattan frame with machine washable pillow. Size 24″L x 18″W x 19″H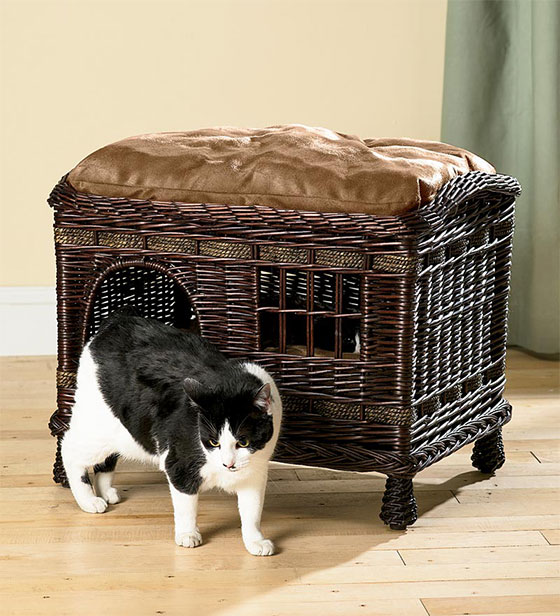 7. pEi Kitty [buy on peipod]
This mint-colored, egg-shaped bed is a mod accessory that gives your pet an exclusive respite from a tough day of eating, licking, and playing. It's called the pEi Pod and it's made from high-density polyethylene or HDPE. It's safe, very durable, easy to clean, and recyclable.
8. Cat Cocoon [inhabitat]
The Cat Cocoon is layered corrugated cardboard sculpted into a unique pod shape with playful holes bored into it that your cat will stick its paws thru, have much fun in, and hide out. The cardboard is great for sharpening their claws as all cats love to do. The entire piece is thick enough as well to last a very long time. It is heavy duty and durable for the toughest cat use.