Most gadgets and electronics have modern looking to represent high technology they uses. However some of them try to be different to present themselves in wood. It brings a thrilling effect that would really make the public gets curious about what this innovation can bring. You might think it is a bit simple but it is also said simplicity is the true beauty of everything. Take a look at these beautiful and cool wooden gadgets and hope you like them.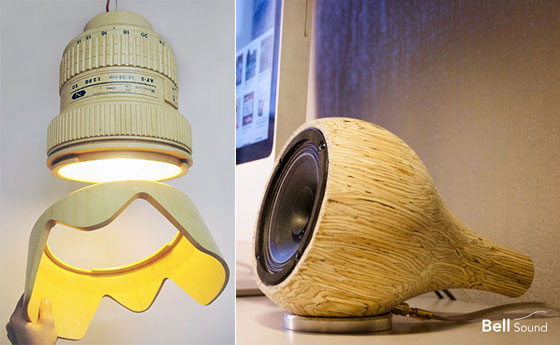 We are a participant in the Amazon Services LLC Associates Program, an affiliate advertising program designed to provide a means for us to earn fees by linking to Amazon.com and affiliated sites.
1. Beech Wood Headphones [lstnheadphones]
Wood provides more resonance than plastic or metal, it gives a more natural and warm sound, and that's exactly what you should expect from LSTN wood headphones.
– Upcycled beechwood casing
– Padded headband for long term use
– Unpluggable, wood enclosed, gold plated plugs
– Compactable, travel ready design
– Works with iPhone®, iPod®, Android®, Blackberry®, CD, DVD, spaceships etc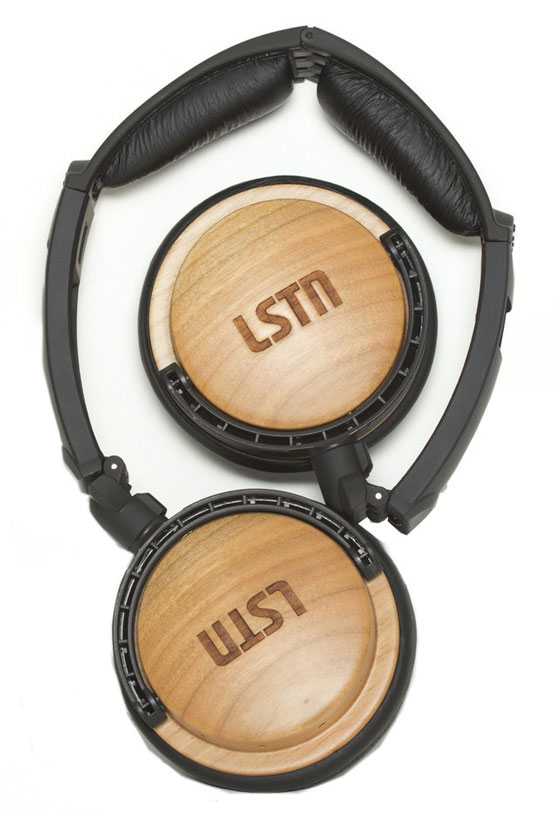 2. WeWood Jupiter Watch [buy on amazon]
Watch made from 100% natural wood
WeWood plants a tree for each watch purchased
Save the planet and have a unique timepiece
Features two Miyota movements
Hypoallergenic, a good choice for people with metal allergies
Perfect gift for an animal lover or woodworker
Choose:
Red Wing Celtis (Brown)
Blackwood (Black)
Maple (Beige)
Band Length: 8.66″ (220mm) can be adjusted down to 6.77″ (172mm)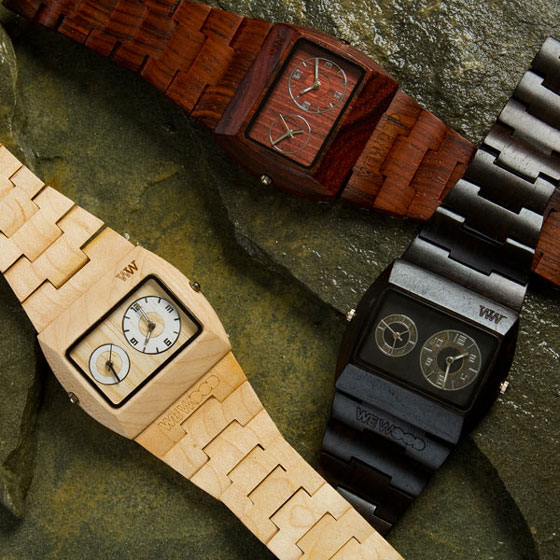 3. DSRL Paparazzi Wood lamp [discontinued]
Mónoculo Design Studio presents this original lamp which is a replica of a reflex camera lens. Carefully handmade with high quality materials and fine terminations, the lens hood can be reverse mounted or removed. The lamp is made of white cedar wood and has a water-based varnish and beeswax finish on it Additionally, its design is 100% eco-friendly.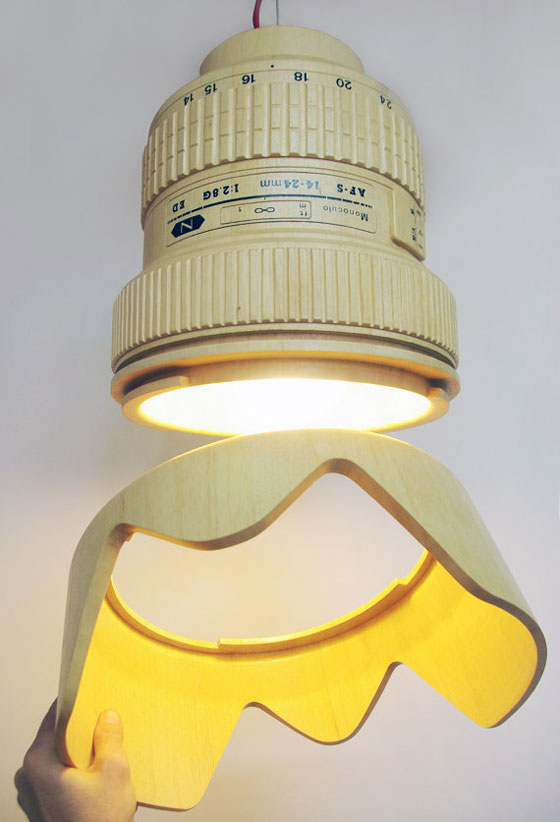 4. Bell Sound [yankodesign]
The Bell Sound speakers are an unconventional twist on home audio that are composed of super-strong parallam, an engineered wood material most often used in the construction industry. To contrast the natural wood tone, each speaker rests on a hand-turned aluminum base. Though modern in material, the elongated, exaggerated bell shape hints to the design's original inspiration- the gramophone.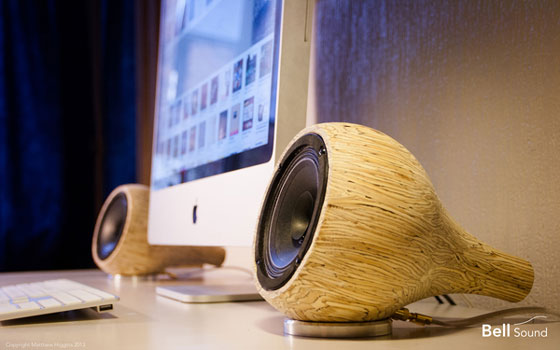 5. Motz Wood Portable Speaker, FM Radio and MP3 Player [buy on amazon]
Motz speaker is made of natural cut apricots and 100% handcraft product
Support Micro SD Card (Micro SD card not included), iPhone, iPad, iPod, MP3 player, lapttop and other electronic device with 3.5 mm audio
Portable external speakers (1.5 W) and FM radio function
Built-in rechargeable Lithium Polymer battery (180 mA 3.7V)
Battery life: Radio Up to 8 hours with headphone, up to 3 hours with speaker, Portable Speaker up to 3 hours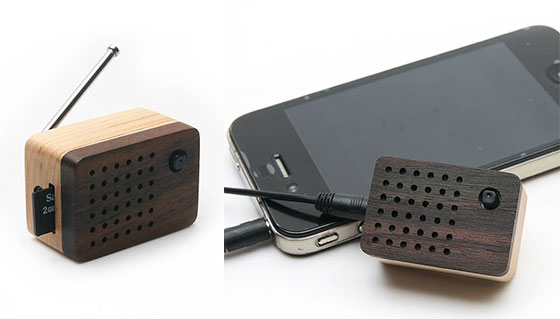 6. Claybox Creative Wooden Clip Portable USB Driver [buy on amazon]
Designed after a wooden clip, this creative flash drive is easy to use thanks to its plug-and-play USB 2.0 interface, and ideal for you to keep your personal files safe and portable. The drive can also clip to your shirt, keychain or belt loop as an eye-catching ornament that doubles as file storage, so you will never have to worry about losing it.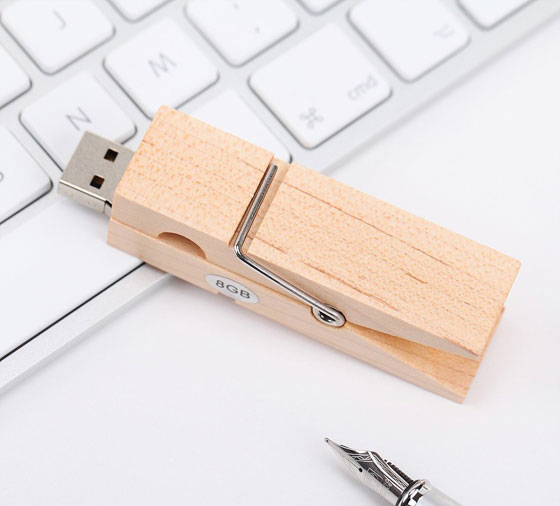 7. Wooden Bulb [buy on amazon]
Laser cut plywood lamp designed by Barend Hemmes
It's a bulb, but not as you know it…
This clever, little lamp is shaped like a giant light bulb and houses a, erm, lightbulb.
It's made out of laser cut wood which leaves a crisp burned edge.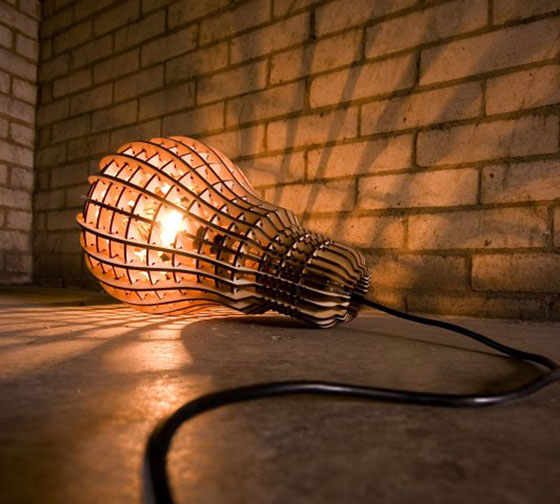 8. Audiowood BARKY – The Wooden Turntable [whudat]
Barky is a limited-production (10-15 per year on average), high-quality turntable made with a solid ash round, quality Rega parts kit, heavy glass platter and Rega RB303 tonearm. It includes a pre-mounted Rega Bias Cartridge (not shown), adjustable solid brass spike legs, and is finished with hand-rubbed polyurethane and paste wax. Each Barky is somewhat unique.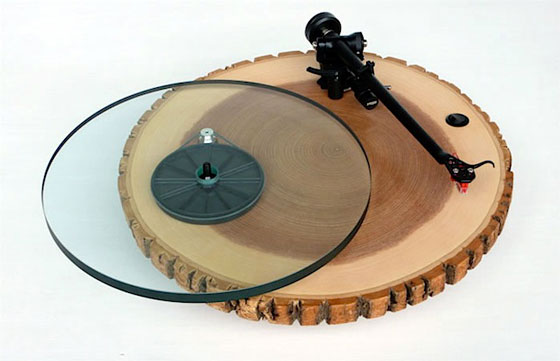 9. SwypeSound Mini Portable Bamboo Wood Boombox [buy on amazon]
More than twice as loud as Jabra's JAMBOX (compare 92-98 dB with JAMBOX's 85 dB)
Eco-friendly solid bamboo speaker chamber with natural sound characteristics
Lighter than an iPad at about 1.4 lb
Smaller than Jabra's BIG JAMBOX and Lighter than an iPad at about 1.4 lb
2 high quality full range speaker drivers produce terrific treble and midrange clarity with excellent voice rendition