Every minute, there are 90, 000 plastic bottles are thrown away. You can be part of the solution by using a reusable container, like a water bottle. Here, we rounded up 9 Cool Water Bottles to help you stay hydrate in style. From the compressible pocket size water bottle to infuser water bottle, from bottle with filter function to bottle with extra storage. Hope these water bottles can help you hydrate in style while going green.
We are a participant in the Amazon Services LLC Associates Program, an affiliate advertising program designed to provide a means for us to earn fees by linking to Amazon.com and affiliated sites.
1. HYDAWAY: A Pocket-Sized Water Bottle [kickstarter]
Hydaway, the collapsible bottle can store up to 600 ml (21oz) in its food-grade silicone, but collapses to just over 3.2 cm (1.25in) in height when not in use. HYDAWAY is a handy alternative to disposable plastic water bottles – it folds down easily to fit in almost any pocket!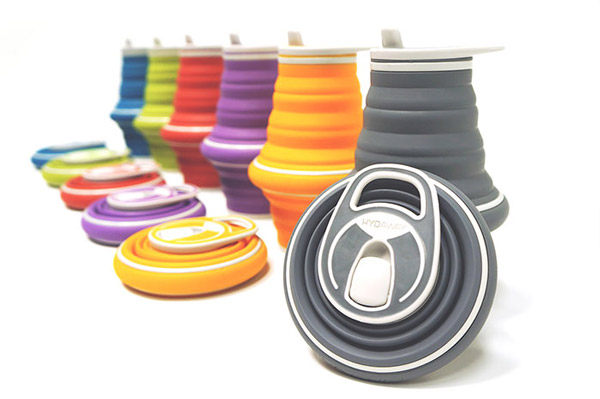 2. Sportline HydraCoach Intelligent Water Bottle [buy on amazon]
The Sportline Hydracoach-Intelligent Water Bottle($30) a interactive water bottle, it lets users program their own personal hydration needs into the integrated computer and track their daily water consumption sip by sip. It features calculates your personal hydration needs; Tracks your fluid consumption through the day; Paces you to ensure hydration goals are met; Motivates you to stay properly hydrated; Enhanced strength and endurance.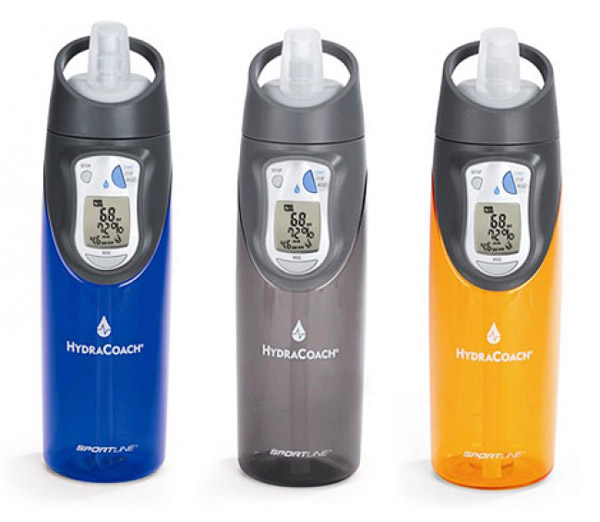 3. Infuser Water Bottle [buy on amazon]
Create your own flavored beverage with fresh, natural ingredients with this infuser water bottle and travel tumbler. Made of durable BPA FREE Tritan Material. Fill the removable fruit infuser water bottle basket with lemons, limes, strawberries, orange slices, mint leaves, tea bags, loose leaf tea etc. The combinations are endless!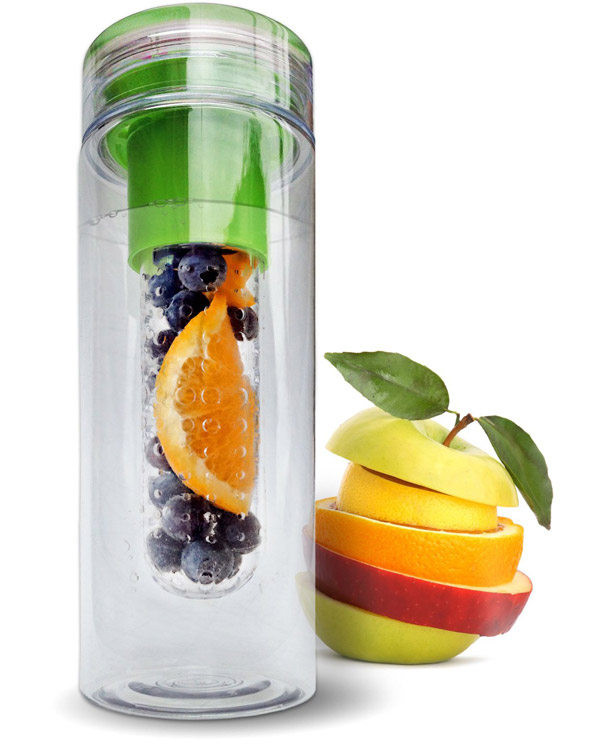 4. Define Bottle [buy on amazon]
The Define Bottle Sport Flip Top is a sustainable, beautifully crafted fruit infused water bottle to take on the go. Designed for those with an active lifestyle the Define Bottle Sport is made out of BPA free Tritan co-polyester so you can take it to the gym, pool or anywhere else that life may take you. Your options are endless when it comes to creating healthy, fresh fruit infused water!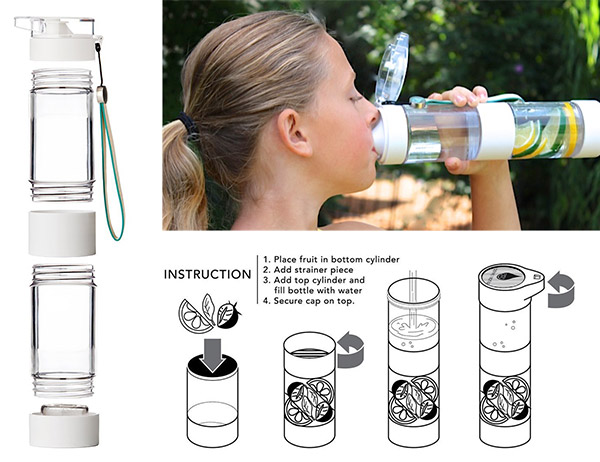 5. Kangaroo Water Bottle with Storage Compartment [buy on amazon]
This water bottle delivers on essential needs while on the go. The AUTOSEAL Water Bottle with compartment delivers on a unique combination of style and function. Durable. Colorful. Functional. Holds your keys and credit cards. The AUTOSEAL Water Bottle is easy to drink from, easy to carry and has a protective cover at the spout . It's the ultimate in on-the-go hydration with a compartment that holds your essentials while on-the-go.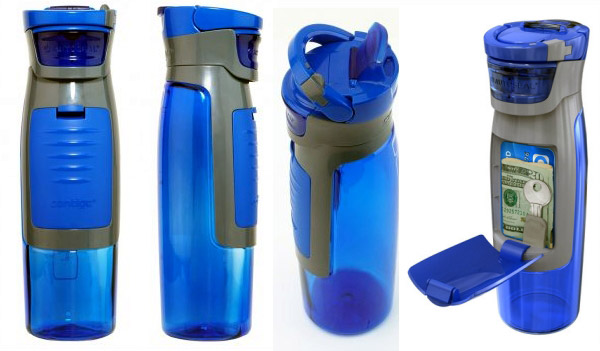 6. Contigo Trekker Kids Water Bottle [buy on amazon]
The 14 oz. AUTOSEAL® Kids Trekker Water Bottle is ideal for kids who have outgrown sippy cups but haven't outgrown spilling! This BPA-free bottle features a one-touch AUTOSEAL lid that automatically seals between sips for easy, mess-free drinking! Just press the button to sip and release the button to automatically seal! Also, the easy-grip shape makes it ideal for small hands to hold (perfect for kids ages 3 – 10)!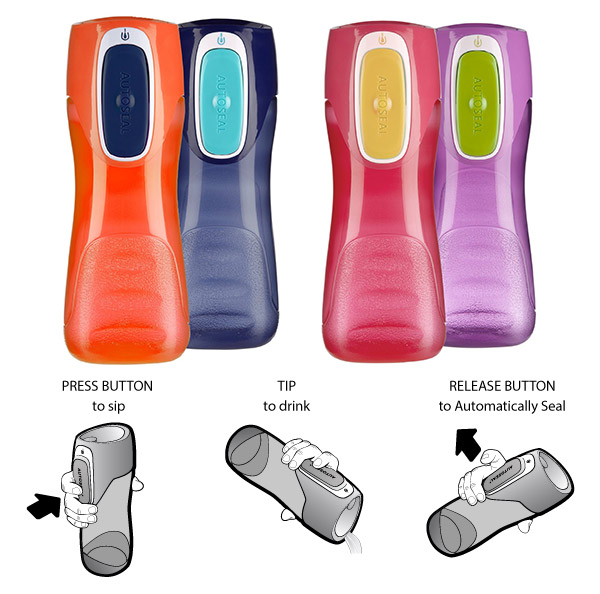 7. BPA Free Water Bottle with Carry Cap [buy on amazon]
bobble is a stylish, reusable bottle that filters water as you drink, using a replaceable carbon filter*. When water passes through the filter, the carbon removes chlorine and organic contaminants. bobble is intended for municipal tap water making water better, with every sip. It comes in two different sizes (18.5oz/34oz) and a range of different filter colors to pick from.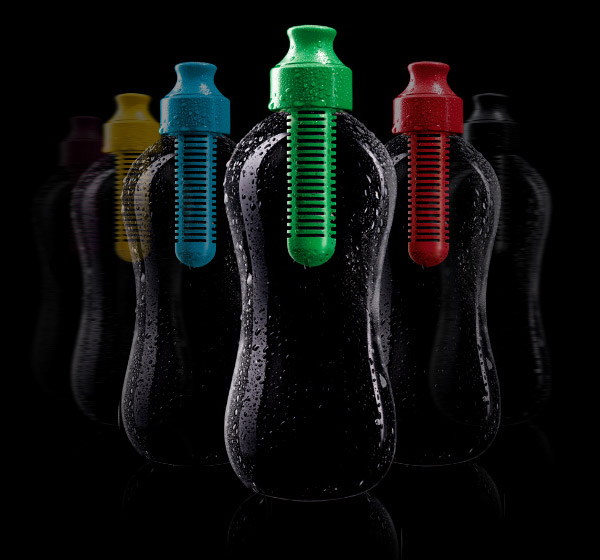 8. KOR ONE BPA Free 750ml Water Bottle [buy on amazon]
A truly remarkable design, the KOR ONE is a minimalistic creation that begins and ends with a devotion to the simple beauty of water itself. Eastman Tritan (vessel body); nickel-plated ABS plastic (trim, handle); GLS TPE (seal, cap insert, bottom pad); POM (latch); anti-microbial seal. Handwash only.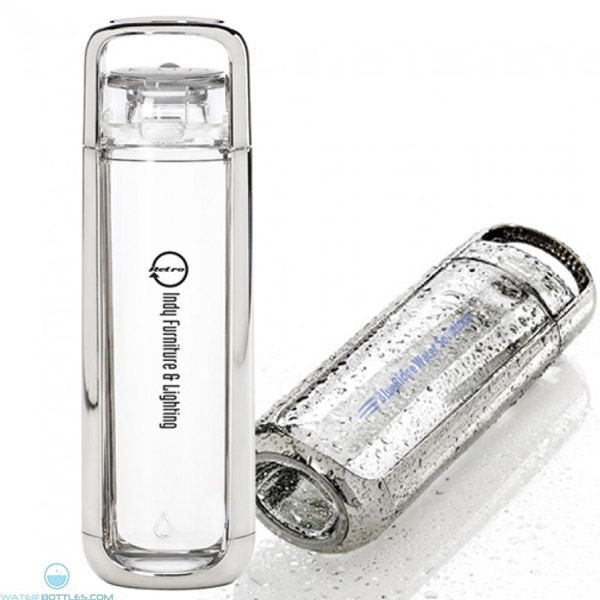 9. Citrus Zinger Lemon Juicer Water Bottle [buy on amazon]
Designed specifically for citrus fruits, Zing away with lemons, limes, clementines, and more. Simplify your detox water or add some zing to your daily hydration. Water doesn't have to be boring!