When we talk about the vases, the first thing comes into mind probably are those lovely flower vases that adorn the table. While, today we actually want to focus on floor vase. Floor vases are an exceptionally flexible decoration, which are unbound by tables or surfaces. They are a wonderful way of turning a dull and forgotten corner into the focal point of the room.
In this article, we rounded up 9 floor vases in different styles and materials. No matter you want to put fresh cuttings or use with dried or artificial plants, there is one for you.
This post may contain affiliate links. If you make a purchase, Design Swan may earn an affiliate commission. Please read our disclosure for more info.
Floor Standing Vase 30 inches, Mango Wood, Black White
Handcrafted, unique interior design: elegant decoration for room corners. Looks perfect, whether your rooms are furnished in a modern minimalist style, vintage or rustic country farmhouse look.
Height: 30 inches; max.
Diameter: 5 inches;
Dia vase opening: 2.30 inches;
Colour: black white;
Colour group: black-and-white dark off-black;
Shape description: conical cone tapered narrow neck wide opening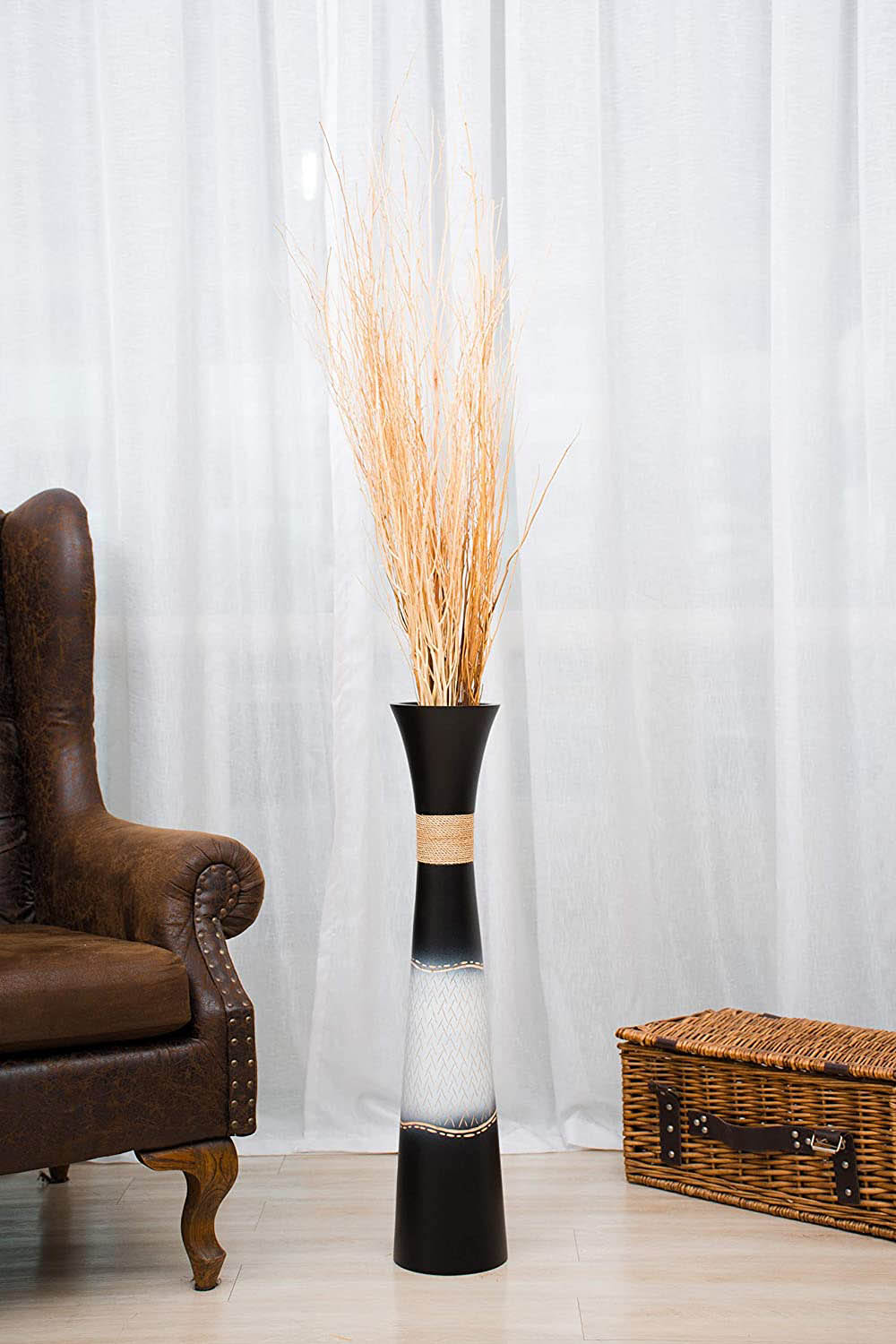 [buy on amazon]
Floor Standing Vase 30 inches, Mango Wood, Brown
Handcrafted, unique interior design: elegant decoration for room corners. For matching ornaments and accents such as dyed deco branches, dried long grass bundles and artificial flower decorations.
Height: 30 inches; max.
Diameter: 6 inches;
Dia vase opening: 4.70 inches;
Colour: brown;
Colour group: brown dark grained;
Shape description: cylindrical cylinder straight tube wide opening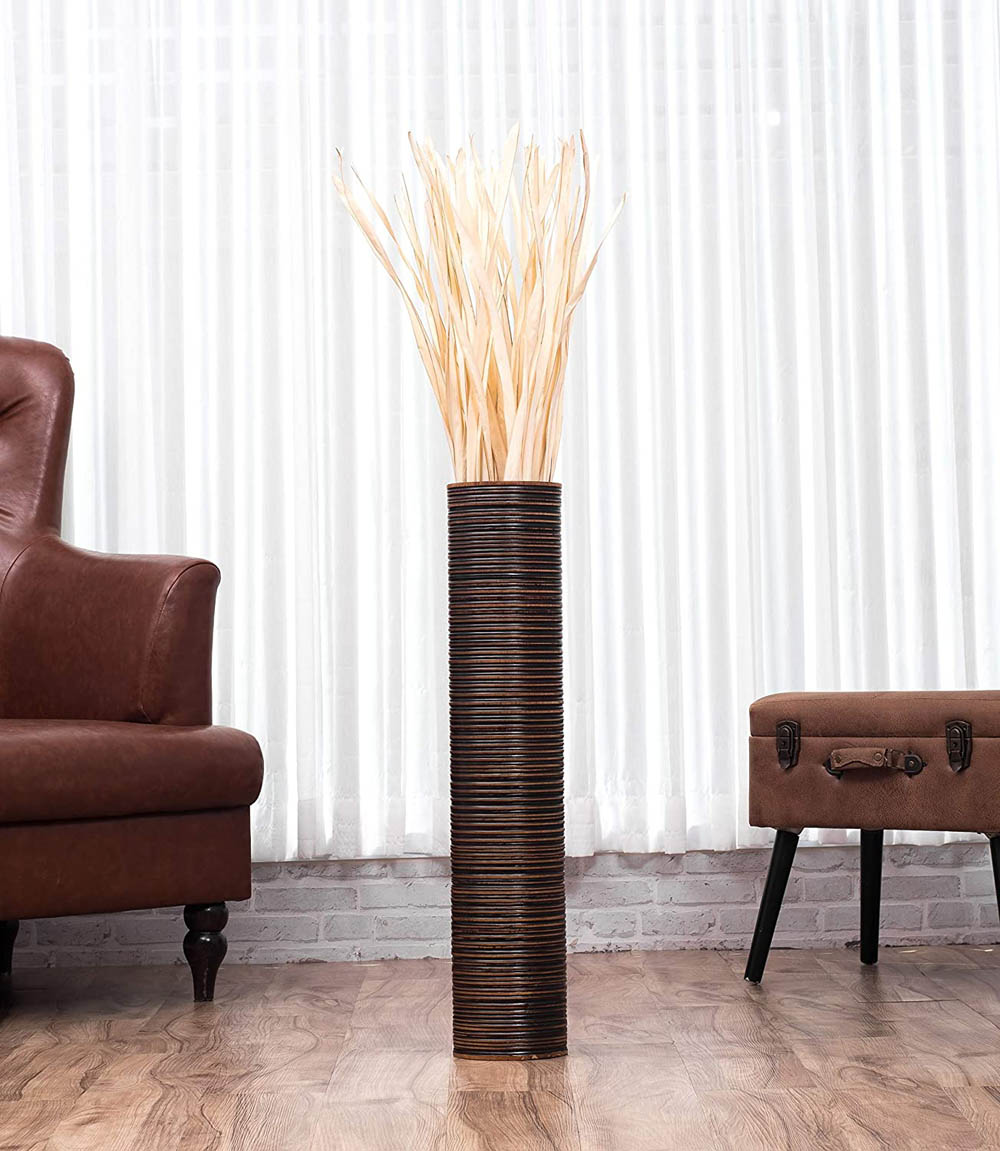 [buy on amazon]
Natural Cylinder Tall Floor Vase 20 inches
Hosley brand products are made from quality raw materials with minimal wastage at every step of production. With the goal of achieving a neutral carbon footprint, please recycle and help leave Mother Earth better off for future generations.
Each one measures 5.31″ L x 5.31″ W x 20″ H each and made of bamboo/seagrass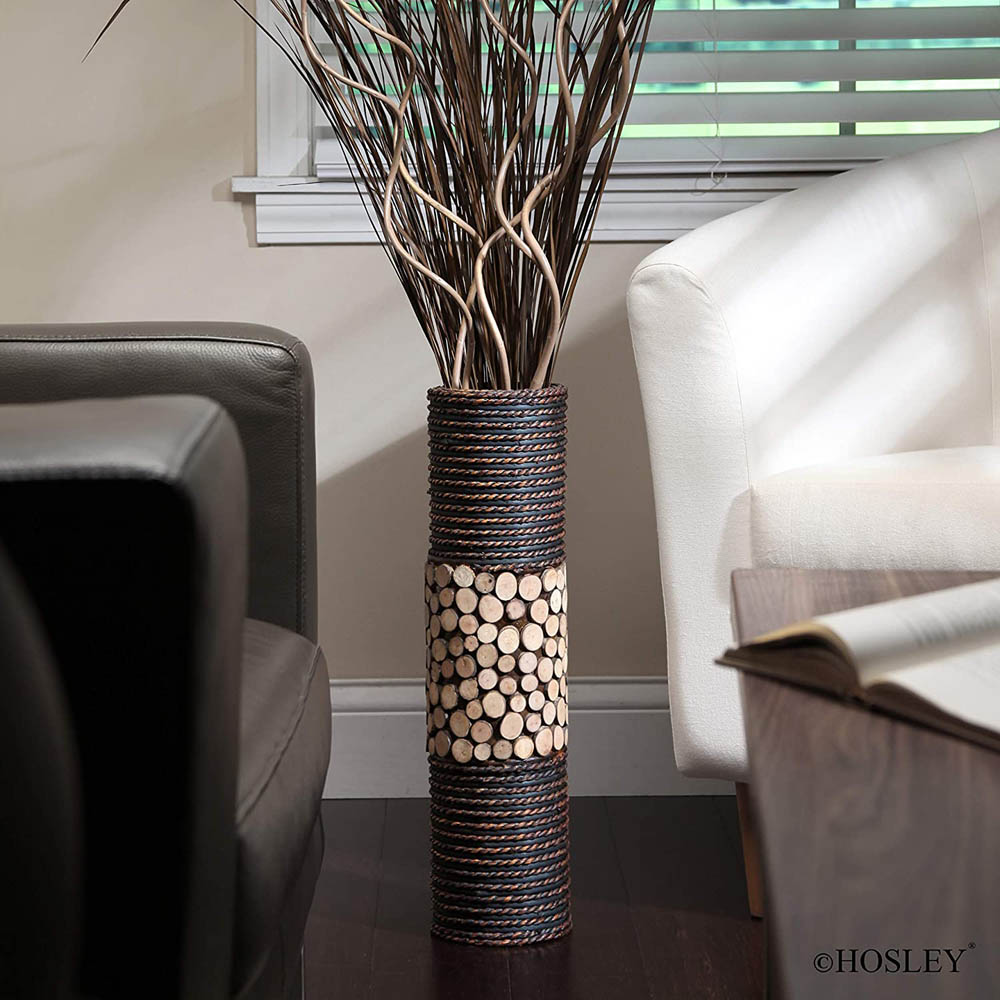 [buy on amazon]
Modern White Large Floor Vase – 40 Inch
High-quality materials unique design with a modern white Magnesium Oxide makes this vase sturdy and durable as well as attractive and less prone to breaking.
These white vases for decor are perfectly adorable and cute for any interior setting.
Size: 10″ W x 8″ D x 29.5″ H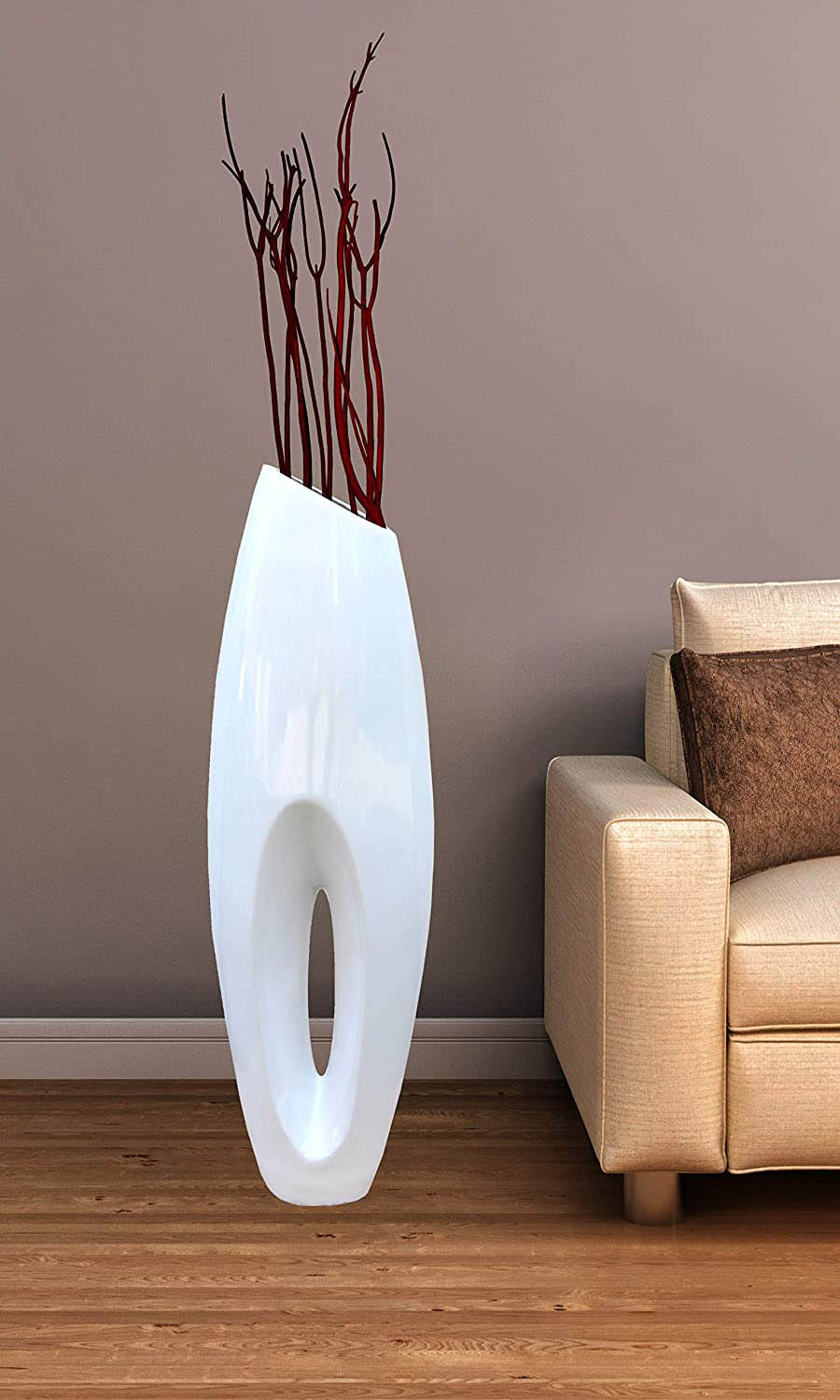 [buy on amazon]
White Horn Floor Vase 32″ High
Ever since days of old, vases were known as popular home decor. Originally destined as containers for cut flowers, it's purpose has since been re-appraised. Vases, especially oversized ones, are gaining popularity, both with flowers and without. The right floor vase can hugely impact the style and personality of a room.
Size: 14.5″ x 8″ x 31.5″ High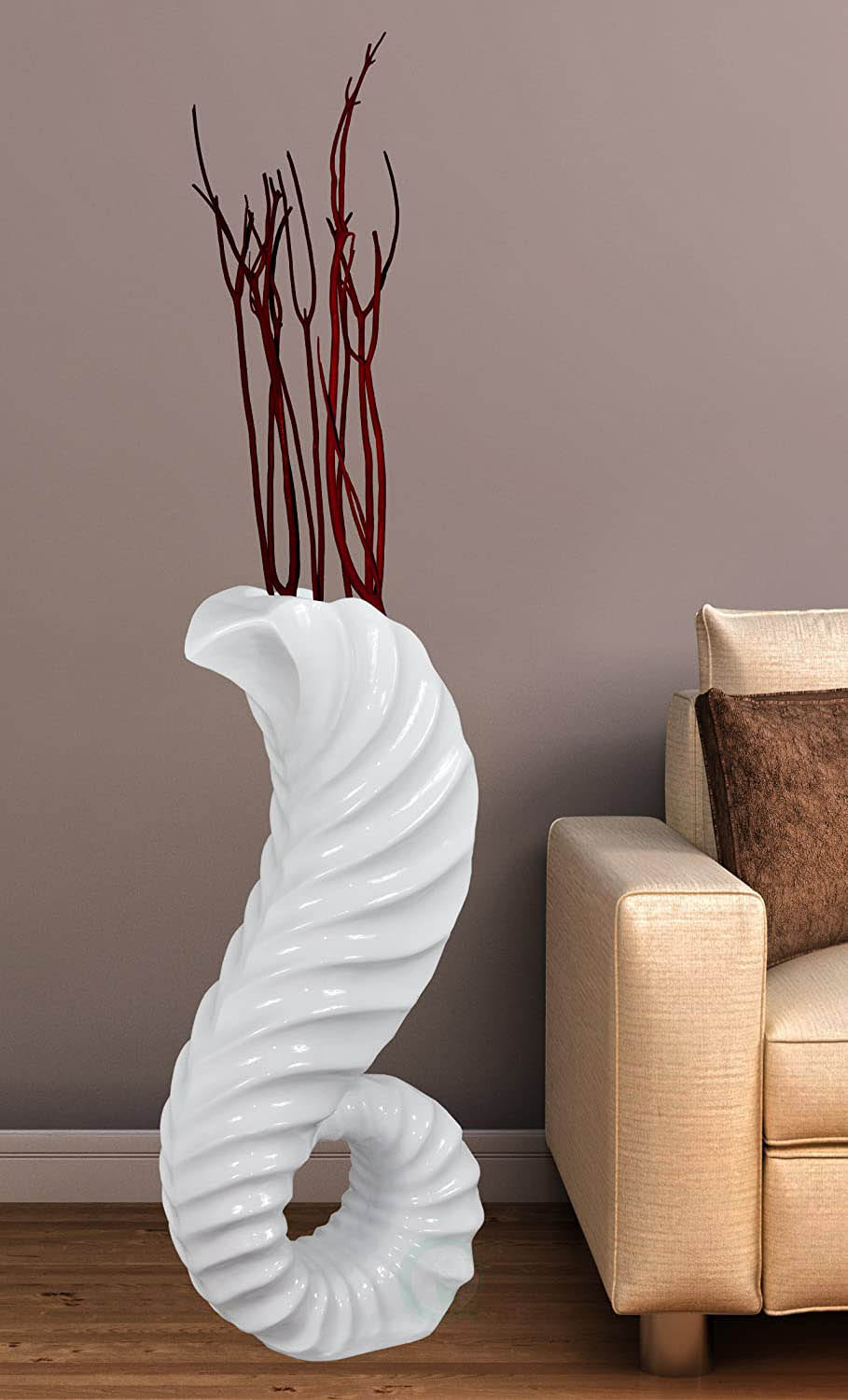 [buy on amazon]
Decorative Matte White Resin Vase
This distinctive, handmade white vase is versatile – if you're looking to create a vintage modern, rustic farmhouse or fully contemporary design, then look no further because this decorative white vase fits the bill, whatever your taste. It also provides a sophisticated, sleek, Nordic style vase minimalist look that boasts simplicity and elegance at its best!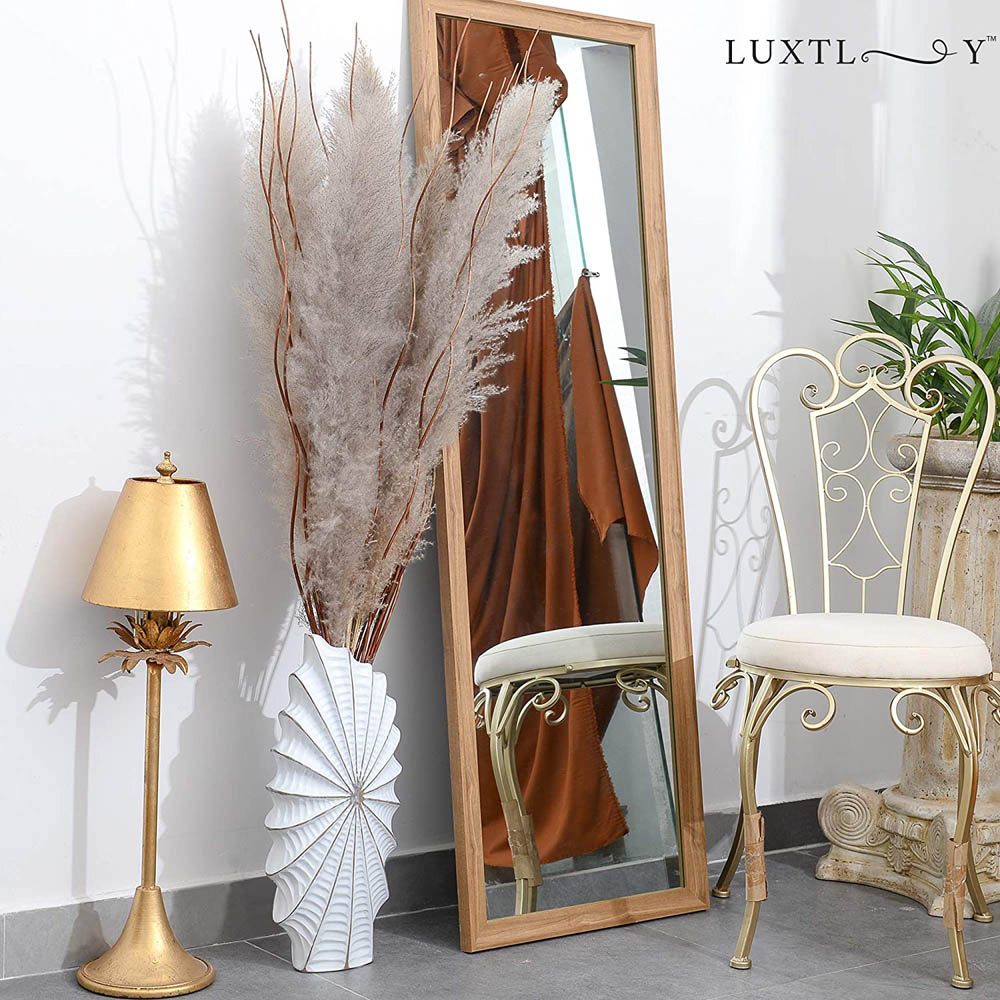 [buy on amazon]
Unique Shaped Modern Floor Vase
These are perfect for adding a decorative touch of sophistication to any room's decor. It Will hold a variety of things and excellent as a vase for birch branches or flowers, Perfect for everyday use, Clean, simple design, and neutral colors will blend anywhere. Upgrade your home to a luxury status with this uniquely shaped round modern floor vase.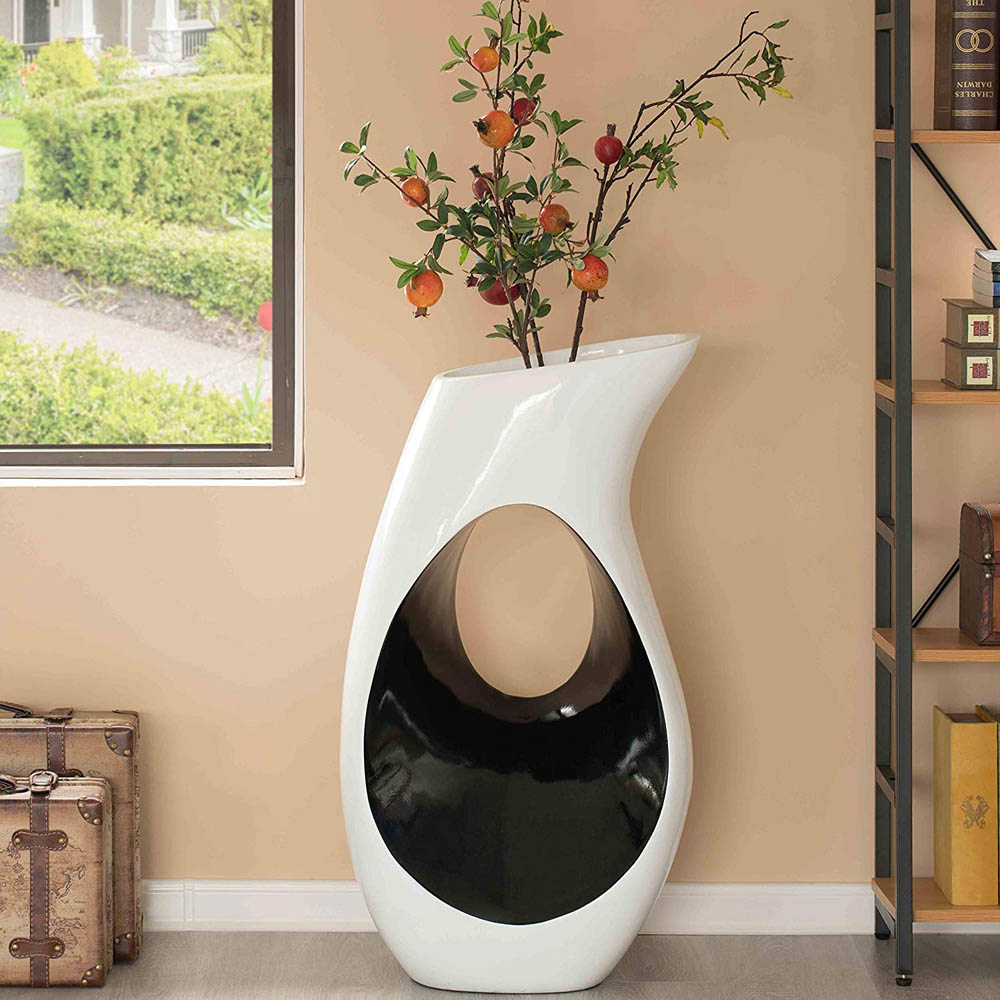 [buy on amazon]
White Washed Tall Oblong Wooden Vases (set of 2)
These carved wood vases are sold as a set, with the taller measuring at an impressive 37 inches. Each one is finished with a whitewashed treatment – a natural fit for interior themes like coastal, nautical, farmhouse, and shabby chic.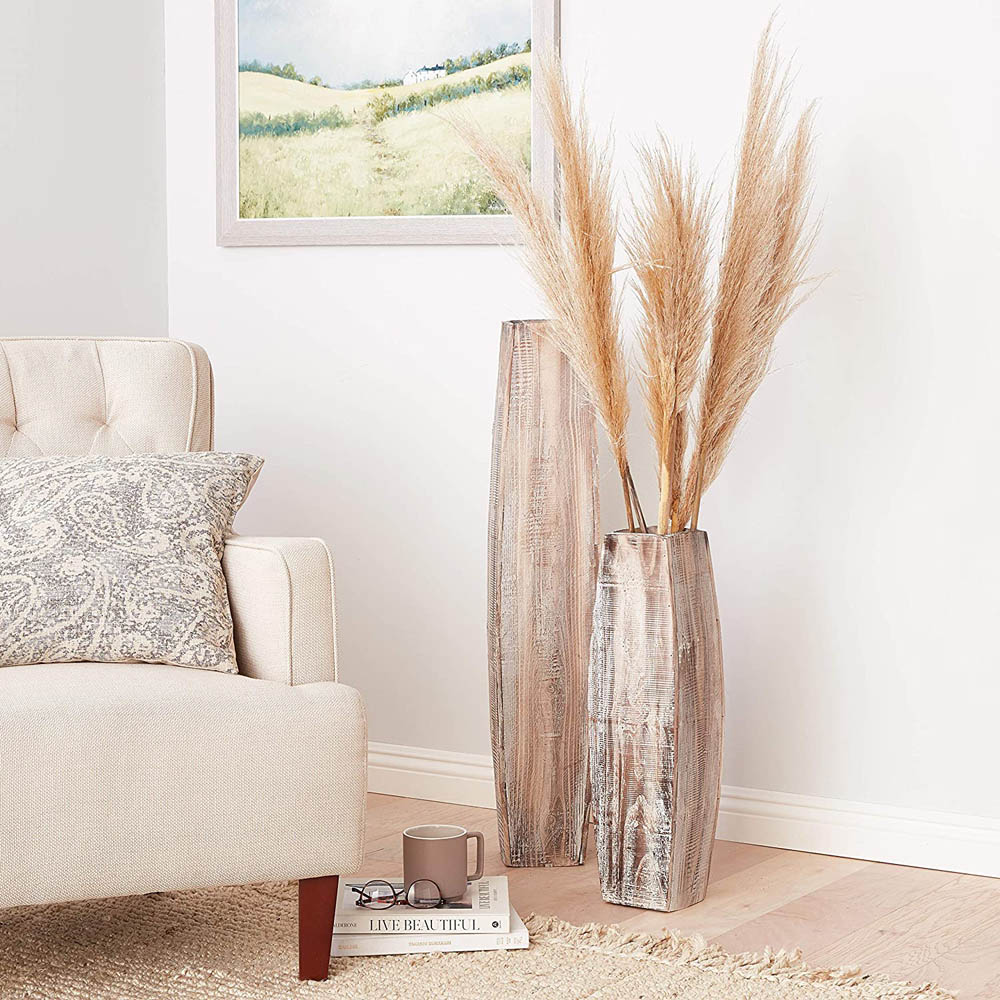 [buy on amazon]
Christopher Knight Home Darien Floor VASE, Gold
With a clean, minimalistic design and stunning accents our vase is the ideal modern accessory for your interior space. Finished with metallic undertones and a tapered shape, this floor vase not only offers a chic, minimalistic look but also provides incredible structure.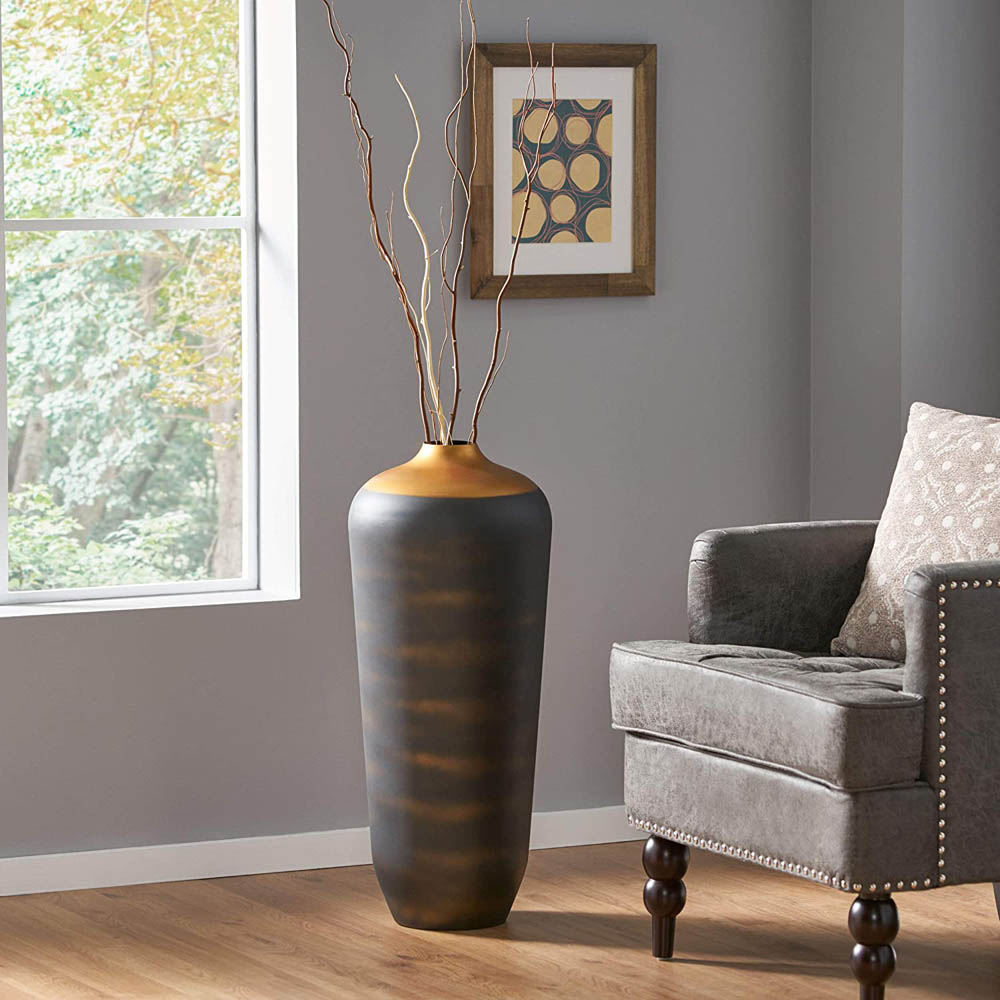 [buy on amazon]