Designed by | HANAN AMR
Location | Kuwait
Project Year | 2022
We used to talk about the whole house or apartment design, but this time, we only focus on one part – kid bathroom. This kid bathroom design is truly eye-catching, incorporating several elements that contribute to its playful and vibrant appeal.
The color scheme of blue and red sets a delightful and energetic tone, stimulating the senses and evoking a sense of excitement and adventure, perfect for a kid's bathroom. The curving lines throughout the space, from the rounded edges of the furniture and mirror to the blue waving tube-shaped wall beside the bathtub, create a soft and inviting atmosphere. These design choices not only enhance the overall aesthetic but also ensure the safety and comfort of children.
The leaf pattern wallpaper brings a whimsical and nature-inspired element to the design. It adds visual interest and sparks imagination, as it brings the outdoors inside. Complementing the wallpaper, the blue and gray leaf-shaped floor mat ties the design elements together, providing a soft and comfortable surface while adding an additional touch of charm.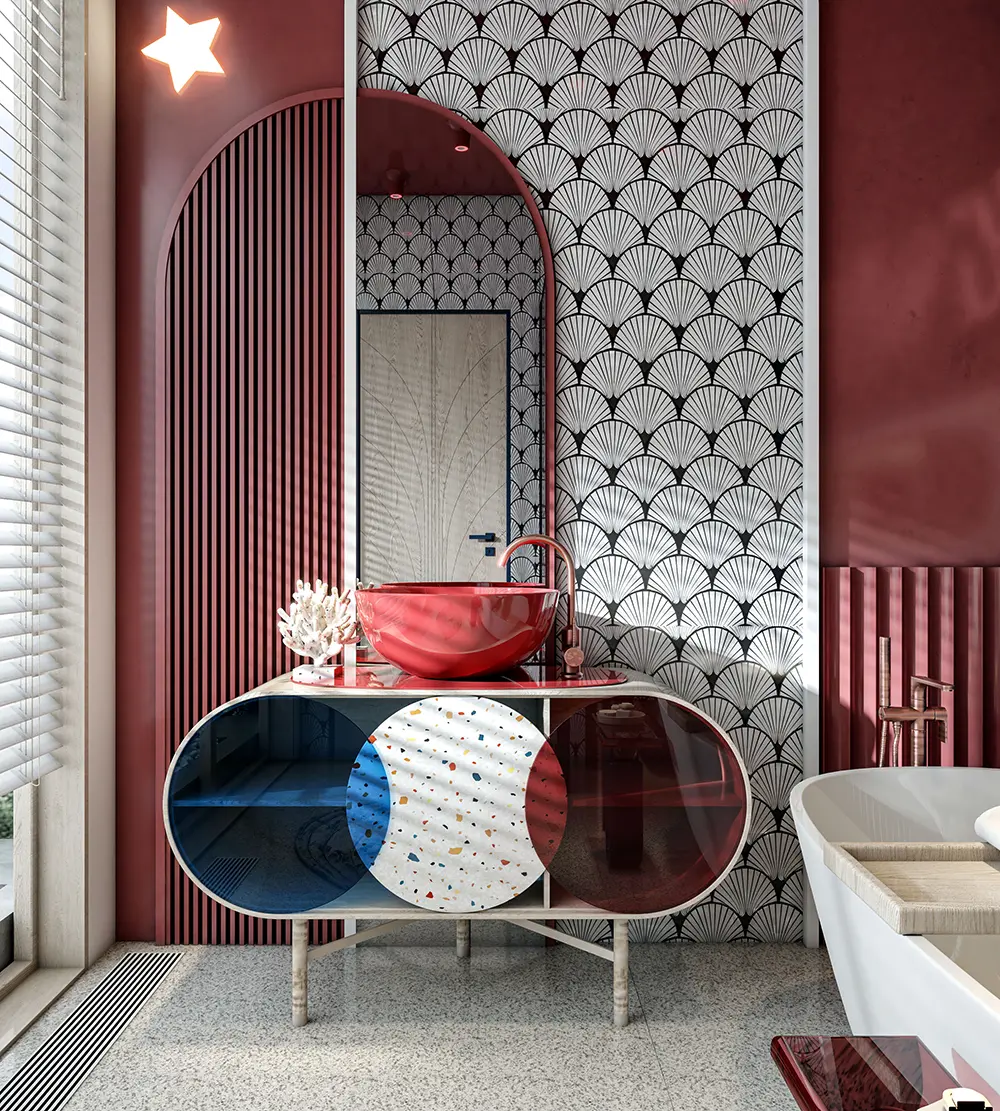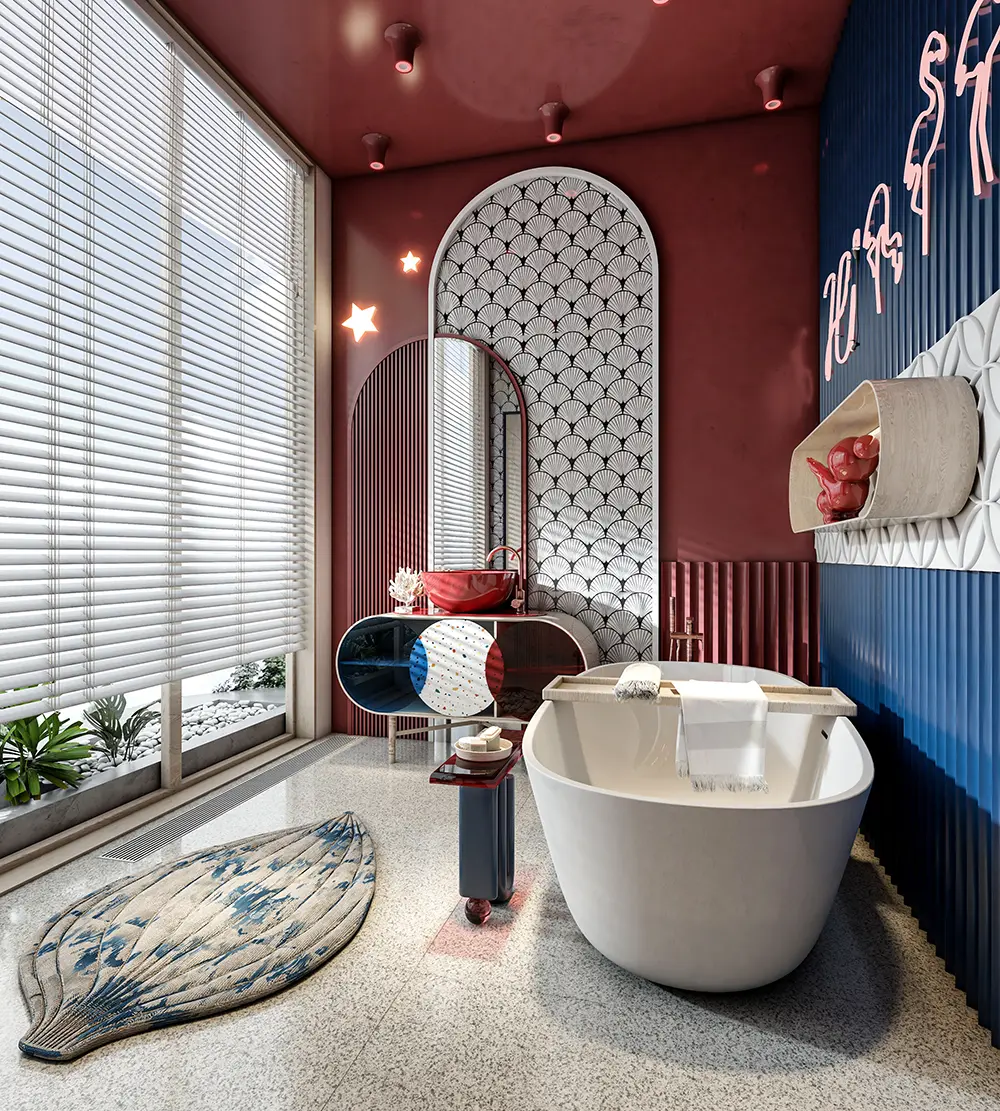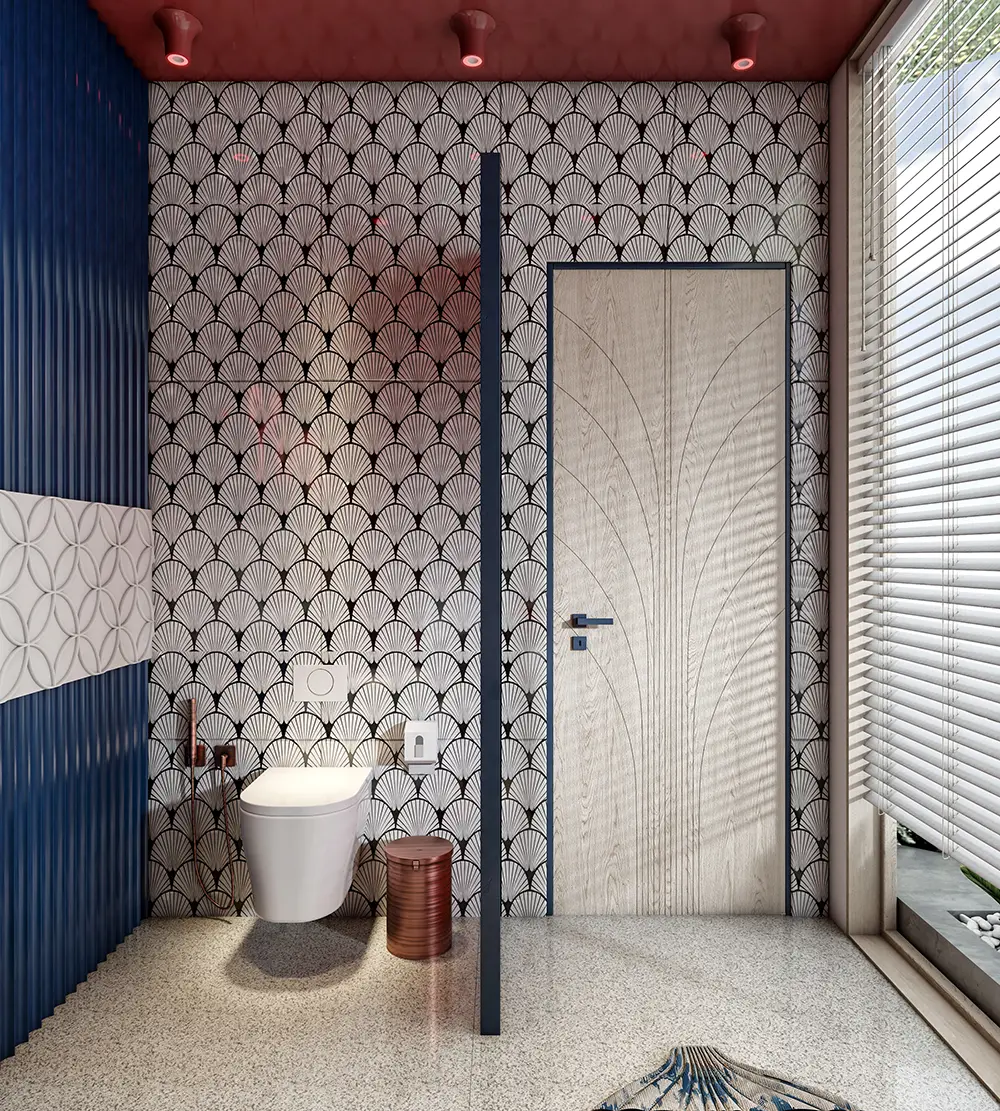 The bathroom incorporates practical and decorative features such as the floating shelf above the bathtub. This shelf serves as a functional storage solution and offers an opportunity to display bath toys or decorative items, adding a personal touch to the space. Meanwhile, the playful flamingo line light on the wall acts as a whimsical and decorative lighting feature, capturing children's attention and igniting their imagination.
The salmon-pink divider that separates the toilets and the door adds a pop of contrasting color and serves as a visual focal point. Its vibrant hue adds vibrancy and warmth to the overall design, contributing to the playful atmosphere.
Lastly, the standing red blow-shaped basin stands out as a unique and eye-catching element. Its playful design adds a touch of quirkiness and fun, making it an appealing feature for children.
Overall, this kid bathroom design stands out due to its attention to detail and incorporation of playful elements. The combination of curving lines, vibrant colors, nature-inspired patterns, and whimsical accessories creates a captivating space that sparks joy and imagination for children.