If you think kettlebells are just glorified dumbbells, you really should check this post where we are going to introduce you with some really cool and unusual kettlebell designs. You will find the kettlebells in this post are not only the tools help us work out but also a kind of collection or art work. With those new looks, these kettlebells are still fully functional and make sure you have a pleasant workout experience.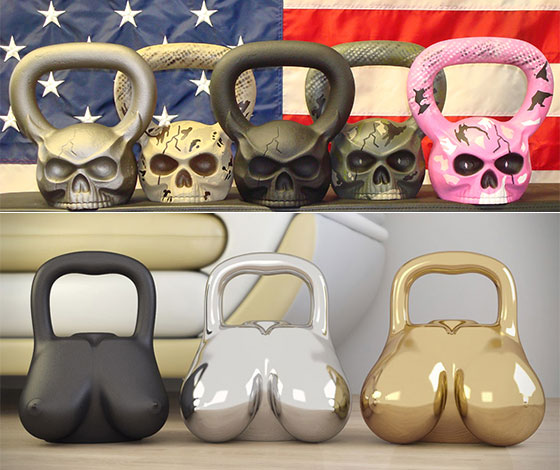 1. Iron Skullbell
These super cool skull-inspired kettlebells are produced by Ironskull Fitness and 100% made in the USA. These high quality iron castings are poured in ISO Certified American foundries. The Skullbell is completely modeled after an actual human skull, giving it an irregular shape which makes it more appropriate for 2-handed swings than for cleans and snatches.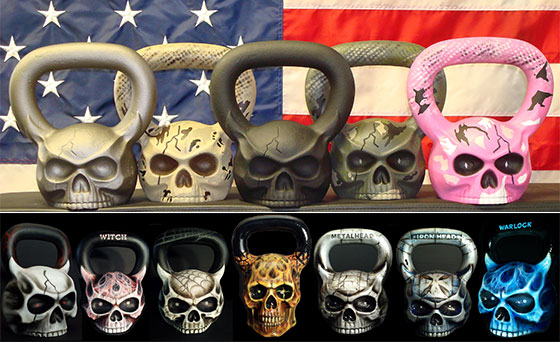 2. Zombie and Primal Kettlebell
Similar idea to the skullbell, the zombie and primal kettlebell by Onnit has a zombie or primal face on the kettlebell. The fully functional kettlebell have been 3D scanned and resculpted multiple times to ensure a perfect finish. And if you are interested in the zombie kettlebell, make sure you get it soon. Since they are available in very limited quantities, once they're gone, they won't be resurrected.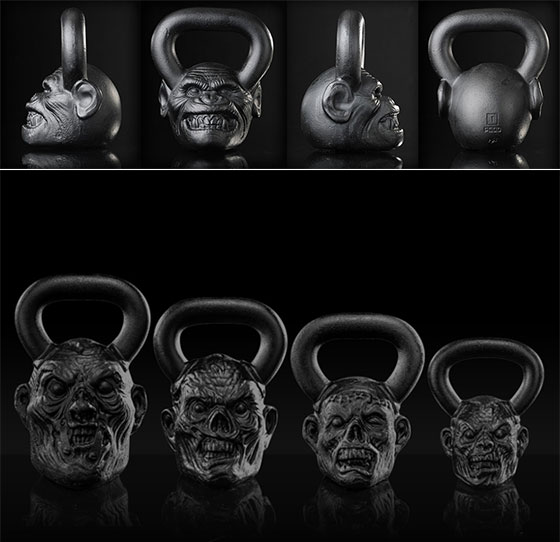 If you think use skull, zombie or devil faced kettlebell are a bit darker for you, this boob shaped Kettlebell looks like go anther extreme. Designed by Ukraine based team at 306 Creative Communication Agency, these kettle bells are shaped to look like a nice set of boobs. Come in three sizes and three colors, the company tries to make everyone want to work out with this set.