In the world of culinary presentation, it's often the smallest details that make the most significant impact. A beautifully designed butter dish may seem like a subtle addition to your table, but it possesses the power to transform your dining experience. Whether you're hosting a sophisticated dinner party, enjoying a cozy family breakfast, or simply savoring a quiet moment with a warm slice of bread, the right butter dish can elevate these moments to new heights of elegance and style.
In this article, we invite you to embark on a journey through ten exquisitely crafted butter dishes, each a masterpiece of design and functionality. From classic and timeless pieces to modern and artistic creations, these butter dishes not only serve as practical containers but also as works of art that adorn your table. Whether you're a gourmet enthusiast, a design aficionado, or simply someone who appreciates the finer things in life, these butter dishes are sure to capture your imagination and ignite your passion for the art of dining.
Butter Keeper Container with Knife
The butter dish with lid has a groove that perfectly fits the knife, integrating the butter knife, and butter box. Don't worry about not having a butter knife when you want to cut some butter. The upgraded lid is more durable than the previous lids. This butter dish with lid is perfect for use at the dining table.
The butter container measures 6.3 x 3.5 x 2.7 inches, enough to accommodate butter of various sizes.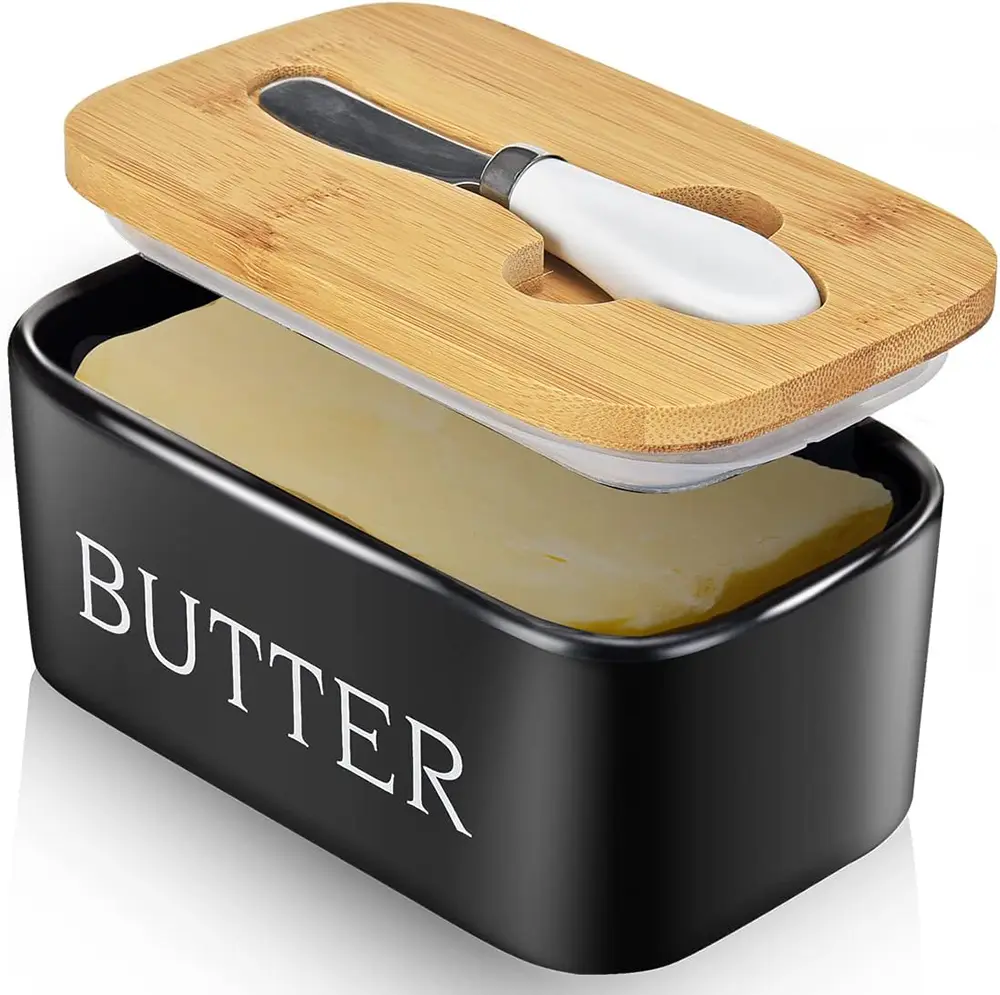 [buy on amazon]
Sweejar Ceramics Butter Dish with Lid
The top knob design is easier to open, and the butter plate cover has an elegant curved radius edge design. The thick wall design is designed to prevent the butter from becoming too hard in the refrigerator or to remain soft at room temperature.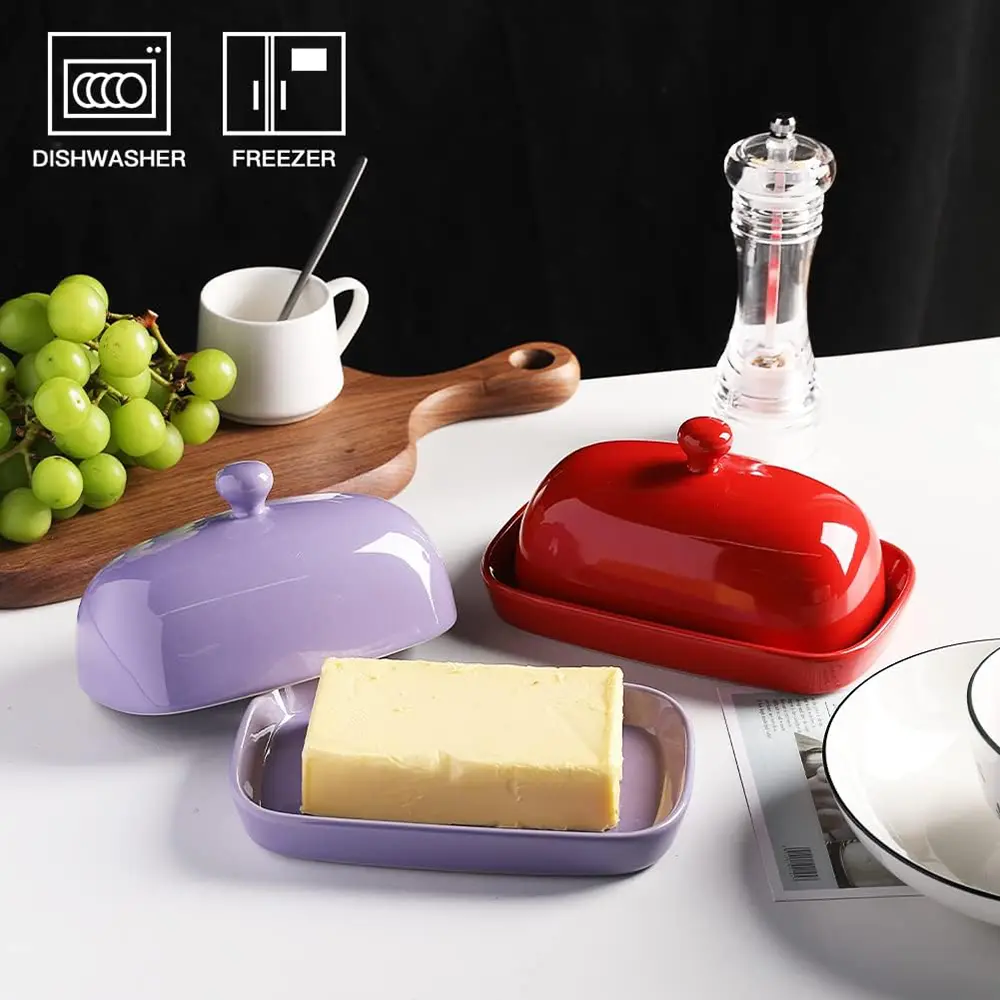 [buy on amazon]
Black Cat Butter Dishes
Each cat design is a standard 5.7 inches tall and the base is 8.2 inches wide, allowing it to sit easily on any surface in your home or kitchen without taking too much surface space. Each ceramic butter dish can hold a standard size East Coast butter to fit perfectly under the handmade cat design. The dish and cover keep butter fresh by keeping light and air out of the bottom plate, and the cold ceramic material keeps the butter at the perfect temperature for spreading.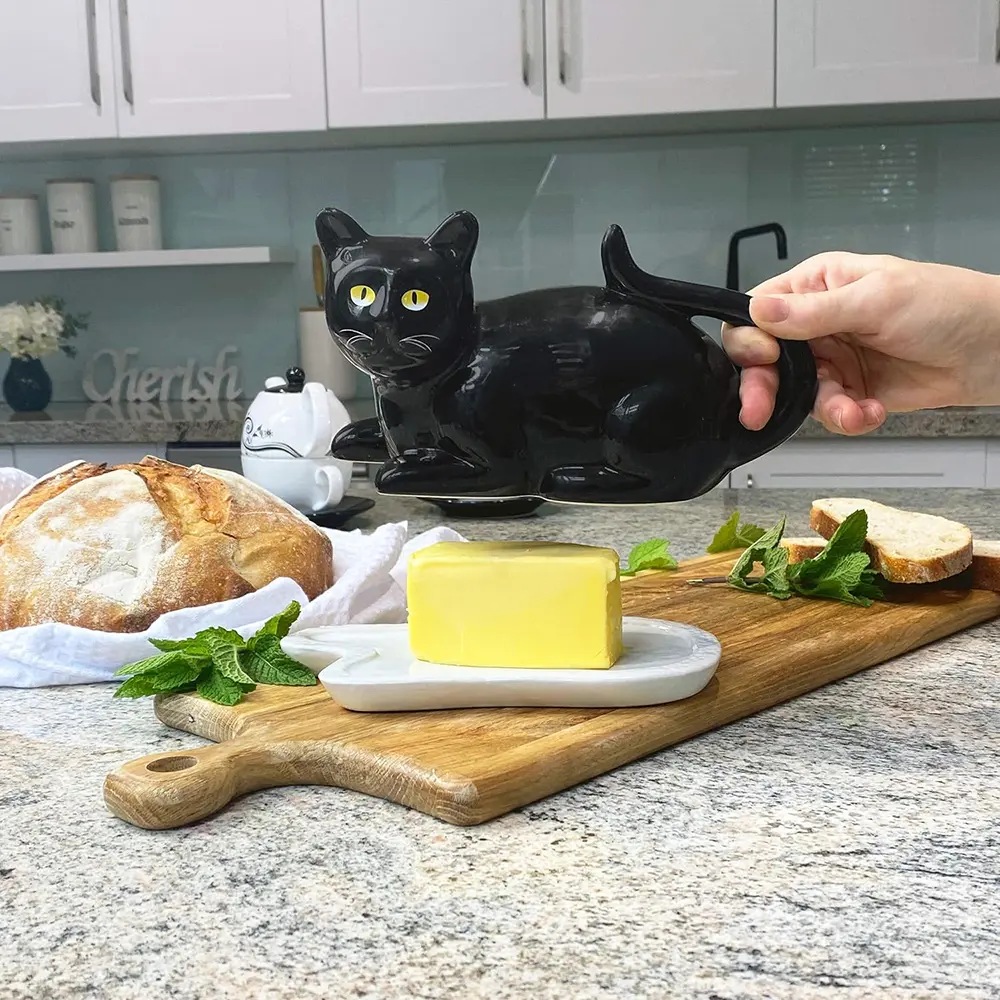 [buy on amazon]
Gothic Skull Coffin Butter Dish
This Skull and Coffin design will complement a variety of ghoulish Halloween party themes and will help set the spooky mood for your Halloween table. It's like a haunted crypt for your butter. This ceramic Butter Dish is substantial in feel and weight and holds a stick of butter or margarine.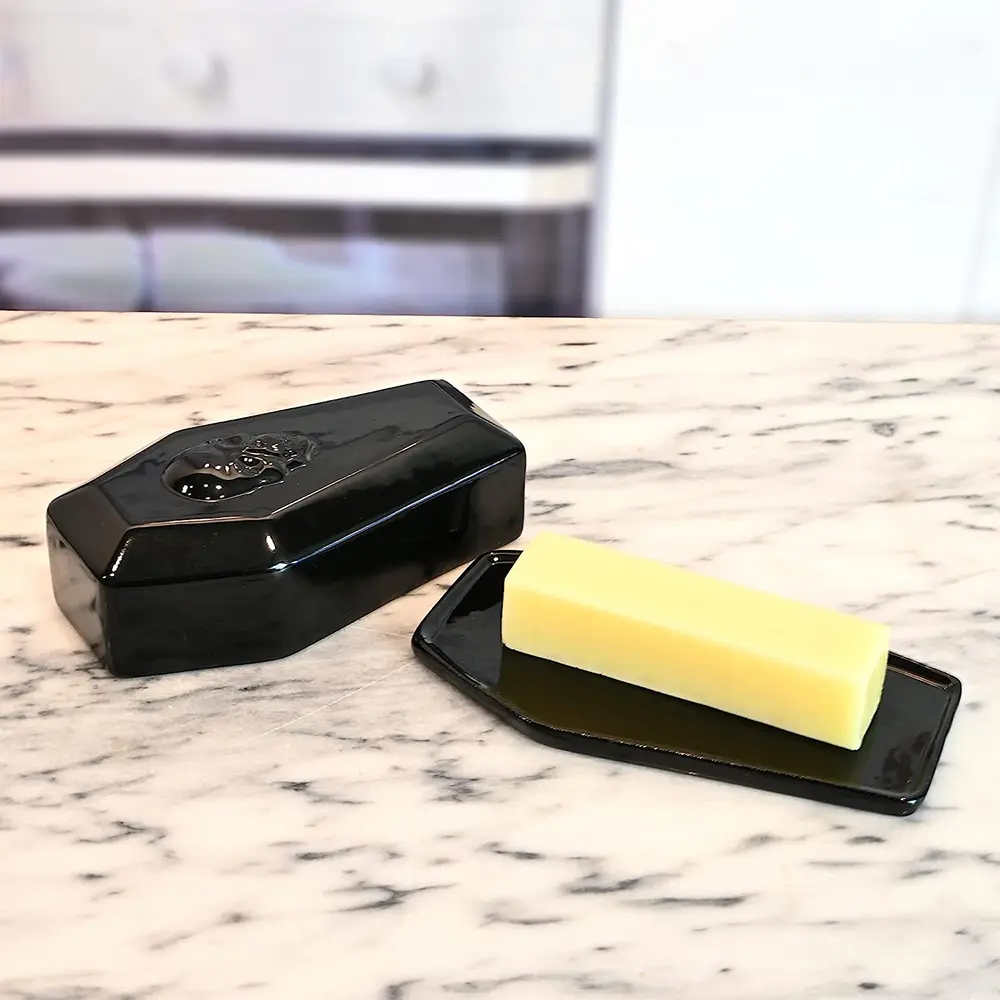 [buy on amazon]
Airtight Butter Container with Flip-top Lid
By attaching the lid to the base, the lid never touches your butter or your counter. With this simple design improvement, BURUIJI solves the slippery mess a traditional 2-piece butter dish makes. This butter dish with lid is designed with a knife within the lid, so you can take the included knife from the lid for spreading or cutting at your convenience, This butter dish is a blend of morden and simplicity, it can match any kitchen style, making it perfect as a countertop decoration.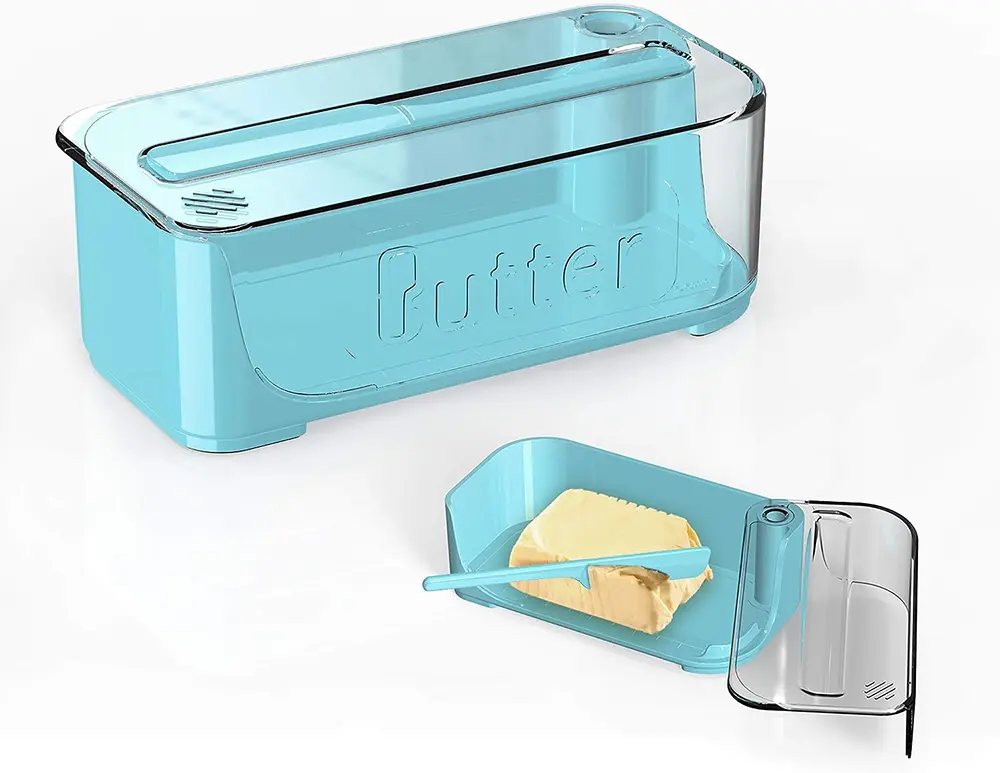 [buy on amazon]
Hedgehog Butter Dish with Lid
This product is handcrafted and painted. You may notice small air bubbles, pinholes, or uneven paint on its surface. This is normal and to be expected as a result of the intricate ceramic manufacturing process.
3.5" Height x 6.25" Width x 4.25″ Depth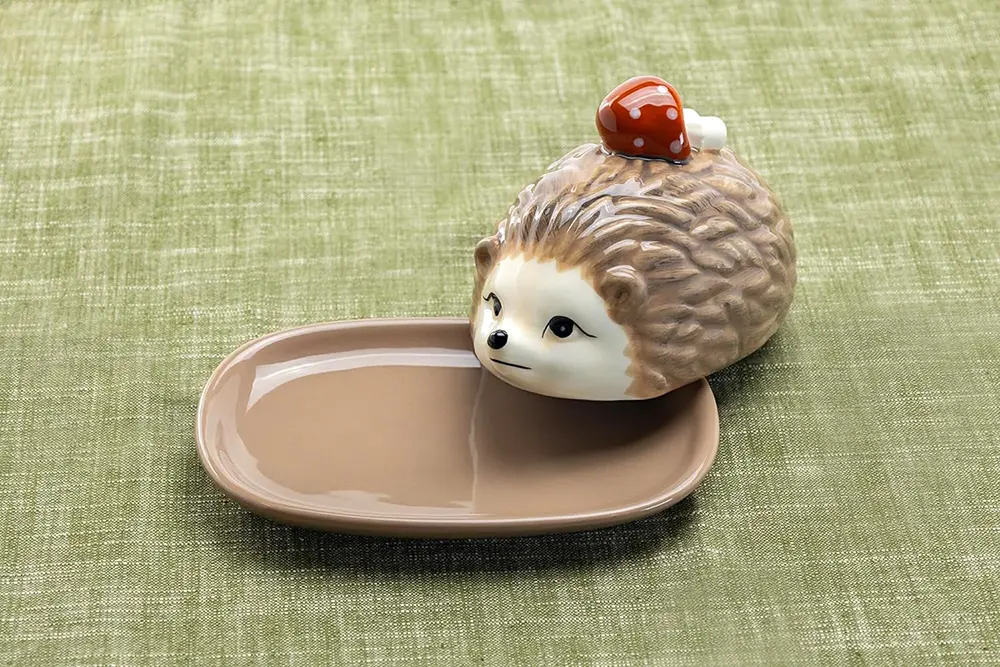 [buy on amazon]
Buddha Ceramic Butter Dish
Add some whimsy to any kitchen with this buddha inspired butter dish tray with included spreader. The tray measures 6.7″ L x 3.9″ W x 1″ H including space for the knife to rest. The lid measures 5.1″ L x 3.4″ W x 5.6″ H. Recommended hand wash with warm, soapy water. Designed to hold a half stick or 4 tbsp of American size butter stick.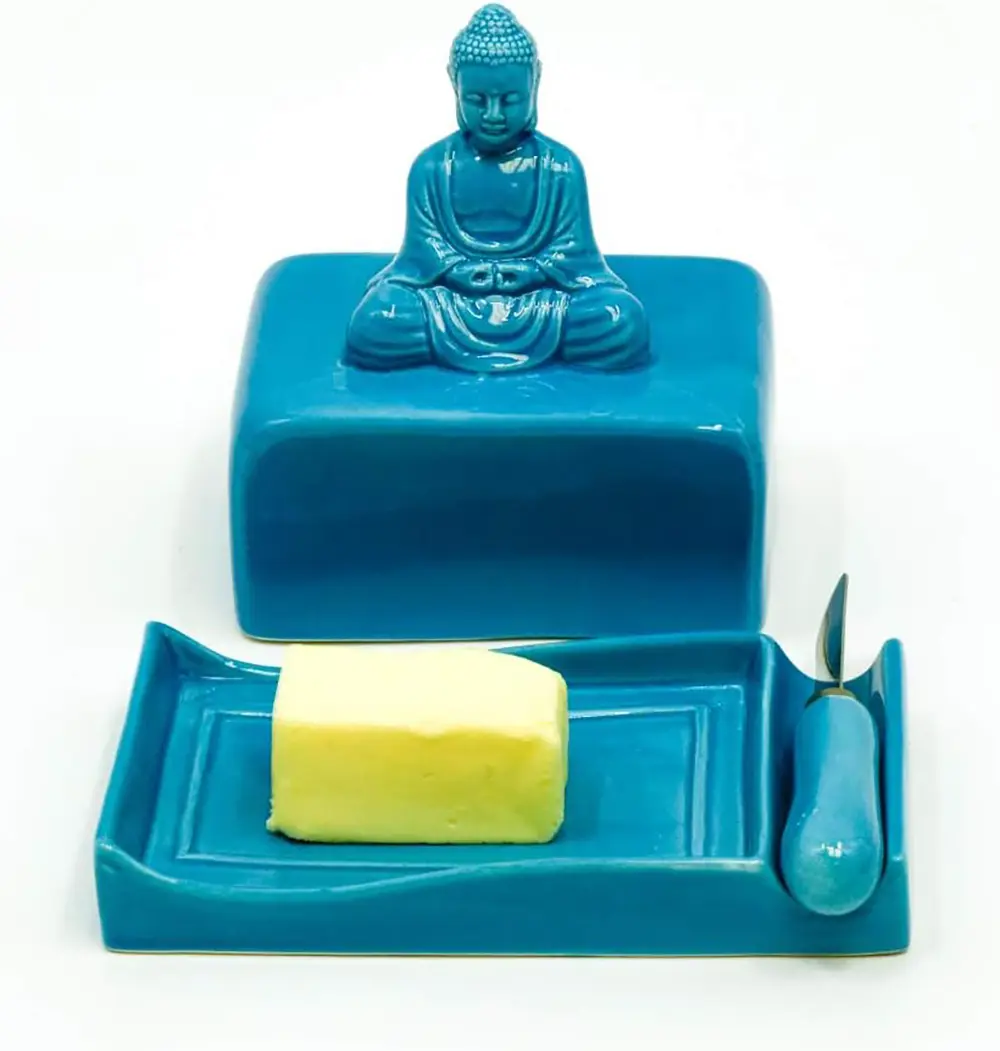 [buy on amazon]
Blue Italian Flower Butter Dish
his Gute Butter Dish is made from a high-grade ceramic mixture and has been food-tested to ensure it's safe for your family's health. Featuring an elegant blue pattern, a golden rim, and a golden bee handle on top, this is a great accessory for your kitchen and home! Perfect for storing one stick of butter! Butter dish measures 7″ in length, and it's matching lid measures and 4″ in width and 5″ in length.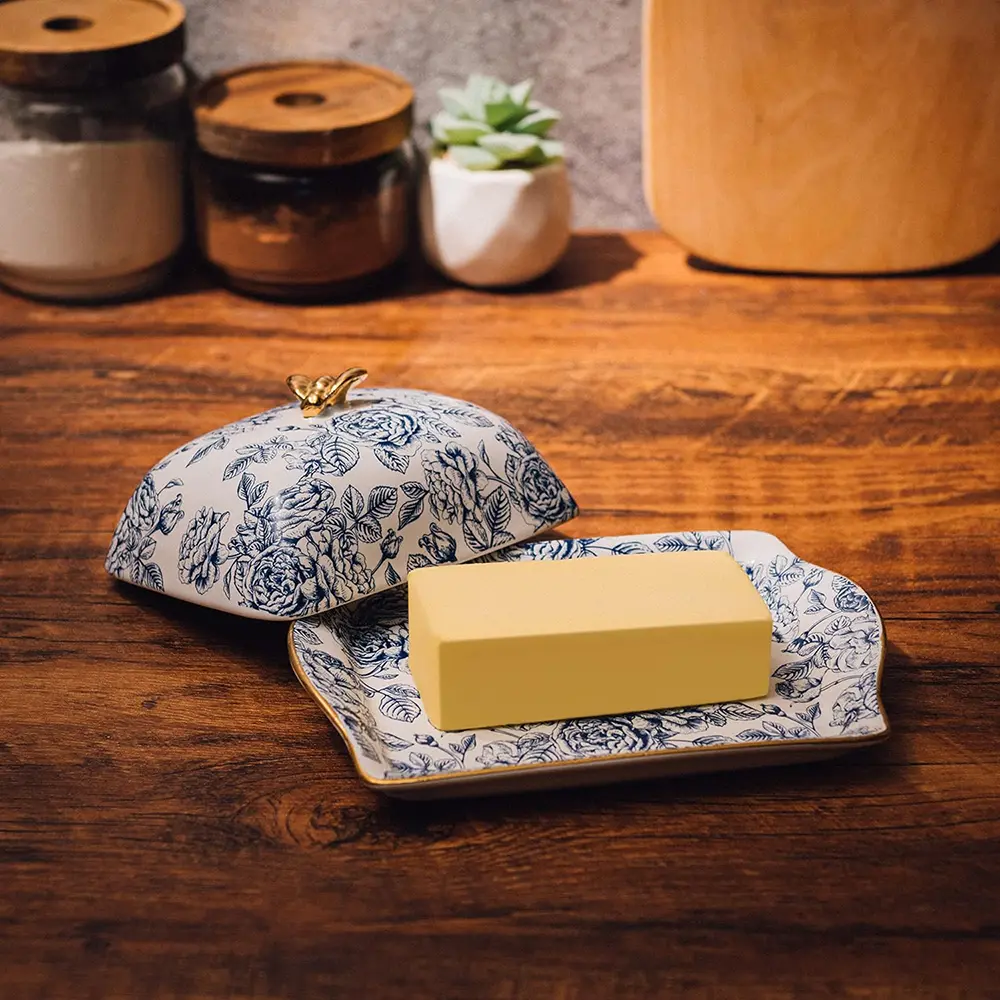 [buy on amazon]
Blue Sky Ceramic Lemon Butter Dish
Blue Sky Ceramic lemon butter dish, measures 8. 25″ x 5. 25″ x 4. 5″ – Blue Sky Ceramic has been offering high design, trend-right ceramic designs for over 14 years. We design our own collections of trend-forward items as well as individual and exclusive products. These extraordinary designs are created by our large array of talented artists & in-house design team. Each unique piece is handcrafted with meticulous detail and the highest quality material.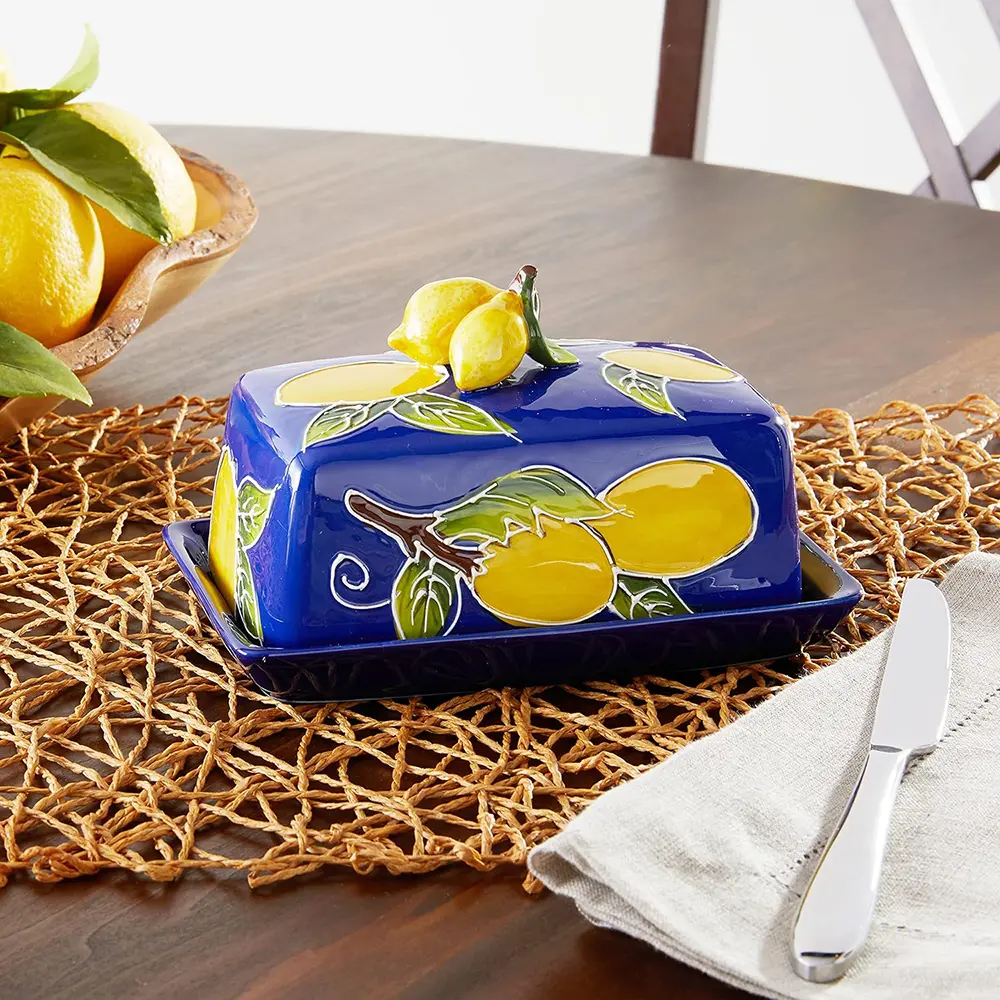 [buy on amazon]
Whale Ceramic Butter Dish
This butter dish maintains a spreadable consistency for your butter. No more scraping through toast and bagels; enjoy butter that actually spreads like butter! Large enough to hold 2 sticks of butter, or a block of cream cheese.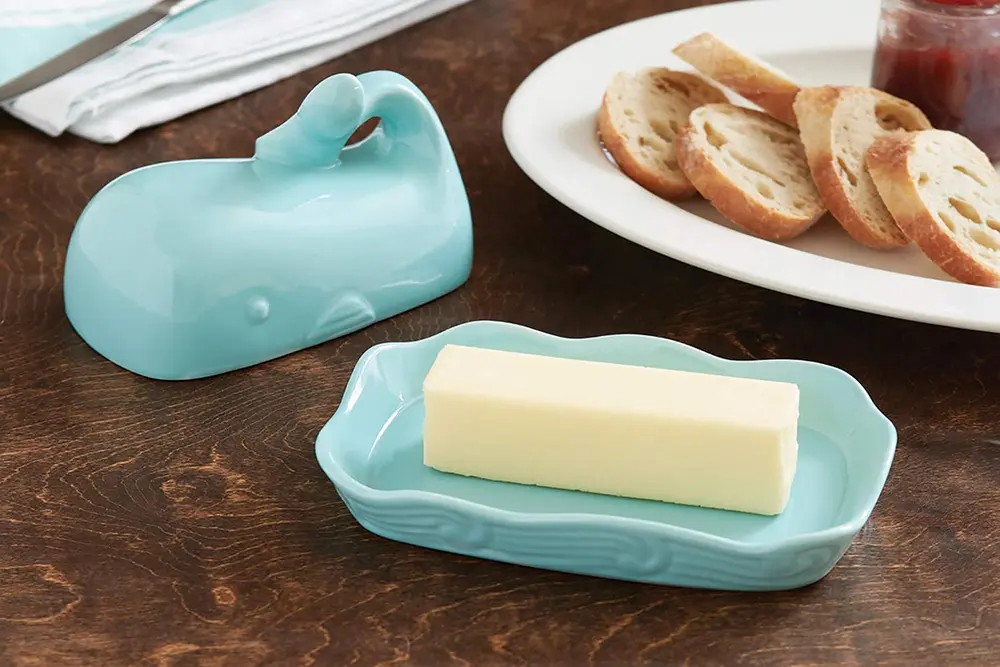 [buy on amazon]