Origami, the ancient Japanese art of paper folding, is taking the world of design by storm. The definitive art with a shade of green has inspired artists, recyclers, fashion designers, home builders, and even researchers to include it into their works. From creative art to interior design, from architecture to fashion, designers of all fields having now findings of inspiration in origami-based concepts, techniques, patterns, and textures. Here are 15 examples of great product designs inspired by origami.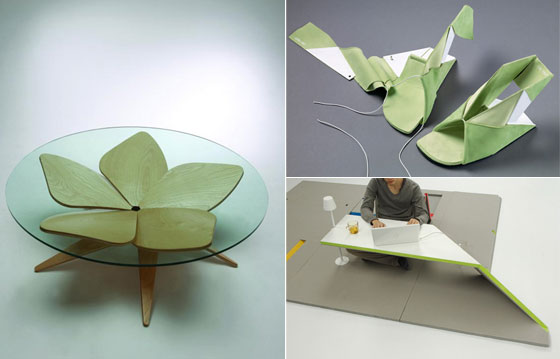 We are a participant in the Amazon Services LLC Associates Program, an affiliate advertising program designed to provide a means for us to earn fees by linking to Amazon.com and affiliated sites.
1. Polywrap Wastepaper Bin [link]
Origami inspired bin made from a single plastic sheet that can be folded to form the bin. It can be easily unfolded too, if you ever want to clean it. Made from a single material (polypropylene) and can be easily recycled at the end of its life.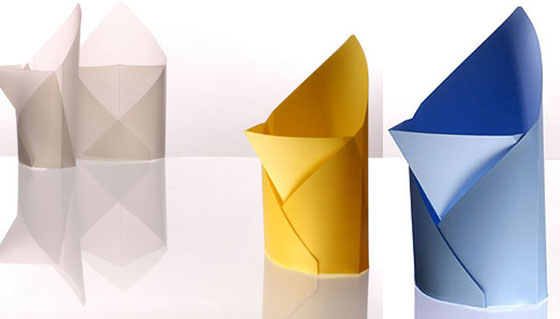 2. Origami colander: Joseph Joseph Folding Colander [buy on amazon]
Innovative, space-saving colander in black folds completely flat for easy storage
12 hinges lock into position to ensure food stays in colander
When flat, colander measures 16.53 x 12.79 x 0.39 inches (LxWxH)
Made of molded polypropylene
Dishwasher safe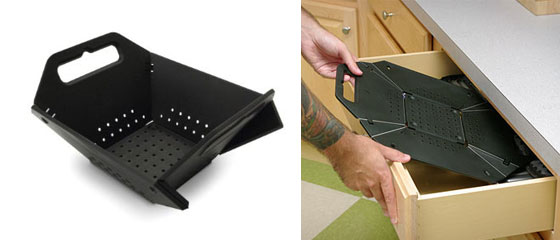 3. Flower Table by Shige Hasegawa [link]
Hana table by Japanese designer Shige Hasegawa consists of five interlocking plywood legs that support the glass top without any screws or nails.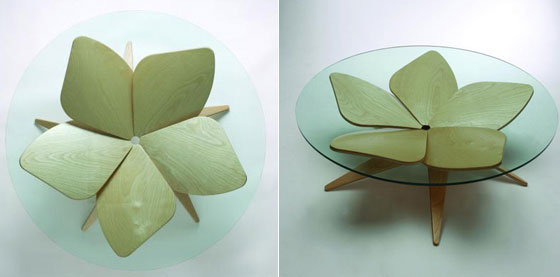 4. Origami Tea Bags [designswan]
Here is an interesting packaging concept by the Russian designer Natalia Ponomareva. The tea bag is packed like an origami bird.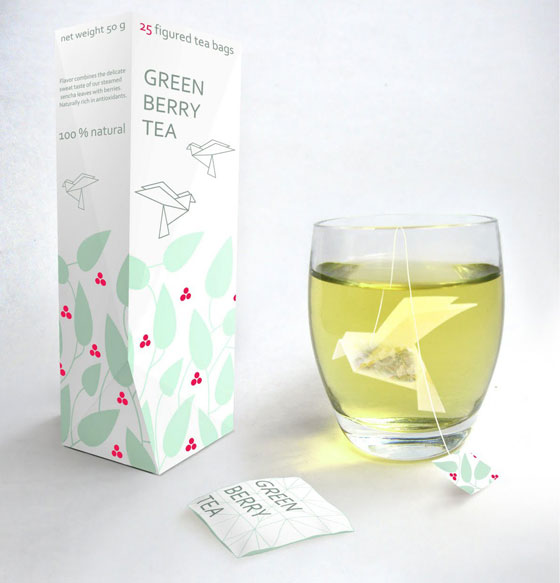 5. Origami Sticky Notes! [buy on amazon]
A little something for those dull moments at the office. Re-cycle your old sticky notes and turn them in to fun 3D models! Each pad has instructions for 10 different shapes, including: pig; penguin; boat; crane; butterfly; squirrel; lily and water bomb. For beginners or advanced paper folders!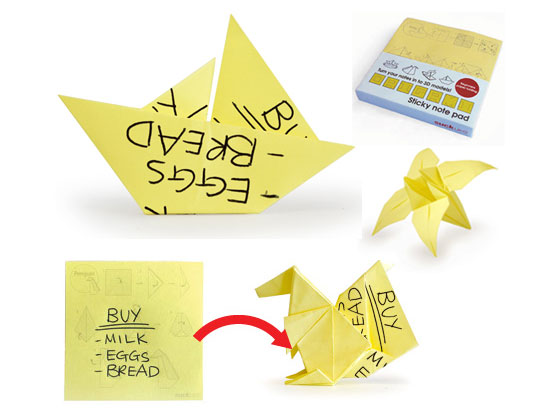 6. Floor Mat with Folding-Up Furniture [designswan]
'Land peel' is a an innovative and flexible floor mat concept developed by Japanese industrial design student Shin Yamashita from the Kyoto institute of technology. The Land Peel looks just like your typical floor mat but allow you to transform it into chairs, coffee tables, and workstations by simply lifting the panels. Ideal for different activities, like sitting, sleeping or reading, the lounge floor mat, when not in use, folds flat for easy storage as well as transportation.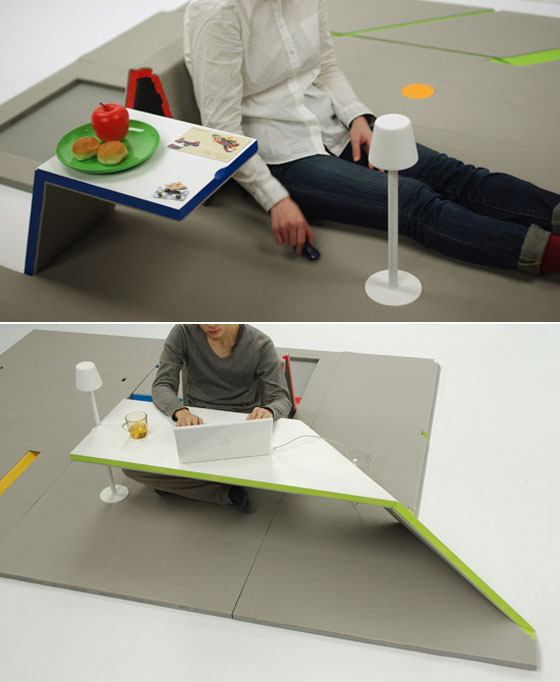 7. Foldable Basket [link]
Another product inspired by the origami art,designed by Takashi Houjo. A basket made of felt. It has a cute face, but it's sturdier than it looks! Spread it out and you can use it as a sheet as well. Use it for arranging magazines, storing children's toys, and much more…it can be useful outdoor too.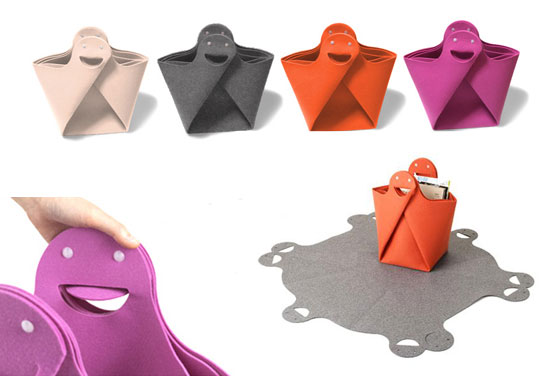 8. "Light Form" Modular Lighting System [link]
The "Light Form" is a modular lighting system inspired by the origami art. It consists of wood panels that can be folded up to expose the energy-efficient electroluminescent lights embedded in them. Encased in rich dark European maple, the "Light Form" can be easily fixed onto any wall, endowing a unique kind of warmth and romance to your home.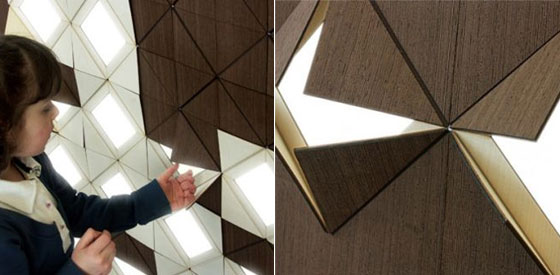 9. OrigAudio Origami Speakers [buy on amazon]
Fold n Play speakers start out flat and fold into 2 cubes for easy portability. Take your music anywhere you want it. This set of speakers are made from recycled materials and do not require any external power. They work universally with any audio device and are Mother Nature approved.
Foldable Speakers start out flat and pop together for music anywhere
Do not require and batteries or additional power
Made from recycled material
Great for; travel, beach, camping, dorm room, and around the house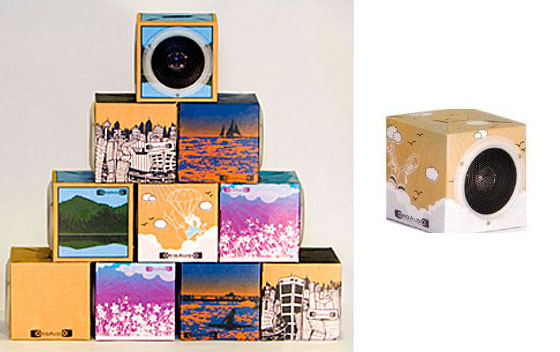 10. Flat Folded Shoe Is Like Easy Origami [link]
The EIN/TRITT shoe concepts shows how modern technology can take shoe manufacturing to the next paradigm. Flat shoe patterns with reinforced parts get folded and fixed by the consumer. Production and shipping costs are significantly reduced. From an aesthetic point of view, it has a very geometric and architectural form that'll definitely grab you some attention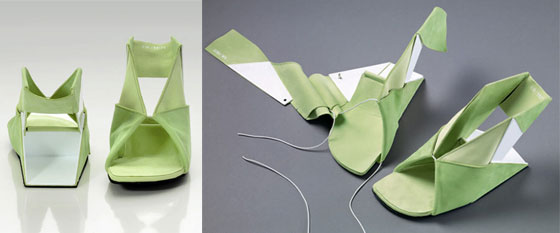 11. Fred and Friends Origami Napkins [buy on amazon]
Origami napkins are here to show you what a royal dinner might feel like if you had one of those beautifully decorated tables in the comfort of your home. With its easy-to-follow directions and elegant designs, Origami Napkin will soon become the reason for a fine dining spree every night.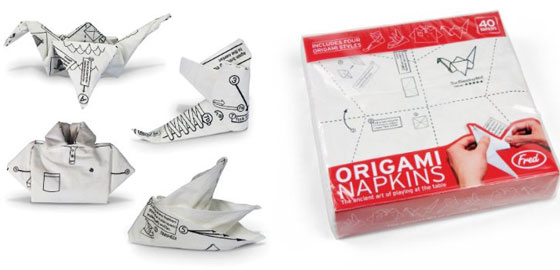 12. Origami Single-Light 24-Inch Reversible Six-Blade Indoor Ceiling Fan [buy on amazon]
Single-light 24-inch reversible six-blade indoor ceiling fan for rooms up to 80 square feet (8 by 10 feet)
153-by-9-millimeter silicon steel motor with dual capacitor; three fan speeds (high/medium/low); reversible switch for year-round use
Airflow: 2,039 cfm; Energy Usage: 31 watts without light; Airflow Efficiency: 67 cfm per watt
Includes 3/4-inch by 4-inch down rod, 78-inch lead wire, and one candelabra-base 60-watt G16-1/2 light bulb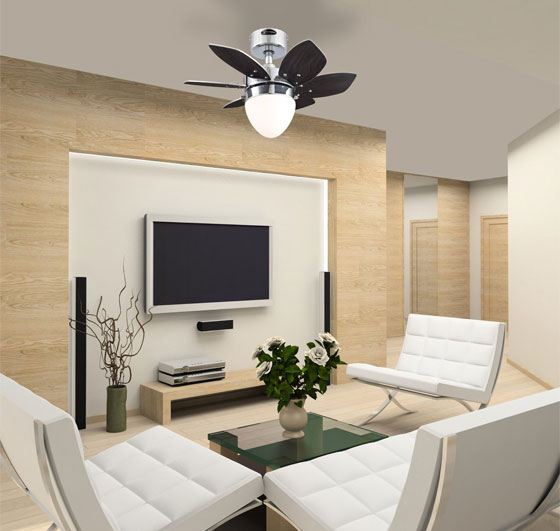 13. CHIBI Table lamp [link]
Chibi is a very simply designed table lamp; no screws, adhesive or welding used in creating it, it's simply metal origami made from completely recyclable iron.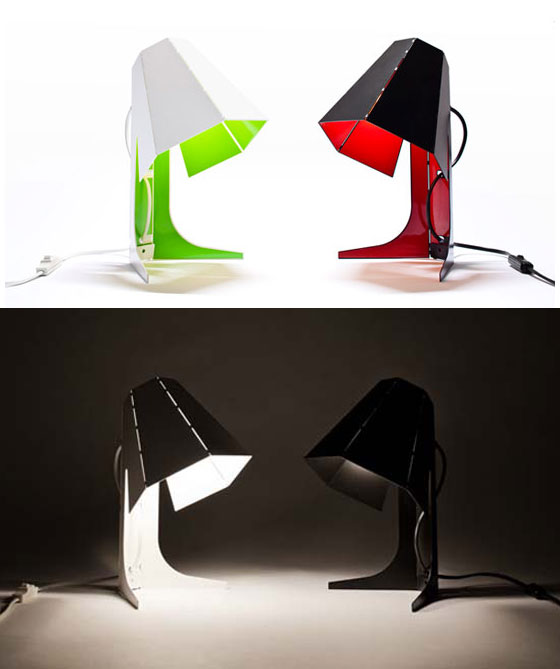 14. Origami Modern Leather Sofa-Bed Furniture [link]
Origami Modern Leather Sofa-Bed is versatile as well as trendy. Modern style, unique materials & a great value for money makes this a most desirable piece of furniture.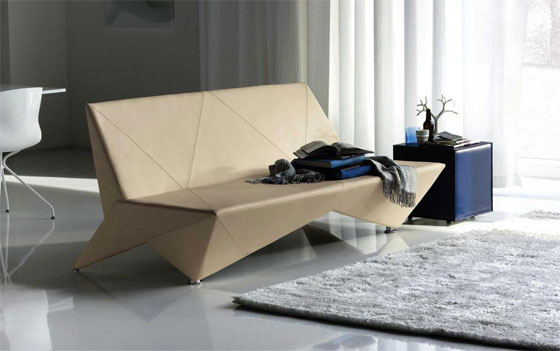 15. POWER'NAP [link]
The design paper light expression is inspired by the Japanese folding technique "origami". It is makde of 1.5 mm steel plates and white spray painted. The discreet padding follows the elegant triangles of the furniture and highlights compelling ease.