Live in large city like New York has a lots of advantages as well as disadvantage. Lacking of living space is definitely one of them. Designed by MKCA, Five to One Apartment – a small home with a total surface of 36 square, is an intuitive project that takes micro-housing to a new, highly creative level. Located in Gramercy Park, Manhattan, New York City, this micro apartment make use of a motorized sliding wall to move from one side of the apartment to the other, creating various living areas. Working, sleeping, dressing, and entertaining, plus kitchen, dining, and bathing space are all available as the unit slides, switching from daytime and nighttime zones.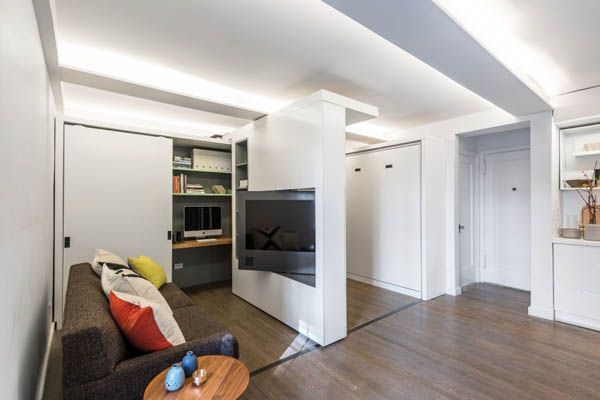 According to the designer: "As the moving volume pulls away from the wall, it reveals a dressing room zone with built-in dresser drawers and clothing storage. Fully extended, the space for a queen-sized fold-down bed is created. The sliding element is powered and cabled for television and audio, and houses all of the audiovisual and networking components of the apartment along with additional storage and display space. During the day, or when the bed is closed the bedroom space is returned to the living and working spaces of the apartment."
Sounds a bit complicated? But what you can do when you live in small space but still want separate functional area.