Nail guns make fast work of any project requiring nails – in fact, some would say they're essential for any job that involves fastening wooden pieces together. They're the perfect tool when you need to drive a lot of nails or brads efficiently, and they're especially helpful for getting into tight spots and corners where you can't swing a hammer.
But there are many different kinds of nail guns on the market. Some require an air compressor as a power source, while others don't. Some nail guns use batteries and are cordless, while others plug into a wall socket or extension cord. You can choose between an angled magazine and a straight magazine. And, of course, there are several different sizes of nail guns suitable for driving various sizes of brads, nails, and staples. Here's what you need to know to choose the right nail gun – or guns – for your project.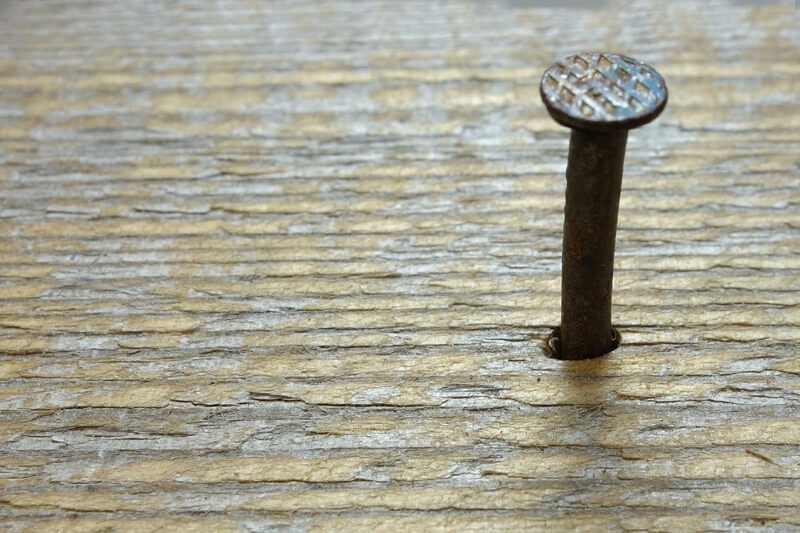 Consider the Size and Type of Your Nails or Brads
Nail guns come in various sizes, depending on the size of the nails, brads, or staples they fire. Basic sizes include the:
18-gauge brad nailer, which fires brads 5/8" to 2" long;
16-gauge finish nailer, which shoots finish nails as long as 2 ½", although you can buy ones that shoot longer nails;
15-gauge angled finish nailer, which drives finish nails up to 2 ½" long and has an angled magazine;
Framing nailer, which come in either clipped head or round head varieties;
Narrow crown stapler, which fires 5/8" to 1 ½" staples;
Pin nailer, which drives pin nails up to 1 ½" to 2" long; and the
Roofing nailer, which shoots roofing nails ¾" to 1 ¾" long.
When you're shopping for nail guns, you obviously need to consider what kinds of jobs you're going to do with them. Nail guns that shoot brads, pins, and finish nails are good for building furniture and cabinetry, and hanging paneling, baseboards and trim. Staple guns are also good for some furniture and cabinetry work, as well as upholstery jobs, crafts, and laying floor underlayment. Framing nail guns are used for framing out new structures, while roofing nail guns are used for nailing shingles and roof underlayment.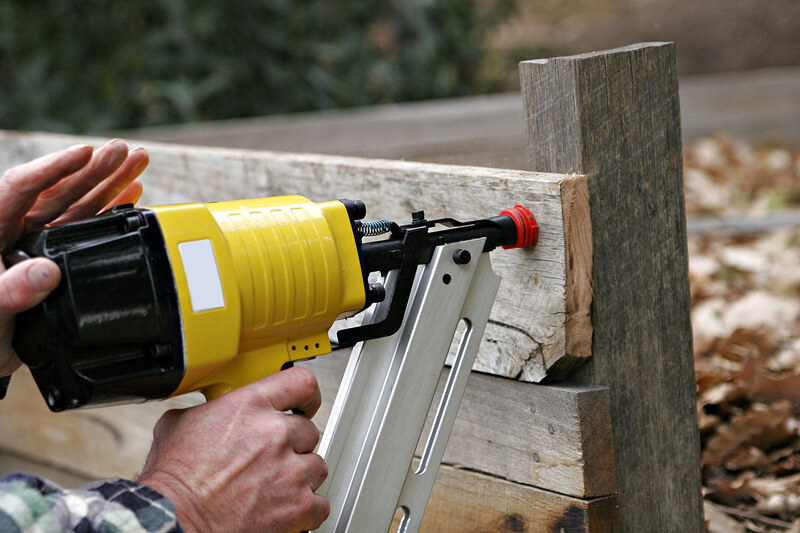 Power or Portability?
There are two basic kinds of nail guns: pneumatic and electric. Pneumatic or air nailers draw their power from an air compressor, and as a result, they're incredibly powerful. But, you have to hook them up to an air compressor for them to work. You can also hook an inline oiler to your pneumatic nail gun, but that's not recommended if you plan to use the air compressor for anything else, like spraying paint, because you'll get oil in the air hose. It's enough to simply apply the oil directly to the gun itself, although you'll need to make sure you're using the right kind of oil and oiling with the right frequency.
Electric nailers may plug into an outlet or, for ultimate portability, they may be cordless. These days, most homeowners, craftsmen, and "tool people" choose cordless power tools consistently, because who wants to be nailed down to an outlet or dragging one of those long, orange extension cords around like some kind of neon tail?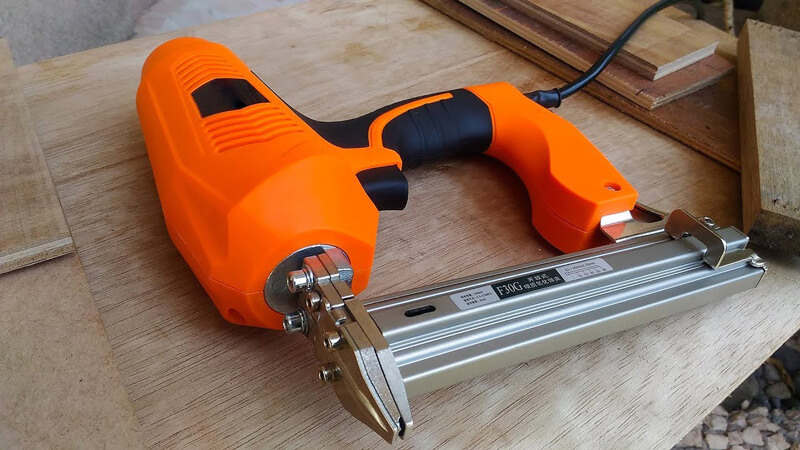 When it comes to choosing between a pneumatic and an electric nail gun, the real question is one of portability versus power. A pneumatic gun has the brawn to drive nails flush or below flush with the surface of the wood, but an electric gun will go more places – because you won't have to drag around an air compressor to power it. An electric gun might be fine for building cabinetry or furniture, or nailing down molding, for example, but you might want a pneumatic gun for framing, since the power of an air compressor could really come in handy there.
If you're a hobbyist carpenter who's sick of swinging a hammer, it's time you invested in a nail gun. The right nail gun will help you speed through projects, and that means you'll be able to spend more time enjoying the fruits of your labor of love – and maybe even more time performing that labor.