When is a floor lamp more than just a floor lamp? When it is not only a self-supporting lighting fixture in your living room or office, but also a beautiful decoration which can spice up your interior design. Below are 10 Beautiful and Modern Floor Lamps we rounded up for you. These contemporary lamps can add dramatic effect due to its style but still maintain the expected functionality. Hope you can get some Lamp Guide and Light Tips from the article.
Now, enough talking. Let's start!
We are a participant in the Amazon Services LLC Associates Program, an affiliate advertising program designed to provide a means for us to earn fees by linking to Amazon.com and affiliated sites.
1. Pooping Dog Lamps [source]
Good Boy lamp (2012) was designed as an item of everyday use that makes user uncomfortable with every use. The On/Off switch is shaped as a turd that needs to be stepped on.Puppy is in its natural pose, looking around with a bit of surprise on the face.
Both lamps were supposed to be part of London's the Art Below exhibition on London Underground stations. Even though organizers accepted the work, unfortunately London Underground banned it for being offensive.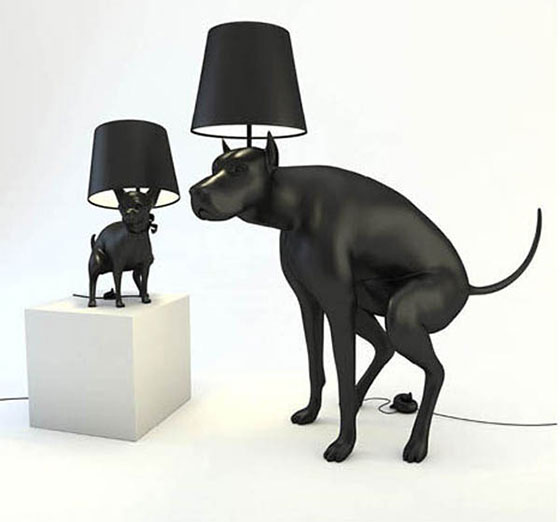 2. Oups dripping lamp [source]
Measuring 1,65 meters in height, the lamp is definitely an eye-catcher and is likely to become the focal point of a room. Its playful design and lively colors make it an interesting addition for minimalist interiors, adding personality. The variety of colors available for the design make it a versatile lighting project and not to mention a cheerful one.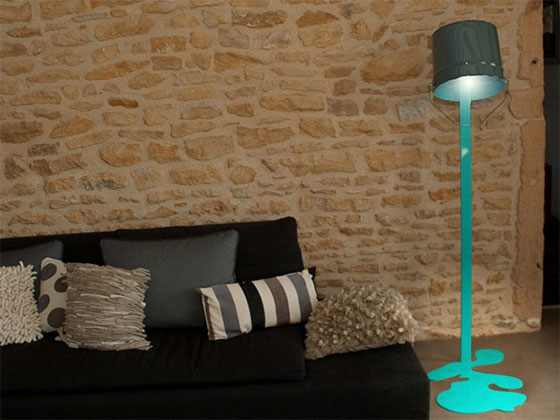 3. Creative Floor Lamp "Octopussy" [source]
The Octopussy Floor Lamp has a giant eye-shaped light and tentacle-like legs, which was created by Russian designer Vladimir Tomilov back in 2011. It's absolutely flexible lamp with elegant bubble, which has colored lens and shutter for bulb. The lamp features three support legs and three additional tentacles that allow it to have a dynamic look. Besides reinforcing the resemblance with the octopus, these tentacles also have additional led lights at the ends.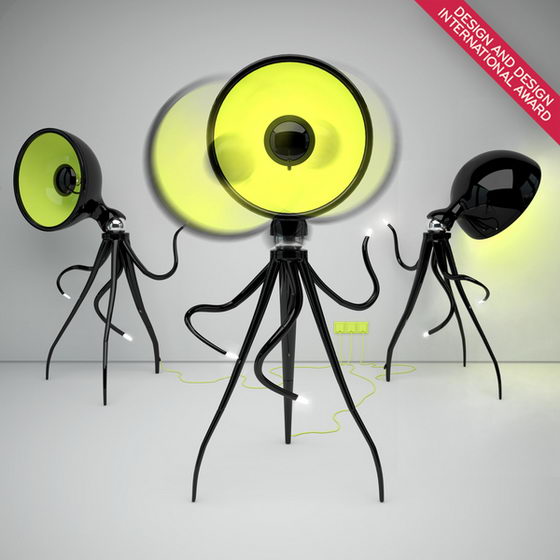 4. Creative Floor Lamp "Daiana" [source]
"Daiana is a classic floor lamp, with its stem and its shade. But it is upside down. Then everything changes. The stem glows and shade works as a table." It definitely looks unusual and creative. For sure it would be stylish decoration of your interior.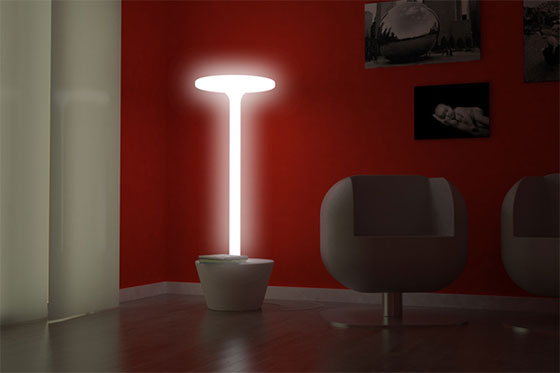 5. Globe lamp [source]
Danish company Atmosphere Globemakers created modern lamps that look like ordinary globes. Their huge collection contains floor-standing large globes, table-top small globes and many other creative models. Thanks to variety of colors and forms you can easily pick one World Globe to fit your interior. Alongside with their modern look these lamps are at the same time full globes with all needed geographical information.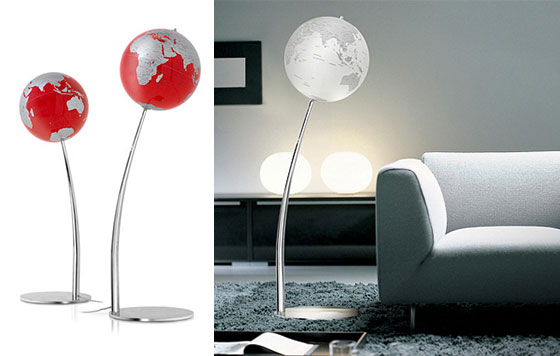 6.Octopus floor lamp [source]
Design of this modern LED floor lamp called "Octopus" was inspired by the underwater behaviors of the amazing octopus – the way it stretches out its tentacles and emerges from the seabed, revealing its curious shape and colors.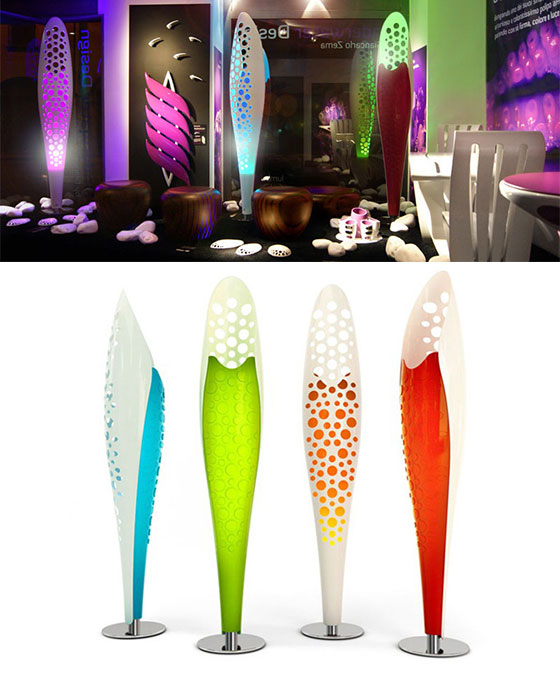 7. Coral Reef LED floor lamp [buy on amazon]
The Coral Reef Light, an LED floor lamp, features 3 overlapping and swivellable lighting layers, each of which can be activated independently by being swivelled. Thanks to LED's small size and low temperature that makes it possible to maneuver the lamp, the interactive design, surpassing traditional lamp's limitation, allows user to create their own desired lighting effect and ambience.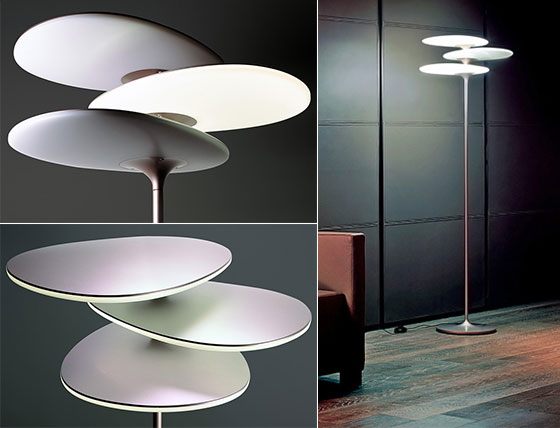 8. Shark Lamp [source]
Lamp Shark. Elegant Floor Lamp. Excellent and cheerful decoration of interiors and exteriors. For fans of the risks and thrills.

9. LumiSource Icicle Floor Lamp [buy on amazon]
Cylindrical frosted sconces create a soft glow, accenting the modern designs of the tubular chrome arms on the futuristic lamps.
3 chrome arms
frosted glass sconces
use 40 watt halogen bulbs (Not Included)
dimmer switch
10″Wx67″H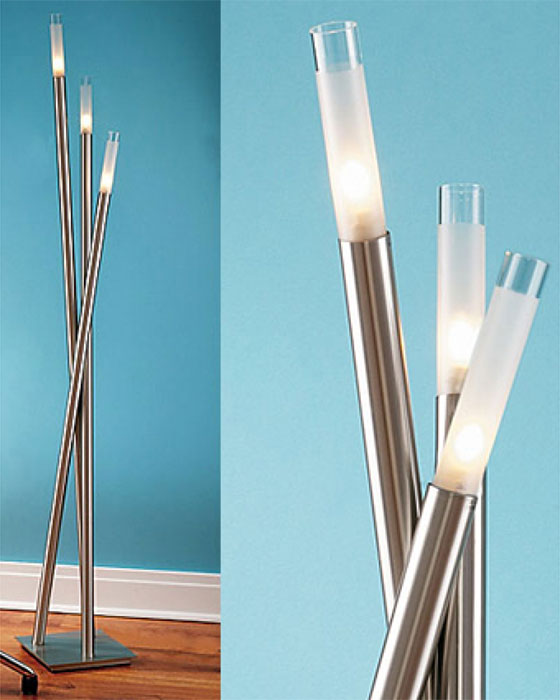 10. Kyudo Floor Lamp [buy on amazon]
Floor lamp with diffuser mounted on adjustable sliding track. Glossy varnished extruded aluminium structure. Low voltage Led strip.
L min 43 cm / max 148 cm
H min 157 cm / max 212 cm
Ø 32 cm
2 x 21,6 W Led Strip | 3000° K warm white