While using office supplies like the SBBS line of office toys might seem a little goofy, there is a certain fun to be found in them and their aim of letting office workers get their revenge on their at-work nemeses. Displacement and venting of anger are two other ways healing toys enable users to blow off steam. One of the most iconic of this variety of healing toy is the SBBS line developed by Taiwanese company Do More Idea Creative Enterprise.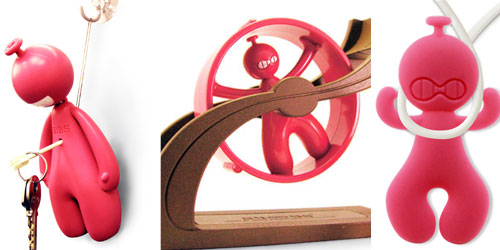 The basic form of the SBBS products uses a balloon-like head with a sneaky grin to portray the sense of someone who is full of themselves and full of hot air, and ties that into a toy that gives everyone the chance to "torture" their office nemesis.
[Dizzy me] tape dispenser
[purpose]
I got stuck in the wheel of pain! While you were using the tape. I'm really suffering today!
[features]
Buy one tape dispenser and you can use two different sizes of tape!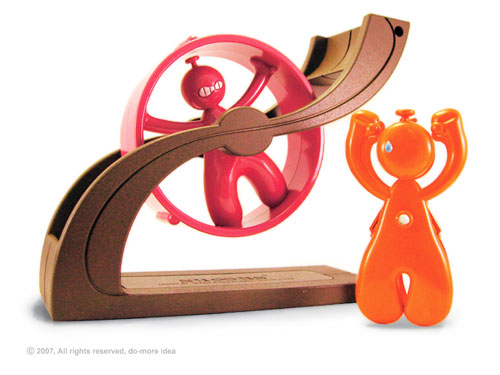 [Stick me on the wall] magnet
[purpose]
I got stuck on the wall! Any notes and orders could be held by suffering-me!
[features]
Adhesive backgrounds could be used on not only metal, but also other materials. Furthermore, each background contains a piece of metal, so, clip your pics and notes between the magnet and backgrounds!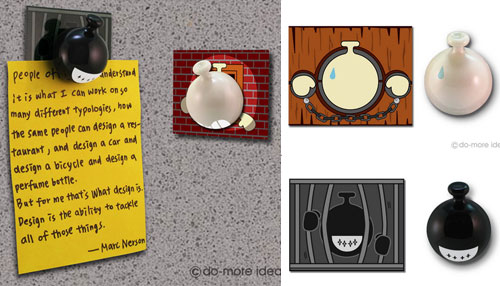 [Take a suffering shower!] color-changing glass
[purpose]
I am fond of gossip! Punish me with the cruelest means : burn my body with hot water ; freeze it with cold water. I was tortured with this painful shower!
[features]
Pore hot water to boil my black body; pore cold water to freeze my snobberies!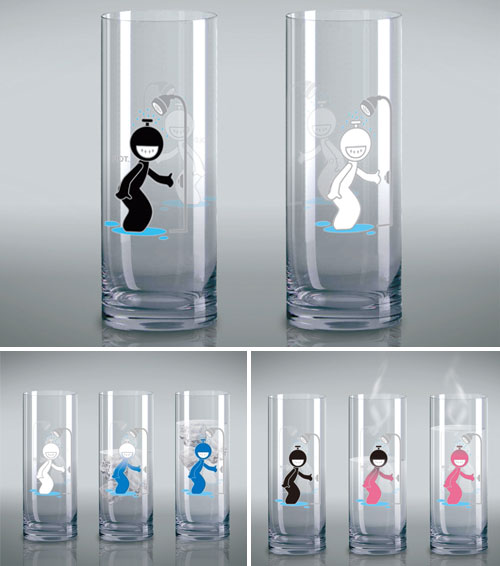 [Shoot my head] double effects mug
[purpose]
Shoot to kill my tricky smile in the dark! No more tricky ideas can bother you from my broken brain!
[features]
Glow : my face glows in the dark with wicked smile. Color-changing : my head will turn into a shooting target when hot water pores in.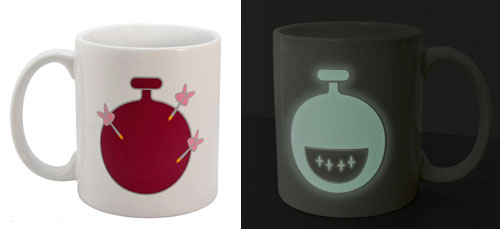 [Stab me in the back] pencil sharpener
[purpose]
I am the one you hate the most. Stab me as hard as you can. The harder you sharp, the happier you get!
[features]
Two pencils are free for you! There are pain scales on it and let's get it high!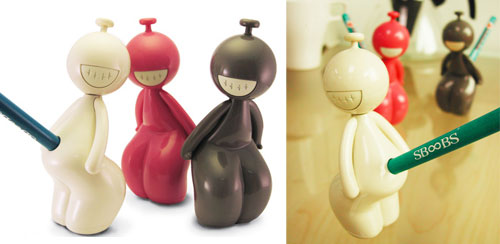 [Deform me] elastic band
[purpose]
I am full of elasticity and want to cling to all your stuff!
[features]
Various colors and sizes to fit your needs! Fasten your boxes and notebooks, mark the cups and books!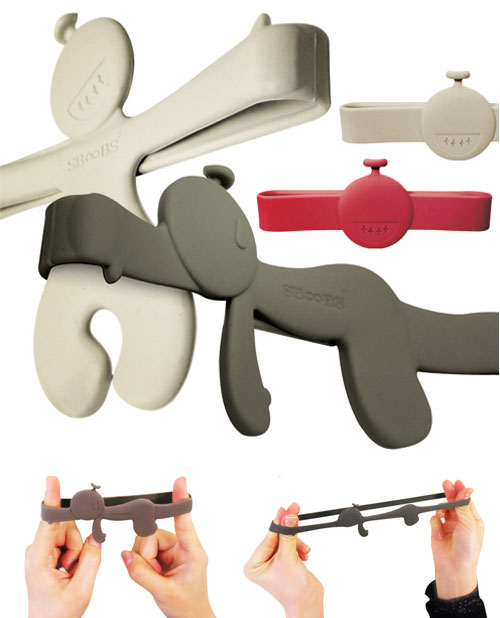 [Tie me up] wire keeper
[purpose]
ClingyMe is so hard to cope with! Bind me with your earphone wire. Now I just cannot move at all!
[features]
Make me cry or laugh? It's up to you! Tie me head from heels, I can't go anywhere now!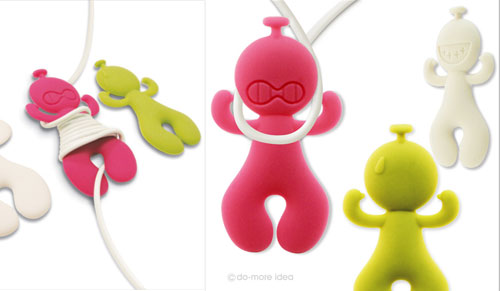 [Kneel down to serve you] cardholder
[purpose]
Hold your notes let me remind you; Hold your card let me adulate my master!
[features]
Write down someone's name on a slip of paper Put it into the hole under my body.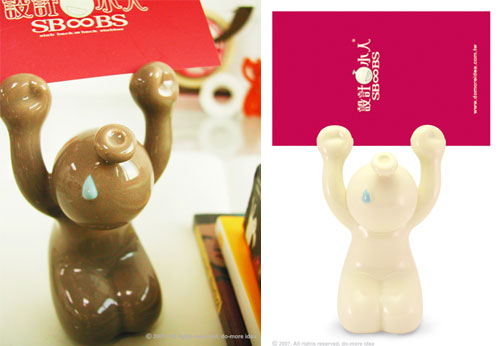 [Lose my face] coaster
[purpose]
Put your cup on CheekyMe. My face is disfigured. Oh! So shamed!
[features]
Besides cups, you can put some little things like clips and coins on skid-proof me. Now you won't see my annoying face anymore!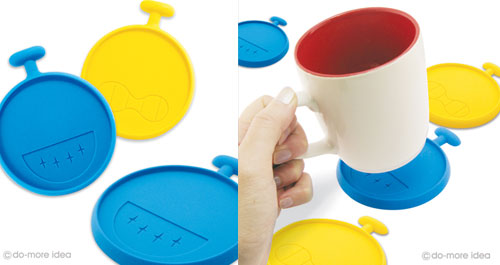 [Shut my big mouth] container
[purpose]
Sick of my bad mouth? Just clog it up! Planting, containing or raising a fish! I couldn't say even a word now!
[features]
Try to block up my big mouth in any way you want! Then, everyday is your day!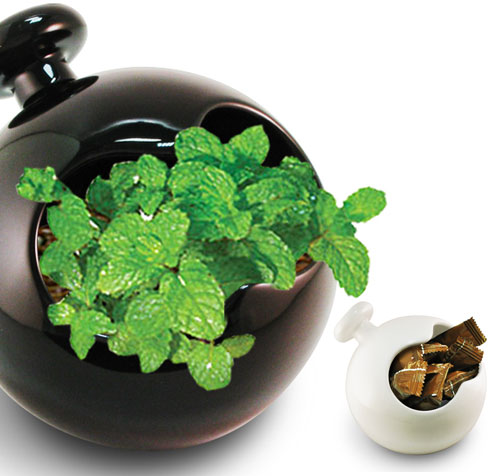 [Cut my paunch open] letter opener
[purpose]
My paunch is full of gossip! Cut it open and reveal the secrets and the rumors!
[features]
Hold me in your left hand. Paunch me with a suitable angle. How cheerful!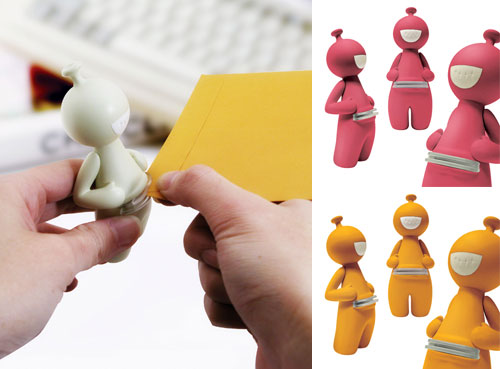 [Bow my head] key-chain holder
[purpose]
Don't throw your keys anywhere again! Put it on the arrow piking in my heart and I would bow to you!
[features]
You can stand me up or take away the base to hang me up!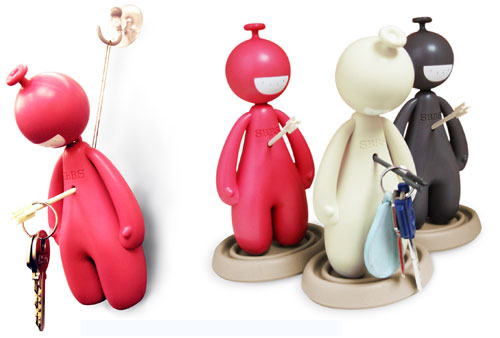 [i-Knock] instant messenger notifie
You can watch this little guy whack himself on the head every time you get a message with some creepy sound. Of course, you can customize it with mp3 files for any of your contacts. Hear a different mp3 song when your different contacts send you a message. It works with Skype, MSN, and Yahoo Messenger.