The 7th Room: an Incredible Tree House in the Arctic Circle
Here in DesignSwan we love treehouse and we have shared unusual tree house found around the world many times. And today we will bring another impressive treehouse "The 7th Room". Designed by International architecture and design company Snøhetta, this ultimate treehouse is located in one of the most beautiful corners of the world – Northern Sweden, near the Arctic Circle. "The 7th Room" is designed to shorten the gap between people and nature, introducing tourists to the Northern Lights in the Arctic Circle.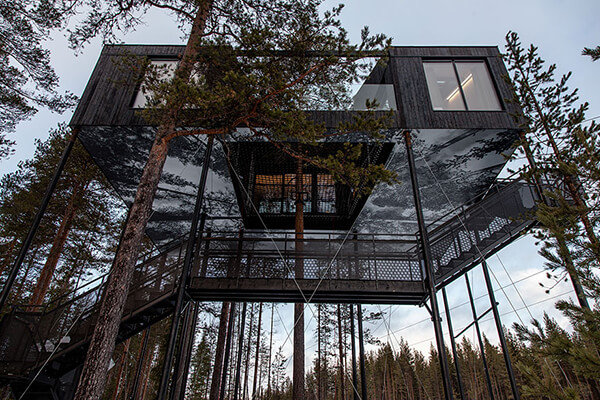 The design of the structure is based on the traditional Nordic cabin and comfortably sits on twelve columns in an isolated evergreen pine forest 33 feet (10 meters) above the ground. The light wooden interior creates a cozy atmosphere and large windows offer jaw-dropping views of the Swedish Lapland, including the winding Lule River. Having nearly 600 square feet (55 square meters) space, the tree house hosts a social lounge area, bathroom, and two bedrooms which can accommodates up to five people. One of its most amazing features is an outdoor terrace with a netted base, which offers visitors an unforgettable experience under the Northern Lights. Just imagine yourself lying on the net and enjoy the phenomenon night – what a experience! You can find more detail on its official site.