The Shoe That Grow With Kids' Feet
We have presented many innovative or creative shoe designs here, however, today's design is probably the most useful and meaningful one. If you had children, you know there feet grow like weeds. You have to keep buying them new shoes even the old ones are still in good quality. The situation goes worse for those impoverished children who often have difficulty getting new shoes once they outgrow their old ones – or any shoes at all.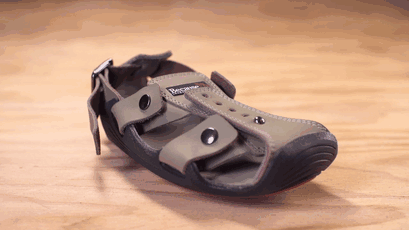 Kenton Lee of Because International tried to improve this situation with a new shoe design which can grow with child's feet, so they can last for at least 5 years. Using a system of sturdy snaps, the size can be increased with ease. The shoes themselves are quite resilient, too. The sole is made from compressed rubber and the straps are quality leather – easy to clean, and no mechanical parts to break. To make it work better for children at different age, the shoe has two principal sizes, small (lasts roughly from kindergarten to 4th grade) and large (4th grade to 9th grade). If you like this design and do think it can help those impoverished children, head over to theshoethatgrows.org and make a donation.