Glamour magazine has recently been promoting the "White Out" catwalk show where models and celebrities come together to promote white dresses and suits (a fashion trend from the 70's that's sure to make a comeback). Back in those days having a white kitchen tap was almost commonplace but as all trends do it eventually came to an end. With changes in technology and style the white finish is most certainly back with a bang.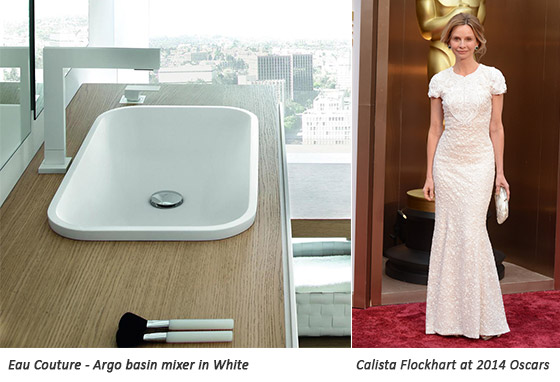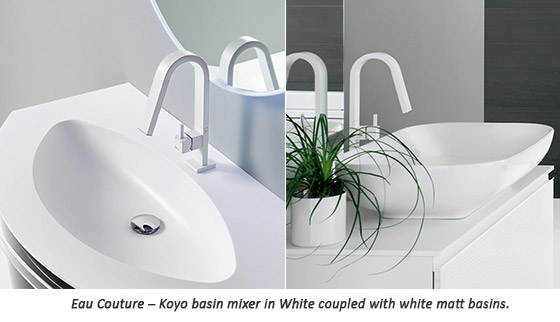 Among other things bathrooms have also joined this growing trend which feels like a breath of fresh air after the domination of chrome over the past few decades. The main design change in comparison to the taps back in the 70's is that most taps these days are monobloc mixers instead of separate white pillar taps. This allows the overall shape to be much slimmer and streamlined which helps in improving the flow rate from a combi-boiler.
With improvements in material technology these taps won't stain or mark as they did all those years ago, in fact the new technology actually allows for new finishes and colours to be implemented in tap design with greater flexibility. When it comes to the colour white there is a noticeable difference in quality and also connotations associated with the colour. The blemish free, pristine and pure look adds a sense of serenity, calm and tranquility in the design of your bathroom and can work equally well with contemporary timber or coloured bathroom furniture.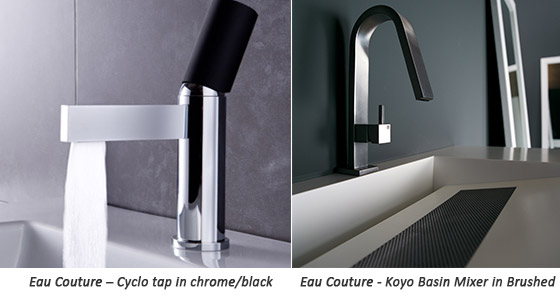 Of course the ubiquity of white means it can work well in tandem with other colours and finishes such as brushed nickel which offers almost an industrial look to any room design. Black also makes an appearance as it can work in contrast to the shiny chrome body to give the design a little 'sheen.
Please visit www.eau-couture.co.uk to find out more about their Italian made designer products or visit the 'appointment only' showroom in the Business Design Centre in Islington.