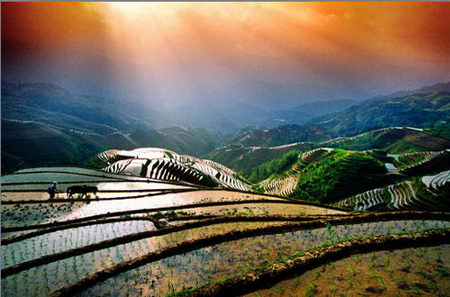 Some of you might see this picture before. It is really beautiful and breathtaking. However, do you know where this photo was taken? After a bit research, finally, I find that it is GuiLin of China.
GuiLin is situated in the northwest of Guangxi Zhuang Autonomous Region, with the Nanling Mountains running along its northeast border. It has a humid mid-subtropical monsoon climate. The pleasant climate and the beautiful sceneries makes Guilin a charming place. It is said that "East or west, Guilin landscape is best!" and that "While snow is rare for years, flowers bloom in four seasons."
As a scenic town and one of the best-known tourist destinations in China. There are many scenic places, including Longsheng with its famous Longsheng Rice Terraces (the exact place where the above picture was taken); The Li jiang river, Elephant Trunk Hill and Guilin Fubo Hill; Guilin Reed Flute Cave and much more.