I love ninjas! And ninjas are everywhere. Throwing stars, swords and other traditional Japanese warrior themes are seen these days in everything from fashion and interior design to some daily appliances. In this post, I will present you with 10 Cool and Interesting Ninja Inspired Products. Let's find out how those Ninjas sneek into our life.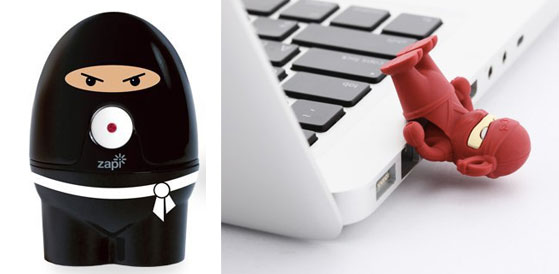 We are a participant in the Amazon Services LLC Associates Program, an affiliate advertising program designed to provide a means for us to earn fees by linking to Amazon.com and affiliated sites.
1. Bone Collection Ninja Flash Drive [buy on amazon]
Ninja USB flash drive puts every other flash drive to shame. The ninja coat features secret magnets that allows it to climb up any metal surface, it's also water-resistant and completely removable if you ever wanted to use the flash drive alone.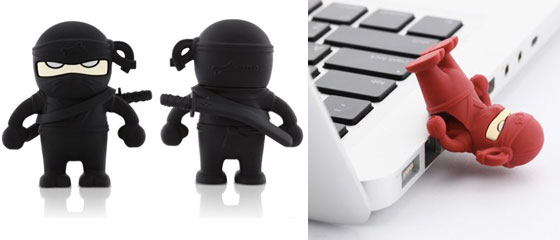 2. Ninja Shuriken Magnet [buy on amazon]
This product connects the connotation of shuriken and secret mark to imply that an announcement always carries an important message! Now you can enjoy throwing star magnets to your fridge or any metallic surface like the ninja from the old days, whenever you want to post a note or deliver a secret message!Each set comes in 2 strong Ninja Shuriken Magnets in a ninja style package!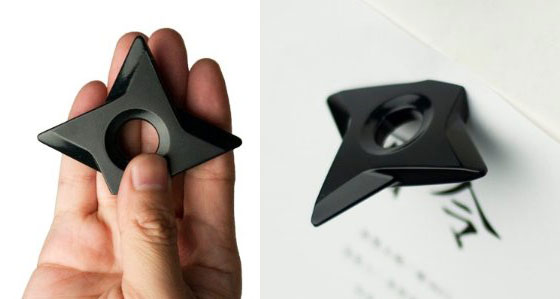 3. Samurai Sword Ninja Folding Umbrella Auto Release [buy on amazon]
* Samurai Sword Handle Umbrella (full-length)
* Original, U.S. patent-pending design
* Nylon "scabbard" included – with adjustable shoulder strap.
* Easy push button opening.
* Dimensions: 38.75″ long by 2.85″ wide; 41″ opened diameter
4. Ninja Coat Hooks [buy on amazon]
These Ninja Coat Hooks look like a crazy Ninja has broken into your house and hurled throwing stars at your wall. If you like your martial art movies, then you'll LOVE these amazing coat hooks! Forget boring hat stands, our Ninja Coat Hooks look amazing in a hallway and give batchelor pads a kung-fu fighting chance of looking cool enough to invite the ladies round.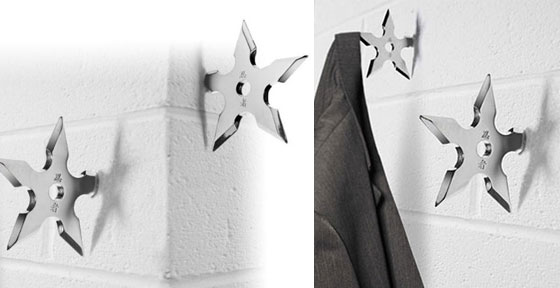 5. Fred & Friends Ninjabread Men Cookie Cutters [buy on amazon]
Fred & Friends Ninjabread Men is an innovatively designed cookie cutter set. The 3 different cutters are in classic ninja attack poses. Baked they are extremely funny and lend themselves to imaginative decoration possibilities.
* Oustanding ninja attack poses
* Take off on our best selling ABC cookie cutters
* Attractive packaging
* Cookie recipe included

6. Ninja Hoodie [link]
The jacket/hoodie is designed by Brianwood. You can change this jacket into a hoodie with the mask. Cool!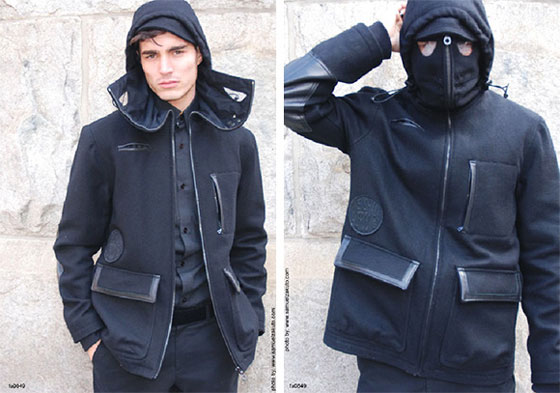 7. Black Ninja Folding Grappling Hook [buy on amazon]
* Folding Grappling Hook Ninja Gear
* Folding grappling hook inspired by ninjas
* Specially designed for compact, easy carrying
* 4 carbon-steel talons provide a safe ascent
* Includes 33 feet of tough braided nylon rope
* Weight rating of more than 800 pounds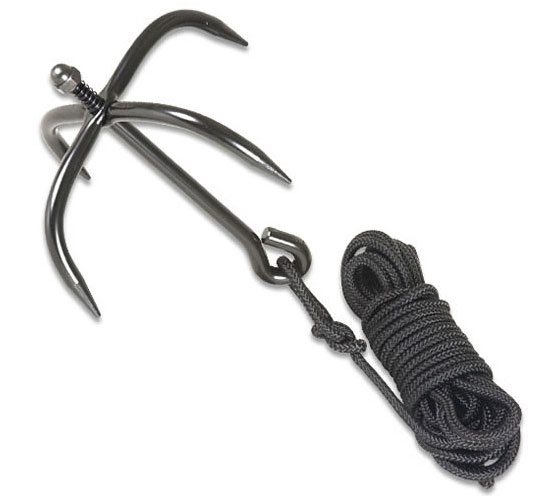 8. VIOlight Hi-Ya ZAPI UV Toothbrush Sanitizer [buy on amazon]
* Holds most toothbrushes including electrics
* Easy cleaning and lifetime bulb
* One button activation, auto shut off , blinking light tells you its working
* UV eliminates up to 99.9% of germs in 6 minutes
* 1 button activation, auto shut off , blinking light tells you its working
* Holds most toothbrushes including electrics; free toothbrush included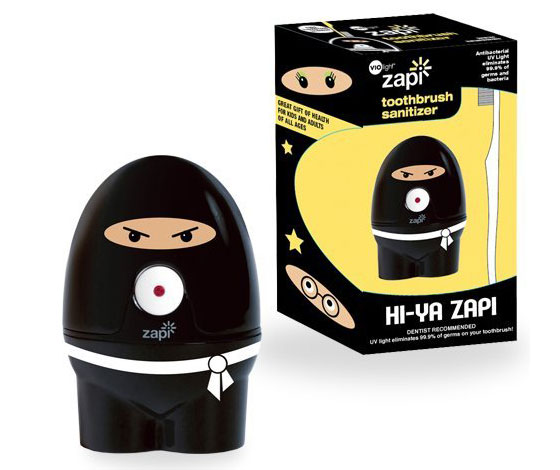 9. Japanese Ninja Kids Salt & Pepper Shaker Set [buy on amazon]
Ninja style salt and pepper shakers.
* Ceramic
* Size: 3 inches x 1.5 inches
* Black and white
* Look like Ninjas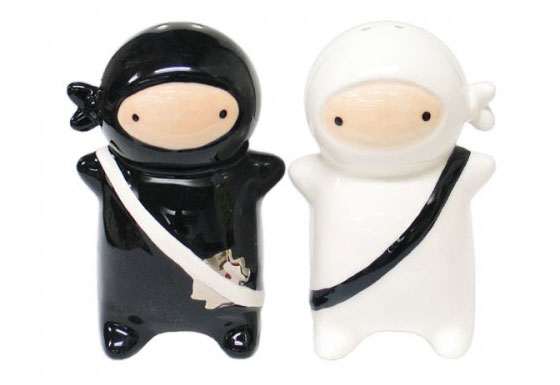 10. Piranha Gear Ninja Uniform [buy on amazon]
* Actual (real) Ninjitsu uniform
* Includes Jacket, pants, arm pieces, mask and hood
* Inside "secret pockets" at stomach and top left shoulder
* Elastic sleeve closures on the jacket
* Extra (velcro) closures for the lower legs