People don't love skull and skeleton only at Halloween. Actually, there are group of people who constantly love these symbol of dark fashion. Usually, skull and skeleton design are commonly used in jewelry and clothing design. While some creative industrial designers make one step further and create these awesome skull/skeleton shaped chairs. Some of them are available for purchase while some of them are more like a artwork. Such furniture probably isn't for every interior and not every our reader, but this collection is surely worth your attention!
1. Skull Chair by Yamada Tetsuya [source]
Tokyo-based artist, Tetsuya Yamada, breathes new life into the dark face of death with his line of candy-colored skull chairs. Yamada creates oversized chairs out of an inverted skull-shaped mold of plastic and fiberglass. Each chair is 90 cm x 120 cm and engraved with the artist's iconic logo.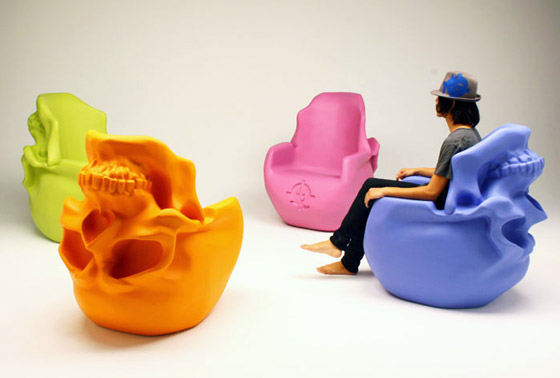 2. H.R. Giger: Harkonnen Chair – Skull Edition [source]
A limited edition Harkonnen "Capo" chair created and personally owned by the late H.R. Giger. The Harkonnen chairs were limited to a very short production run, and this particular chair was displayed in Giger's own home as well as in touring exhibitions.
Made of aluminium, the Capo Chair is designed to appear as though it is made from human bones, with a spine and a long line of ribs running down the back of the chair, a pelvis above the head and three nose-less skulls adorning the top. Armrests are present at either side, and the four-legged stand allows the seat to rotate. A moulded rubber cushion is fitted into the back for comfort.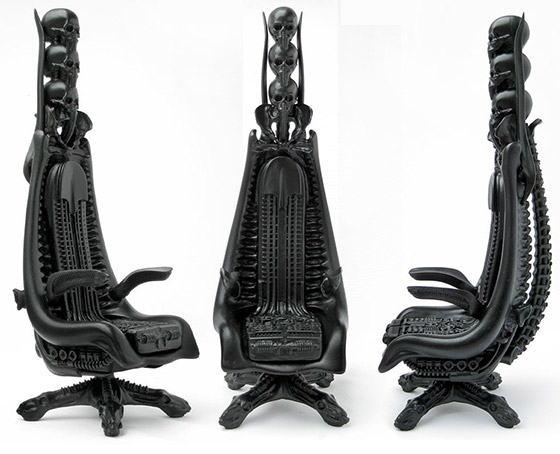 3. Jolly Roger – GUFRAM [source]
Jolly Roger. A chair that formally hints to the skull – the symbol of swagger painted on the red standard of French and then English corsairs and freebooters, terror of the seven seas. And it is the globe itself to remain suspended in the internal frame – a map surrounded by the oceans; the desire for insatiable conquest; almost an exhortation not to keep still; a warning: never forget you are sitting on the world.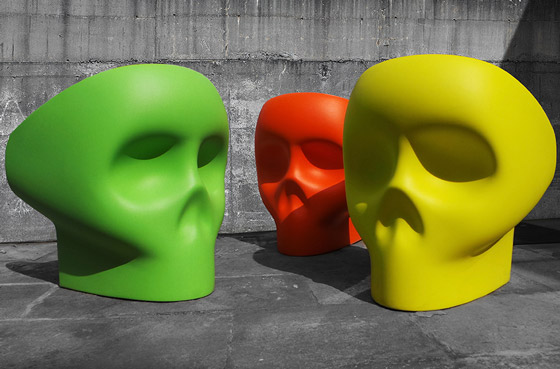 4. Skull Chair by chicsindesigndotcom [source]
The SKULL Chair has a movable jaw which can be opened and closed, it can be functioned as a comfy low chair or an awesome decoration for your home.
The graphics is knitted with colored threads, instead of printed. Please take a closer look at the close-up picture to view how the graphic is formed.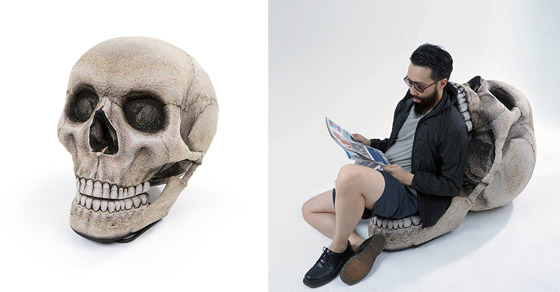 5. Black Angular Skull Armchair [source]
Designed and created by Harold Sangouard, the chair is a resin structure built off a steel frame, and finished with a glossy black paint. There's a golden version in the works as well. Built in a blend of furniture and art, the skull chair is quite an intriguing set. Padded seating of the chair is covered in velvet, and its structure is built for comfort. As far as design and execution goes, this is great. I'd be an evil genius if that meant sitting on the chair, but I woefully lack that talent.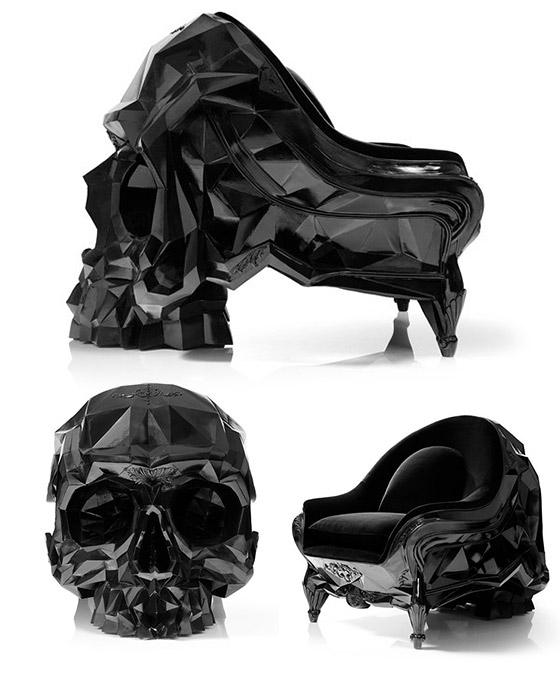 6. Skull Dinning Chair [source]
This is a dinning chair made of FRP(fiber reinforced plastic) with a cool skull design at the back.
Height: 850mm
Width: 450mm
Weight: 6kg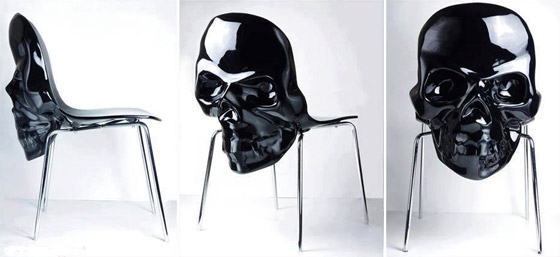 7. Hand Carved "Momento Mori" Skeleton Rocking Chair [source]
A intricately carved mahogany "momento morie" rocking chair depicting a skeleton figure on rockers terminating in dragons. Probably modeled after the Mid 19th Century Russian example as illustrated in 19th century European Furniture by Christopher Payne. Vincent Price, a well-known actor in horror films, owned a whole set of skeleton chairs.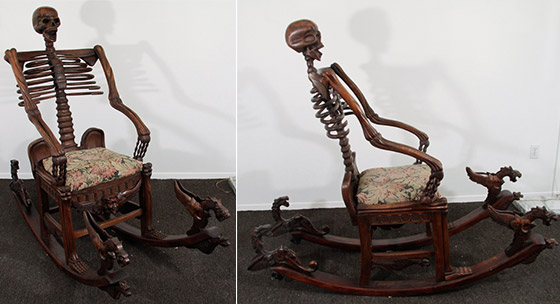 8. Skull Chair and Brain Ottoman [source]
Skull Chair and Brain Ottoman were crafted by artist Vladi Rapaport. Made from reinforced polyester and having an option to have a veneer covered finish as well, the chair takes a more abstract and artistic approach to a skull shape. Besides for the utral cool skull chair, square leather covered ottoman looks strikingly similar to a brain, which pairs up with the chair to create a complete set.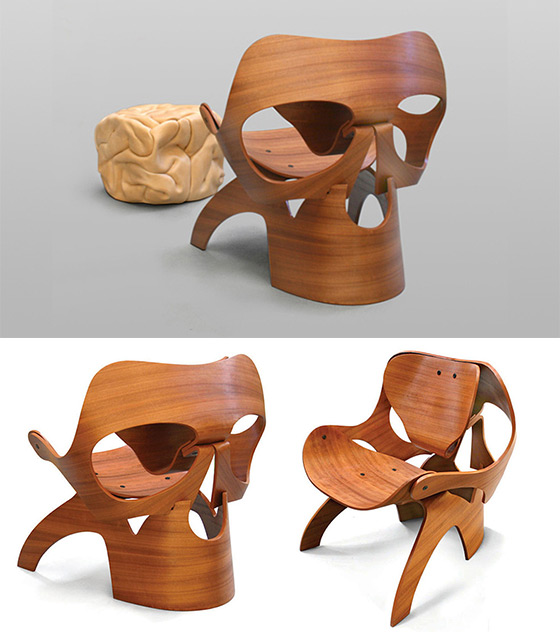 9. Skull Lawn Chair [source]
This awesome chair will be perfect for the back yard or patio.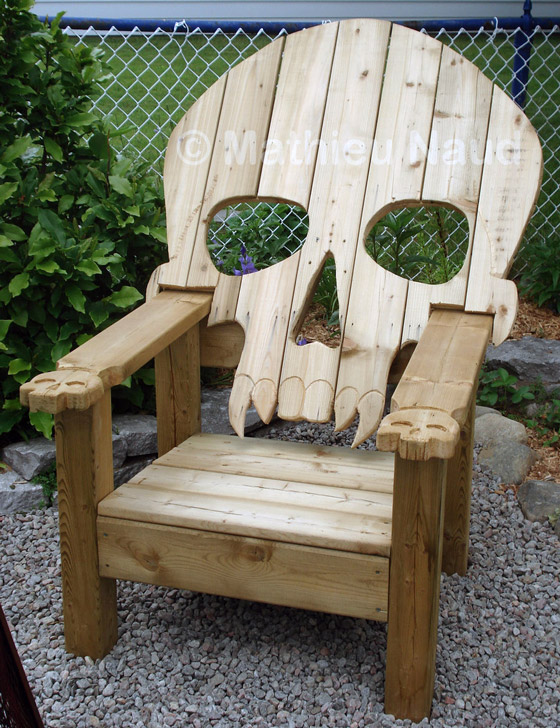 10. x-ray eames [source]
This is a little cute skull chair sculptured by Denny Holland.