Halloween is on its way and if you haven't decide yet how to decorate your outdoor space, this post might help you a bit. We have gather some cool Halloween outdoor decorations which you can easily get online to save you some time and help to create a perfect ambiance of this fun holiday. From hanging bat to skeleton body parts, bloody zombie to lighted ghost, take a look at this cool collection and hope it make your house the spookiest on the street.
We are a participant in the Amazon Services LLC Associates Program, an affiliate advertising program designed to provide a means for us to earn fees by linking to Amazon.com and affiliated sites.
1. Halloween Pumpkin Appendages, set of 4 [buy on amazon]
Help your pumpkins reach out and touch someone (like a trick-or-treater) with these fun Halloween Pumpkin Appendages! These enchanted-vine arms and legs are actually made of realistically detailed foam over bendable metal so pumpkin decorators can branch out: curl them into a wicked wave, a creepy kick, or around a proffered treat. Set includes two arms and two legs.

2. Black Cat Yard Stakes [buy on amazon]
Black Cat Yard Stakes. These bewitching black metal cats have light-catching green glass eyes.
Assembly required.
Cats, 14 1/4″H x 10 1/4″W;
stakes, 23 3/4″H.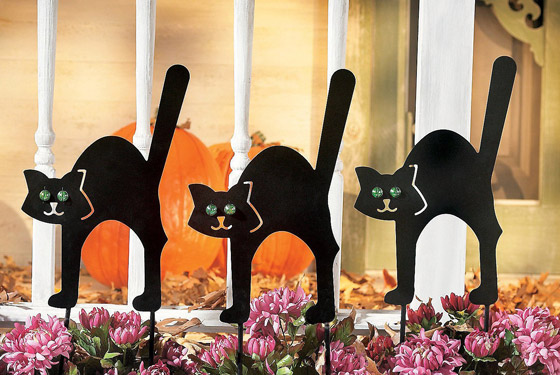 3. Lighted Skeleton Body Parts [buy on amazon]
This spooky Lighted Skeleton Body Parts kit mimics the look of a skeleton trying to escape his grave! Follow the instructions on the package to create a macabre effect, and give the trick-or-treaters in your neighborhood an extra fright with this scary decoration.
Includes: Skull, 2 arms, 2 legs (assembly required), 5 stakes

4. Halloween Yard Decoration Scary Hanging Bats [buy on amazon]
This Halloween yard decoration is cut from black corrugated plastic this allows both sides and edges to be completely black. Set also includes a variety set of eyes. The eyes are vinyl stickers that can be applied by you. We also include 24 c-hooks with strings for easy installation into trees, drop ceilings and more. Each string measures 8′ and has a metal-barbed end opposite of the hook. Bat measurements: approximately Largest bats: W16″x5.5″H, Second Largest: W12″x4″H, Smallest: W9″x3″H (You provide the material to hang with)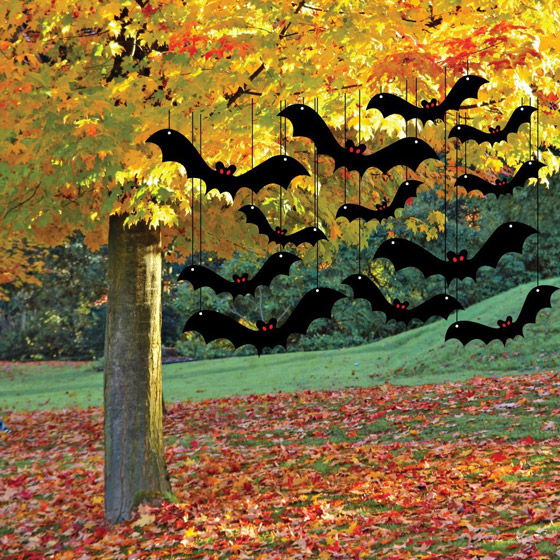 5. Lighted Hanging Fabric Ghost [buy on amazon]
48 inch Lighted Hanging Fabric Ghost
Hanging or Standing Ghost Decoration
35 clear light bulbs (white 22 AWG wire)
30 in/ 76.2 cm lead wire, 48 in l/ 121.92cm
For Indoor and outdoor use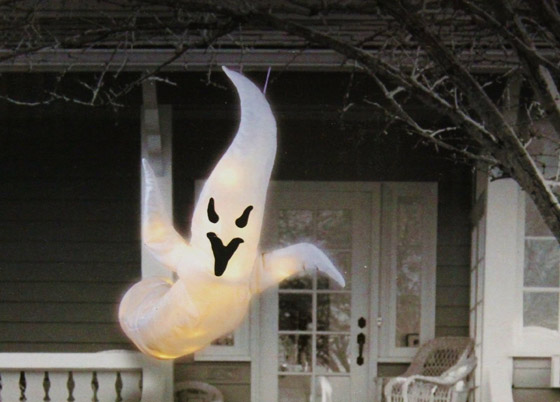 6. Frankenstein Monster Stuffable Halloween Party Decoration [buy on amazon]
This stuffable monster is the perfect way to decorate this Fall! Simply fill this oversized figure with plastic grocery bags to make it as plump as you please. Then, pose the figure on your porch for a festive scene it's bright and colorful details make it fun all season long. Hand wash. Cotton and polyester. Zipper closure on back. Approximately 54″L x 18″W.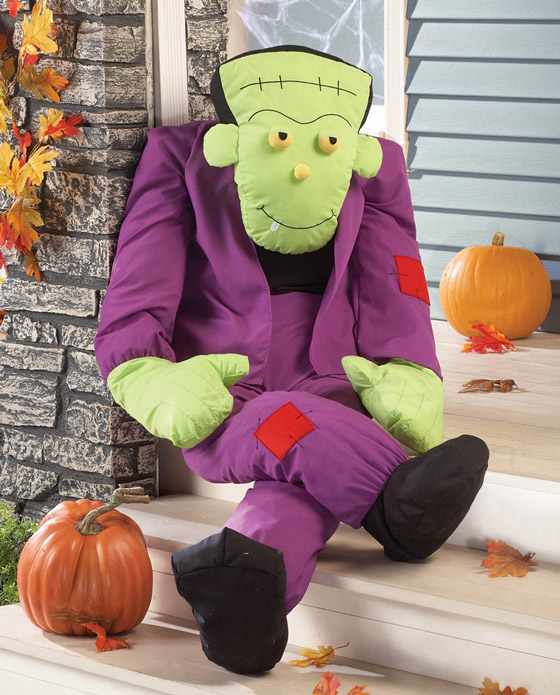 7. Pumpkin W/ Kitten Halloween Metal Door Decoration [buy on amazon]
Cute door decoration of a cat head peeking out from atop a pumpkin. Sculpted metal and hand-painted design. Hanging hook on back. Measures 9 1/4″L x 15 1/2″H.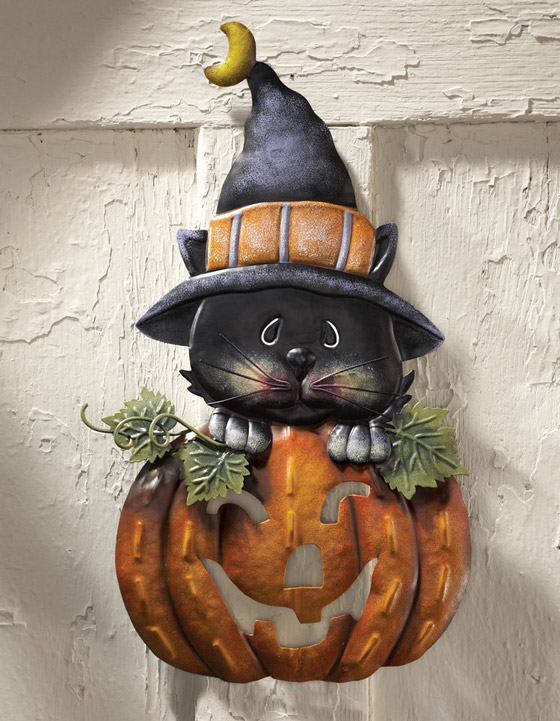 8. Gifts & Decor Sinister Skull with Lantern [buy on amazon]
Give visitors a greeting they'll never forget. Ghostly grinning skeleton appears to crawl from the ground; clutched in his bony fist, a swinging lantern sheds a ghostly light. Polyresin. Two AA batteries not included. Weight: 3.8-pound Some assembly required. 11-Inch x 6-1/2-Inch x 13-Inch high; lantern: 3-Inch diameter x 6-1/4-Inch high.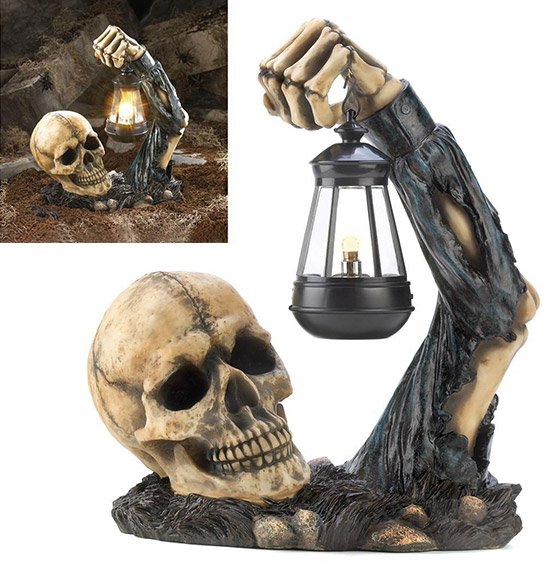 9. Bag of skeletion bones – 28 pieces set [buy on amazon]
A collection of spooky skeleton bones to spread across your haunted house graveyard! Perfect decor item that'll surely add that extra spooky feeling to your party! Foam Bag Of Bones. Assorted styles in a mesh bag. Pieces are 6″ – 12″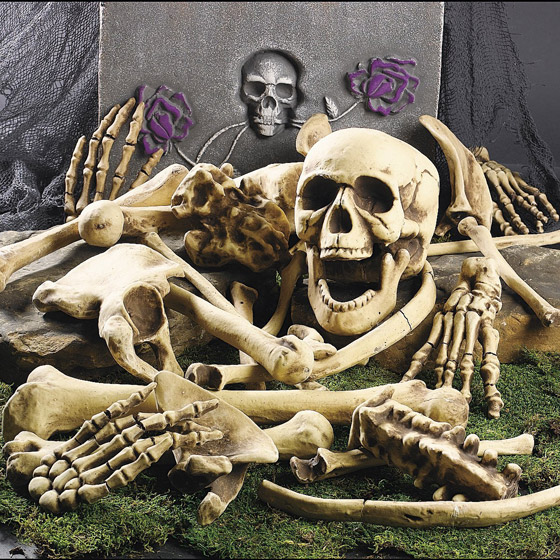 10. Zombie Gnombie Statue [buy on amazon]
Watch out! The Zombies have now invaded the realm of the Gnomes! Our macabre Gnome has only survived the Zombie invasion by joining the Living Dead. Sculpted in gruesome Zombie detail and cast in quality designer resin exclusively for Design Toscano, our post-apocalyptic Zombie Gnombie is hand-painted to create a full vision from bloody beard to graveyard hues. Don't miss this unique garden collectible! 11½"Wx8″Dx10½"H. 3 lbs.