Looks like creative Storage and Shelving Systems are already the trend that only is going to become more popular; and we have features many brilliant and ingenious storage solutions to keep your belongings contained. While this post, we will bring more clever and witty approaches to store stuff, which only a way helps to keep your home tidy but also servers as a beautiful decoration.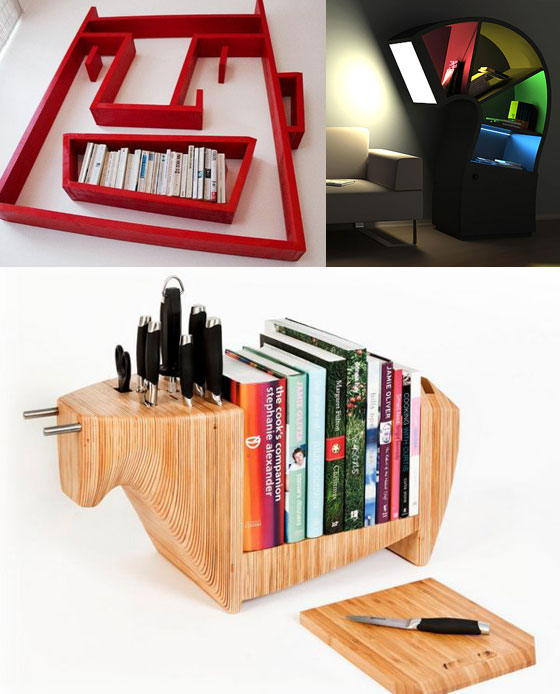 1. Practical Storage System Hidden Understairs [source]
Chiswick Woodworking Company completed an interesting and highly practical project consisting of several storage units that can be pulled out from under the stairs. You have four different "lockers" and each of them can be accessed individually. Each of them futures diverse solutions, for the smallest objects and even large boxes, clothes, shoes and so on. The pulling mechanism is simple; this way anyone can have easy access to the items inside the "stairs" (children too).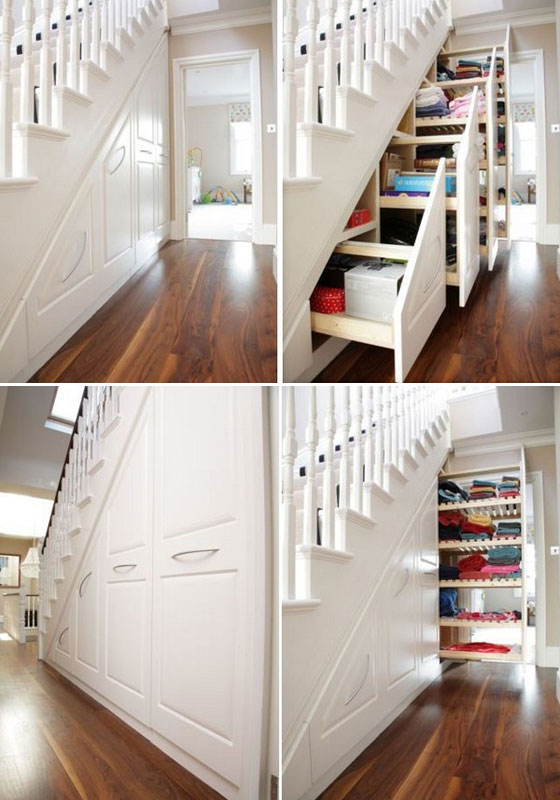 2. Dream Bookshelf [source]
The Dream Bookshelf is perfect for the person who likes to surround themselves in a creative environment. Dripta Design Studio plans on releasing the wood and fiberglass bookshelf sometime next year. What a great way to organize your book collection above your bed or couch…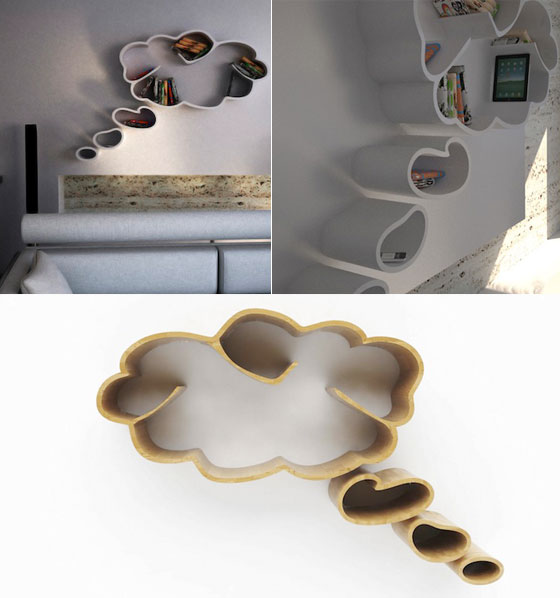 3. Creative Typeshelf by Ufuk Keskin [source]
This creative shelf called Typeshelf easily transforms from ordinary 2D object into 3D functioning product. Designer Ufuk Keskin creates a whole series of such objects called "Flat Objects" for Thirtyfive Creative Works and this shelf is a part of it. "Typeshelf brings typography into product design by using the word as the object. 2D cut out letters on stainless steel are bent along the perforations at the bottom to form the "shelf"."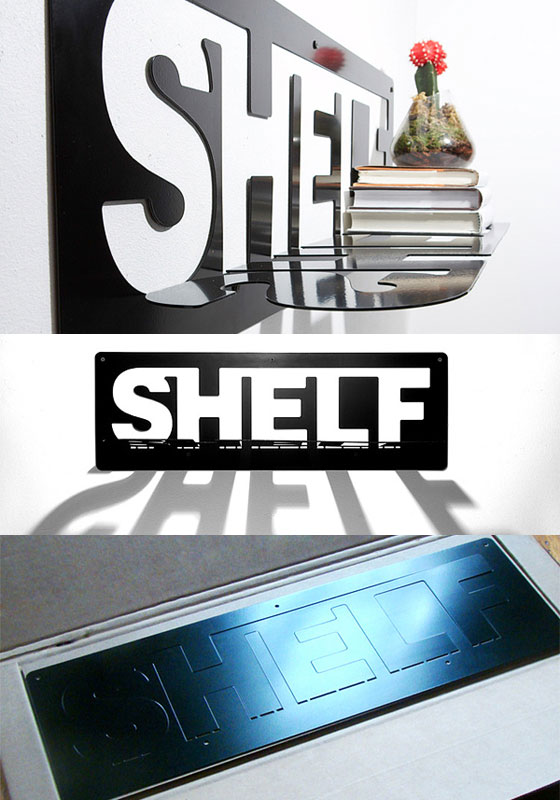 4. Beautiful Twin Shelves [source]
The Twin Shelves belong to a series of parametric furniture digitally fabricated and generated by means of an algorithm which is based on Voronoi's tessellation. This model's variables are an edge and points that determine its inner subdivision. This allows to customize the x,y and z dimension adapting the shape of the furniture to the specific requirements of each client.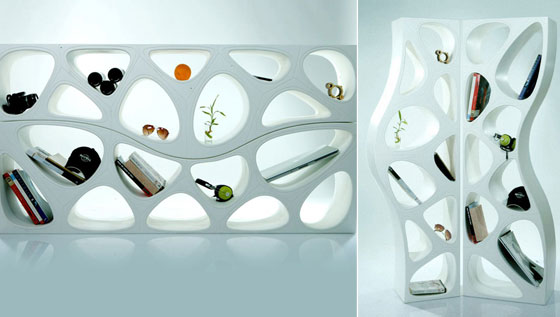 5. Face Shelving by Alexi Mccarthy [source]
The Face Shelving comes from Alexi Mccarthy and is a cheerful storage unit for books and various small objects. The idea is that depending what you put in or on the shelves, you create different faces and expressions.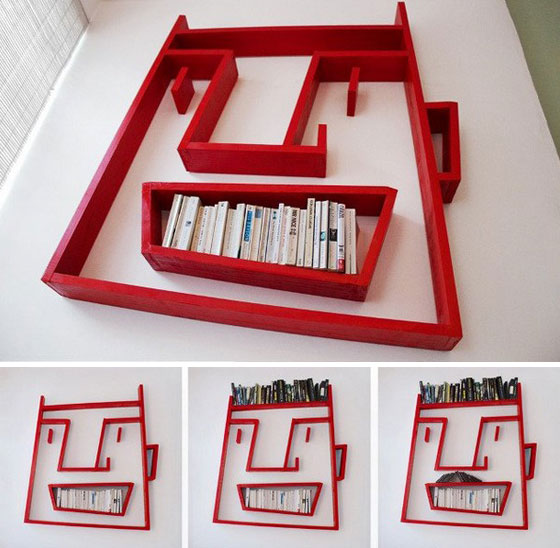 6. Wha Cabinet [source]
If you are looking for a cabinet with a difference, look no further, Wha Cabinet is definitely the picture you are looking for. Designed by Tembolat Gugkaev, the cabinet is versatile closet that duals as a lamp. During the day, it's a cabinet, and works as lamp at night. Dressed in curvy look with a color backlit shelves, these cool cabinets bring urbane sophistication and style. With simple and neat design, the multipurpose Wha is a perfect contemporary design with lofty functionality and elegance.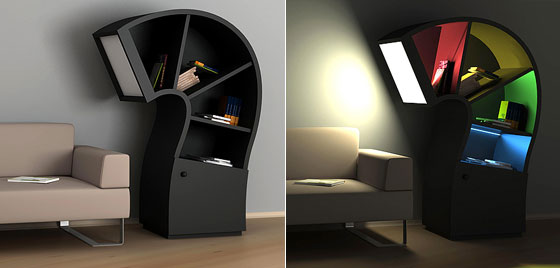 7. Houndstooth Wall Shelving [source]
It's just a concept for the FLY design competition but careful thought was put into how it could be ecological manufactured and sold a low price. The units come in two colors made of laminated composite wood. Each piece is hung using only two screws and I suspect this would be a great way to bring interest to a sparse wall.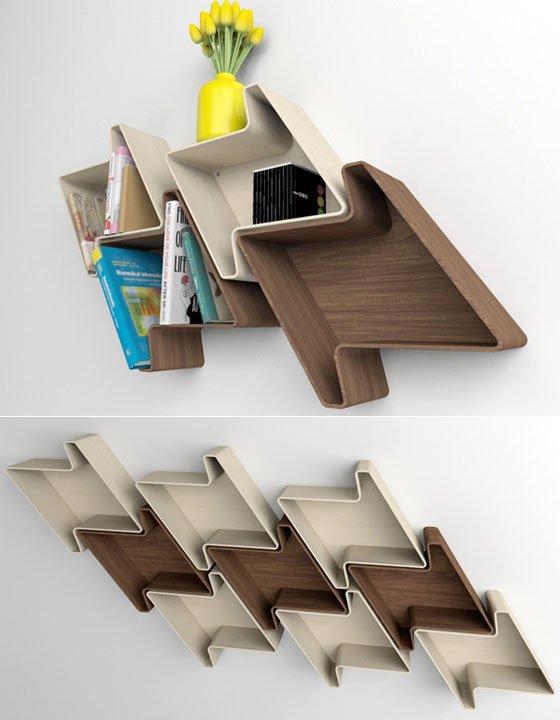 8. Hand Carved Shelving Unit: 'Metamorphosis' by Sebastian Errazuriz [source]
'Metamorphosis' is a hand carved furniture piece, made from Baltic birch plywood and resembles a giant tree branch with many ramifications. Suited for books and magazines, the unusual shelving unit can also be used for storing various objects; it is all up to the creativity of the owner.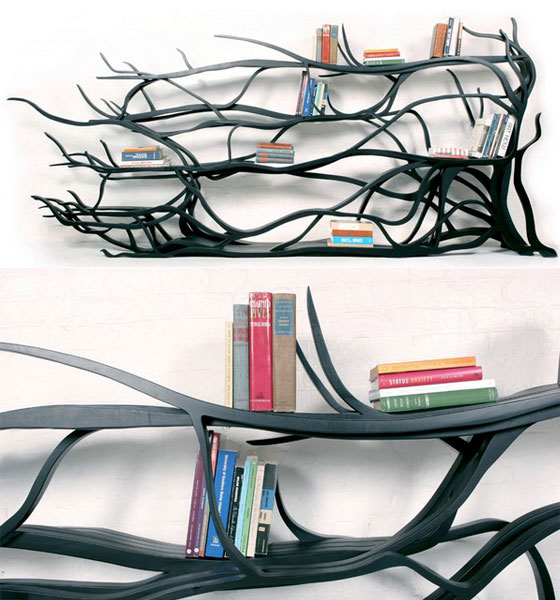 9. Interwined Shelves [source]
Maria Yasko – interior designer from Russia – decided to transform such simple element as shelves into multifunctional bizarre intertwined furniture. Besides its primary functionality it can be used as part of room decoration.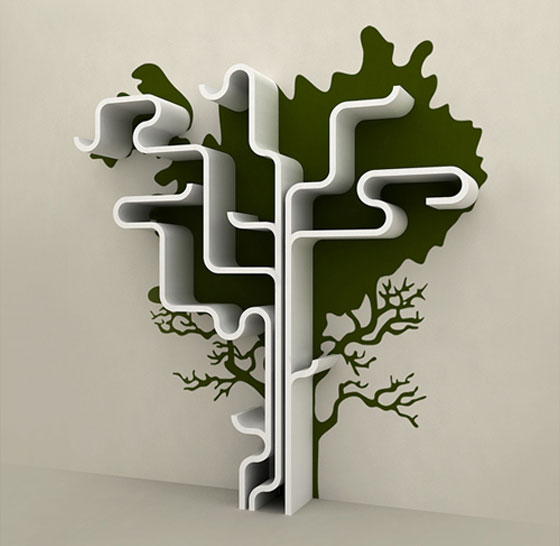 10. Book Storage System Helping You Cook with Enthusiasm: Kitchen Bull [source]
Tired of waiting while your meal gets cooked? Here is an ingenious way to turn that time into useful or fun reading. Kitchen Bull comes from Toro Legno and acts like a miniature bookcase. Its design is witty and contemporary, making it easy to be integrated in a large variety of modern kitchens. The product also features a place where users can place knifes for easy access.