Who doesn't like R2-D2, the little droid from the Star Wars. And because we love it so much that we try to add it in every inch of our lives. We want to drink with it, eat with it, cook with it, relax with it and even have shower with it. And if you do have all above needs, you shouldn't miss this post, since it is there to meet all your requirement and make you satisfied.
We are a participant in the Amazon Services LLC Associates Program, an affiliate advertising program designed to provide a means for us to earn fees by linking to Amazon.com and affiliated sites.
1. Star Wars R2-D2 Coffee Press [buy here]
Star Wars R2-D2 Coffee Press is here to help you navigate your mornings more successfully. Put your grounds and boiling water in his glass body, brew for a few minutes, plunge, and he'll serve up 32 oz. of piping hot coffee. For folks playing along at home, that's 4 cups, so even if your motivator is so bad that the Jawas put you back on the scrap heap, he can still get you going.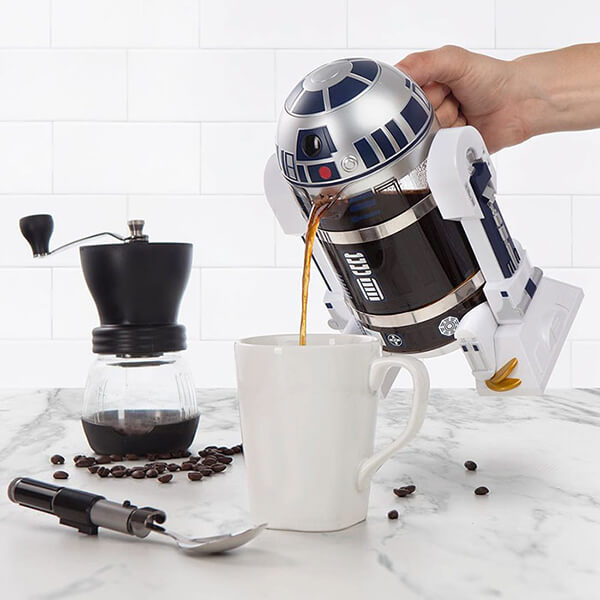 2. R2-D2 Measuring Cup Set [buy on Amazon]
This set of R2-D2 Measuring Cups disassembles into 4 measuring cups plus 4 measuring spoons and reassembles in a snap. Each has its measurement written inside so you can't forget what they are and handles on the back that don't distract from R2's aesthetic.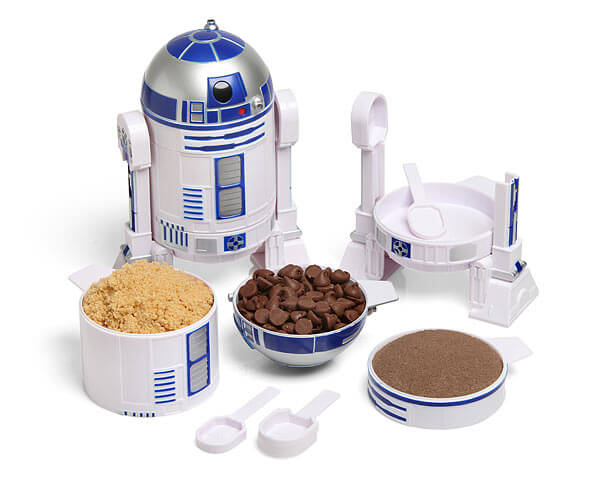 3. R2-D2 Thermos Funtainer [buy on Amazon]
With a built in straw, push button lid and durable stainless steel interior and exterior, this Thermos sport bottle will withstand daily wear and tear. Thermos double wall vacuum insulation keeps drinks cold for 12 hours.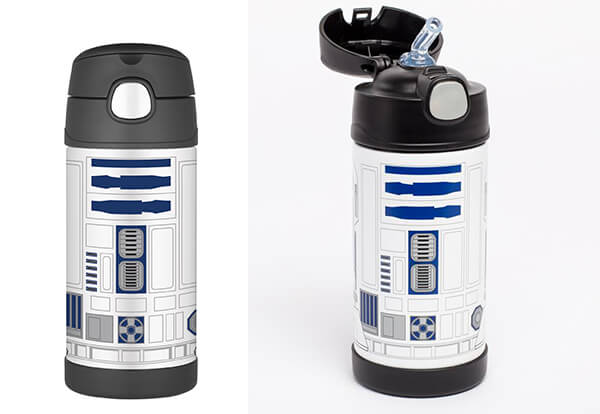 4. R2-D2 Bento Box [buy on Amazon]
This little R2-D2 Bento Box is a must-have for Star Wars fans. R2's legs hold all three parts firmly together when you're not eating. The lid is even air-tight! Plus, you can use the seal on that top part as a round sandwich cutter, and the middle section has the details from the Death Star on it, so you can use it as a sandwich press.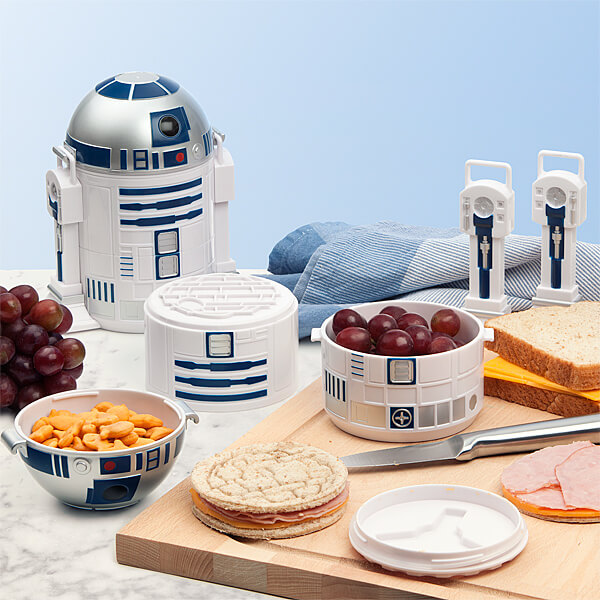 5. R2-D2 Pop Up Storage Bin / Laundry Hamper [buy on Amazon]
R2-D2 holds all sorts of things – holographic messages, lightsabers, and now your stinky laundry. Ties on both sides allow you to collapse it when not in use – great for travel. Dimensions: 17″ diameter x 23″ main body (33″ with dome up)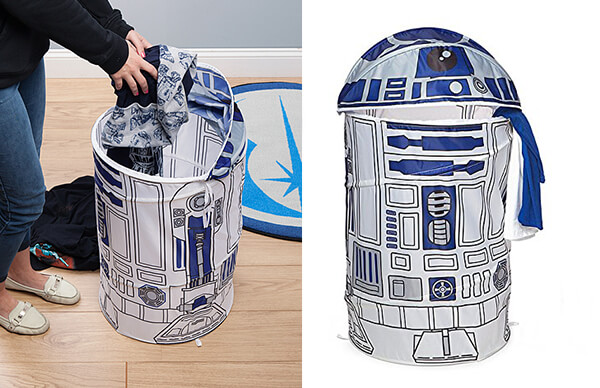 6. R2-D2 Shower Head [buy on Amazon]
Melt away your stress and worries with your very own r2-d2 shower head! Fight away dirt with a shower head that's shaped like your favorite droid. 3 powerful spray settings with patented Oxygenics technology rinse and clean fast. Efficient design reduces water usage without limiting power.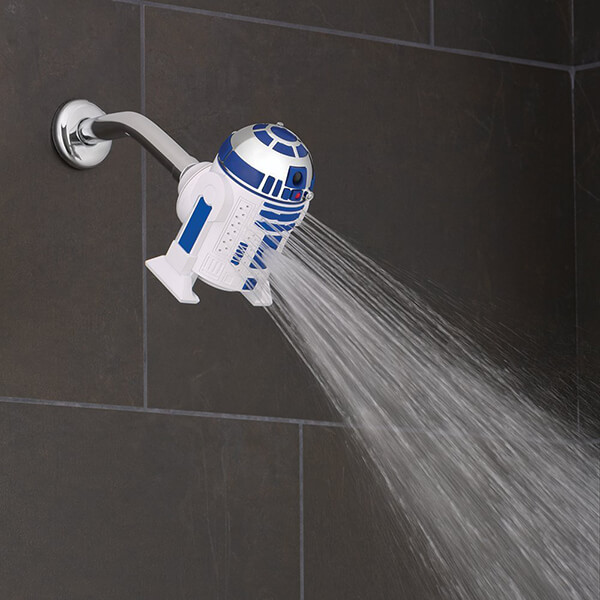 7. R2-D2 3D Deco Light [buy on Amazon]
This super cool 3D effect wall light comes with awesome crack sticker to make the R2-D2 has smashed through the wall. Stays cool to touch, easy to use on/off switch. Includes all components for an easy installation, requires 3 x AA batteries (not included.) Approximately 40 hours of light.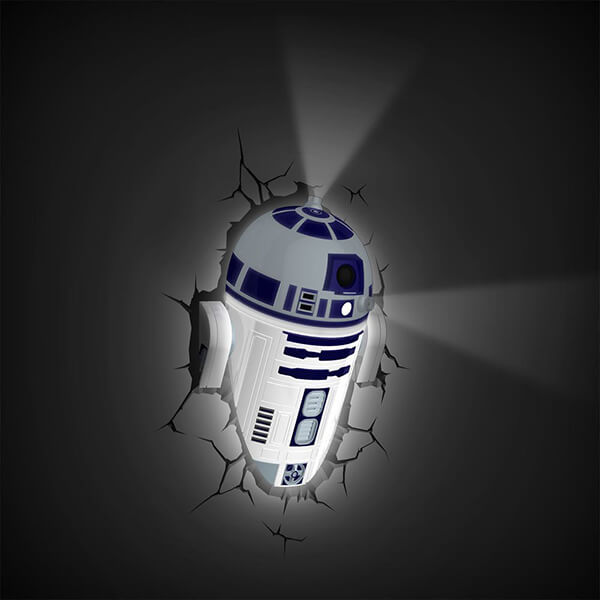 8. R2-D2 Salt and Pepper Shakers [buy on Amazon]
Moulded Ceramic Shakers with accurate droid detailing. Removable bung in base for easy refilling. Simply flip the R2 unit of your choice over, and he'll deposit salt or pepper onto your food.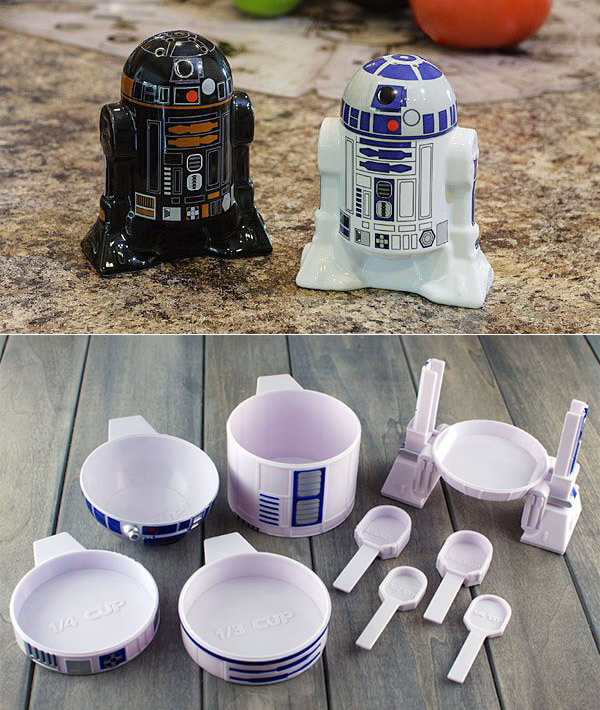 9. R2-D2 Silicone Ice Tray [buy on Amazon]
Create your own Ice, Chocolate, Jello in the shape of R2-D2 as seen in the Star Wars movies! Perfect for your Star Wars parties the silicone tray is both heat (to 446F°) and cold resistant!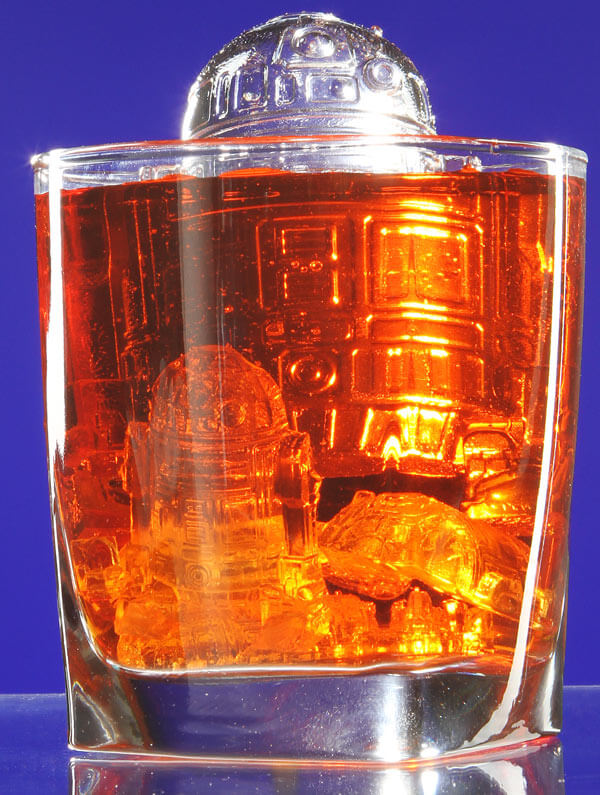 10. R2-D2 Bluetooth Speakerphone [[discontinued]]
When it's charged, either pair the speaker with your Bluetooth-enabled phone or plug your audio device into Artoo's standard 3.5mm audio jack. Artoo will light up, literally, including the familiar indicator light and some new funky blue "underdome" lighting he's had installed. Since he's Bluetooth, you can even make calls on him when you have your phone paired up.