The Formula 1 for this year is to begin this Saturday…As a loyal F1 fan, I made this post of 10 creative Formula 1 Car Replica/Recreation. You can see some impressive recreation of Formula 1 Car, for example, the one made by 956,000 Matchsticks, 22 types of bread or 4,405lbs chocolate. The Styrofoam looks with great details and the ice sculpture is also pretty "cool" (in both way.) However, my favorite one is Lego Car(sorry, I can't control my fond of Lego…).
1. Styrofoam F1 Car form Michael Salter [link]
A full scale replica of a Formula One race car made from scrap Styrofoam pieces.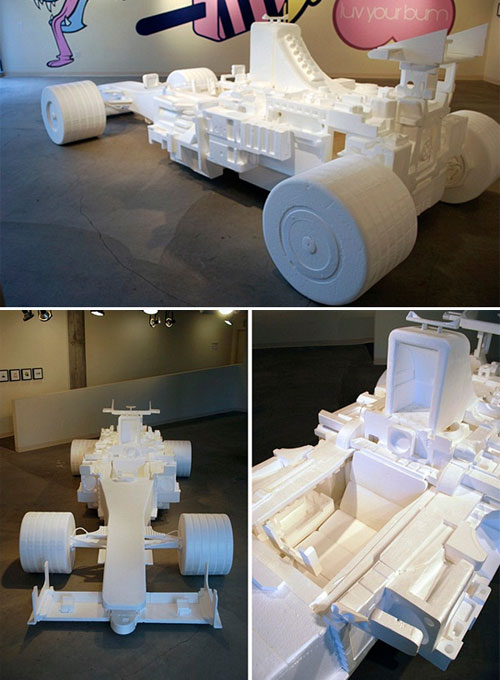 2. Life-Size Bread F1 Car [link]
This edible racing car was baked by Culinary Executive Chef from the Royal Plaza On Scotts in Singapore with his team consisting of six chefs, two artists, two technicians, two culinary staff members and five young volunteers from Metta Welfare Association.
According to Klik.tv, there are a thousand individual loaves and 22 different types of bread in the life-size F1 car. Let's check the ingredients: 33 Lbs yeast, 4.7 gallons water, 2.2 Lbs salt, squid ink, soy beans etc; then bake 1,000 loaves and 22 varieties of bread. Assemble and coat with 3 gallons of food varnish.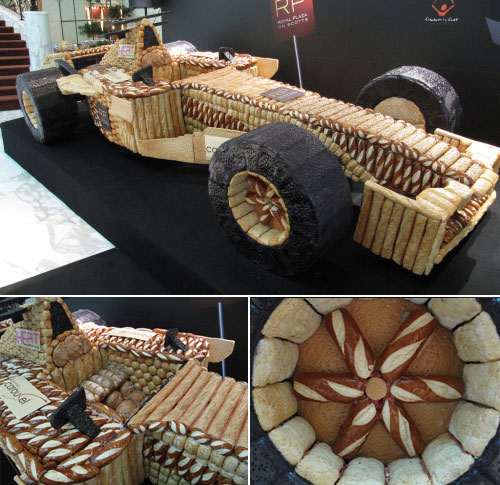 3. F1 Made Out of Puma Clothing
[
link
]
This cool life-size Ferrari Formula 1 car was build by PUMA retail team out of nothing more than Ferrari branded clothing, caps, shoes and bags.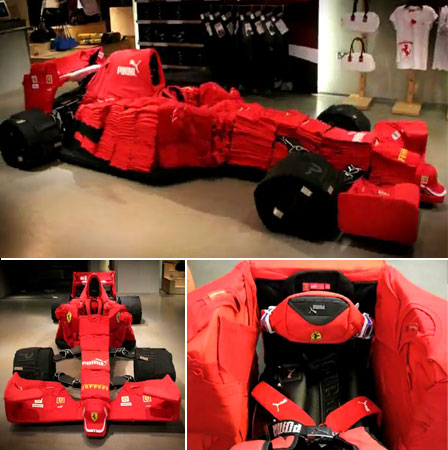 4. Full-Sized F1 Car Using 956,000 Matchsticks
[
link
]
Michael Arndt decided that buying a real Formula 1 car was too expensive, so he spent 6-years building a Mercedes-McLaren replica using 956,000 matchsticks. Look really impressive.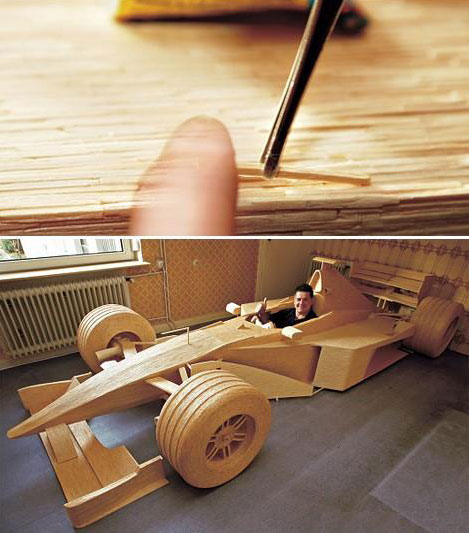 5. Formula 1 Car made from Shoe Boxes
[
link
]
Based in UK, the Wilson brothers have created a formula 1 car using puma shoe boxes. It was part of an installation in the new store at north state street, Chicago and references the ongoing relationship puma has with motor sports.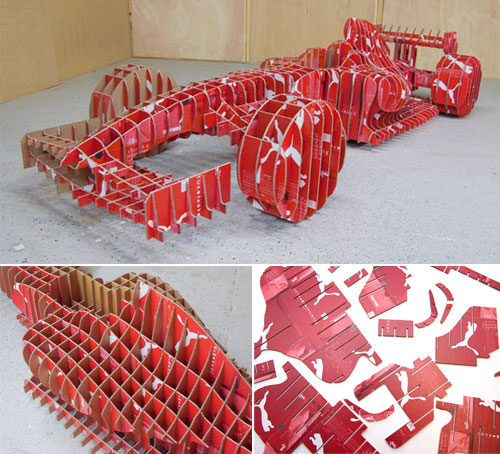 6. Ice sculpture F1 car
[
link
]
Made the formula 1 car of Alonzo in ice, actual size. All pieced together like you would in reality.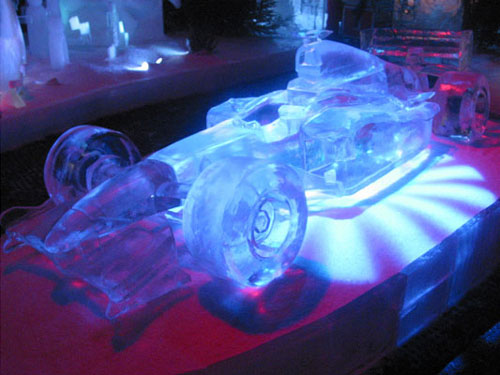 8. Chocolate Ferrari Formula 1 car
[
link
]
A life-size chocolate model of a Ferrari Formula 1 car has been unveiled in Italy. Confectioners spent more than a year making the car out of 4,405lbs of Belgian chocolate. The £12,000 chocolate Ferrari is based on an F2008, and has a red, edible coating.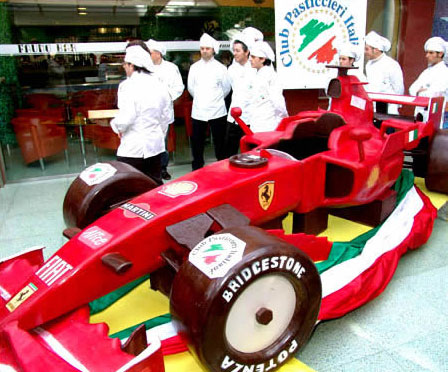 7. LEGO Ferrari Formula 1 Car
[link]
This drivable Ferrari Formula 1 car was made from 80,000 LEGO bricks for the annual LEGO World event in the Netherlands.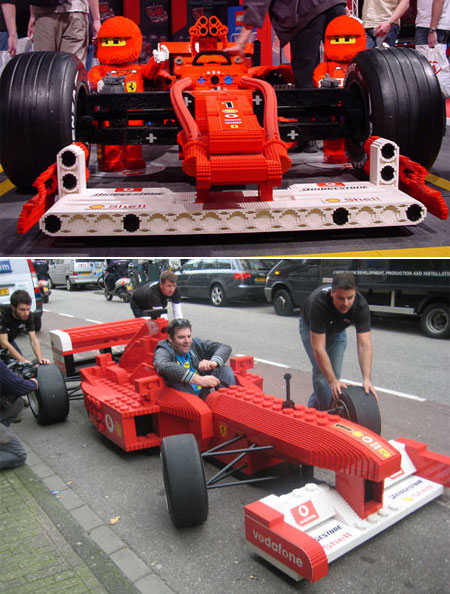 9. The hedge shaped like a Formula 1 car
[
link
]
The grounds of the Williams F1 headquarters in Oxford shire feature this hedge which has been trimmed into the shape of a Formula 1 car.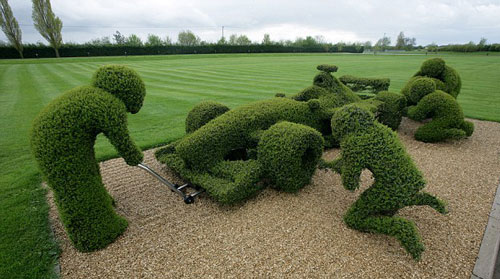 10. Sand sculpture masterclass for Webber and Vettel
Sebastian Vettel of Germany and Red Bull Racing is seen with sand sculpture of a Red Bull Racing car on St Kilda beach during previews to the Australian Formula One Grand Prix on March 26, 2009 in Melbourne, Australia.