Do you ever find yourself in such situation that you are in a hurry to get to someplace and you can't find the right makeup you need because there are too many of them piled up. Isn't that extremely frustrating and infuriating? That is the reason you need a cosmetic organizer.
Owning a proper makeup organizer will keep your items sorted so that you know exactly where to find something when you need it. This saves your time and money since you will not overbuy something because you can't find it.
Searching for the best makeup organizers, you'll find there's really something for everything. Depends on your need, here are our collection of 10 well designed Cosmetic Organizer, which can help you declutter your bathroom cabinets and display your beautiful makeup collection.
Glam Cosmetic Organizer, White/Gray
A versatile makeup organizer, Glam stores and organizes all of your favorite products, while remaining stylish with its simple, modern design. Perfect for small spaces with less storage, this makeup storage and organizer is a great addition to your vanity, or countertop helping you organize and save space.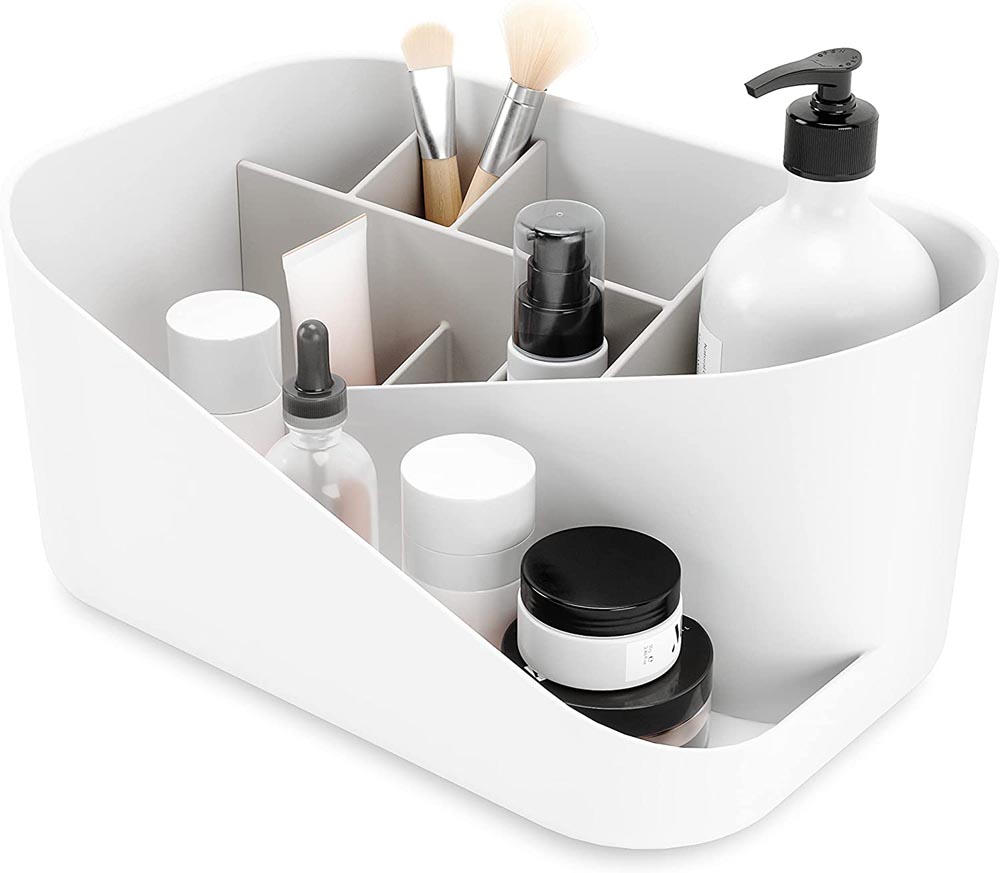 [buy on amazon]
Cosmetic Display Case
The exquisite storage box can be placed on the bathroom counter or vanity, perfectly storing small items such as makeup brushes, eyebrow pencils, eye shadows, lipsticks, makeup sponge, etc. It can also be placed on the desk as a pen holder to store pens , scissors, glasses, paper clips, sticky notes, glue, remote control and other items.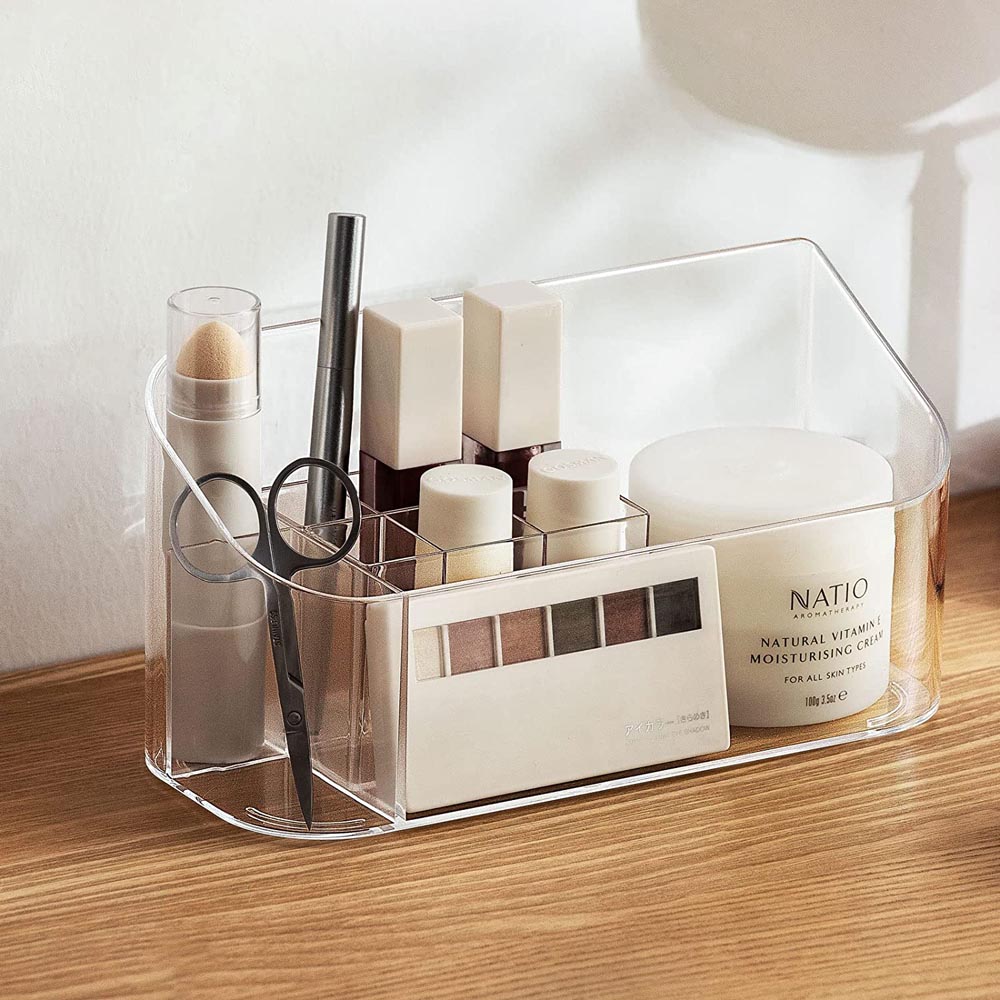 [buy on amazon]
Bamboo Makeup Organizer with 4 Acrylic Storage
Everything is kept neat when it is organized! It is not only useful for organizing jewelry and cosmetics on a dresser, but it is also suitable for organizing office supplies on a table or toiletries in the bathroom, as well as providing a lot of storage space for your other collectibles. The bottom drawer box has a groove on its surface that makes the top and bottom organizer stack well.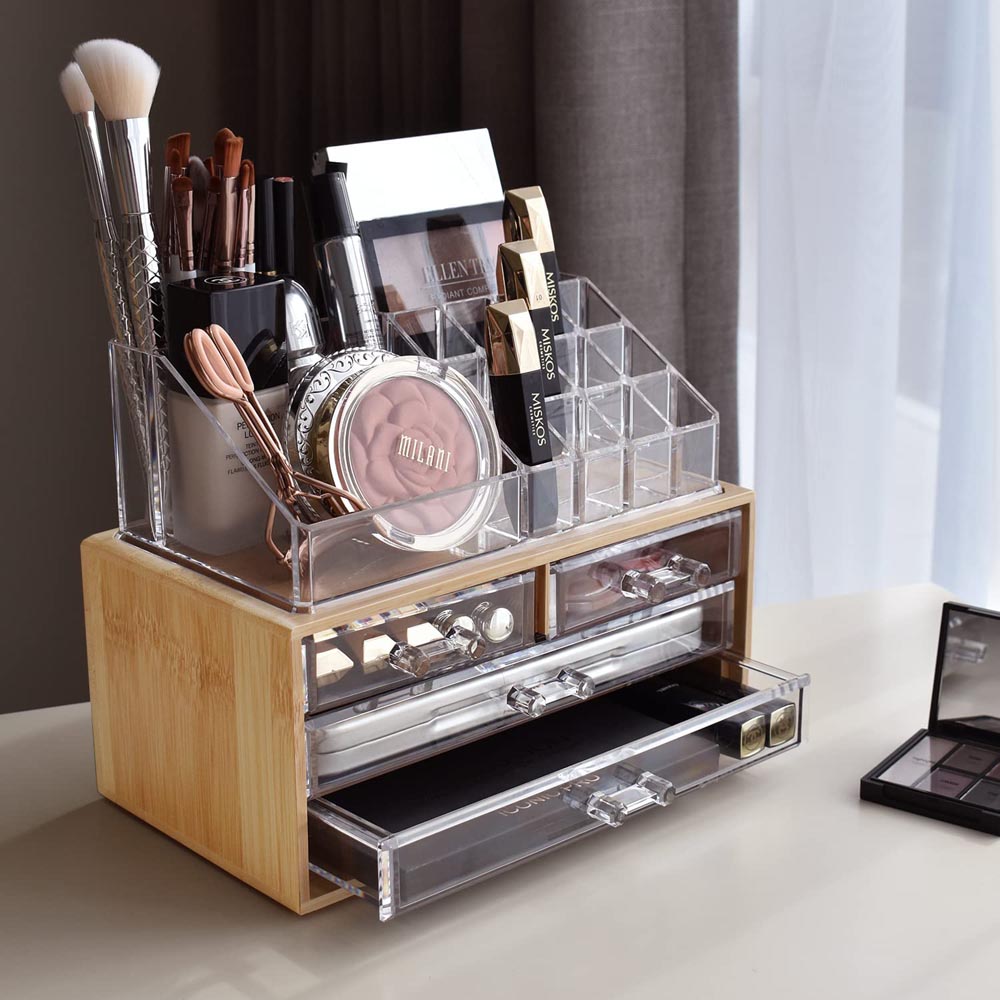 [buy on amazon]
Multi-Function wood Cosmetic Organizer Box
Made with bamboo, that won't fade and get yellow tint overtime like acrylic. Easy to be assembled and disassembled according to the User Manual, DIY the makeup organizer and adjust the height as you like.Cosmetic-Storage has compartments of various sizes and shapes to accommodate your needs.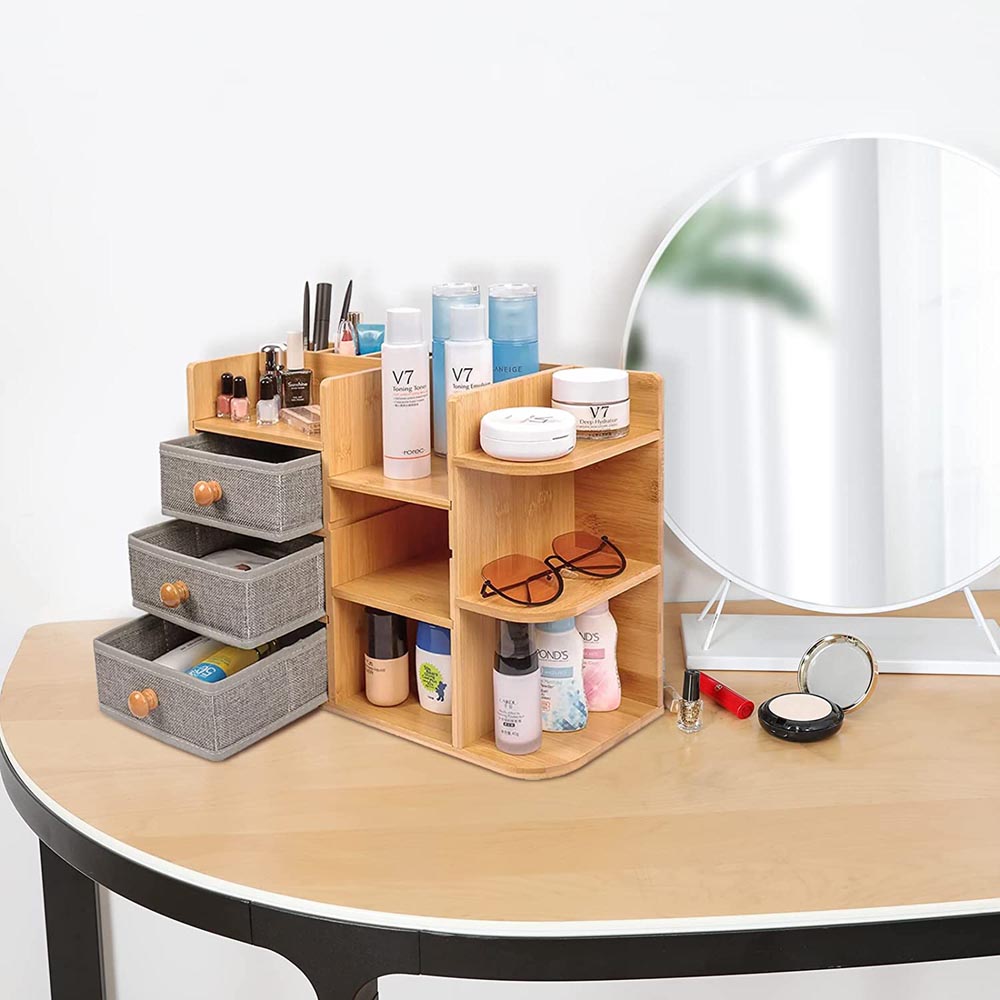 [buy on amazon]
Syntus 360 Rotating Makeup Organizer
Perfectly organizes and stores your cosmetics; enables easy access to all of your makeup and products. Hold at least 30 makeup brushes, 20 skincare products and other accessories including lipsticks, nail polish, eyeliner and more cosmetics.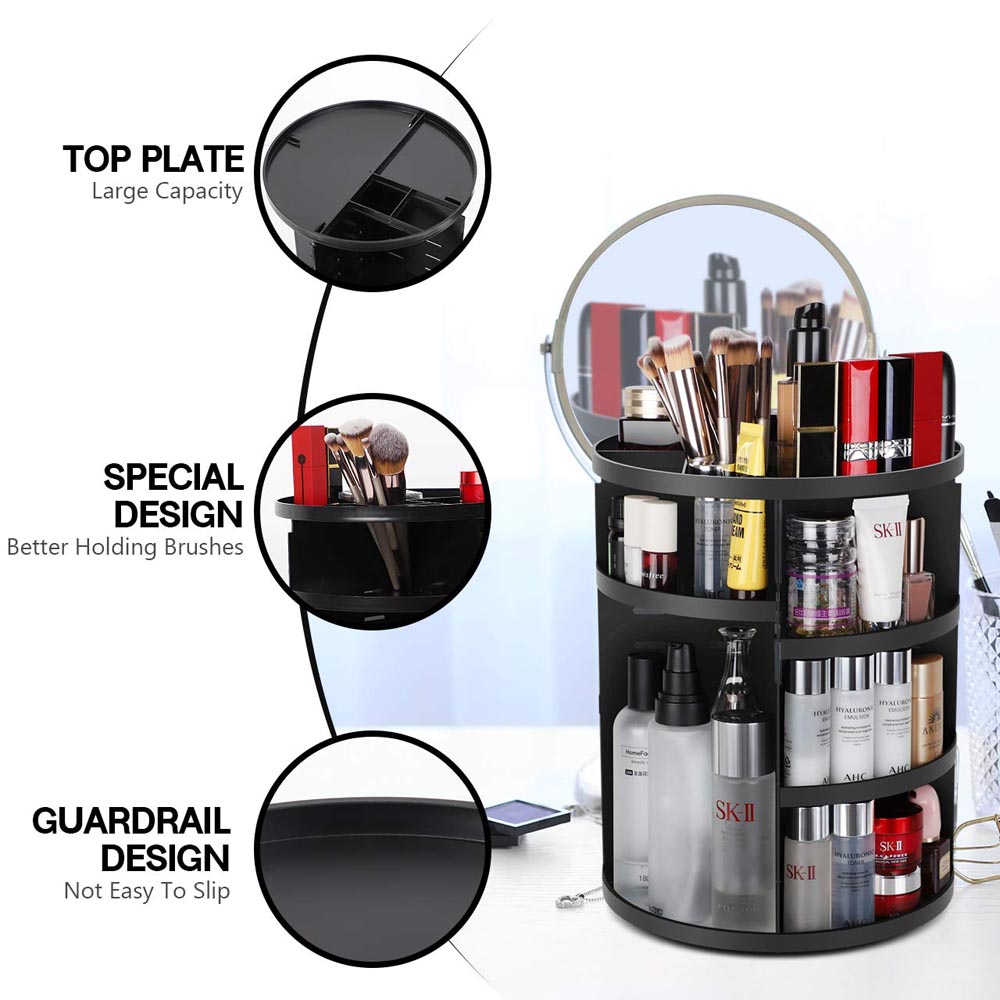 [buy on amazon]
Bellwood Cosmetic Organizer
With three tiers for ample storage, this cosmetic organizer provides storage for your products without taking up too much counter-space. Bellwood comes with a removable storage cup that neatly rests in the top tier; perfect for storing makeup brushes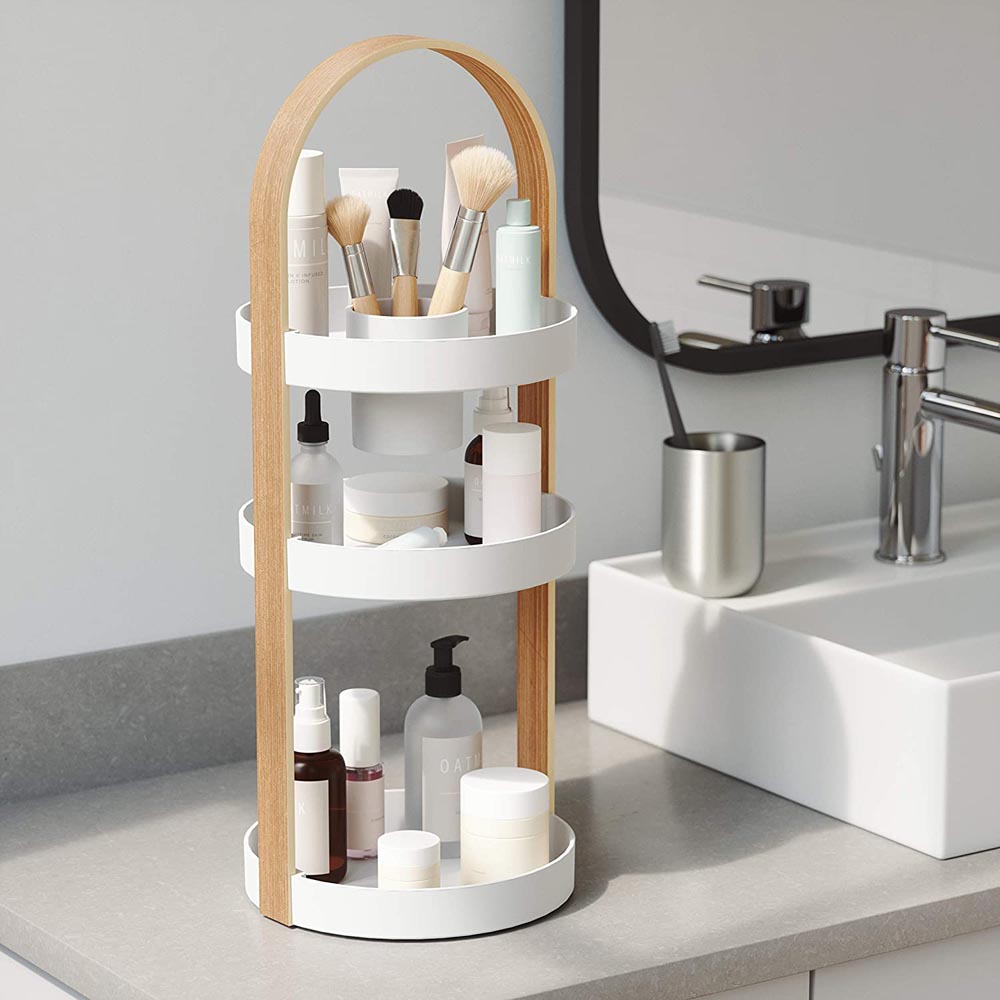 [buy on amazon]
Cascada Makeup Organizer
Cascada features a rotating base that swivels 360 degrees for easy access to your items. This cosmetics organizer comes with 9 customizable dividers that can be placed in Cascada to create extra separation and organization for your products.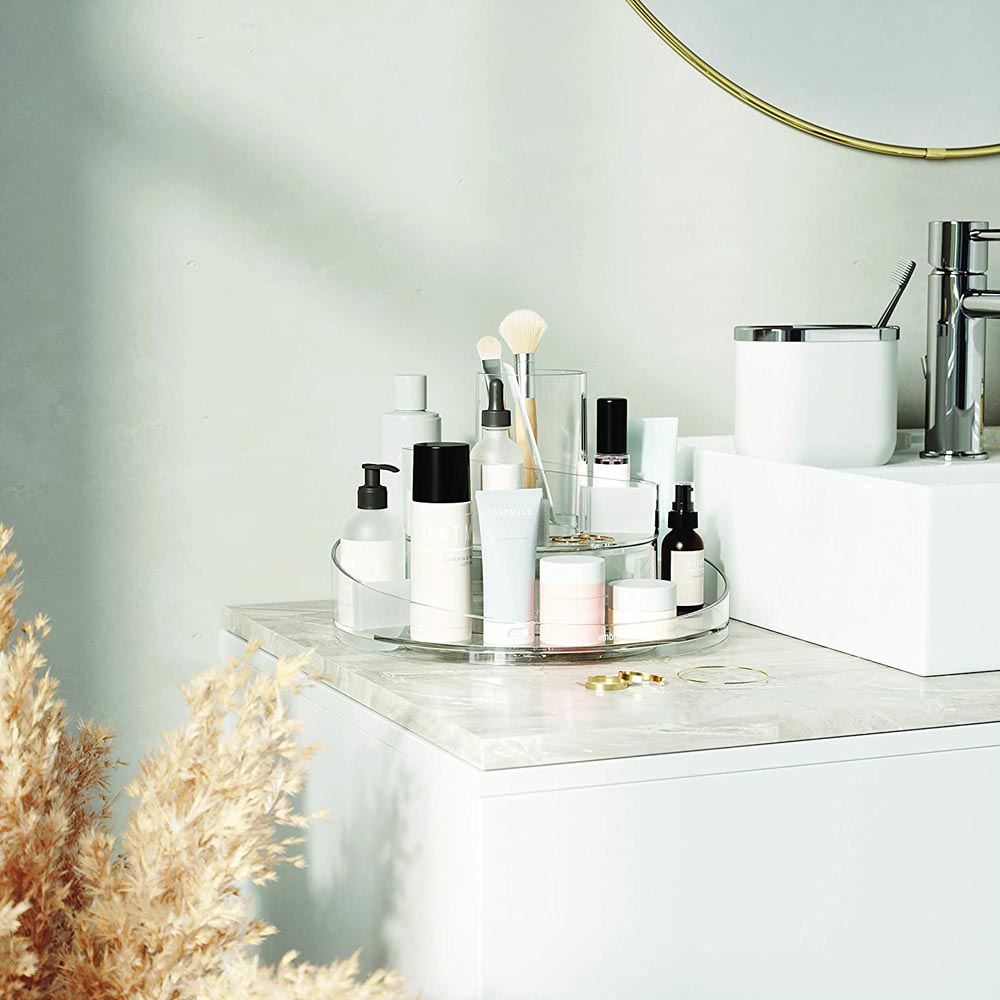 [buy on amazon]
Turntable Cosmetic Stations
This rotating organizer features 9 compartments; Revolving storage maximizes space, especially in corner cabinets and deep shelves where items can be hard to reach; Keep your bathroom neat and tidy with this large capacity organizer designed to hold all of your essentials; The multiple compartments make it easy to organize and find your favorite makeup and cosmetic items quickly;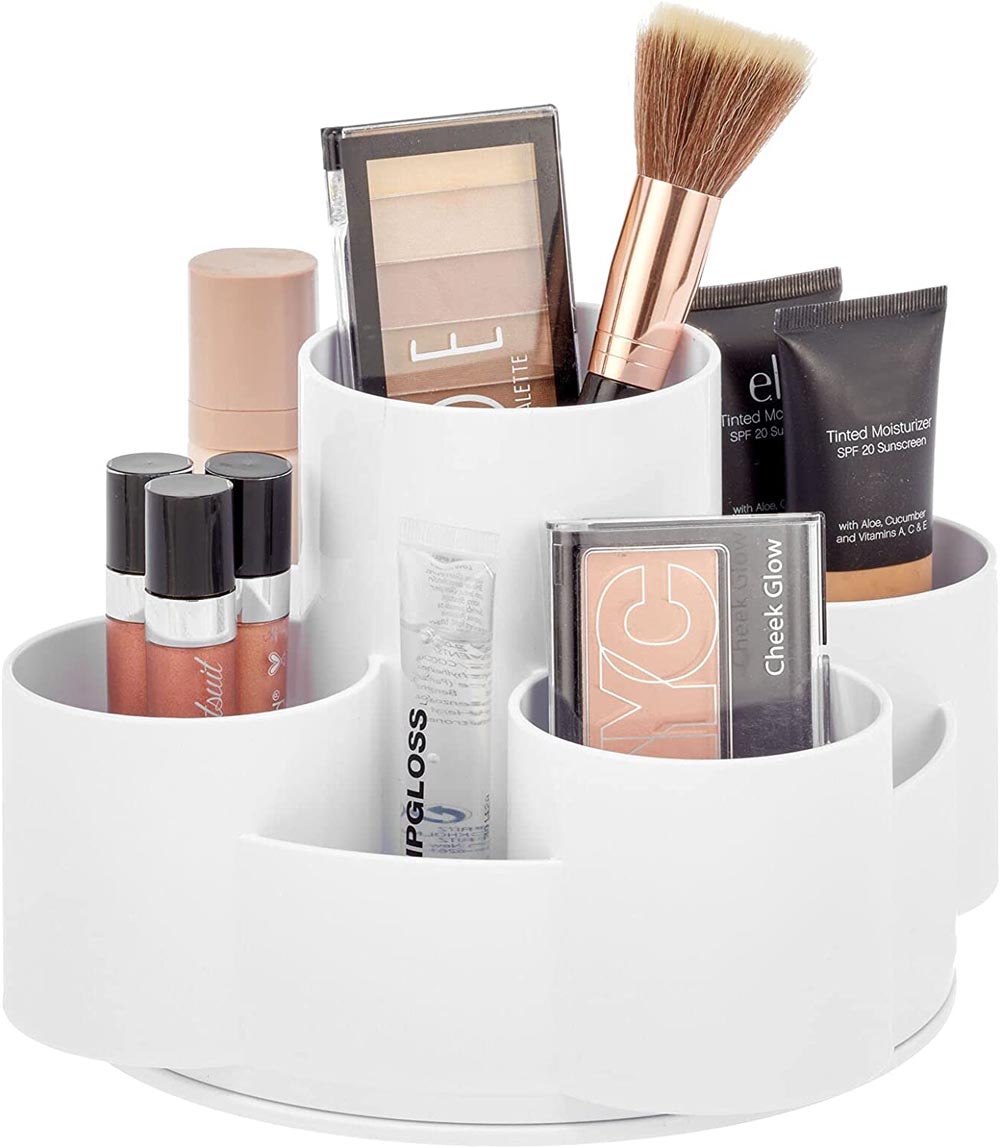 [buy on amazon]
Egg Shape(Oval) Makeup Storage Box
3 layers of large capacity and powerful storage. No problem even for tall bottles of skin care products. It can store 14 tall bottles of Water emulsion, 6 bottles of essence, 4 lipsticks ,6 boxes of eye shadow, 6 boxes of loose powder and some jewelry. It can keep your vanity desk in order.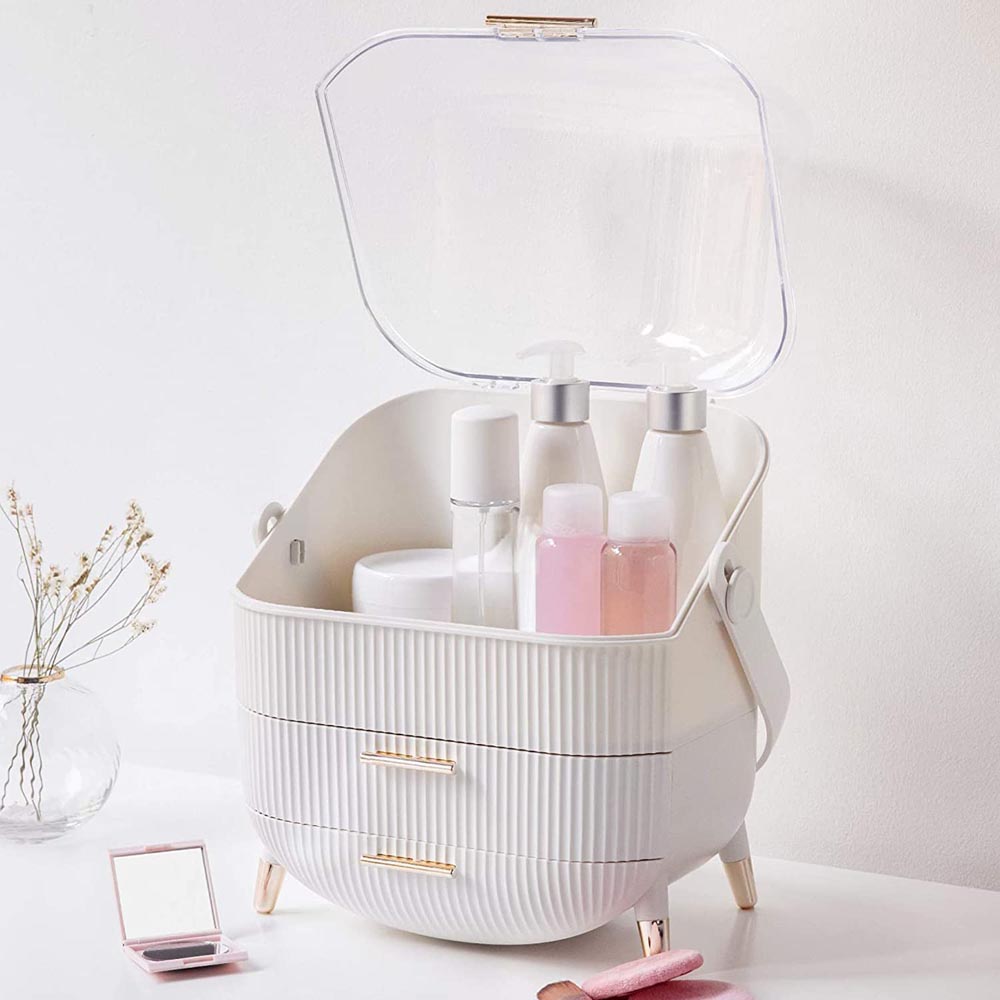 [buy on amazon]
Multi-Function Make Up Case
This dustproof cosmetic organizer with lid is elegant to effortlessly meet any room decor, you could place it in your bedroom, bathroom, dressing room, bedside table, vanity countertop. The Cosmetic storage case with handle is convenient for carry on when travel or on the go. Modern and simple, stylish and convenience.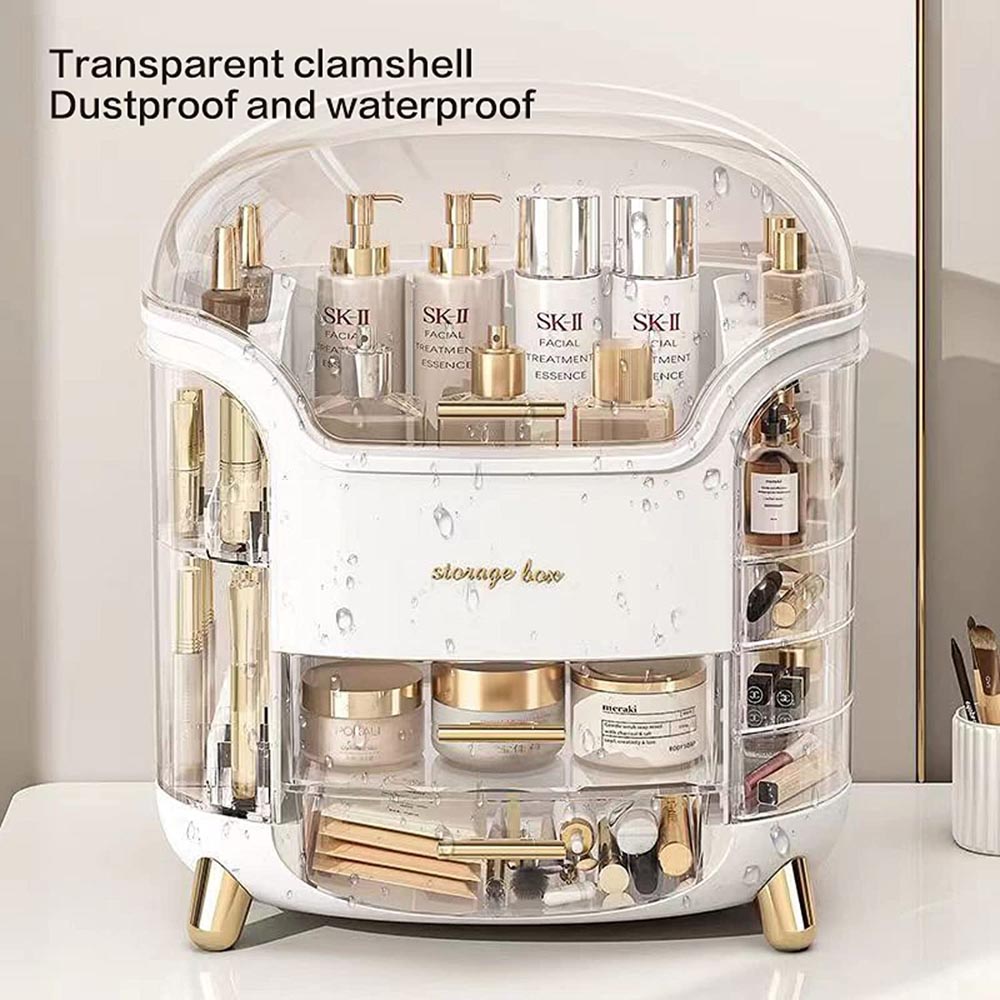 [buy on amazon]