What is it about tree houses that we love so much? Their playfulness? Escapism they offer? Or the platforms they provide into nature? When I was a kid, the most exciting thing I can imganine is to live at a treehouse in forest. However, treehouse isn't only associated with one's childhood. In these days, more and more adults are seeking the peace and playfulness a treehouse can provide. Hence, we can find more and more interesting and amazing treehouse built around the world. Take a look at the 11 amazing treehouses we collected around the world and let us know which one is your favorite.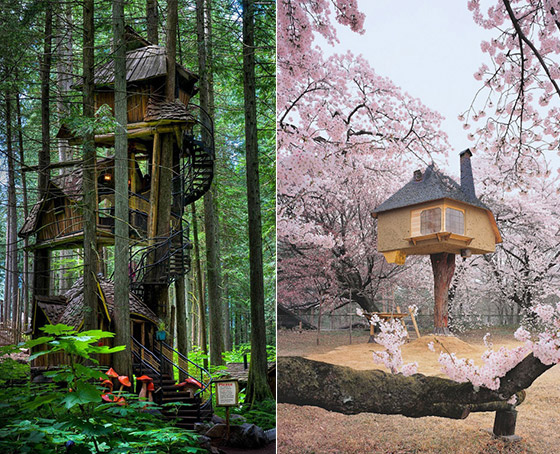 1. HemLoft – Canada [source]
Built by a Canadian software developer Joel Allen, this tiny HemLoft treehouse was built using mostly recycled materials and located in the woods of Whistler. The treehouse is shaped like an egg. Of course, it can't be that spacious but with well organized, it has plenty of room to spend a few nights under the stars, enjoying everything the great outdoors has to offer. However, the hemloft was built on crown land and is kinda of illegal. Joel kept this project a secret for three years, but he eventually contacted Dwell Magazine, which was the first publication to break the story. After all the effort Joel made and support people gave, owner of Canadian Wilderness Adventures (CWA) Allan Crawford has agreed to house the egg-shaped structure on the tour company's tenure in the Callaghan Valley.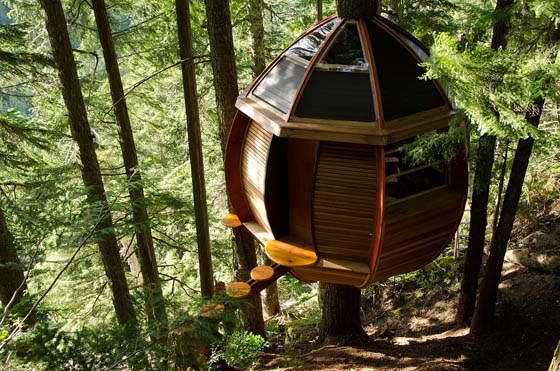 2. Exotic Treehouse in Lion Sands Game Reserve [source]
There are three treehouse in Lion Sand, chalkley treehouse, tinyeleti treehouse and kingston treehouse, each offering its own unique experience. The tree house is a secure and lavish platform under the African stars, with all the comforts that you can experience at a five star safari lodge. The hours of African dusk can be enjoyed relaxing and absorbing the vastness of the bushveld as it transforms from day to night, before turning in for slumber beneath the incredible night sky.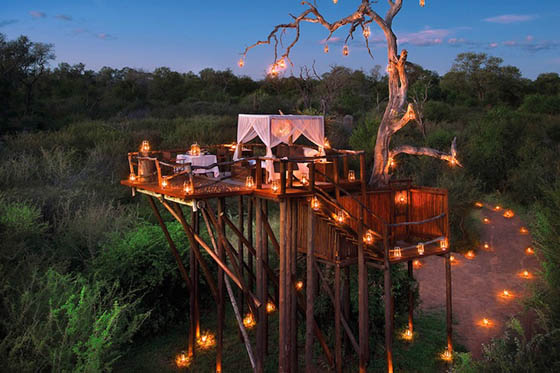 3. Bird's Nest [source]
This giant "bird nest", is one of five existing tree hotel designed by Swedish group Inrednin Gsgruppen. It is supported by the tree in which it is perched and covered in twigs. From the outside it appears as a big nest, only the scale separating it from other nests in the vicinity. Discreet windows are almost hidden by the network of branches. Inside it's a high standard room with modern design. A coachwork panel decorates the inner wall. There is space and beds for a family with two children. The bedroom is a separate room with sliding doors. You access the nest by a retractable staircase.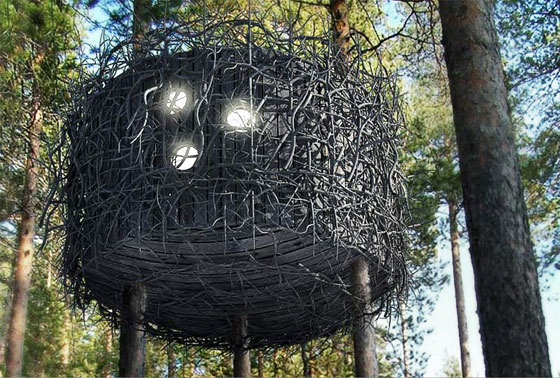 4. Three Story Treehouse [source]
This one is said to be the tallest tree house in British Columbia, Canada. You can find it somewhere near Revelstoke. The interesting thing here is that the house almost perfectly complements to the forest.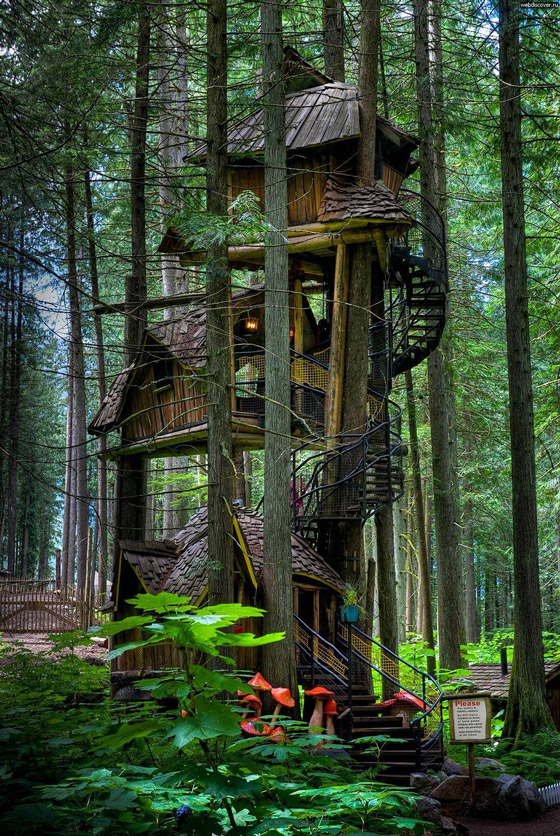 5. Free Spirit Sphere Treehouses [source]
Built on vision and engineering these handcrafted spheres are suspended like pendants from a web of rope. They occupy a truly unique place in the world while providing a habitat for the un-tamed spirit that exists in us all.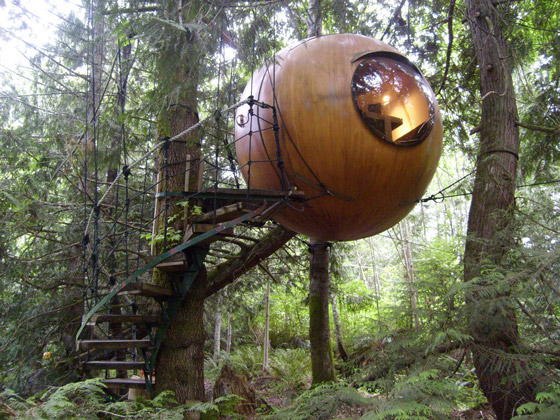 6. Invisible Treehouse Hotel [source]
The 'mirrorcube', designed by tham & videgard architects stands four meters high and four meters wide, and has drawn widespread attention as it will be attached to a single tree and is clad entirely in mirrored glass. They have all been constructed from wood and glass and feature an electric floor heating system, a state-of-the-art eco-friendly incineration toilet and a water-efficient hand basin.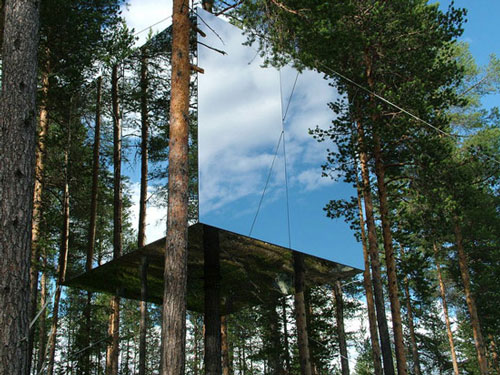 7. Treehouse in Muskoka [source]
Designed by Lukasz Kos, this amaizing creation floats within the fir trees on Lake Muskoka, Ontario, Canada. At night the tree house takes on a cocoon like quality when the lit skin transforms the surface into a lantern suspended from the forest.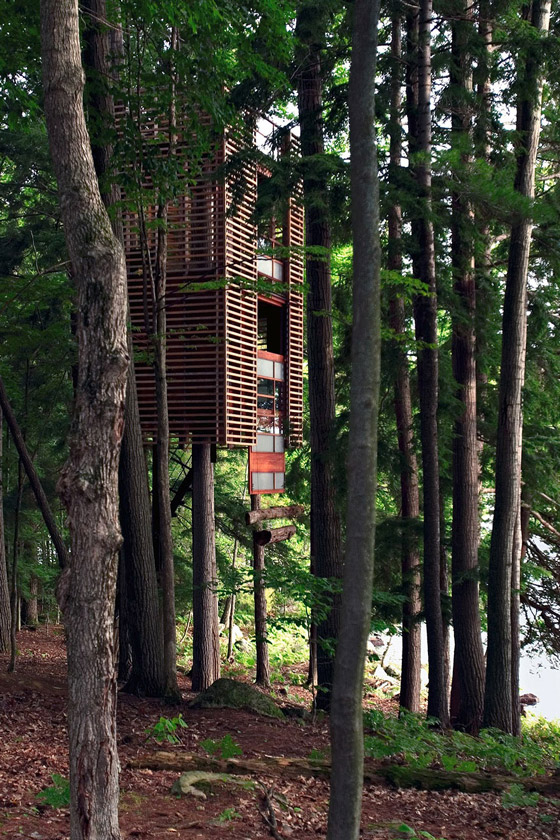 8. Finca Bellavisa Treehouse Community [source]
Finca Bellavista is a fantastic yet real treetop paradise where people can live out their dreams. The whole of the property is now close to 600 acres, encompassing an entire peninsula of rainforest mountain, frontage on two whitewater rivers, countless big trees, and lots of cool critters like frogs, birds and monkeys.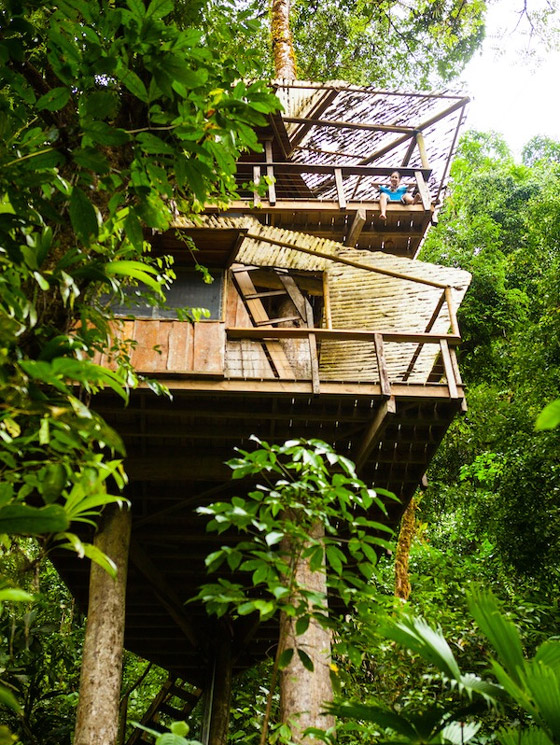 9. Beach Rock treehouse [source]
High above the ground in Japan's Okinawa forest lies the Beach Rock Tree house. It was built by tree house creator Kobayashi Takashi – originally to communicating with extra-terrestrials.
Ladders and platforms providing safe access to the tree house despite its height. For the adrenalin junkies, there's a giant rope swing nearby to take you sailing through the treetops!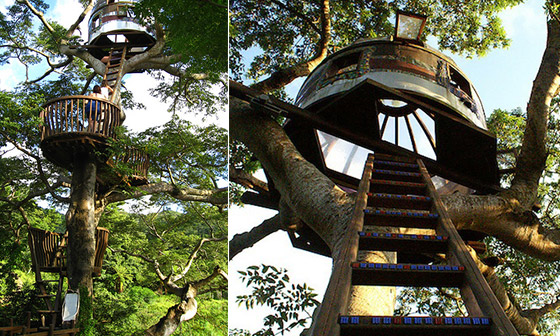 10. Terunobu Fujimori's fantastical treehouse [source]
As for the human-oriented purpose of the treehouse, the design has been envisioned as a tea house with breathtaking views of the surrounding landscape laden with baby-pink hue of cherry blossom trees. The one-legged bearing has been specially designed to conform to the upright credentials of the host tree itself. Similarly, the structure can also mitigate the effect of earthquakes with its swaying tendency that keeps up with the seismic vibrations.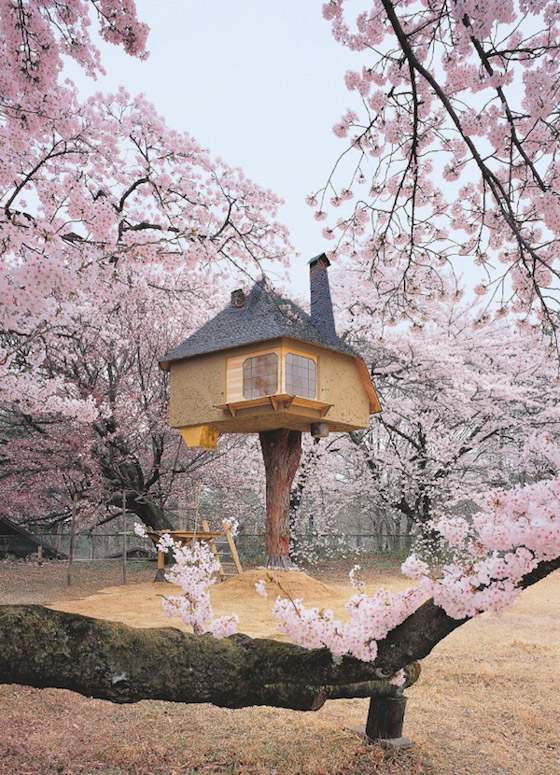 11. Castle in the Air [source]
The tea house is built atop two chestnut trees, cut from a nearby mountain and transported to the site, and is accessible only by free-standing ladders propped against one of the trees. The building's own is Fujimori, who designed and built the whole house.