When you think of cloud, what comes first in your mind? Soft? Comfy? Relaxing? or Nature? No matter what it is a kind of appealing feel. While live in a big city and work at fast pace, most of us don't have chance to enjoy those feeling easily. Hence, those considerate designers come up with some really nice ideas to bring these feeling to us. Take a look at below 11 Beautiful Cloud Shaped Products, which provides a very warm and pleasant illumination on your desk or at your home.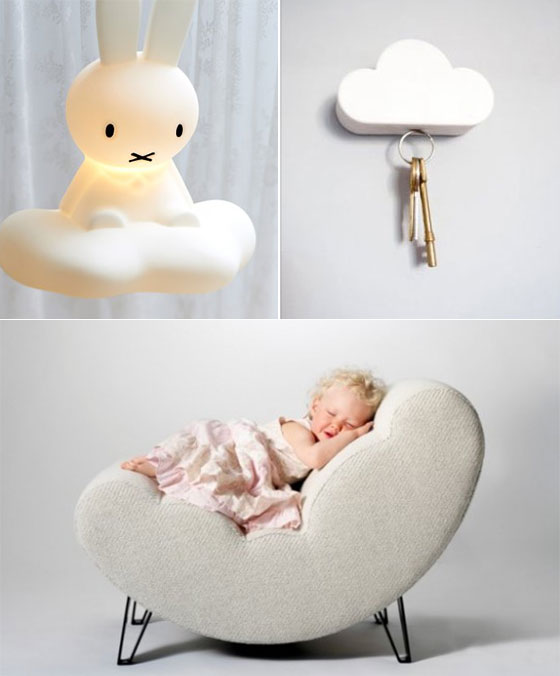 We are a participant in the Amazon Services LLC Associates Program, an affiliate advertising program designed to provide a means for us to earn fees by linking to Amazon.com and affiliated sites.
1. Vintage Cloud and Rainbow Teapot [unavailable]
The body of this amazing little teapot is shaped like a fluffy white cloud with vivid rainbows painted on both sides of the handle. A rare, colorful and hopelessly uplifting kitchen accent.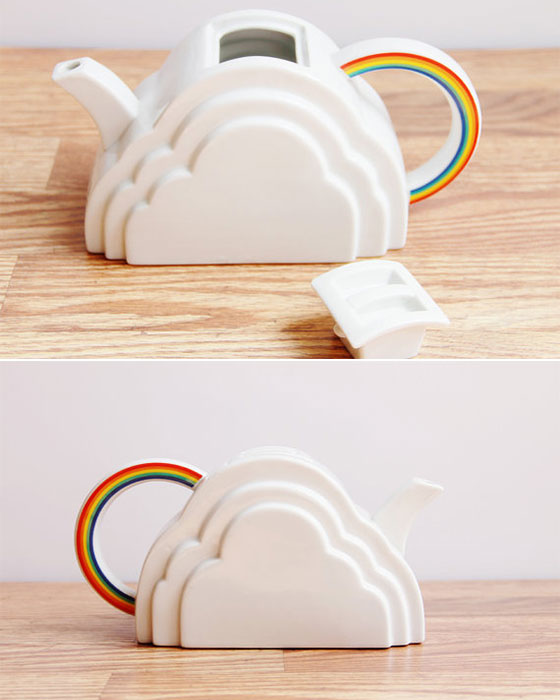 2. Merry Cloud Tape Dispenser [buy here]
Korean design studio gongdreen has created 'the merry cloud tape dispenser' to help users stay connected to nature within the city or in an office environment. formed in the shape of a cloud, the accessory references and creates a rainbow-like effect when in use. built using recycled ABS plastic, the object comes available in white, sky blue and chrome finishes.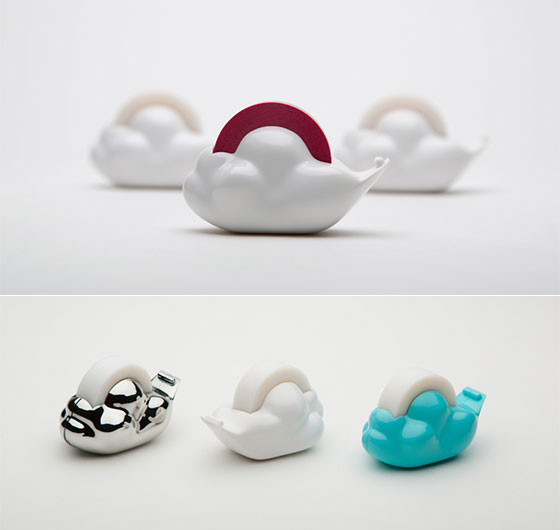 3. NIMBUS CLOUD SERVING BOARD [buy here]
Shaped like a fluffy nimbus cloud, this end grain solid maple board can't help but add an element of fun to your cooking routine. Have some friends over and sample cheeses and your other favorite finger foods using the board as a center piece and its four raindrop shaped wooden coasters as hors d'oeuvres trays. While it might look like a cloud, its sturdy construction from locally sourced maple ensures that with a little love, you'll be enjoying rainy days in your kitchen for a long time to come. Handcrafted in North Dakota.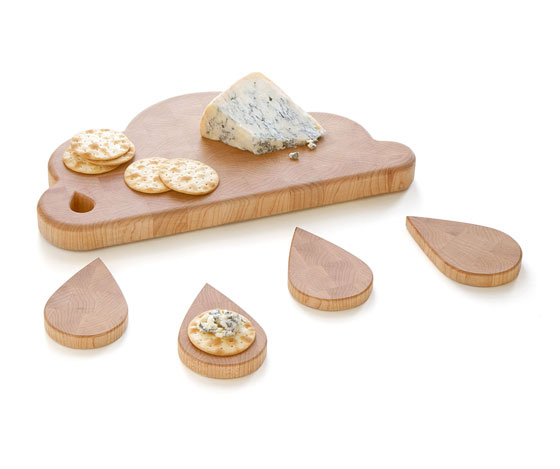 4. Magnetic Key Cloud Holder [buy on amazon]
Magnetic cloud shaped key holder
Keys suspend from bottom using 3 hidden magnets
Easily mounts to wall
Keys will now be in the first place you look
Measures 4.13 by 2.4 by 1.2-inches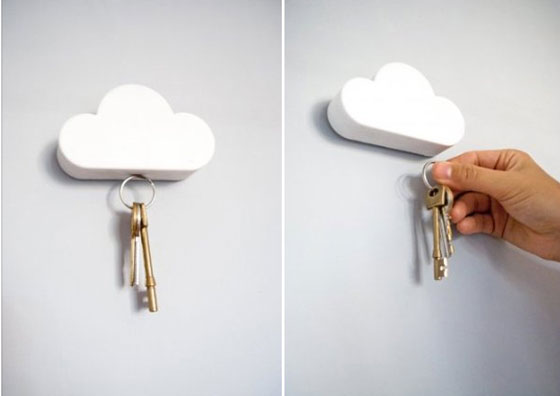 5. Eraser Cloud Pencil Tidy [buy on amazon]
Cloud shaped pencil and eraser set
Includes 5 rainbow colored pencils
Eraser doubles as a pencil tidy
An ideal gift set for any desk
Measures 4.13 by 5.3 by 1.4 Inches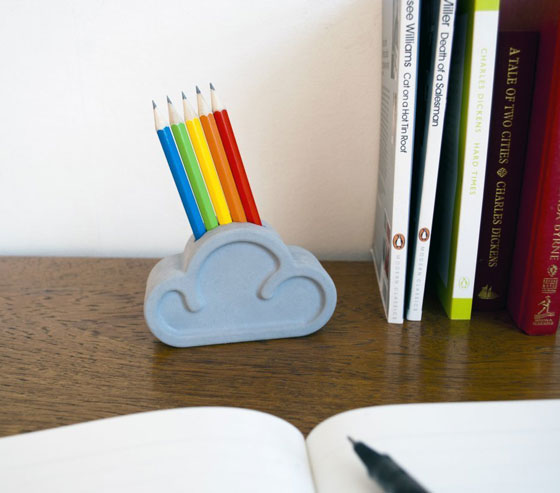 6. Cloud shaped sticky notes [buy on amazon]
Great for leaving small notes or marking pages
Each cloud is a unique shape and size
50 sheets per pad, 3 pads per pack
Measure approximately 2.75 x 2.25-inches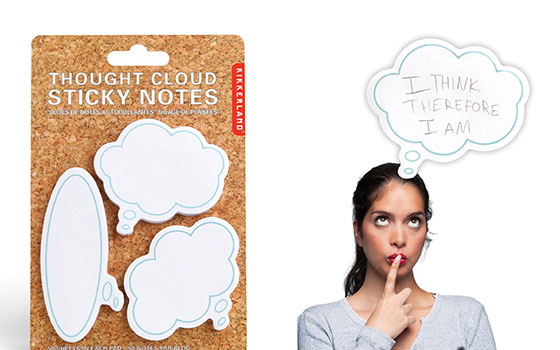 7. Mr Maria Miffy Dream Lamp [buy here]
Whether for a kid´s room or integrated skillfully in a modern living room – the Miffy Lampdelights both young and old. It provides a very warm and pleasant illumination, perfect for a cozy corner or as a light when reading bedtime stories.
lamp made of white, shatter-proof plastic
E27 energy saving bulb included
type C European CEE 7/16 Euro plug
60 Watt
bulb type CFL E14
with black cable and switch
1.50 meter long cable for hanging
manufactured in the Netherlands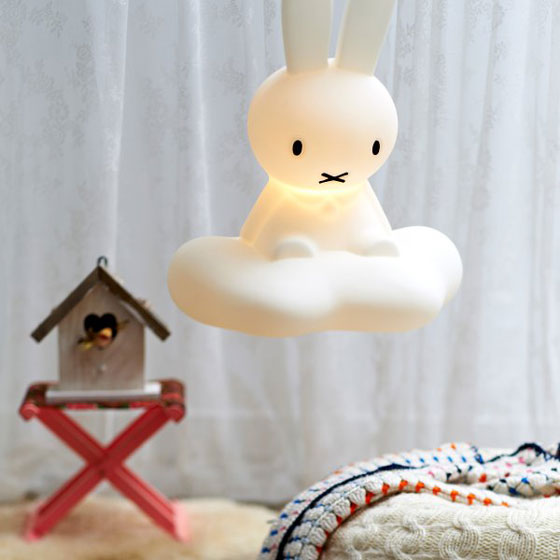 8. Bird and Cloud Salt and Pepper Shakers [buy on amazon]
Inspired by designer's own ceramic sculptures, Daniel Jo created these appealing salt and pepper shakers—a white bird with an accompanying blue cloud. Dishwasher-safe.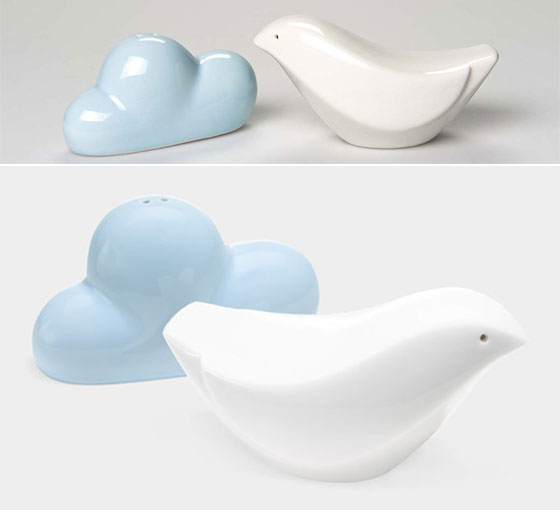 9. CIRRUS – Cloud shaped sofa [buy here]
Soft clouds floating over the country and their gentle shapes became the main inspiration for the upholstered furniture CIRRUS. Virtually spontaneous composition of elements creates a perfect sofa for various seating and lounge positions. Curved shapes and sophisticated ergonomics define this unconventional contemporary piece and add to its functionality and comfort. Traditional upholstery composition with rigid OSB frame, use of sinuous spring system in the seat and backrest, and use of high quality flexible PUR foam offer a product lasting lifetime. Design: Lubo Majer.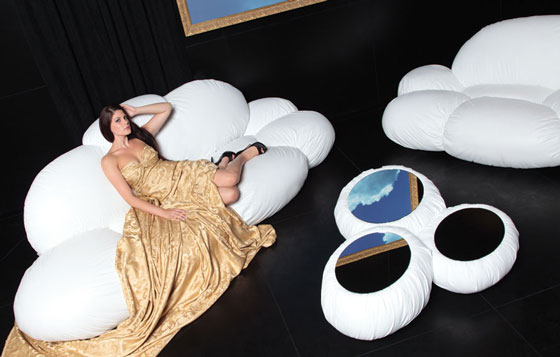 10. CLOUD CHAIR-WHITE [buy here]
Cloud manages to be both small and comfy, with a design which is truly contemporary but nonetheless has a hint of the 1950s. It is a play on tradition, twisting conventions ever so slightly. The recline chair comes fully assembled. Unique sliding mechanism with a resistance level pre-set to accomadate a fully grown person (can easily be adjusted). Base: lacquered steel. Upholstery: UK standard foam (100 % polyurethane). W 22.5″ x H 29″ x L 39.25″.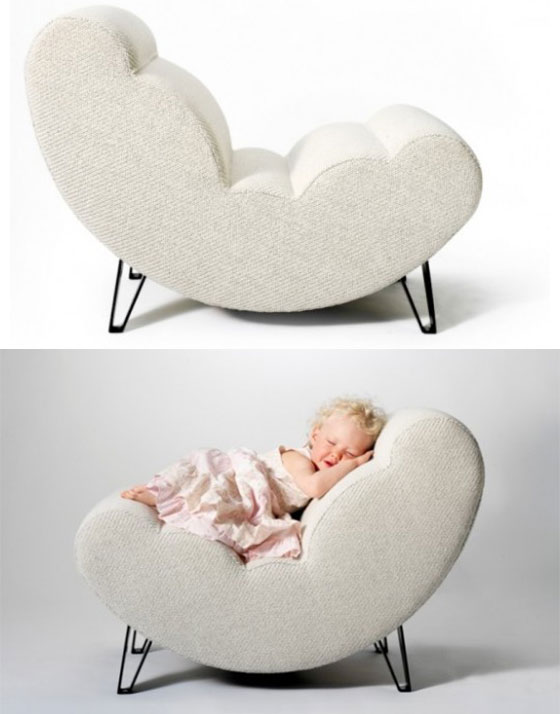 11. Clouds Coffee Table Set [buy here]
The Clouds Coffee Table Set consists of three layers of varying sizes, shapes, and heights that come together to form one dynamic piece. This light, airy design boasts incredible versatility: the tables can be used individually for more surfaces or together to save space. Finished in elegant walnut veneer and sleek brushed nickel legs, the Clouds table set has a contemporary feel with a whimsical touch!
Dimensions: Small table: Length 33.5″, width 22.4″, height 10.8″
Medium table: Length 34.6″, width 23″, height 12.8″
Large table: Length 42.5″, width 23.8″, height 14.8″
Thickness of tabletops 0.79″