We love vegetables and fruits, but sometimes, we are not loving their skins. That is the reason we invented peeler, which is a metal blade attached to a wooden, metal or plastic handle that is used to remove the outer skin or peel thus peeling certain vegetables, frequently potatoes, and fruits such as apples, pears. In this post, we will present you 11 Cool and Functional Peelers – soft skin, hard skin, different angles, stainless or ceramic, there are so many cool options and hope you find the prefect one and enjoy your peeling time.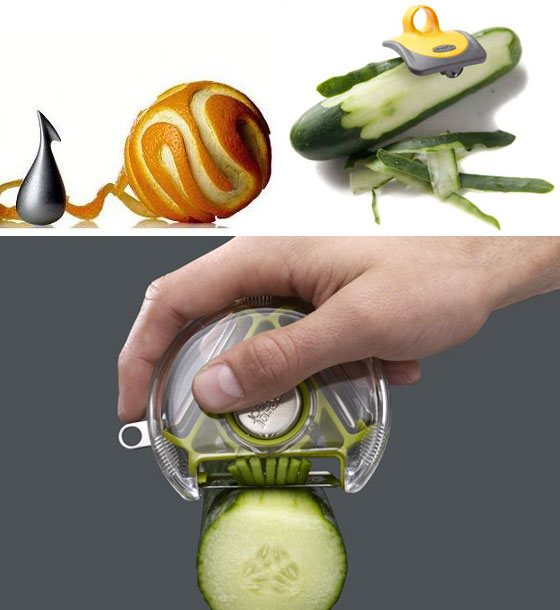 We are a participant in the Amazon Services LLC Associates Program, an affiliate advertising program designed to provide a means for us to earn fees by linking to Amazon.com and affiliated sites.

1. Alessi Apostrophe Orange Peeler [buy on amazon]
"Apostrophe" is an unusual object that does not reveal its function at first sight. It works like an agile plough to cut through the peel, leaving marks that are free and even decorative. The gesture is also made pleasing, by the ergonomic hold that adapts well to the fingers and by the material in precision-cast steel with mat finish to improve the grip.

2. Prepara Trio-Tri Blade Peeler [buy on amazon]
Blades are made of the finest Japanese surgical steel for maximum performance and durability
All blades nested inside the handle for peeler safety; Ergonomic Handles; Ideal for Right or Left Hand Users
Soft Blade perfect for difficult soft-skinned product like peaches and tomatoes
Firm blade perfectly grabs and peels the skin of hard produce like potatoes, carrots and cucumbers
Julienne blade creates perfect julienne strips of carrots or cucumbers for colorful salads or shoestring potatoes or zucchini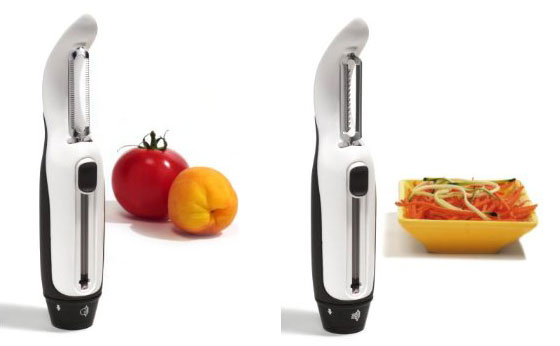 3. Joseph Joseph 3-in-1 Design Rotary Peeler [buy on amazon]
Compact, handheld, 3-in-1 peeler in green with stainless steel blades
Standard blade perfect for potatoes and carrots; soft skin blade can be used on tomatoes and kiwi
Julienne blade can be used on just about any fruit or vegetable for thin matchstick strips
Blades change with simple twist of the dial; designed for both right- and left- handed use
Unclip case for easy cleaning; dishwasher safe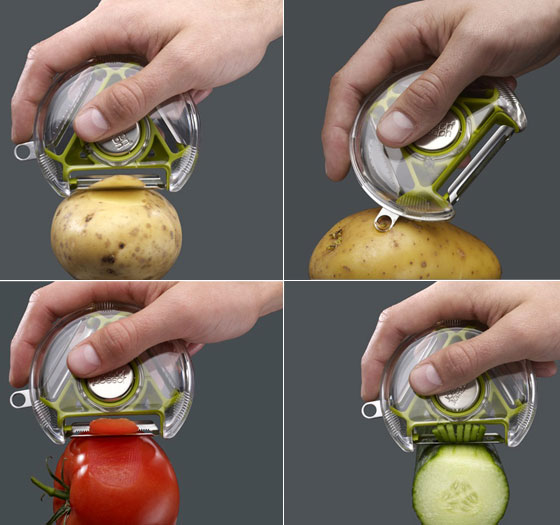 4. Chef'n's Palm Peeler [buy on amazon]
Palm-held peeler for contoured peeling of fruits and vegetables
Made with a soft rubber finger grip and details
Stainless-steel blade for durability and long-lasting edge
Available in several fun colors for matching kitchen decor
Safe in the dishwasher on the top rack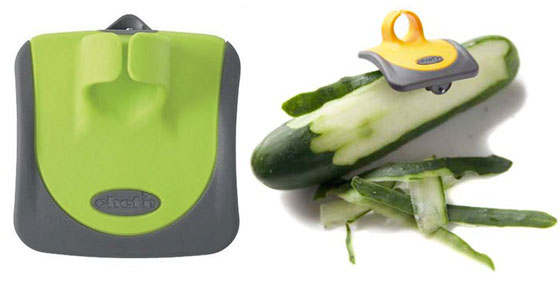 5. OXO Good Grips Swivel Peeler [buy on amazon]
Good Grips oversize rubber handle is comfortable, even with repetitive strokes
Swiveling twin blades peel easily with flexible action
Built-in potato eye remover
Large hole in handle makes storage easy
Dishwasher-safe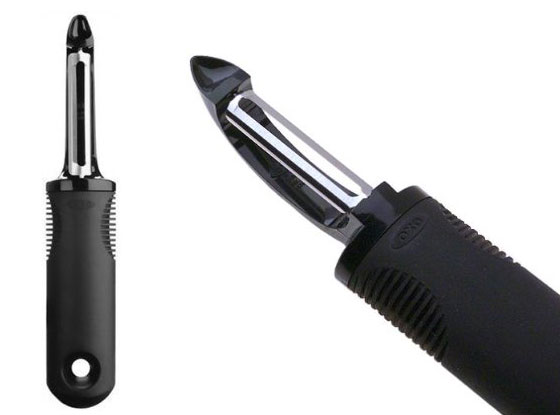 6. Kyocera CWP-NRD Mega Peeler [buy on amazon]
3 inch wide blade is perfect for peeling papaya, mango, jicama, and more
Ultra lightweight
Set into an ergonomically designed handle
Safe to use in dishwasher
eye-corers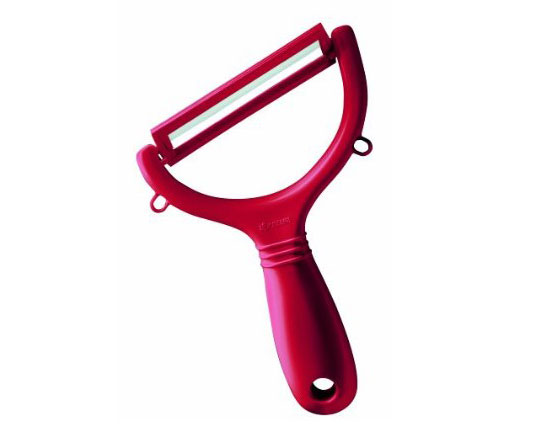 7. Emma P Orange and Citrus Peeler [buy on amazon]
3 by 2 by 1 inch
Emma P saves the day when it comes to peeling citrus.
Oranges practically shed their own skin with this unique kitchen tool.
Ideal gift for anyone in a squeeze.
Color will be selected at random.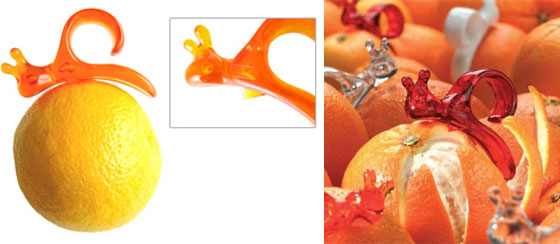 8. Curve Speedy Peeler [buy on amazon]
Innovative fruit and vegetable peeler by Joseph Joseph
Curved blade removes significantly more unwanted skin in each peeling movement than a conventional peeler
Design also incorporates an eye-remover at its tip
Comfortable soft-grip handle
Dishwasher safe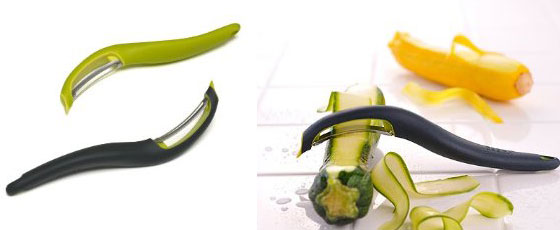 9. Slice Veggie Peeler [buy on amazon]
Stylish and durable veggie and fruit peeler
Ultra-sharp, high-tech ceramic blade; unlike metal blades; leaves no after-taste, won't brown food, stays razor sharp
Lightweight ceramics and ergonomic non-slip design make peeling easy and painless
Designed by renowned designer Karim Rashid
A portion of the purchase price is donated to fund Autism research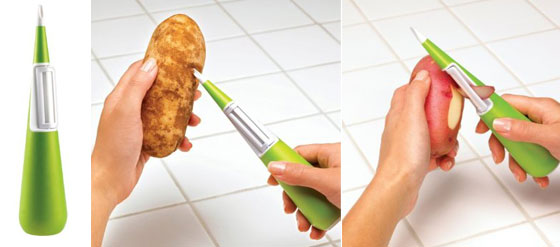 10. Kyocera CP-20 RD Perfect Peeler [buy on amazon]
3-in-1 peeler rotates to vertical, horizontal, and 45-degree positions
Ultra-sharp advanced ceramic blade will never rust–impervious to acids, juices, oils, and salts
Optimum cutting angle glides effortlessly through foods
Ergonomic, non-slip ABS handle
Dishwasher safe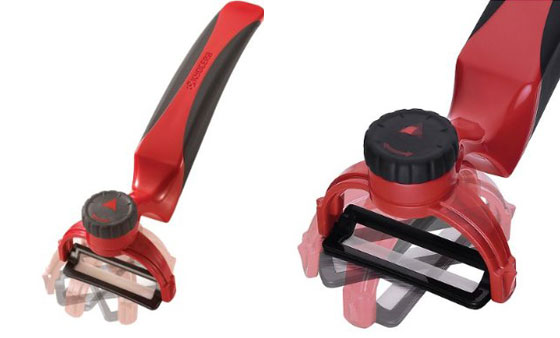 11. Animal House Bird Peeler [buy on amazon]
Whimsical bird-shaped fruit and vegetable peeler
Stainless-steel blade and pointed potato-eye remover
Bird's body forms ergonomic, non-slip handle
Bright yellow and orange; encourages kids to help out
Matches other Animal House kitchen tools; wash by hand