No kitchen is complete without a set of handy and essential measuring utensils. There are so many measuring utensils on the market, Measuring Cup, Measuring Spoons and Measuring Scoop. Some of them are designed especially for certain food, like spaghetti or spices. Take a look at the 11 Cool and Handy Measuring Utensils shown in this post and hope you can find something useful for you.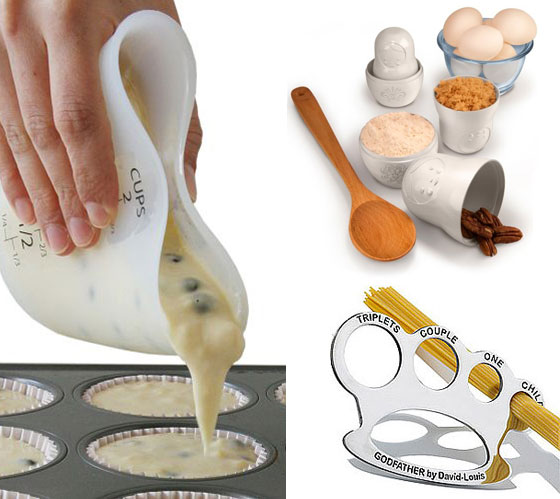 We are a participant in the Amazon Services LLC Associates Program, an affiliate advertising program designed to provide a means for us to earn fees by linking to Amazon.com and affiliated sites.
1. Spaghetti Measure [source], [buy on amazon]
There's much to love in this handy little tool from the UK's critically acclaimed Joseph Joseph. But when you get right down to it, for us, it's not just the waste not-want not means to measuring out pasta for 1 to 4 servings. Or even its compact size. The way it opens and closes with just a slide and glide of the tab.

2. Progressive International Set of 5 Stainless-Steel Magnetic Measuring Spoons [buy on amazon]
Set of 5 stainless steel magnetic spoons: 1/4 tsp, 1/2 tsp, 1 tsp, 1/2 Tbls, 1 Tbls
Magnets allow spoons to nest while stored
Narrow end designed to fit most spice jars and round end is for liquids
Flat base allows spoons to rest on counter without spilling contents
Safe to use in the dishwasher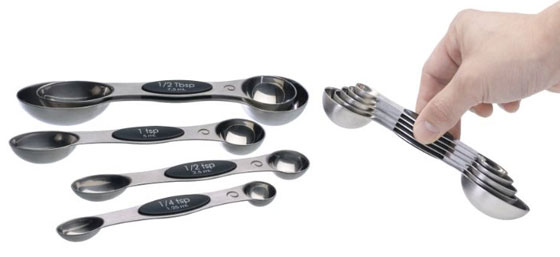 3. Pyrex Prepware 2-Cup Measuring Cup [buy on amazon]
Comfortable easy-to-use measuring cup is made with an ergonomically designed handle and easy-to-read red markers
Made in the USA of ultra-durable, non-porous glass; won't absorb odors, flavors, or stains, nor will it impart them
Has a 2-cup capacity, great for most basic recipes
Renowned Pyrex glass measuring cups are fantastic prep tools in any kitchen
Dishwasher safe, yet best to wash by hand since, over time, dishwashers can affect measurement markers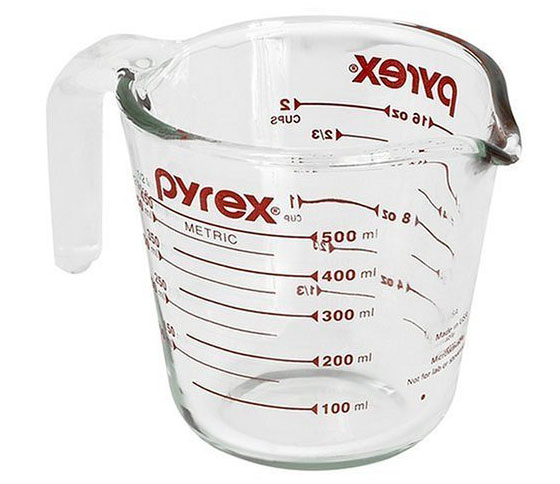 4. Flower Pot Measuring Spoon Baking Set [buy on amazon]
Scoop a little sunshine into your next baking extravaganza with this downright adorable set of four measuring spoons. This solid ceramic set features a unique, blue and white striped pot base, which holds four colorful measuring spoons masked as adorable flowers. Ranging in size from 1/4 teaspoon to one tablespoon, this foursome will cultivate a cheery disposition, whether you're baking cupcakes or cooking your savory specialty. Adorn your home or apartment kitchen's decor with this picturesque, functional measuring set,and it will surely grow to be one of your favorite tools ever!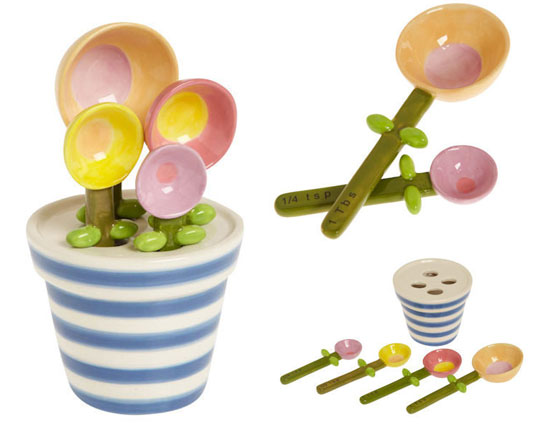 5. Milk Bottle Measuring Cups [source]
When not on display, this space saving, stackable set separates to do double duty in the kitchen. How's that for good measure?
New bone china
Dishwasher safe
8.5″H, 3.25″W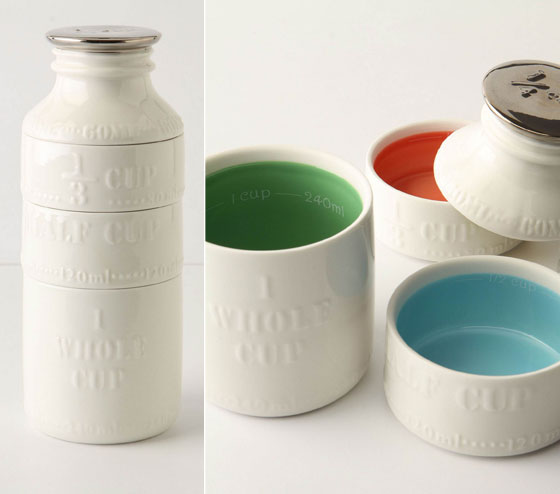 6. iSi Basics Flex-it Measuring Cups [buy on amazon]
Microwave and Dishwasher Safe
Heat Resistant up to 490 Degrees F.
Pours liquid precisely with no spills
Smooth inside, textured outside
Set includes 3 measuring cups. 1 cup, 2 cup and 4 cup capacity.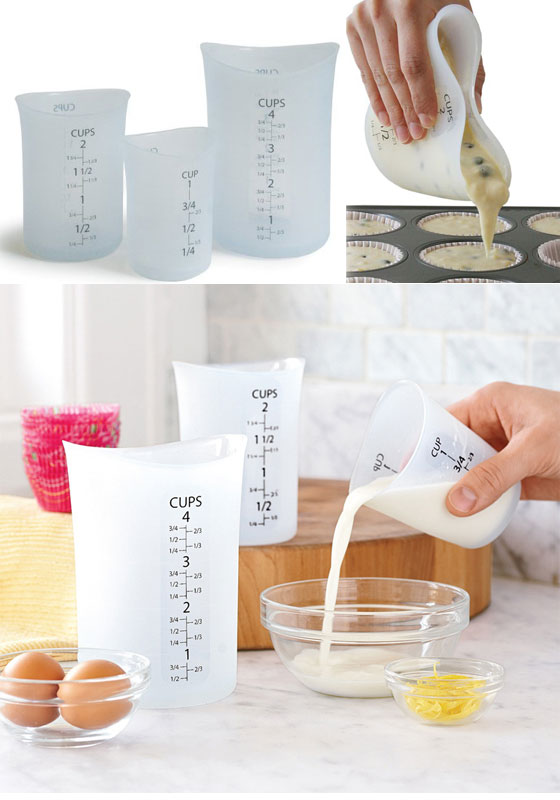 7. Spice Device – Spice Measuring Cap [buy on amazon]
The cool new Spice Device is an ingenious replacement cap for spice jars that accurately measures 1/4, 1/2 and 1 tsp of spice directly from the container with no spilling. Just snap it on, choose a measurement by turning the dial, invert to fill the cap with spice, lock and pour. No more guessing, no more mess and no more extra work to clean the measuring spoon. Smart idea.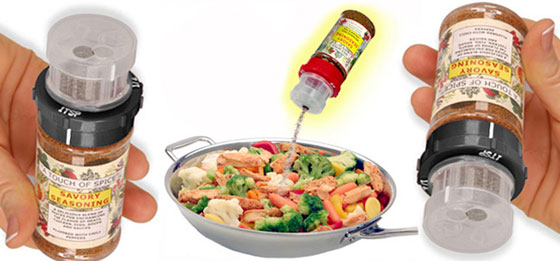 8. Dalla Piazza NuScup "Gem" Ruby Measuring Scoop [buy on amazon]
It's called a NusCup, and what it is is a.. sort of measuring cup. One that can measure cups (1/2 cup, 1/4 cup etc), tablespoons, milliliters AND ounces. It has a slide thingy that you push back and forth, and thus changing the capacity of the cup. It's extremely cool, and for all of those who like me, enjoy recipes from other countries and don't want to bother with conversions – it's a godsend.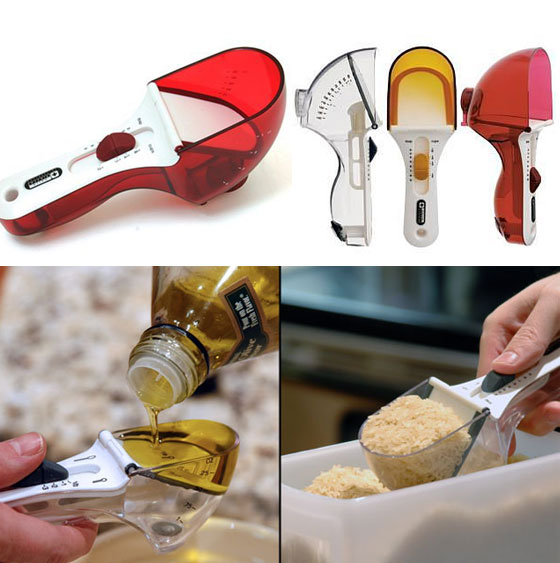 9. Fred M Cup Measuring Matroyshkas [buy on amazon]
Set of 6 dry measuring cups made in the shapes of traditional Russian matroyshkas
They even nest like Russian dolls for easy storage, and they're easy to find in any drawer or cupboard
6-cup set includes 1/4 cup, 1/3 cup, 1/2 cup, 2/3 cup, 3/4 cup, and 1-cup sizes
Made with heavy-duty construction, the cups are built to use and to last
They are food safe and come in a full-color gift box; makes a great gift for newlyweds and new homeowners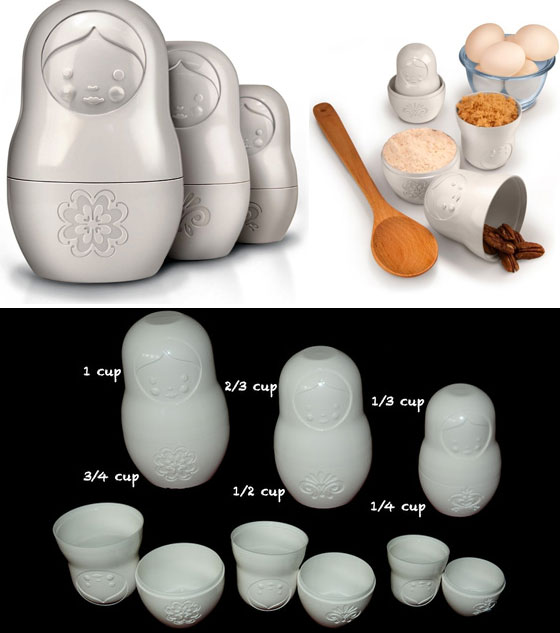 10. KitchenArt Cook's Pro Set [buy on amazon]
The Cook's Pro Gift Set includes a 1/2 cup adjustable scoop, adjustable tablespoon and adjustable teaspoon all in a fashionable champagne satin finish.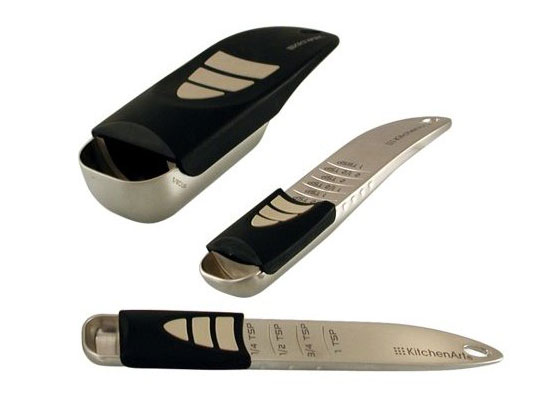 11. Godfather Spaghetti Measuring [source]
Another cool Spaghetti Measuring tool. Unlikely the first one, the Godfather Spaghetti Measuring Device($50) looks like brass knuckles. The measuring holes for child, one, couple, triplets and many…(Do your math! It can measure the Spaghetti for 7 person at one time) Designed by David-Louis.