Not many people like rainy day but if you have one of below umbrella, you probaly will wish rain come. From the umbrella with cool handler like samurai sword, to super compact banana umbrella, from weird upside down umbrella to high tech air umbrella, these cool umbrella are will definitely make you shine in a rainy day.
We are a participant in the Amazon Services LLC Associates Program, an affiliate advertising program designed to provide a means for us to earn fees by linking to Amazon.com and affiliated sites.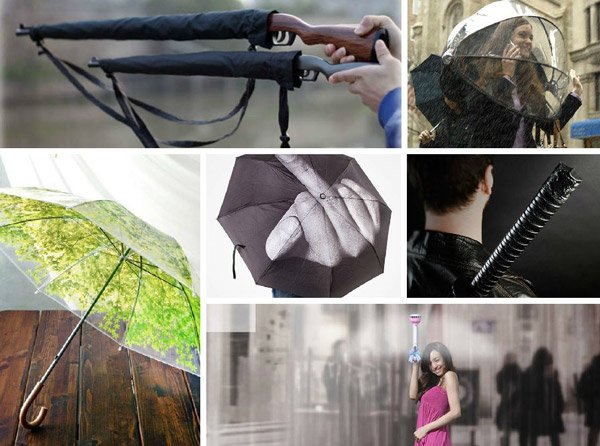 1. Leafy Umbrella [buy on fancy]
The semi-transparent parasol will give you a dreamy feeling as you step out in the sun. The light gets beautifully filtered through the leafy pattern which has been printed on the top of the parasol. So you'll get to travel under the sun in a more fashionable way and get rid of that black parasol forever.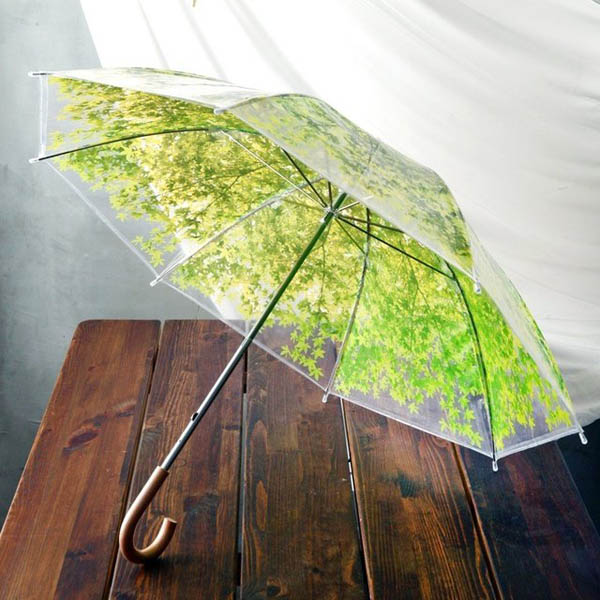 2. Invisible Air Umbrella [source]
This is a real"invisible umbrella", which takes advantage of the air flow as shelter from the rain. Air is everywhere on the earth. The flowing air can change the moving path of the object. The faster the air moves, the greater the energy is. The jet airflow can isolate some objects. So when we make use of the airflow, we can protect ourselves from the rain drops. Then the airflow forms an umbrella without a visible cover.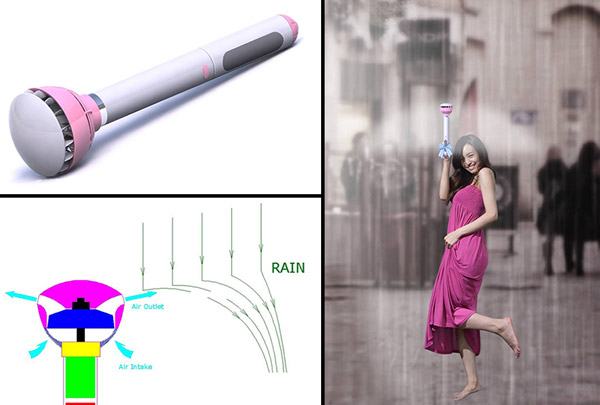 3. Map-Lined Umbrella by London Undercover [buy on endclothing]
London Undercover designer Jamie Milestone is a man who believes the humble umbrella is not receiving the recognition it deserves. A practical, stylish and quintessentially British accessory, London Undercover's expertly executed Umbrella's are constructed using age old techniques and are seen as a canvas for endless amounts of expression. A satisfyingly sophisticated take on an indispensable accessory.
From their 'Classic' collection, the Double Layer Umbrella is constructed with a Maple wood shaft, laser-etched with the London Undercover logo and features a black top layer, finished off with a 'vintage map' print inner layer.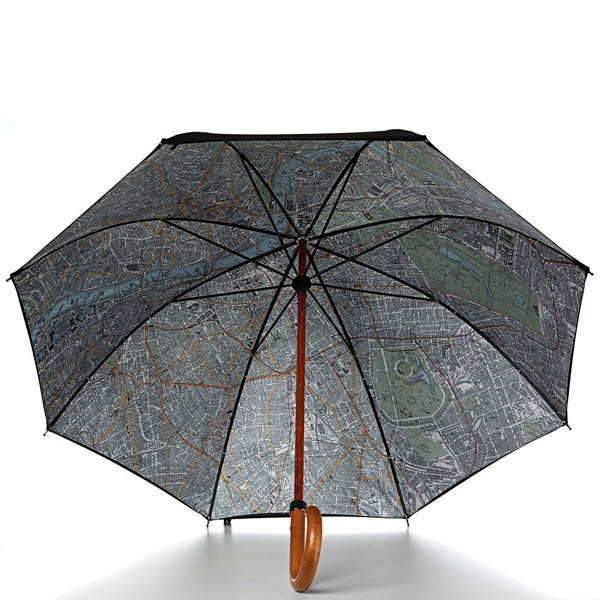 4. Kikkerland Samurai Umbrella [buy on amazon]
With a Samurai sword handle, you will be begging for rain with our awesome Samurai Umbrella! Unlike ordinary umbrella's, this one kicks ass as you strut down the street with it strapped to your back, ready to whip it out at the very site of a grey cloud. Use your cunning and stealth-like Ninja instincts to detect moisture in the air. Glide your Samurai Umbrella out of its sheath and save the world/ your coat from impending doom/ getting wet by Ming the Merciless/ rain.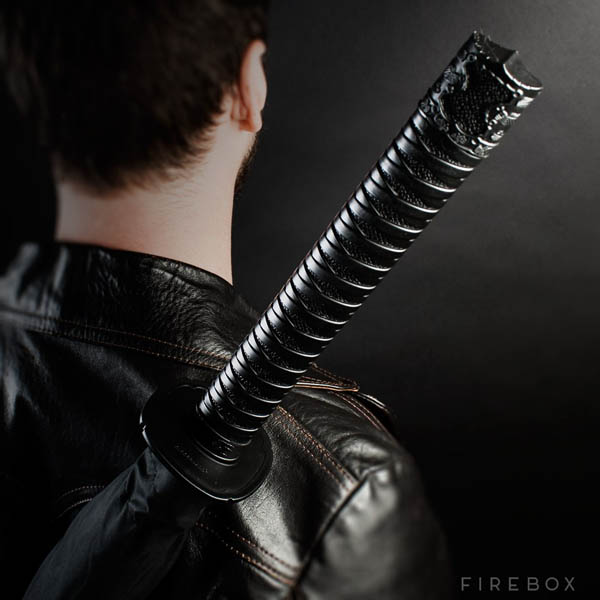 5. Um-Banana Compact Umbrella [buy on amazon]
The Um-Banana Compact Umbrella is a portable umbrella disguised as a small banana case. Remove the banana cap and it opens up nicely into a wide size that fully protects you from the rain. Dry off the umbrella afterwards, fold it up back in and close the cap, and you've got yourself a banana again. Oh, and it comes in two colors – green and yellow.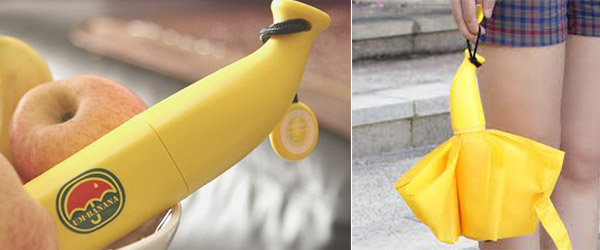 6. Rifle Umbrella [buy on amazon]
An umbrella that pops up with a bang! Awesome rifle umbrella for spies who want to keep dry! Just pull the trigger and an umbrella pops up! Fold down and carry under your arm Bonnie Parker style! 103cm diameter canopy / 26cm long when closed. Comes with gunbrella sleeve.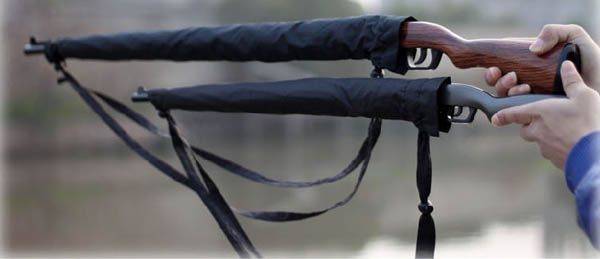 7. Upside Down Umbrella [buy on fancy]
Designed by Hiroshi Kajimoto for +d/H-concept, the UnBrella Upside Down Umbrella is awesome. No one will forget you in the rain when you unleash this umbrella! But this is no gimmick or joke, it works brilliantly and is super easy to open up and protect you from the elements.
It can stand up on its own, ideal for when you have nowhere to prop your umbrella up against. It will also keep the wet part of the umbrella inside once you've closed it, meaning things don't get dripped on when you put it away after coming indoors. Instead, the water runs off while enclosed by the folds of the canopy.
Rather than being splashed by water when you close it, you will find that the whole affair of closing and storing your umbrella becomes drier with the UnBrella.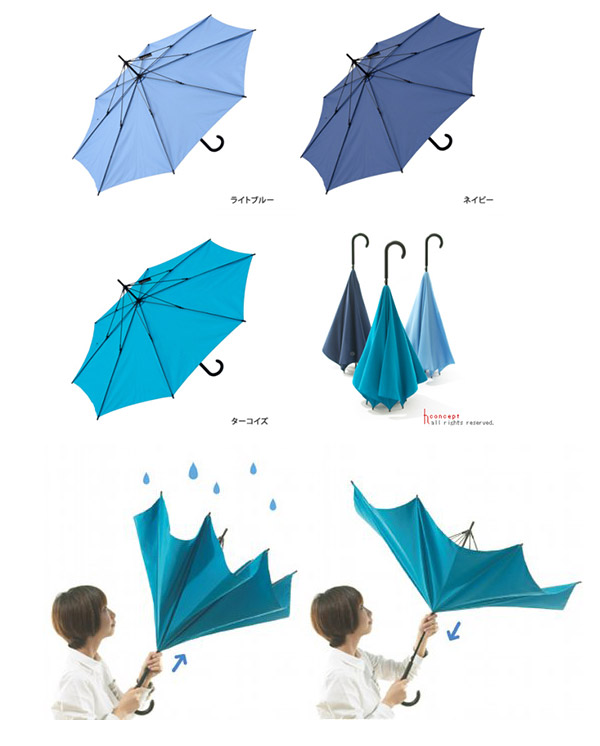 8. Nubrella Hands Free Umbrella [buy on fancy]
Nubrella is no ordinary umbrella. It is an umbrella for all inclement weather conditions, not just rain. It protects you against rain, wind, sleet, snow and extreme cold.
With its new aerodynamic oval design with extended coverage wind now flows over and around the canopy thus completely denying the possibility to invert. No more struggling to maintain your umbrella in the proper position. Simply strap on the shoulder support and walk completely hands free even in significant winds. Also with the extended coverage you will be completely protected from wind chill and extreme cold. You will be amazed on how much warmer you will feel while using your Nubrella.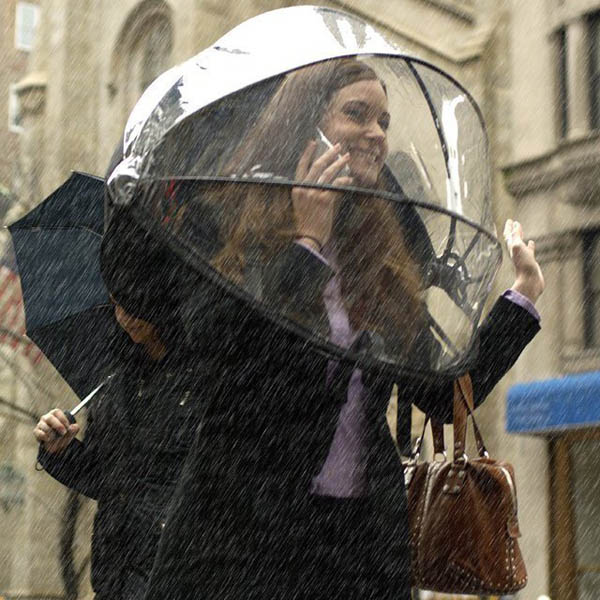 9. Screw The Rain Umbrella [buy on amazon]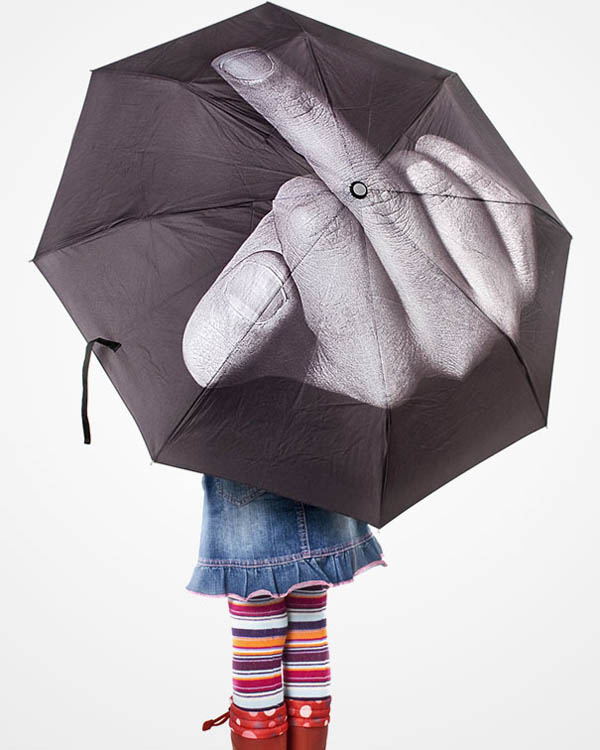 10. Senz Umbrellas [buy on amazon]
Unique, patented aerodynamic design is storm proof up to 60 km/h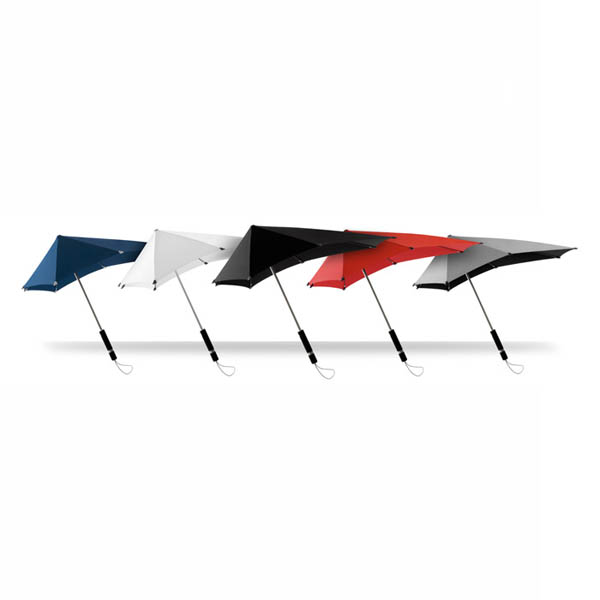 11. The Kraken Umbrella [buy on krakenrumstore]
Any umbrella offers protection against rain, sleet and snow. But only one umbrella is fierce enough to frighten the storm itself. When dark skies roll in, and ominous clouds gather overhead, reach for The Kraken Umbrella. Grip its rubbery tentacle handle, gaze upwards into the eye of the beast, and know that, at lea