Indoor growing system isn't something new but you might find them especially useful in these days. Although you still can go out for grocery shopping, people still try to reduce the times they go out. It is safer but it also means we have to give up many fresh stuff we use to get easily, such as herbs and lettece. Hence, after bread maker, indoor growing system becomes quite popular these days.
No matter you have brown thumb or green thumb, you can use hydroponics garden kit and easily grown plant at home. Hydroponics is a form of gardening that usually uses no soil, but instead grows plants in a solution of water and nutrients. A hydroponic system can grow plants and vegetables faster and year-round. They are fitted with LED grow lights so that they provide adequate light needed by plants.
Depending on the different features like whether LED powered, the number of planting hole, watering system and soil vs soil-less, there are may different options on the market and we rounded up 8 we think are best below. It is the time to bring some green inside if we can't get outside.
1. Smart IoT Hydroponics Grower/Growing System [buy on amazon]
aspara hydroponic smart grower has a unique LED light design and smart sensors that enables it to deliver the optimum amount of light intensity and spectrum for maximum plant growth.
-Patent pending LED system
-30 preset light program for 15 different plants
-Fully automated central water system
-Smart Sensors: Utilising latest technology, the sensors monitors your environment for optimum growing conditions
-Automatic watering system: Aerate your plants and takes care of their nutritional needs using specialised ebb-and-flow technology
-Soilfree and Clean: Plant your produce anytime of the year and watch it grow up to 5x faster than traditional methods
-App Control: Manage your growth programs manually or via an app and get instant updates on your seeds/plant progress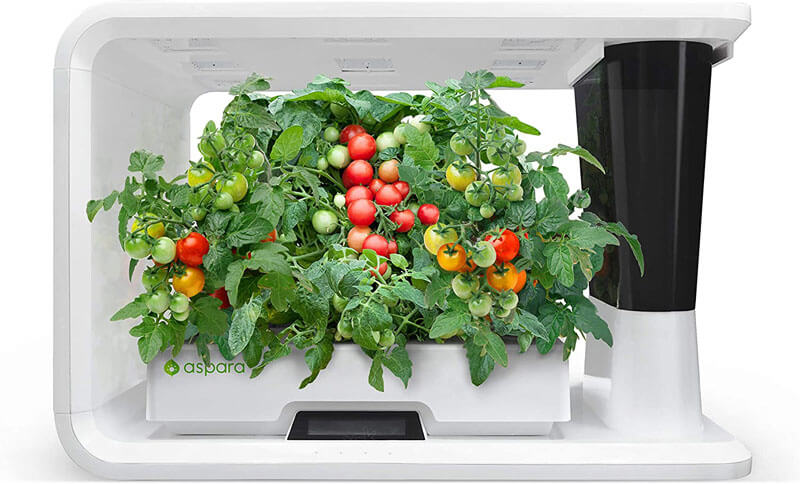 2. Roots Water Garden: Mini Aquaponic Ecosystem [buy on amazon]
Bring the fun of aquaponics inside with this closed-loop ecosystem Water Garden from Back to the Roots! This mini aquaponics aquarium requires 50% fewer cleanings than traditional fish tanks! The fish waste fertilizes the plants, and the plants clean the water — so your aquarium stays cleaner and healthier, longer! It's perfect as a gift, family activity, or classroom project to teach about DIY aquaponics & ecosystems. The Water Garden comes with everything you need to get started, including a 100% Guaranteed to Grow promise and a FREE downloadable online curriculum for kids about the science behind aquaponics.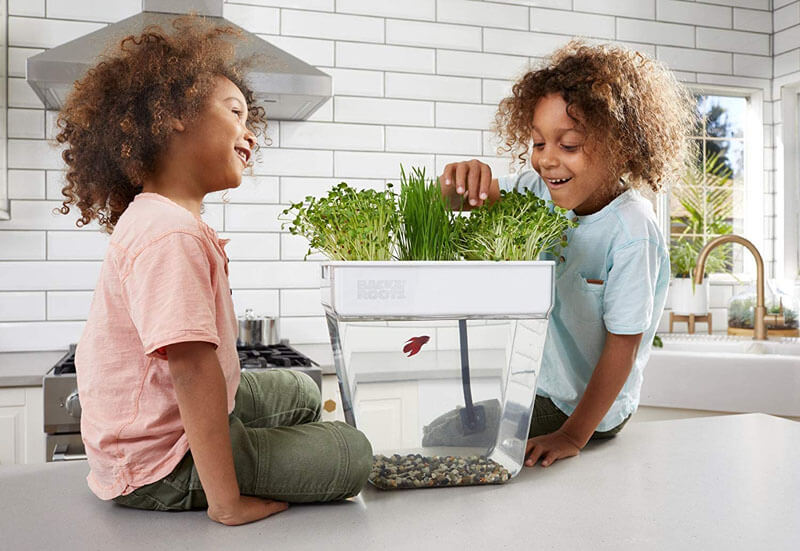 3. VegeBox Home Smart Indoor Garden [buy on amazon]
With the VegeBox Home you can have the full Garden to Plate experience, even if you don't have a back garden or balcony. All you need is nutrient rich water and a power point. The VegeBox Home features 4 planting trays with a combined 28 planting holes. The VegeBox Home indoor garden kit will comfortably fit on your kitchen bench and multiple units can be stacked on top of each other to save space. Fresh, nutritious, herbs, vegetables and microgreens at your fingertips, with no messy waste or throw away plastics.
-Stackable to save space – make the most of your vertical space
-Intelligent lighting system with timer
-Water pump outlet with automatic shut off
-Shading Caps for superior seed cultivation
-28 Planting Holes
-Seeding Box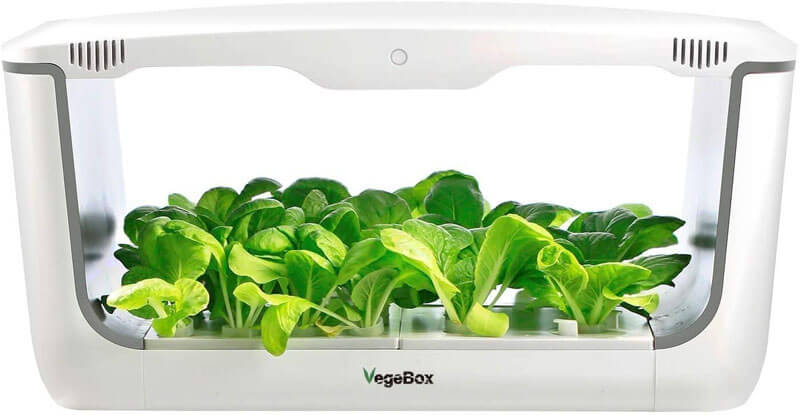 4. herb Garden Indoor Growing System [buy on amazon]
-Plant to Plate. Up to 12 plants grow at a time. Plants grow in water, not soil. Advanced hydroponics made simple. No mess.
-High Performance. Full-spectrum 23 watts LED light efficiency to grow lighting system in your herb garden is turned to the specific needs of the plant to maximize photosynthesis, resulting in rapid, natural growth and abundant harvest.
-Automatic water circulation. There is a water circulation pump in the water tank, which works every 30 minutes for 30 minutes. There is no need to set a time to maintain the water oxygen content to prevent the plants from rotting roots.
-Fill light system. The fill light system automatically fill-in light for 16 hours each time the light turns on, without a cumbersome setting.
-In-home Garden system. Grow fresh herbs& veggies all year round in this indoor herb garden, always green.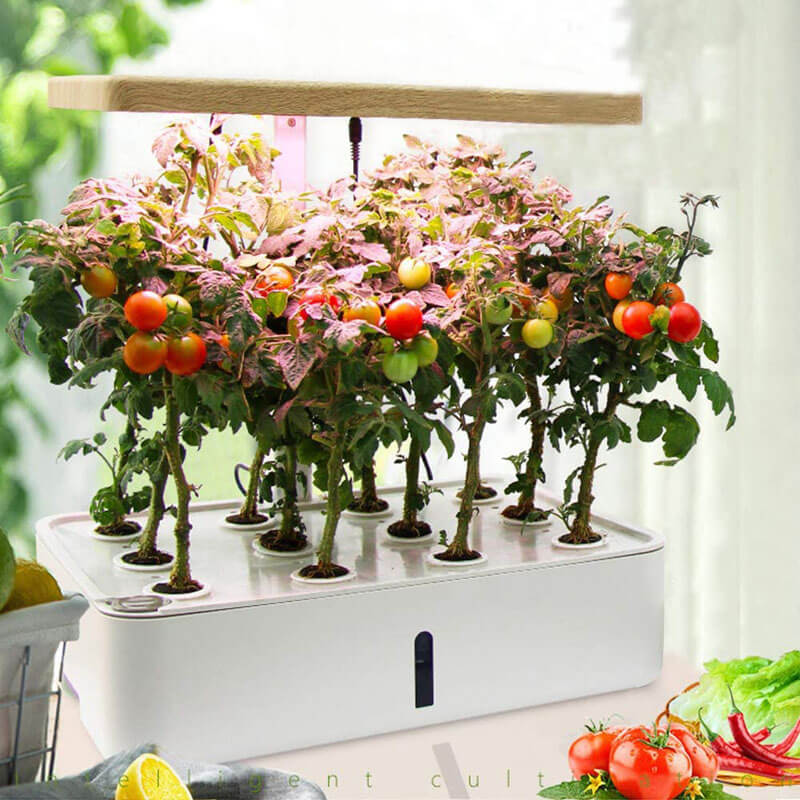 5. Mr. Stacky Smart Farm [buy on amazon]
-Grow Healthy, Nutrient-Rich Food Easier, Faster, and More Convenient Then Ever Before
-Set Timer To Water Automatic Daily (Simple)
-Go On Vacation And Come Back To A Thriving Garden. 16 Gallon Tank Lasts 2-3 Weeks. (Convenience)
-Recirculates Water Back Into The Tank Saving 85% Water Compared To Traditional Gardening (Eco Friendly)
-Operate a Large 20 Plant Veggie Garden in a 19″ x 19″ Food Print (Space Saving)
-Pots Rotate Around The Center Pipe. Makes it Easy To Rotate Into The Sun If Garden Is In A Corner. (Smart)
-Take Control Of Where Your Food Comes From and How It's Grown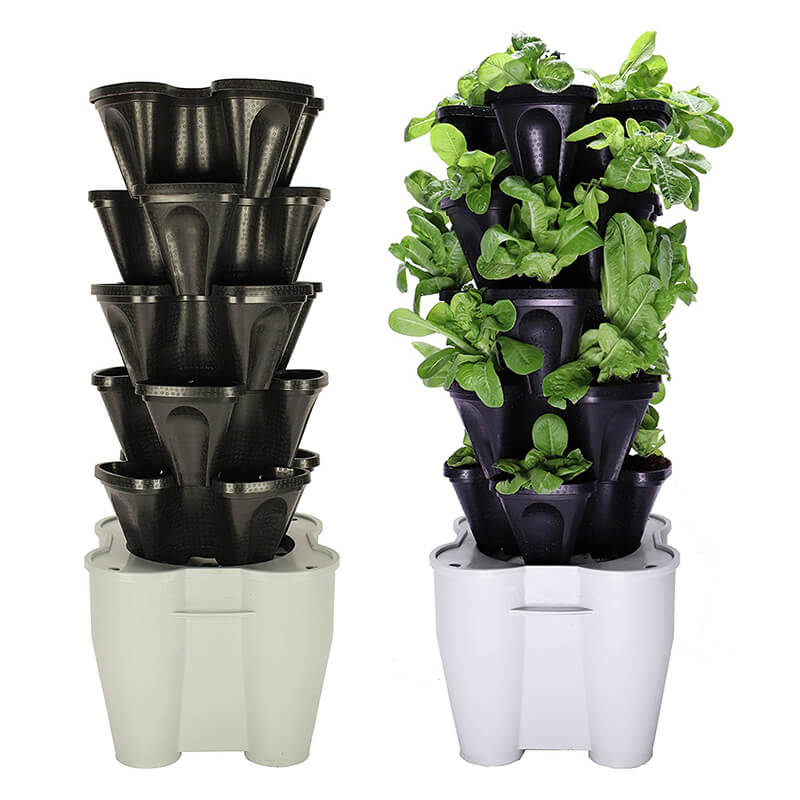 6. Mindful Design Stackable LED Indoor Garden Kit [buy on amazon]
This modern-style indoor garden kit has a sleek design and a number of features to give you everything you need to grow plants, flowers, succulents, veggies and herbs comfortably inside your home. And now with two separate levels you can grow even more. This grow lamp lets you bring the beauty of plant life to your office, kitchen, living room, bedroom – endless possibilities!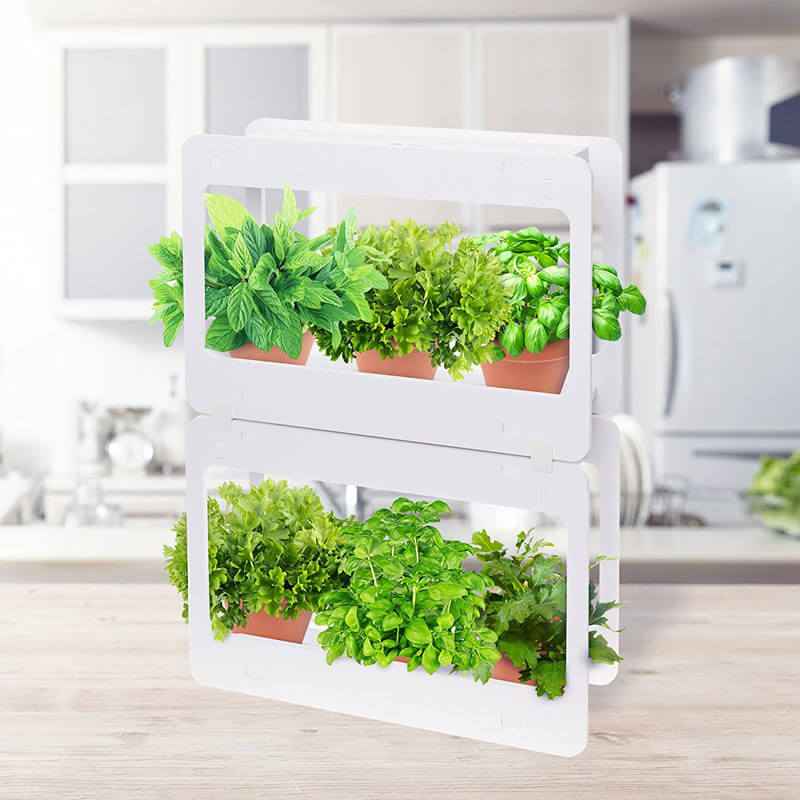 7. VegeBox Table Smart Indoor Garden [buy on amazon]
The VegeBox Table indoor garden kit has a 9 hole planting tray and can fit comfortably on your kitchen bench, coffee or bedside table. Fresh, nutritious, herbs, vegetables and microgreens at your fingertips, with no messy waste or throw away plastics. The intelligent lighting system means that your plants are getting a constant cycle of light and darkness mimicking the day/night cycle in nature. Adjusting the nutrient levels also means you can fine-tune the growing conditions to achieve your desired results. These processes use less water than conventional gardening and make for viable crops all year round, regardless of seasonal weather and climate.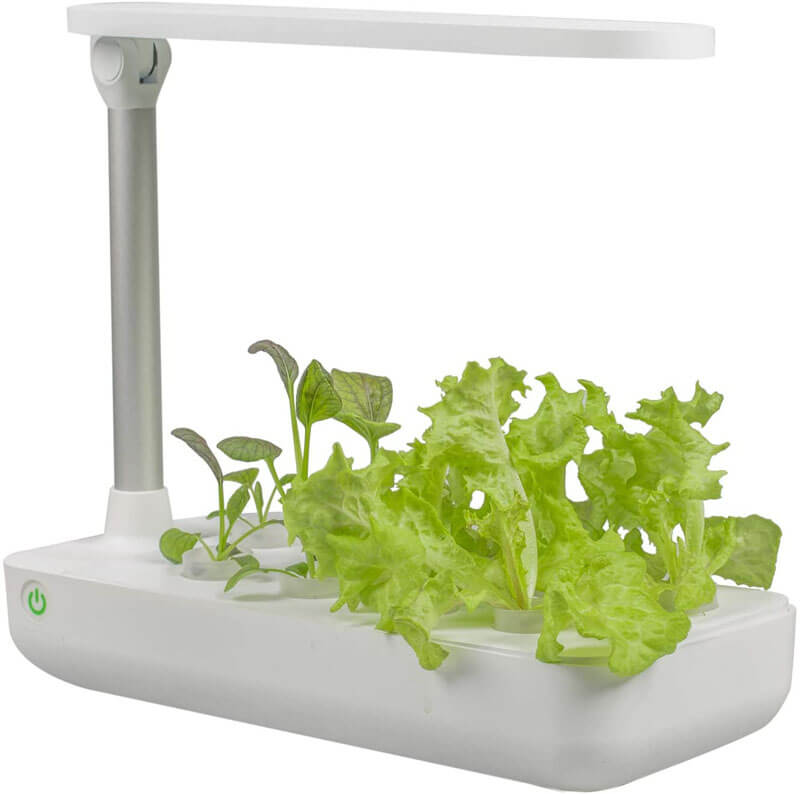 8. AeroGarden Harvest [buy on amazon]
The 6-pod Harvest garden is our most popular countertop garden. It's easy to use, has a sleek tailored shape and a small footprint to fit in any kitchen.
-Grow Fresh Herbs & Vegetables Year-Round
-Plants Grow Naturally in Water, No Soil, No Mess
-Energy Efficient LED Grow Lights for Faster Growth
-Simple Reminders Take the Guesswork Out of Growing
-Sprouts in Days, Harvest in Weeks, Enjoy for Months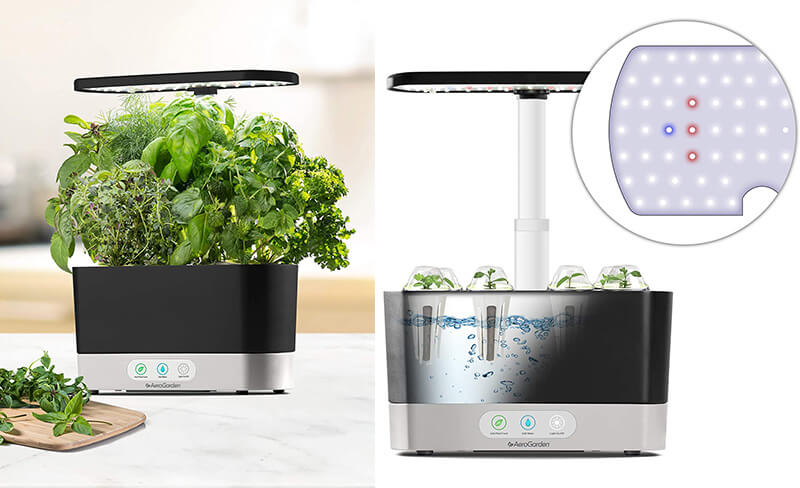 We are a participant in the Amazon Services LLC Associates Program, an affiliate advertising program designed to provide a means for us to earn fees by linking to Amazon.com and affiliated sites.