Mugs aren't just plain ceramic objects that hold our beverages – they've already become something meaningful with sentimental value. We even have our own favorite cups in our homes, which we hate sharing with other family members. And our tea or coffee probably doesn't taste as good if we drink from someone else's mug. In this collection we've gathered 11 most stylish and creative mugs from all over the web. This collection will come in handy if you're looking for the present for your friend. You can also check our last year's mug collection "15 Beautiful and Unusual Mugs/Cups Design"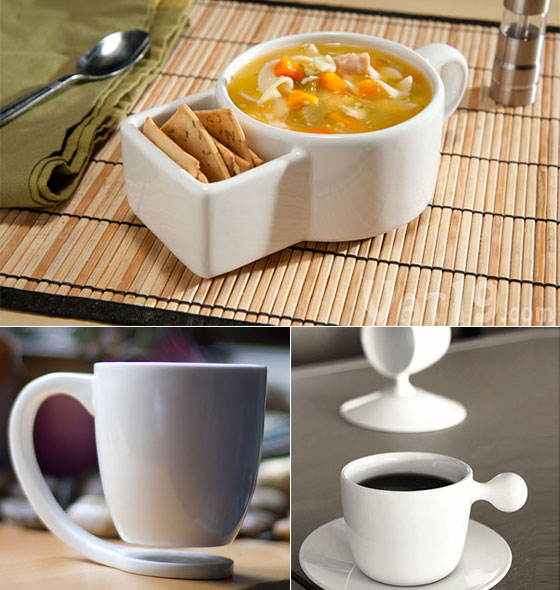 We are a participant in the Amazon Services LLC Associates Program, an affiliate advertising program designed to provide a means for us to earn fees by linking to Amazon.com and affiliated sites.
1. Magic Floating Mug by Tigere Chiriga [source]
Let us show you some magic – the floating mug designed by Tigere Chiriga. The handle is designed to hold the cup up off the ground and appear to be levitating. Chiriga was inspired by hanging fruit baskets. It's currently being funded on Kickstarter, which is the only way you can buy one for the time being.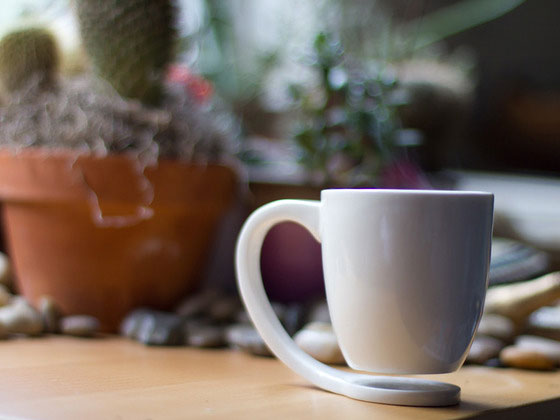 2. Creative Ceramic "Treasure Mug" [source]
Use this mug to fool your friends. Even if it's not All Fools day. Since this creative ceramic coffee mug looks like it actually sunk into table. Called "Treasure Mug" it costs $15 and available in two colors: white and brown. Despite its strange look this mug is fully functional.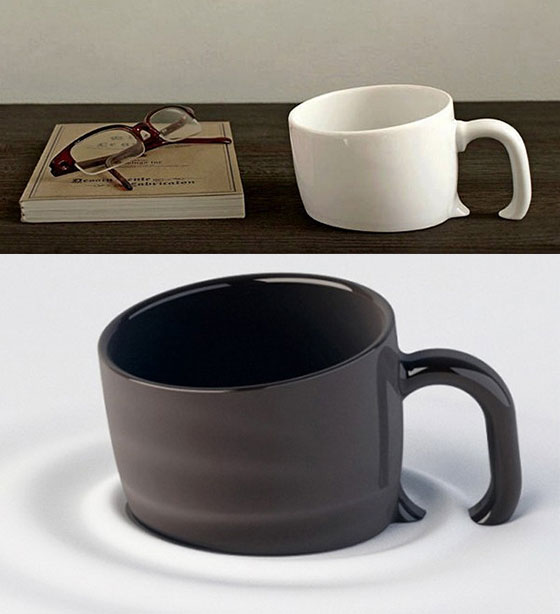 3. Cupple Coffee Mug & Holder [source]
This set of ceramic coffee mugs have been designed with an imaginative storage solution – the mug's handle fits snugly into the base when not in use. Made from durable porcelain and silicone.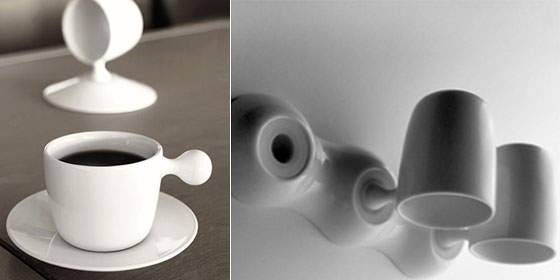 4. Morning Mug [buy on amazon]
The cold mug displays the sleeping face white on black. When you pour in the hot coffee, the mug's appearance quickly changes. Within a minute, the black mug has become completely white and the face will have awoken to greet you. What a way to start the day!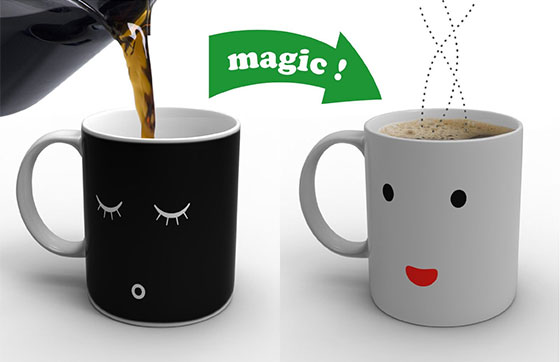 5. Alessi The Hug Mug [buy on amazon]
You can´t help but to fall in love with this mug. Just look at how the little snowman designed by Alessi warms himself up against the white Hug Mug. To make sure that the little guy is kept nice and warm, fill the beautiful mug with delicious hot chocolate, a nice Christmas tea or coffee.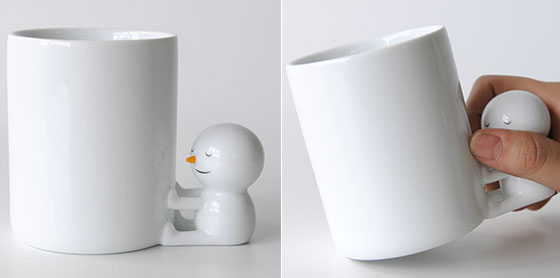 6. Big Mouth Toys Grenade Mug [buy on amazon]
A Grenade shaped ceramic coffee mug
This is a ceramic product
Grenade shaped coffee mug
Dishwasher Safe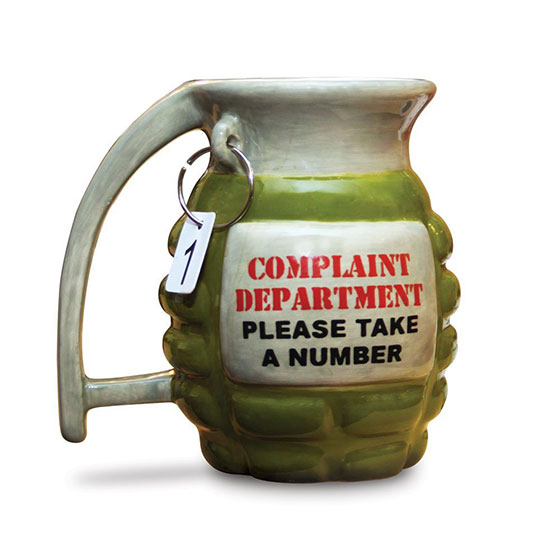 7. Stamp Mugs [source]
Those irritating ringmarks that mugs and cups leave….. well, you can turn them into a nice floral pattern now with a set of Stamp Cups. The pattern on the base of the cup match up so you can join as many marks as you want. Set of 2 mugs.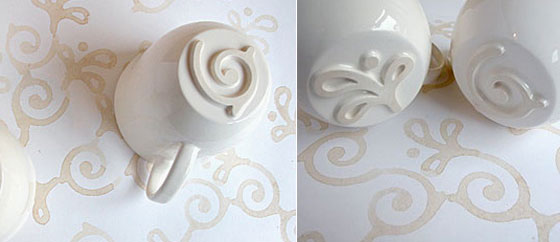 8. Sweater Mug [buy on amazon]
Give yourself or your loved ones extra warmth this winter with a cup of hot chocolate in this cuddly sweater mug!
Great gift to replace ordinary "cold" mugs.
Dishwasher, microwave safe.
Feel extra warm next time when you drink hot coffee with this sweater mug.
Detailed knitted pattern resembling a sweater covers the mug to give it that warm, cuddly look.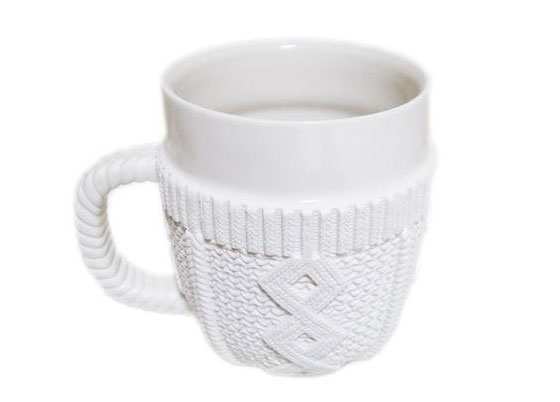 9. pouch mug [buy on amazon]
This adorable and functional kangaroo mug holds 12 oz and a tea bag and/or sweetener packets in the pocket/pouch. It is 3 5/8″ tall and is perfect for any tea drinker. Microwave and dishwasher safe.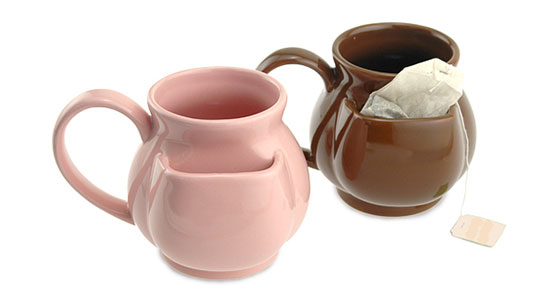 10. Panda Face Mug [source]
Pandas are super cute, so what could be better than sipping from this panda face mug by Cram Cream? Imported from Japan, this ceramic mug will jump start your morning and get you through every 3 o'clock slump!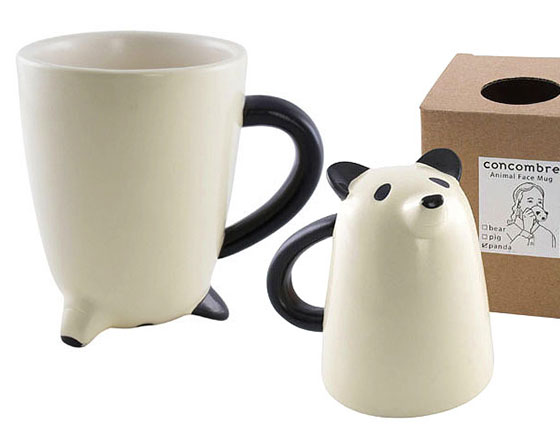 11. Soup & Cracker Mugs [buy on amazon]
Keep your crackers tidy and at-the-ready with Soup & Cracker Mugs. With these 16-ounce soup mugs, you no longer have to settle for soggy crackers or crumb-laden tabletops. The clever ceramic bowl features a built-in pouch for storing your crackers until you're ready to dip them into your soup. Each set includes two dishwasher and microwave-safe Soup & Cracker Mugs.