Drinking tea and arranging tea parties have always been a favorite activity of the masses. The aroma and flavor of the tea enhances with the teapot used to make tea. Here we complied a list of 11 Modern and Elegant Teapot Designs, which can definitely help to add a flavor to your tea and show off your taste.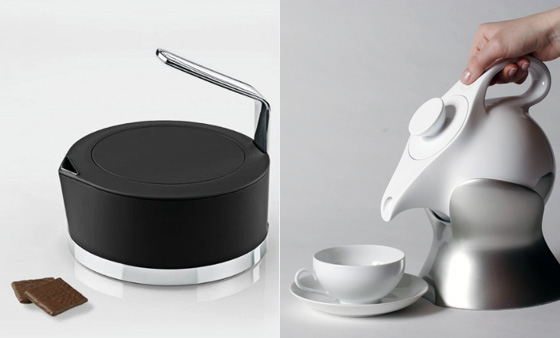 We are a participant in the Amazon Services LLC Associates Program, an affiliate advertising program designed to provide a means for us to earn fees by linking to Amazon.com and affiliated sites.

1. Tea for Two by Mark Huang [link]
"Tea for Two" is a beautiful wooden tea set, perfect for those times when you feel like spoiling yourself. the set features a teapot, two cups and a special place for a candle. Romantic and relaxing, this idea could help make a hard day have the perfect ending.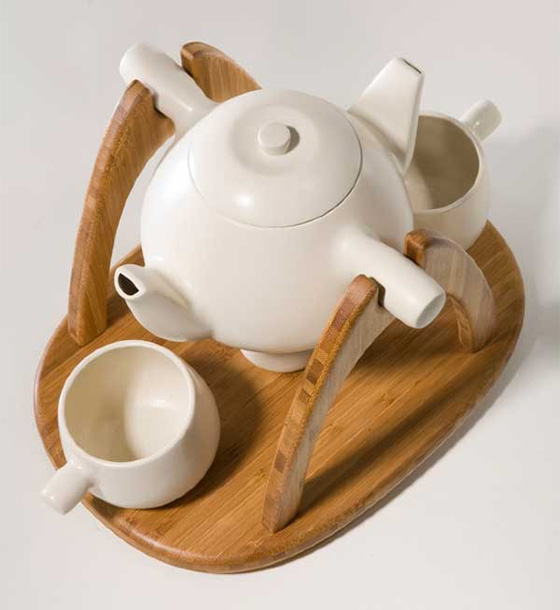 2. Joey Roth Sorapot, Brushed Finish [buy on amazon]
A modern teapot in design and spirit; made from 304 stainless steel, borosilicate glass, and food-grade silicone
With an 11-ounce capacity, the Sorapot brews just enough for 2 cups of tea
Pot is designed to change over time based on how it's held, how it's cleaned, and the type of tea used in it
Heat-resistant borosilicate glass tube is completely removable and easy to clean; all parts dishwasher safe
Eco-friendly package made from recycled cardboard and molded paper pulp; fastened with natural jute rope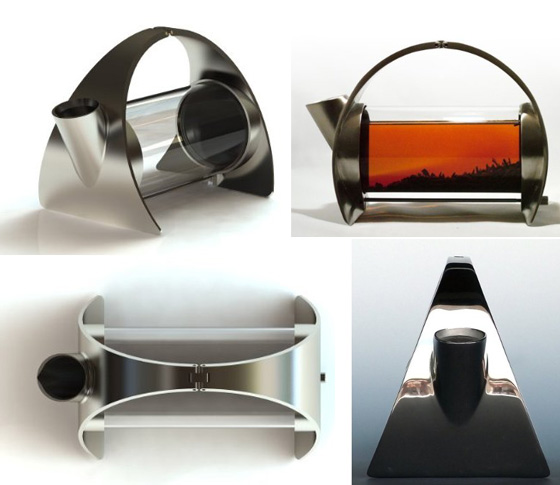 3. Tripot Teapot [link]
Tripot is a fresh approach to the classic ceramic teapot; it features a three-legged design for style and stability. This allows space for a tea-warming candle to be placed under the pot without the need for an auxiliary device. To pour, just grab the ergonomic handle and tilt the pot toward the front two legs. The spout is positioned for maximum yet controlled liquid flow. The animalistic design language gives Tripot its character, attitude, and stout humorous personality.
4. Teapot New Bone China 1,5L [discontinued]
Elegant teapot, designed by Pernille Vea. Comes with a large integrated tea ball. Once the tea has infused properly, just lift the tea ball and fasten it to the handle. This teapot is a classic, Scandinavian beauty with a very contemporary look that makes it even more attractive!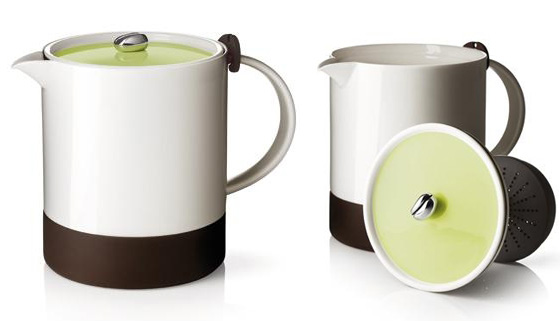 5. Tse & Tse Mirza Teapot with Reversible Coat [link]
Tse et Tse Mirza Teapot and Coat, the teapot is made of glazed white porcelain and the coat made of velvet and cotton lining. With its tail in the air, Mizra rushes up at the first whistling of the kettle, in a hurry to bring the comfort of tea or herbal tea to its owner. It is opened by lightly pushing forward the metal piece that blocks the lid; the tea or the leaves settle in the filter and then, drenched in boiling water, infuse. Mizra has a reversible coat. In this manner, it keeps the beverage hot in its bosom. Store the tea pot in an upright position to save on space.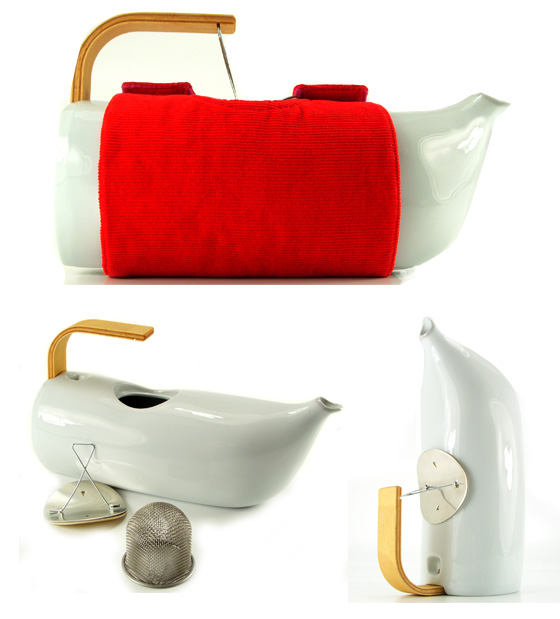 6. WMF SmarTea Tea Set [buy on amazon]
Teapot set with modern European design
Glass teapot with 1-1/2-quart capacity
18/10 stainless steel stand outfitted with tea-light candle holder to warm teapot (candle not included)
Stainless steel removable infuser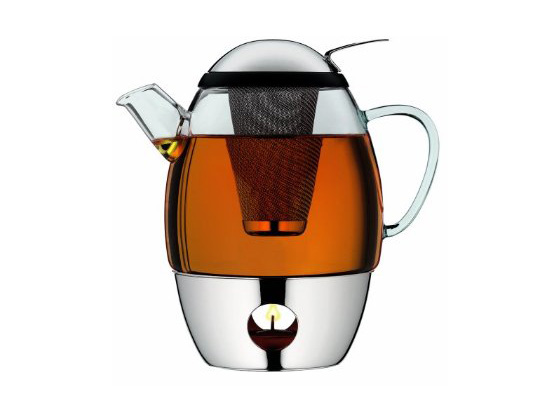 7. The Lazy Teapot by Lotte Alpert [link]
A porcelain teapot is put in its associated holding device where it can be swayed forward well, directed so that the tea can be easily poured into a cup without having to lift the teapot. Furthermore the holding device is able to boil up the liquid in the teapot and to keep it warm precisely on different temperatures. The measured temperatures are read at the diodes in the region of the operational controls and compared with the temperature that was manually chosen.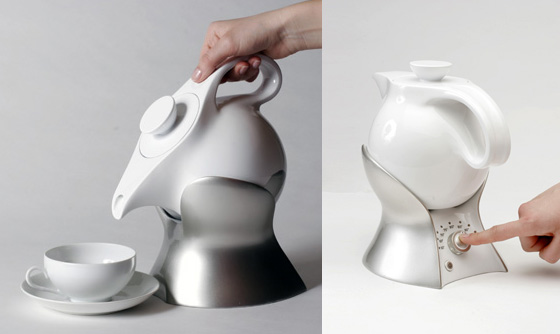 8. Menu 1-1/2-Liter Kettle Teapot, Glass with Tea Egg [buy on amazon]
Glass teapot with tea infuser that hangs by a silicone string, serving as a stylish teabag in the middle of the teapot
The Menu kettle teapot was designed by Norm Architects to blend Asian Zen philosophy with modern Scandinavian design
The clear glass vessel makes brewing tea a visual experience, stimulating the other senses in the process
The included tea egg is both a functional strainer and unique design detail
50.72-Ounce capacity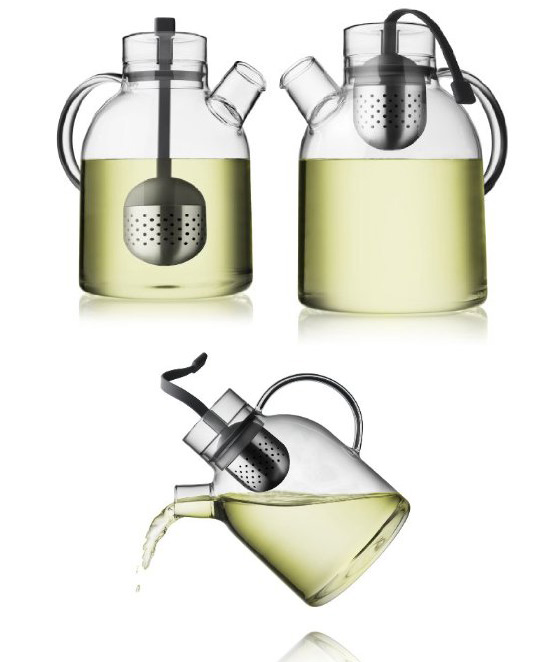 9. Eva Solo Teashirt Tea Maker [buy on amazon]
The tea brewer allows you to make your favorite cup of tea with or without tannin. For tea without tannin, place tea leaves into the glass flask, add boiling water, and the leaves are automatically strained when pouring. For tea with tannin, place tea leaves in the filter holder, and once brewed, the plunger is fully depressed, thereby stopping the brewing process. The tea brewer comes with a black neoprene cover. Made by Eva Solo, Denmark.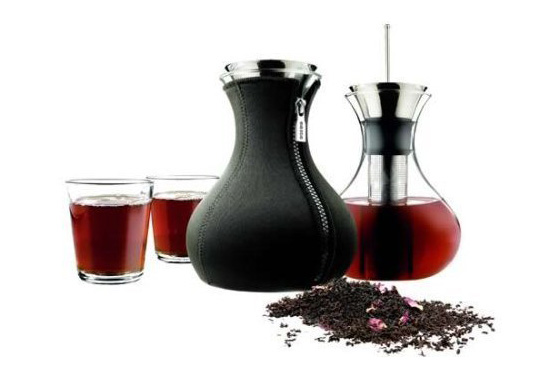 10. Capresso H2O Plus Glass Water Kettles [buy on amazon]
Cordless glass water kettle lifts easily from 360-degree swivel base
1-1/2-quart capacity; German Schott glass with min/max markings
Concealed heating element; auto shut-off upon boiling for added safety
Generous handle with slip-free, textured underside ensures a secure grip
Measures 6-1/4 by 8 by 9 inches; 1-year limited warranty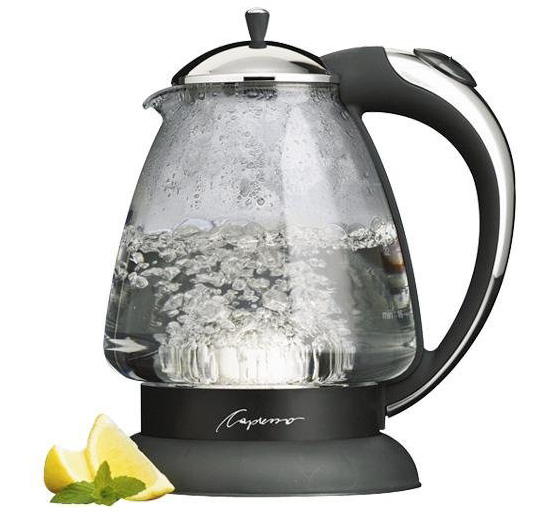 11. Stelton Soft Black Potter Tea Pot [buy on amazon]
High quality designer Tea Pot. The new tea pot "Potter" combines the perfect design with optimal tea flavor. The pot has a strict cylinder form and was shaped in stainless steel with a soft surface. The shape of the handle creates great balance and makes the pot extraordinarily easy and comfortable to pour from. To get the most out of the tea's taste, this tea pot is equipped with a special tea strainer, giving the tea space to expand and give off its full aroma for a perfect cup of tea every time.