What is better than enjoy the swimming pool in a hot day? Play some fun pool games with friends and family can definitely be one of the options. Beach ball and float are good. But if you want to look for something new to try out during your next pool party, check out our list of 11 fun pool games listed here. Moreover, some of the pool games are not only good in water but works perfectly on table or lawn as well. Give them a try and hope you have a great time in water.
It is a fun pool party if you are with your friends. So get the swimsuits ready for the fun-filled party.
We are a participant in the Amazon Services LLC Associates Program, an affiliate advertising program designed to provide a means for us to earn fees by linking to Amazon.com and affiliated sites. Please read our disclosure for more info.
Watermelon Ball – Pool Ball for Under Water Passing
This fun toy ball for the pool looks, feels, and behaves just a like a real watermelon in the water, allowing one to dribble, kick, bounce, and pass it around up to 10 feet away underwater. Perfect for playing catch, basketball, football, diving games, or just floating around with a faux watermelon in your hands all afternoon.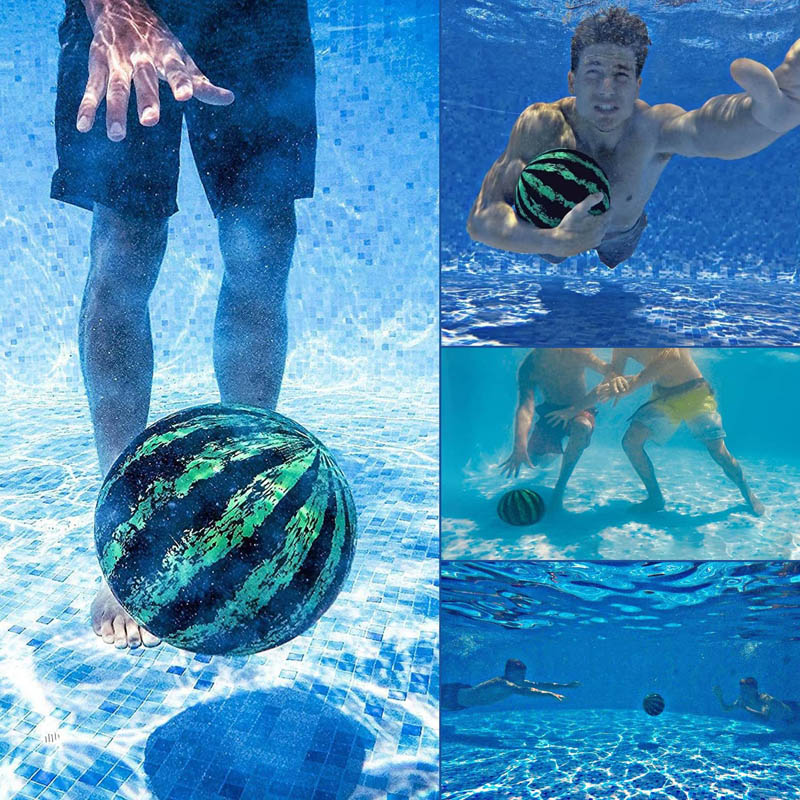 [buy on amazon]
Floating Card Table Tray
Bring the poker game party to your pool or game room with the Polar Whale Floating Deluxe Poker Table! Includes 1 premium foam poker table (with 1 deck of waterproof playing cards). Large floating durable foam table has enough settings for up to 4 players, with several compartments for drinks, snacks and poker chips. Table works great indoors or outdoors, in the game room, on the playroom floor, or at the beach.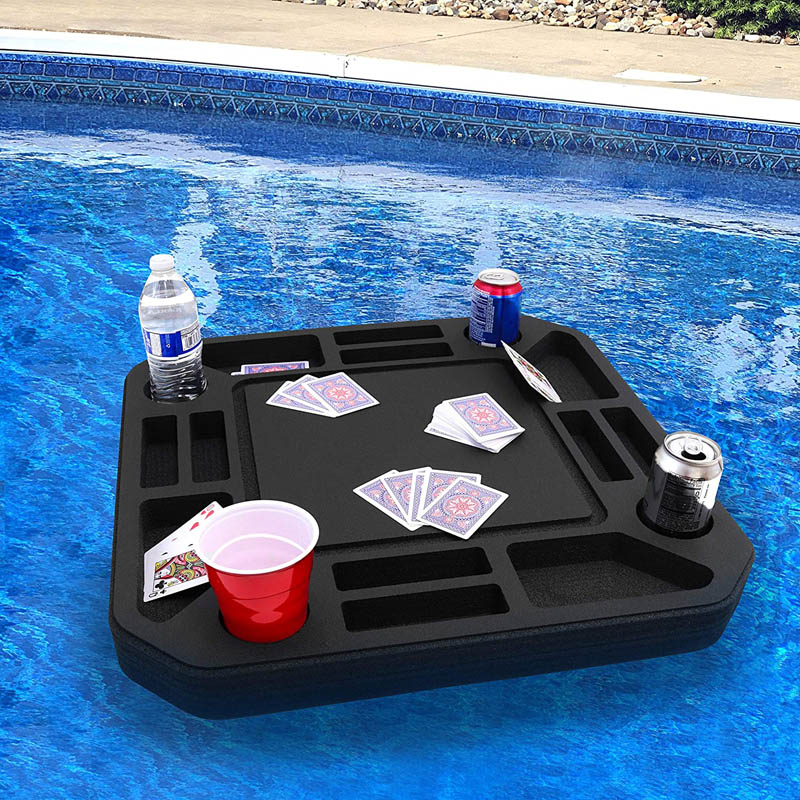 [buy on amazon]
Floating Ping Pong Pool Games
The Water Sports Itza Floaty Pong is ideal for backyard and pool activities and features interlocking pieces for a variety of game shapes. (6) foam balls and (12) interlocking targets are included and can be used with or without plastic cups. Targets have point values and color variations for additional games. Why limit this favorite party game to a table when you can take it to the pool on a hot summer day!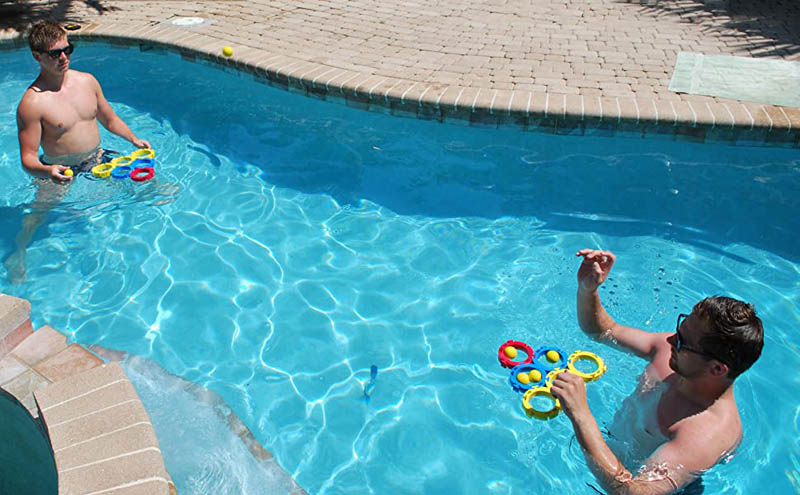 [buy on amazon]
Light-up Diving Pool Toys
The diving toy animals will light up once they are in the water, light up and make the underwater fun colorful. All diving toy animals stand upright at the bottom of the pool which are easy to grab. Perfect for beach pool water play. CHILD SAFE: Non-Toxic. Meet US Toy Standard. ASTM Safety Test Approved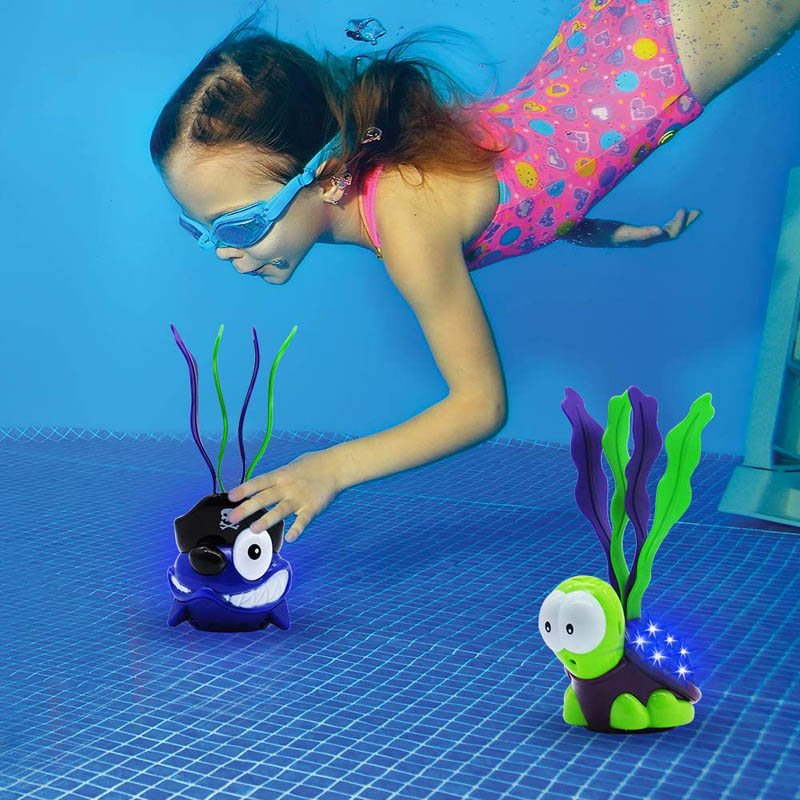 [buy on amazon]
Bar Inflatable Ring Toss Float
The pool float keeps your drink snacks ice etc afloat in the pool. The inflatable cactus toss game set includes 6 rings. Desinged with fast valves. More than 5x faster inflation and deflation.

[buy on amazon]
Inflatable Pool Hoop and Basketball
Kids will have a blast in the pool with the Intex floating pool hoop. The set includes an inflatable pool hoop and inflatable basketball. Constructed from vinyl, the material stands up to wear. Repair patch included for quick fixes.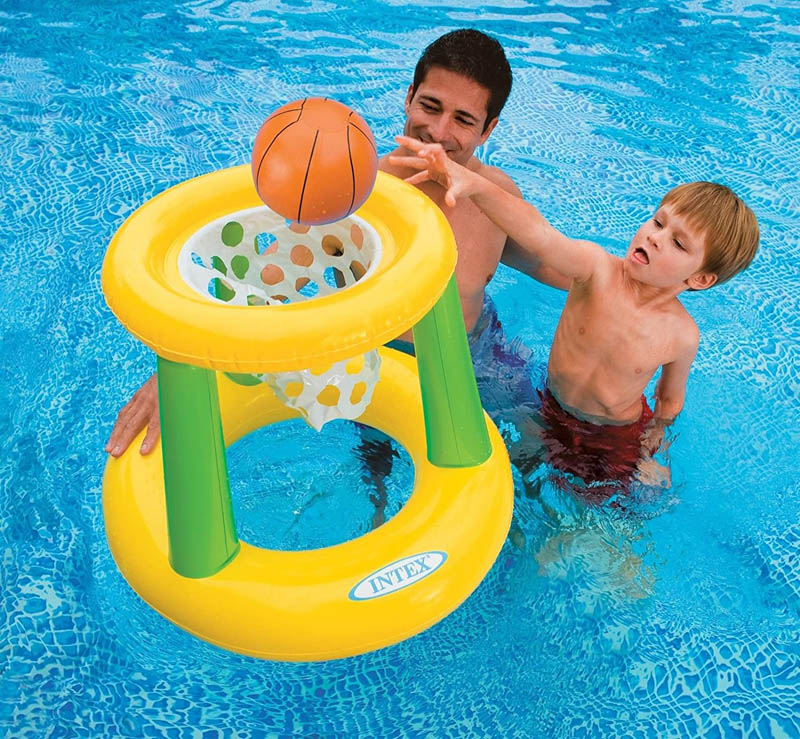 [buy on amazon]
Pool Volleyball Set
Fun pool volleyball game, includes an inflatable volleyball court with 2 weight bags, an inflatable volleyball ball, an basketball hoop set, and a storage bag, perfect summer swimming pool games for party, activity, ceremony, carnival, birthday parties or summer gift. Summer fun swimming pool games toys for boys girls …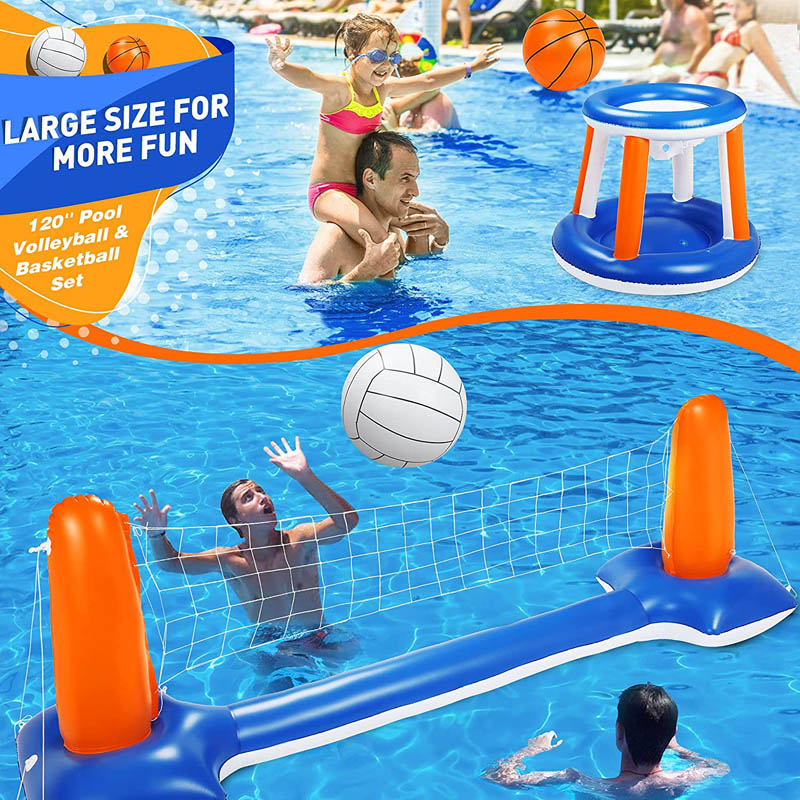 [buy on amazon]
Inflatable Pool Ring Toss Game
Play swimming pool toys in the water with pool dart board set! The pool toss game toy floats will be popular with children and grownups in pool parties for multiplayer. The 24-inch double-sided cartoon dart board with 6 sticky balls for throwing to score and a 24-inch pool float ring as the base. Exciting pool games for adults and family to enjoy double summer water fun.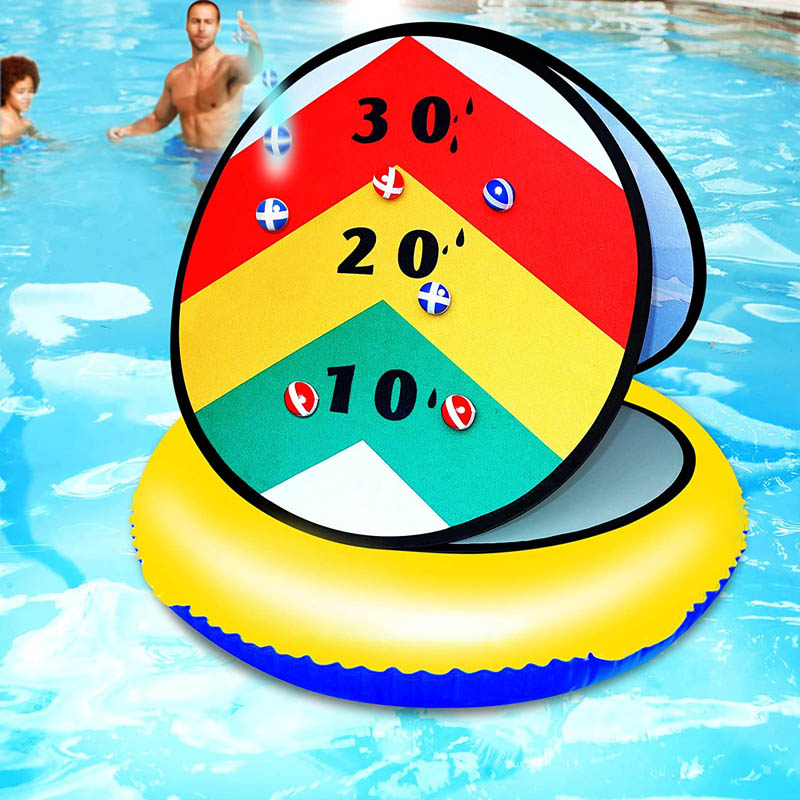 [buy on amazon]
Bean Bag Toss Games Float
Fill the bean bag with water. Then Press your fingers against the bottom of the inflation port from both sides of the bean bag, and close the inflation port firmly with the lid. Package includes: 1 x portable inflatable cornhole game board + 3 waterproof buoyant bean bags.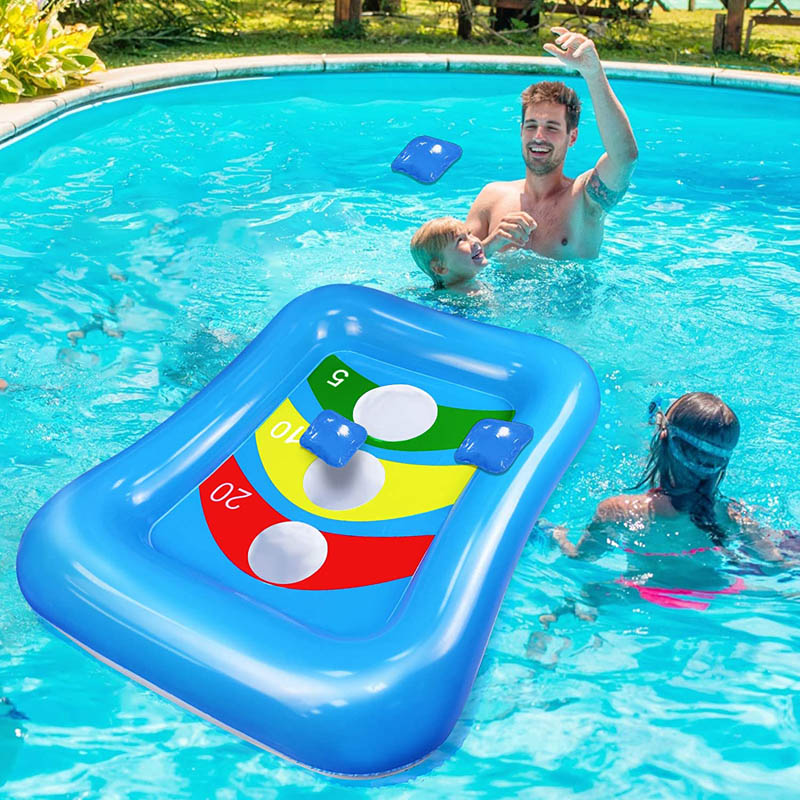 [buy on amazon]
GoSports Floating Water Polo Game Set
The GoSports Water Polo Goal is a must have addition to your pool for beating the heat this summer. GoSports improved on designs of the past to bring new life into this backyard pool classic. The upgraded modern look is sleek and sporty to match the reengineered design constructed from heavy duty PVC that is built to withstand all the splashing that comes with water polo! Thick netting also ensures that you get the best bang for your buck with countless games and fun times spent in the water.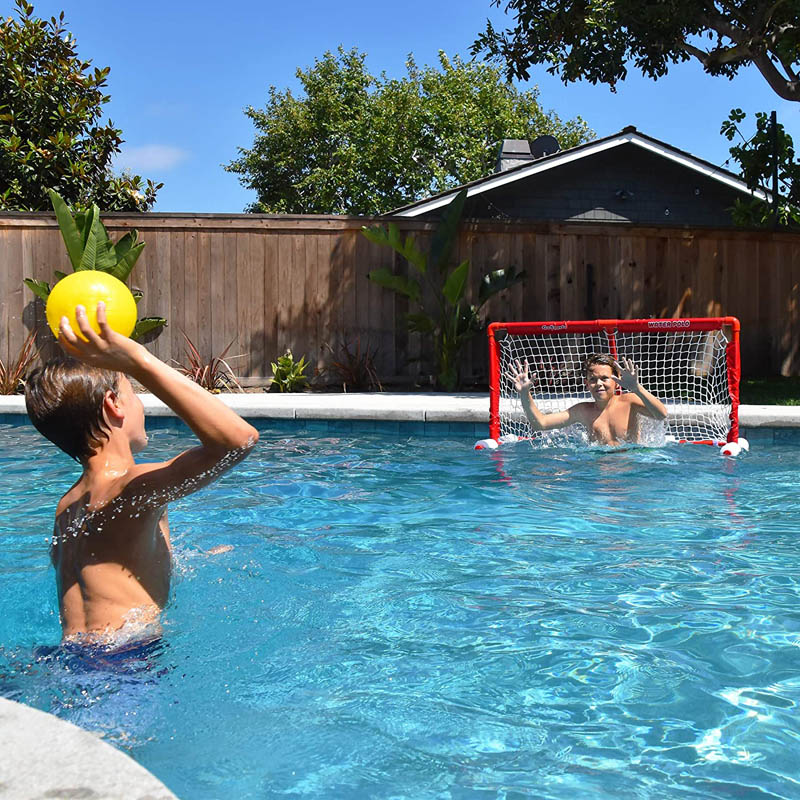 [buy on amazon]
Floating Table Tennis Game Toy
Rally in cool-water comfort. The Table Tennis Game unfolds quickly and sets up in minutes. The non-corrosive foam base keeps the table floating securely during those high-rally sets. The game includes net with game posts, two oversized paddles, and 3 regulation-sized game balls. The game base features molded component compartments for neat and tidy storage needs. For optional use, place the game base on a hard surface for out-of-the water, stay at home enjoyment!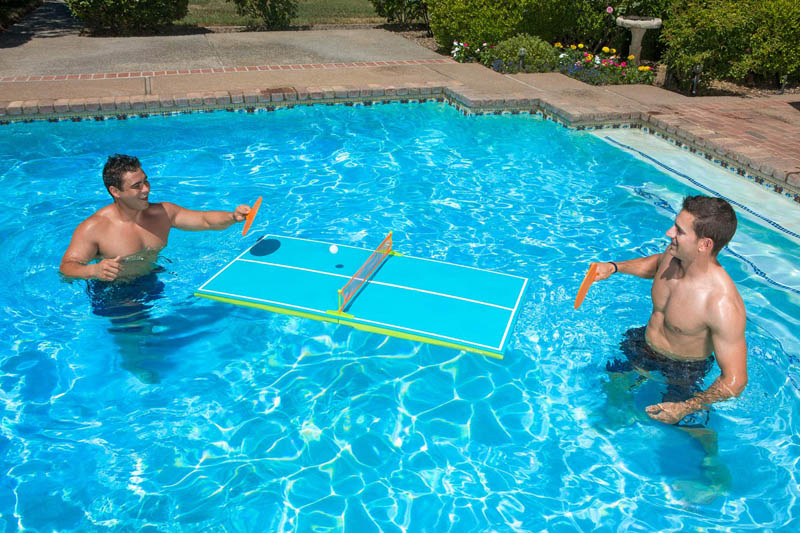 [buy on amazon]