vLamps are a great piece of furniture and I really love them! I believe that by having a beautiful lamp in a room you can actually give it a unique look. From retro, modern or clean designs, there are tons of models for you to choose from to give your place an unique touch. In this post, we rounded up12 Beautiful Lamps Shaped in Flower. Yes, flower! Take a look at those beautiful lamps which can easily make your home interior decorating becomes softer and elegant.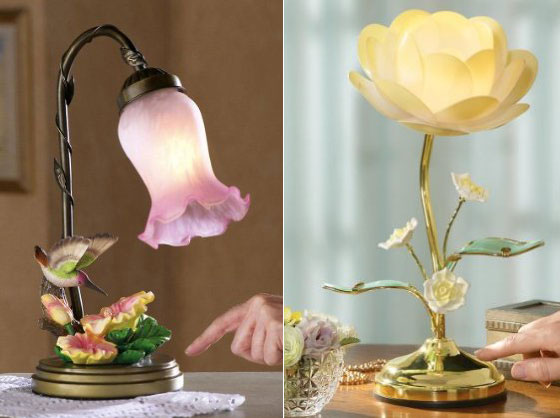 We are a participant in the Amazon Services LLC Associates Program, an affiliate advertising program designed to provide a means for us to earn fees by linking to Amazon.com and affiliated sites.
1. Hummingbird and Flower Art Glass Accent Lamp [buy on amazon]
An adorable accent lamp inspired by nature's beauty. The cast metal base comes in a patina bronze finish, and it captures a hummingbird's flight around a colorful flower. The lamp glows thanks to pink and white art glass. Make your decor more beautiful with this vibrant accent lamp.
Cast metal base.
Patina bronze finish.
Pink and white art glass.
Takes 15 watt candelabra bulb (not included).
In-line switch.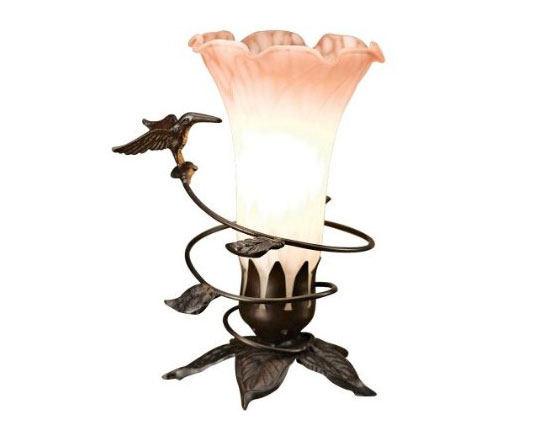 2. Lotus Blossom Desk And Table Touch Lamp [buy on amazon]
Blooming Touch Lamp: With just one touch, your room is instantly illuminated by a particularly lovely light source. The white glass petals of this lotus-blossom lamp are etched with a delicate floral pattern. And since it s activated by touch, you don t have to search for the lamp switch in the dark. Brass-plated lamp offers 3 light settings. Require. one 40W bulb (included). 9 3/4″H x 11 3/4″W x 13 1/4″L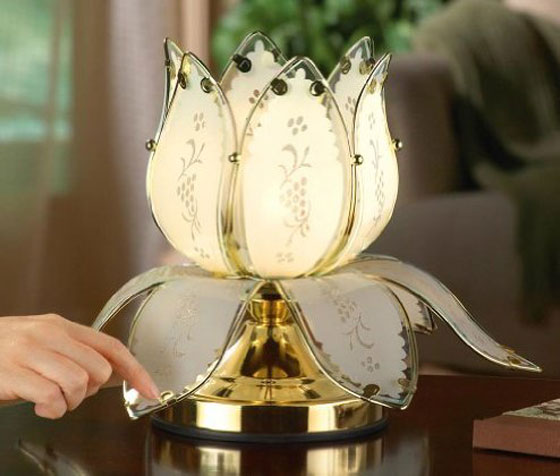 3. Lighted Ivory Dragonfly Flowers [buy on amazon]
Lighted Flowers Ivory Dragonfly 60 Electric Lights – 3 Stems. Design by The Light Garden. Transformer included. Vase shown for example only, not included. Flexible branches can be shaped as desired. Let your creativity "shine"!
39 inches in length
16 ft. electrical cord
3 stems with numerous branches and 60 lights
UL approved Transformer included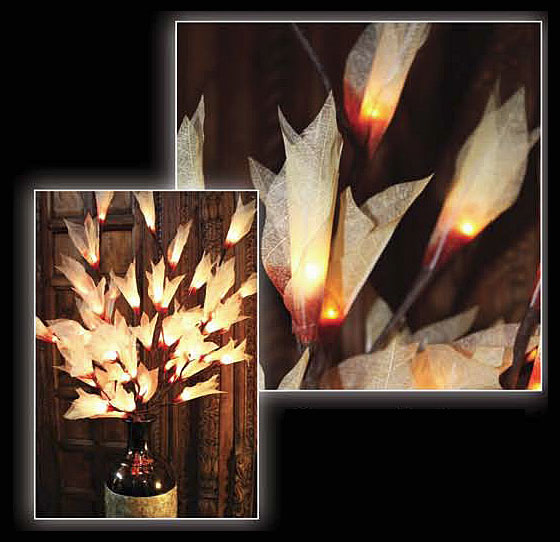 4. Purple Bearded Iris Night Light [buy on amazon]
Hand Painted and Gift Boxed
Exceptional Detail
UL Listed and Bulb Included
Vibrant Colors
Durable Bonded Marble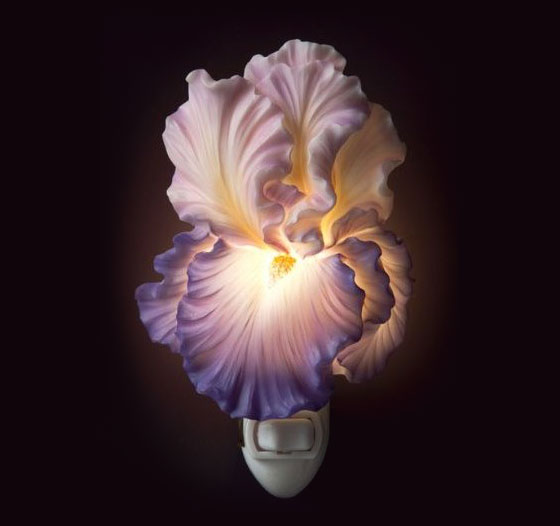 5. Flower vine Wallchiere Golden Bronze finish with Amber glass shade [buy on amazon]
The beauty of gilded leaves can grace a classic decor or bring a flash of nature to a country setting. Sophisticated up-lighting in aged metallic finishes turns plain walls into focal accents.
One light wallchiere-60 Watt M bulb
Hi/Low switch
Amber Glass Shade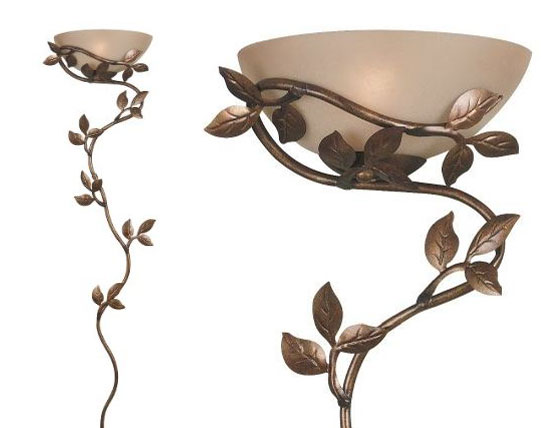 6. Hummingbird Desk And Table Touch Lamp [discontinued]
Hummingbird Touch Light: This unique detailed lamp combines style with function just touch the base and the light turns on. Its charm centers on the delicate resin sculpture at lamp s base. A hummingbird stopping to drink from a flower s nectar is captured in the light from the pretty pink-and-white glass shade. Touch lamp offers 3 different light settings. Metal base and curved stand feature an antique-look brushed-gold finish. Pole features wrapped-vine detailing with 3 leaf accents. Requires 1 C7 bulb (not included). 12 1/2″H x 8 1/2″W x 5 1/4″L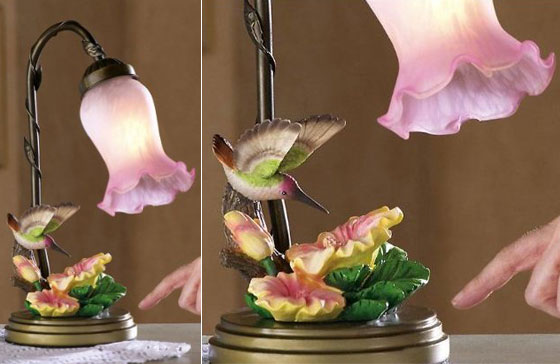 7. Pink Glass Floral Touch Lamp [buy on amazon]
3-way reliable touch sensor control features let you adjust the light you need with just a touch of your hand
Simply touch any metal surface and you will put this lamp through its paces of low-medium-high-off
Use a single level light bulb, no need to use a 3-way bulb
Uses one 40-watt standard bulb
Measures 14.25-Inch high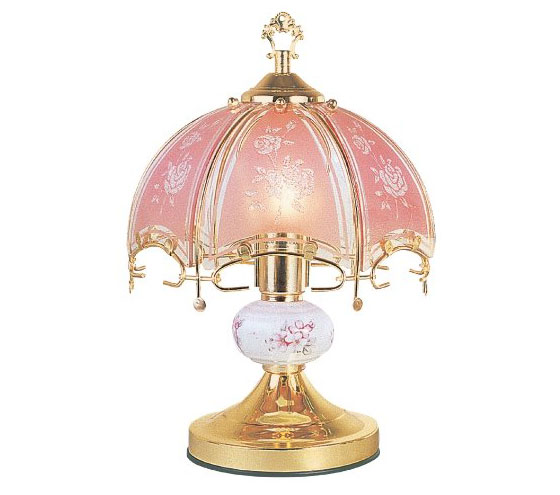 8. Lotus Flower Touch Table Lamp [buy on amazon]
This lotus lamp offers more than just mood lighting. It has three brightness settings and a simple touch turns it on or off. A gorgeous addition to any room, it has a trio of blooms on the base along with a pair of glass leaves. Metal/glass/plastic. Require. one 25W bulb (incl.). 9 1/4″L x 6 1/2″W x 14 3/4″H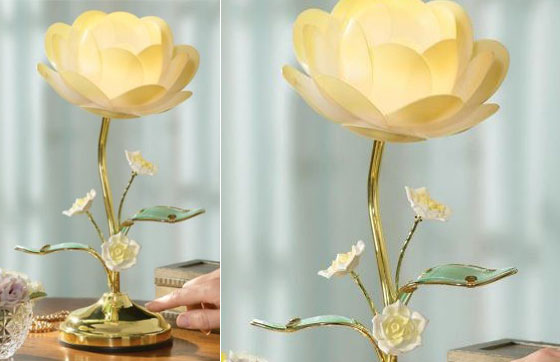 9. Incandescent Table Lamp, Rust with Glass Tulip Shade [buy on amazon]
40W Incandescent Table Lamp
Rust Finish with Glass Shade
14-1/4-Inch in Height
Rotary On/Off Switch
40W E12 Type B Bulb Not Included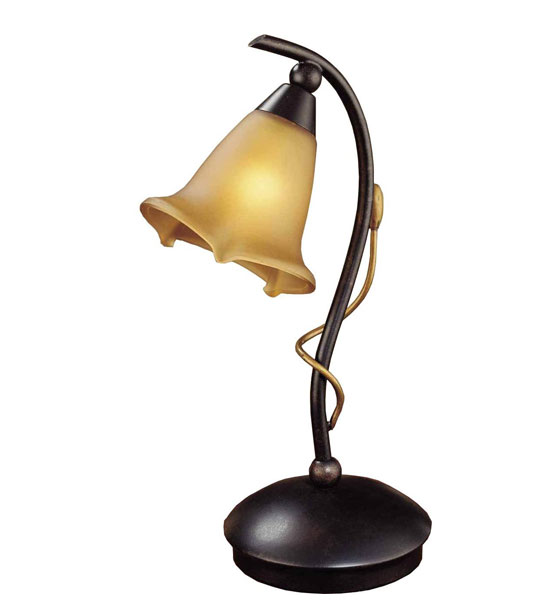 10. Yellow Rose Flower Stemmed Lamp [discontinued]
Yellow Rose Light: Soften the mood of your boudoir, living room or bedroom with this elegant stemmed light. The base is shaped like a cluster of roses, and two tulip-shaped frosted glass shades create soft, diffused light. On/off switch. Requires 2 C7 light bulbs (not included). Resin/glass/metal. Measures 18 1/2″H x 10 1/2″L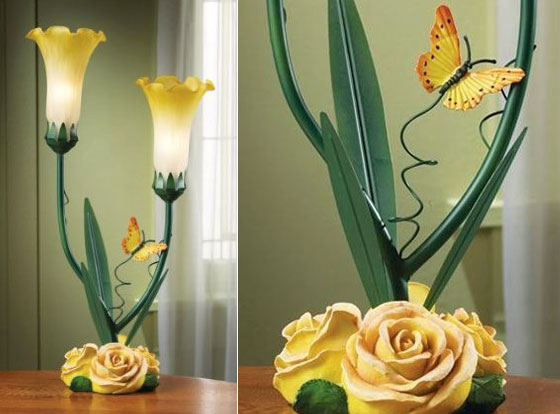 11. Possini Euro Design White Flower Acrylic Shade Table Lamp [buy on amazon]
Add a dramatic splash to any room with this stunning, contemporary table lamp. The simple base features a lustrous and sophisticated brushed steel finish. This piece is defined by the acrylic "flower" shade. Layers of "leaves" stretch upwards giving this table lamp a one-of-a-kind appearance. In-line switch offers accessible lighting control. Add a touch of modern design to your decor.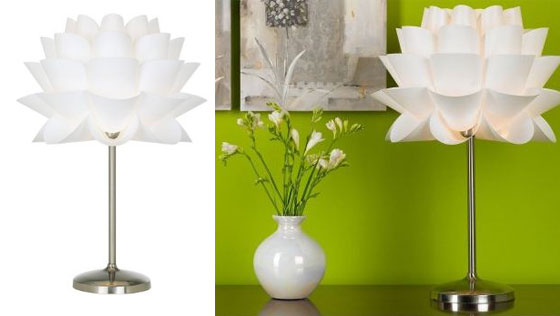 12. Bloom 2 Light Table Lamp in Antique Bronze [buy on amazon]
An amazing metallic finish of either bronze patina or antique Flemish copper adds elegance to the gently curving stems that support both crystal and lamp.,
Bulb Included: Yes
Bulb Type: 120V
Height: 16″
Light Direction: Up
Lighting Material: Metal and Glass
Max Wattage: 40