When the temperatures are dropping, it is probably the time to heat up our oven – baking some cookies. A home-made sugary snacks are always welcome, but only by children but adults as well. Of course, taste is the most important thing of the cookie, but have an attractive looking is a big bonus as well. Here we have rounded up 12 Cool and Playful Cookie Cutters and Stamps. Take a look! It's time to roll up your sleeves and do some serious baking.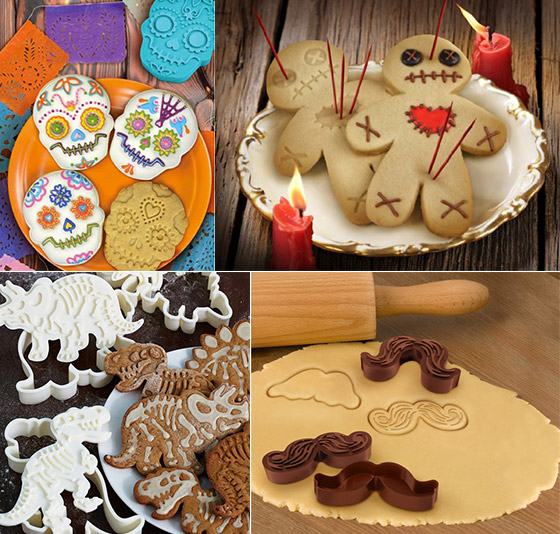 We are a participant in the Amazon Services LLC Associates Program, an affiliate advertising program designed to provide a means for us to earn fees by linking to Amazon.com and affiliated sites.
1. Baking With My Homies Cookie Stampers [buy on amazon]
A true baker's delight. It's Saturday morning and you roll out of bed, the sun is up, and you're bright eyed and ready to take your baking cred up a notch. Whip up a batch or three of cookies with the Baking With My Homies cookie shapers from GAMAGO. From the west to the east coast, impress your homies with your favorite cookie recipe. Feeling adventurous? Use icing to add some colorful details to your batch of cookies. Set includes a 3pac of cookie shapers.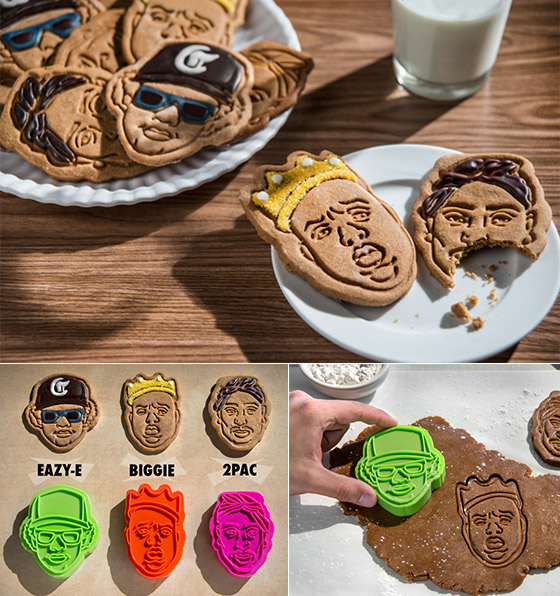 2. Jay Disco Biscuits Posable Cookie Cutter [buy on amazon]
The Jay Disco Biscuits Posable Cookie Cutter features a selection of interchangeable arms and legs that will allow you to make biscuit figures in a range of dance poses. With a bit of icing, you'll be able to create your own edible Louie Spence from Pineapple Dance Studios or Tony Manero from Saturday Night Fever. Food safe and washable, the set contains everything you need to assemble a disco diva.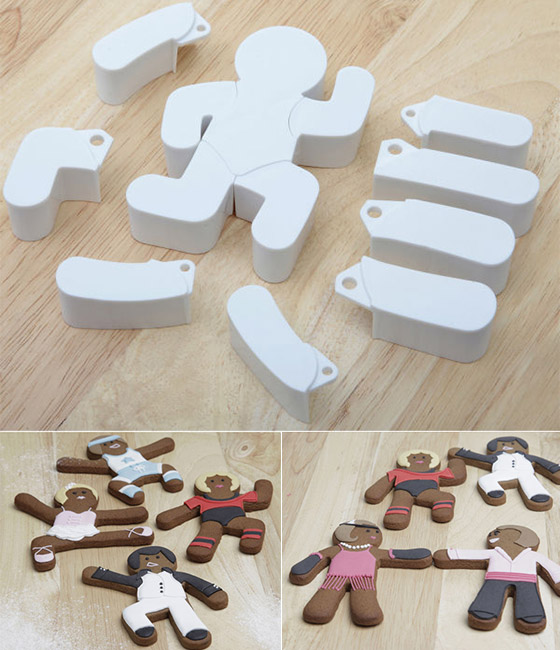 3. Sweet Spirits Cookie Cutters [buy on amazon]
Celebrate the Mexican tradition that encourages to respect relatives that have passed on and honor them with sweet treats like sugar skulls (Calavera). These cutters will make you cookies that resemble sugar skulls, which you can brightly and colorfully decorate to make your own fun fiesta. Comes in a pack of 4.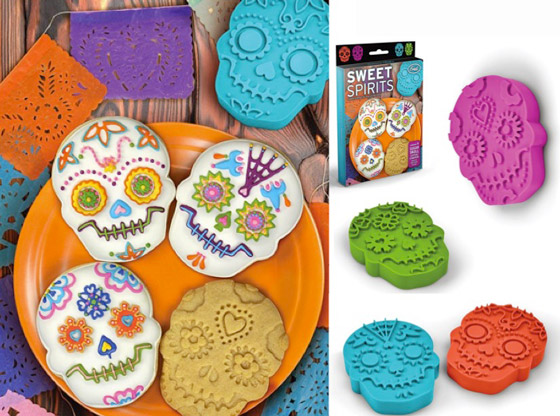 4. Home Made Cookie Stamp [buy on amazon]
Home Made The Cookie Stamps are a quick, easy and fun way to add some character to your baking! Simply roll out your cookie dough or biscuit pastry, stamp and bake! Suck UK's Cookie Stamps come with a wooden handle and silicone rubber base, which works not just for cookies, but also savory pastry, icing and fondants!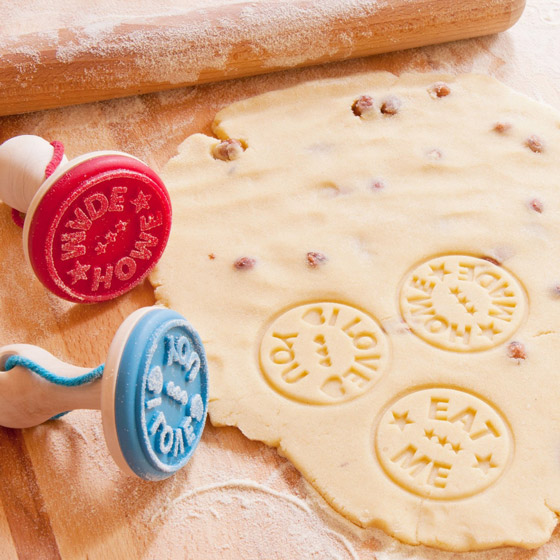 5. Cursed Cookies Cookie Cutters [buy on amazon]
Happy Gingerbread men are not to everyone's taste. We're sure you have a friend or two that would appreciate the cursed Voodoo version of it instead, which are quite easy to make using these Cursed cookie cutters.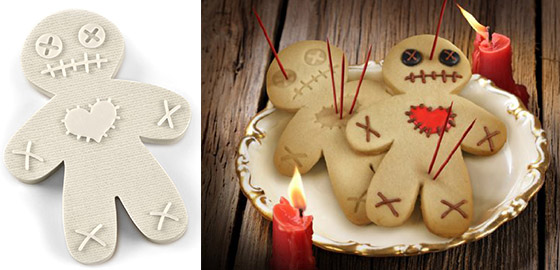 6. Cookie Stamp Owl [design-3000]
The funny Cookie Stamp Owl from Birkmann embosses a motif in the cookie dough that can be cut out from the dough with a knife or a round cookie cutter and then baked. The result: beautiful, large cookies that definitely will be the topic of conversation and should be present at every coffee break, tea party and Co.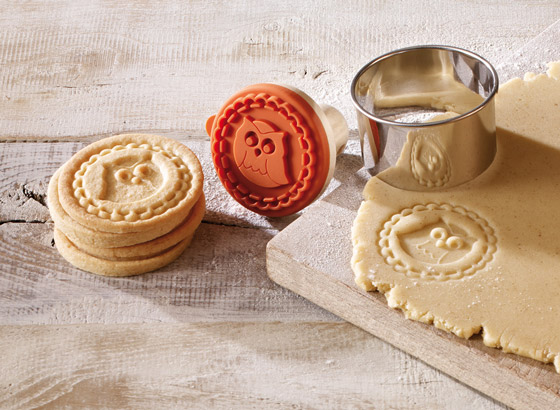 7. Wing Shaped Cup-Adorning Cookie Cutter Pair [buy on amazon]
The Angel Wings as "cup cookies", such a cute and charming idea for Christmas. Just bake, hang on the edge of the cup and, voila, you have an original decoration and a tasty treat with your Advent coffee or tea. Or, on Christmas day itself, it will lend a beautiful angelic look to your cups.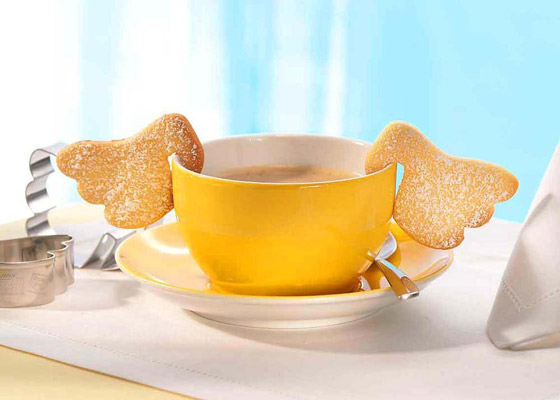 8. Cookie Cutter Paw [design-3000]
The adorable Cookie Cutter Paw is perfect for dog and cat lovers and the baked cookies also make a great gift idea.
Decorated with food coloring and sugar sprinkles, it looks so sweet and almost too good to eat!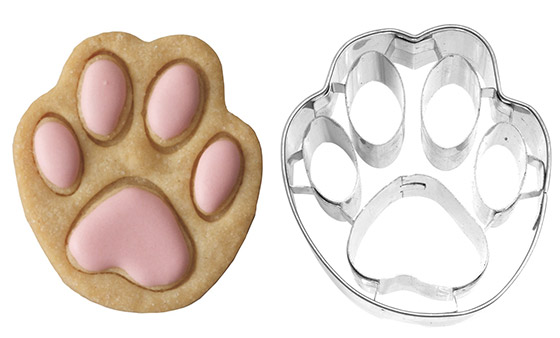 9. Dig-Ins Dinosaur Fossil Cookie Cutters [buy on amazon]
You can punch crisp cookie outlines with the cutter, then emboss perfect skeletal remains with the stamper.
1 set includes 3 cookie cutters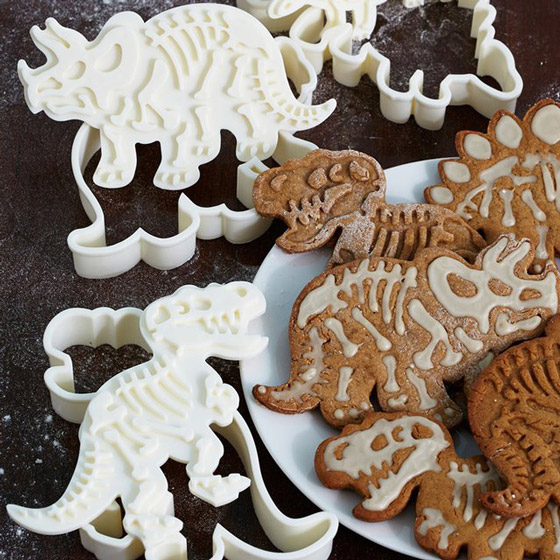 10. Giant Snowflake Stainless-Steel Cookie Cutters [fancy]
Bake intricate, oversized snowflake cookies-guaranteed crowd pleasers.
Durable stainless steel.
Sharp edges cut through dough with crisp precision.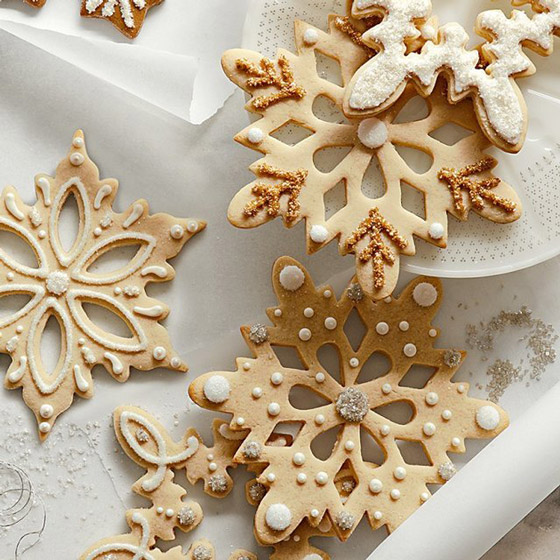 11. Munchstaches Cookie Cutter/Stamps [buy on amazon]
Five Distinctive Mustache Styles!
Combination Stamper & Cookie Cutter.
Made from durable plastic by Fred & Friends
Food Safe, Dishwasher Safe.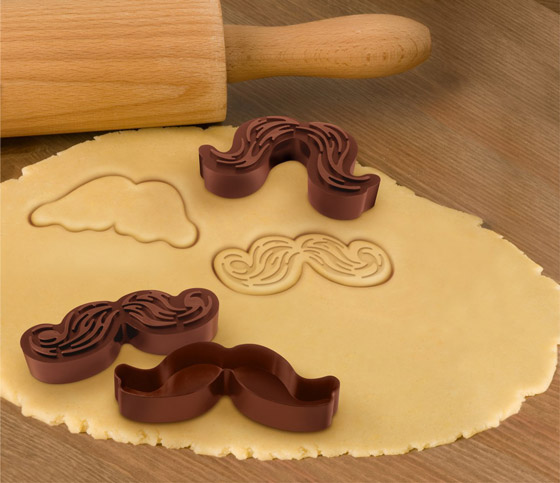 12. Star Wars Press-and-Stamp Cookie Cutters [buy on amazon]
A long time ago in a galaxy far, far away, a Jedi master chef used the ForceTM to create dynamic gear for the kitchen. These amazing tools, known as "cookie cutters," had the power to transform ordinary cookie dough into a delectable cast of galactic characters. Even the youngest Padawan bakers will have fun creating a fleet of cookies to re-enact their favorite galactic battles.