Lighting is the single most difficult thing to get right indoors. It can make or break a space, as lighting often affects our mood. There are so many thoughts given into lighting fixtures and you probably will be amazed the range of options we have for lighting products. Floating through this collection you'll find lamps not only practically functional but also pleasantly playful. They are creative, unusual and will definitely find their places at your home, especially your kids' room. Take a look at our collection of 12 Cool and Playful Lamps and hope you enjoy.
We are a participant in the Amazon Services LLC Associates Program, an affiliate advertising program designed to provide a means for us to earn fees by linking to Amazon.com and affiliated sites.
1. Playful Frank Lamp [source]
Thailand based company Pana Objects has created a functional piece of art that gives the modern consumer something to smile about. The Frank lamp takes the mundane, simple concept of a desk lamp and glorifies it through the universal emblem of happiness, a young puppy. This playful desk-lamp with its clean lines, simplified shapes, and natural materials is sure to bark its way into the homes of many a creative individual looking to lighten up their home or office décor.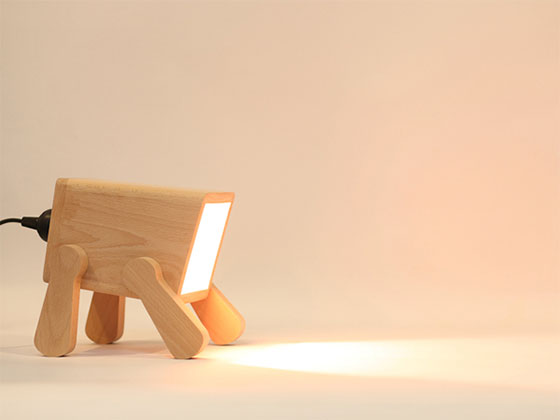 2. Tetris Stackable LED Desk Lamp [buy on amazon]
Tetris is one of the most popular games of all time, a deceptively simply yet completely addictive game in which players must fit falling blocks together. The Tetris Constructible Light is an interlocking light with 7 interlocking pieces. The neon magic-cube design is sure to bring fun and style to your desktop. The 7 interlocking tetromino pieces can be stacked in any combination. The light turns on when the pieces are stacked together, and it turns off when dissembled.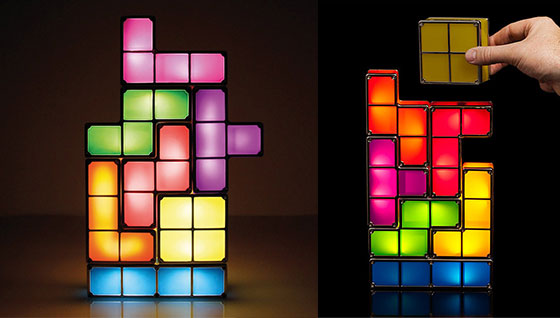 3. Balloon Lamps [source]
Helium balloons are fun and all, but their magic is only short-lived, before they slowly descend into a corner of your home, shrivel up and die. Well, with these cool new Balloon Lamps you can permanently enjoy an escaped helium balloon up on the ceiling and it even glows. These fun illuminated balloons are made from translucent satirized polyethylene, come in ceiling or wall sconce versions and have dangling string pull switches. They're perfect for lighting up children's rooms or anywhere clowns dwell.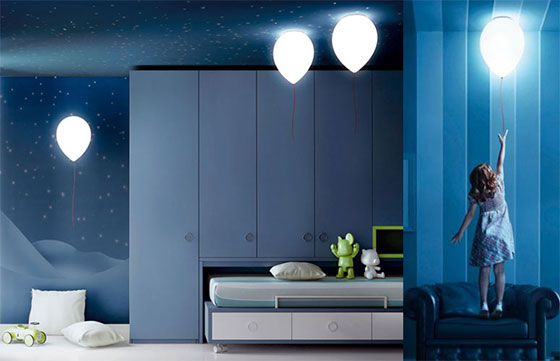 4. Boon Glo Nightlight with Portable Balls [buy on amazon]
If your kids fear monsters lurking within the dark at night and you fear the electric bill from leaving all the lights on, then this cool new Boon Glo Nightlight may be the solution. This fascinating multi-colored, interactive nightlight looks like it came from some weird, alien world and features removable, phosphorescent balls that illuminate for up to 30 minutes when removed from the stem base. It can be set to circulate through a multitude of colors or a favorite can be locked in using the sliding lever. There's nothing electronic in the balls, so they won't get warm or break if your kids want to sleep with them, roll them under the bed or into the closet to scare away the evil. They're BPA-free, Phthalate-free, and PVC-free, but should not be fed to any horrific creatures of the night, especially after midnight.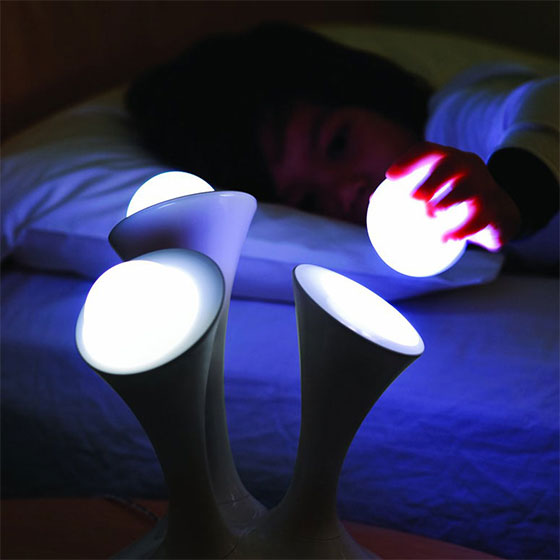 5. Firefly in a Jar [buy on amazon]
My Pet Firefly brings back happy memories of catching lightening bugs as a kid! The firefly flickers and flies around the jar with a glowing LED light effect and realistic motion! Just tap the glass jar and watch the firefly go! It's fun for all ages!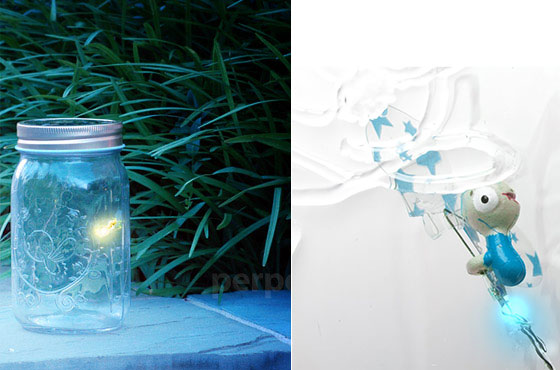 6. WAT [source]
To power this self sufficient ambiant lamp, only a few drops of water are enough. Energy is produced by an hydro-electric battery composed of a carbon stick coated with magnesium powder. The water generates an electro chemical reaction that generates light.
Materials: Sanded blow glass , Steel switch, bioplastic, Warm white LED stripes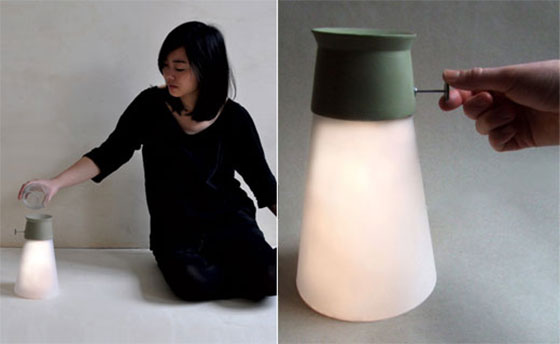 7. Hiroshi Tsunoda [source]
Portable table lamp where the packaging is the object. Both cable and plug are in the box, making the lamp portable and easy to move. It is perfect for places that need a unique or variable atmosphere. Its simple design has become an style icon.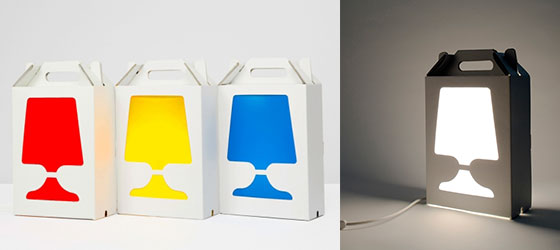 8. Lamp "Sixties" [source]
This lamp has been inspired by the design of the 1960's and especially Dieter Rams. It is a tube with a bendable neck, much like a 'bendy' straw. Maxim states "Functionality without unnecessary details, clarity and balance forms."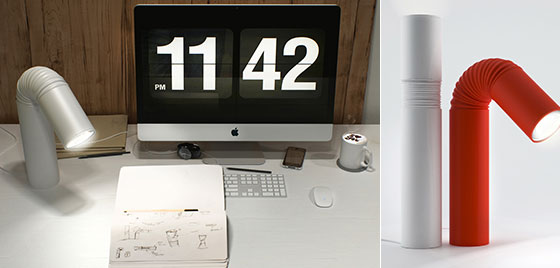 9. Balloon [source]
Balloon is a table lamp, generating diffused, ambient lighting. The lamps' light source is situated inside a cylindrical base. Light shines upwards and enlightens the reflector, which tilts forwards, re-directing and reflecting a diffused glimmer of light. Through its simplicity and figurative character, the lamp leaves room for associations and fantasy – is it a balloon soaring into the air, a small glowing sun or an oversized light bulb?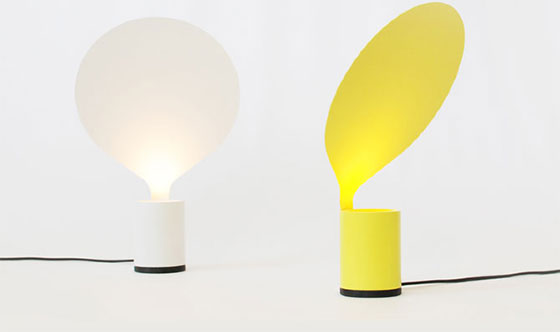 10. FULBRITE Light [source]
This task Light is designed from one piece of bent powder coated steel. The light uses a small low energy CFL bulb. So pick your favorite colour and order your unique Fulbrite Light.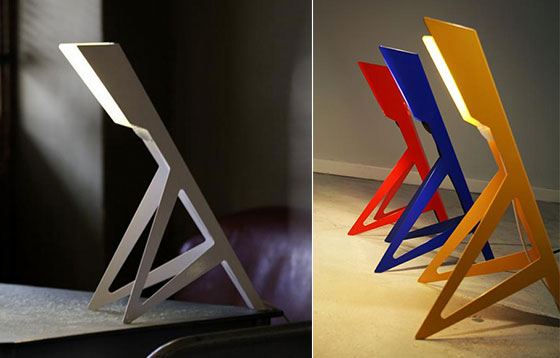 11. Elephant Lamp Nightlight [source]
Little kids and elephant lovers alike are sure to love this cool new Elephant Lamp Nightlight illuminating their bedrooms at night with soft, comforting light.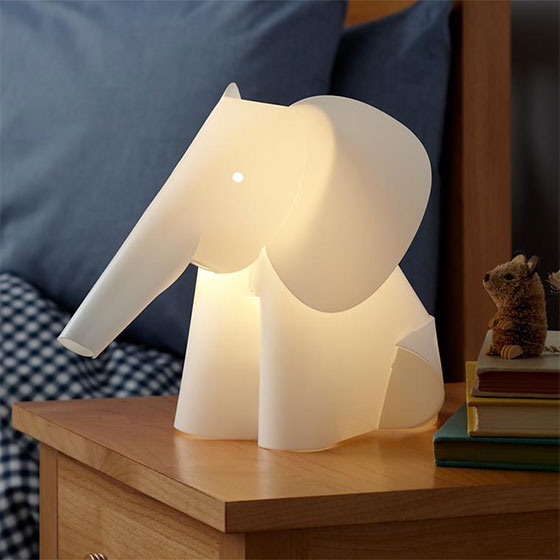 12. Octopussy: Surprisingly Funny but Gorgeous Floor Lamp [source]
The Octopussy Floor Lamp has a giant eye-shaped light and tentacle-like legs, which was created by Russian designer Vladimir Tomilov back in 2011. It's absolutely flexible lamp with elegant bubble, which has colored lens and shutter for bulb. The lamp features three support legs and three additional tentacles that allow it to have a dynamic look. Besides reinforcing the resemblance with the octopus, these tentacles also have additional led lights at the ends. Such a cool lamp and it is a great accent piece for sure. Too bad it isn't for sale yet.