In this modern day world where minimalism and clean lines seem to dominate traditional furniture, it is no surprise that even the good old rocking chair has been given a makeover. Listed below are 12 Cool and Unique Rocking Chair Designs we found, which will be a perfect fitting place for you to relax and laze around at home.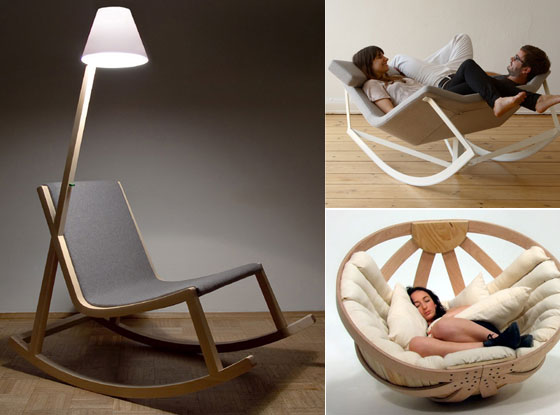 We are a participant in the Amazon Services LLC Associates Program, an affiliate advertising program designed to provide a means for us to earn fees by linking to Amazon.com and affiliated sites.
1. Sway: Rocking Chair for Two People [link]
Sway is a rocking chair with a padded seat and a steel rack. The shape of the seat enables many-sided use even in pairs. The telescope mechanism locates the rocking chair in an easy chair position.
2. voido rocking chair [link]
A very inviting piece, the Voido rocking chair is a welcome twist on a classic design. Made from a rotational-molded polyethylene in that unique, Ron Arad style, Voido delivers an amazing style to any space.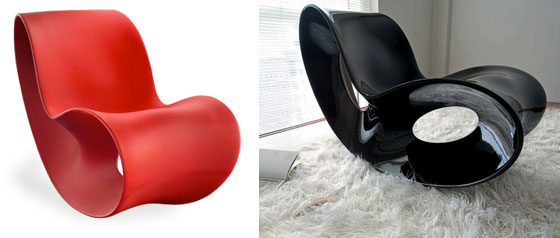 3. Soft Rocking Chair by Kirch [discontinued]
Traditional style re-envisioned with modern materials
Flattened steel frame and arms
Available in white or black leather
Attractive, gradual curves
Button-tufted chair back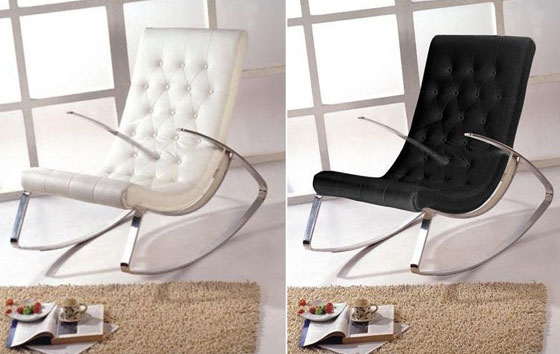 4. SWING [link]
Swing is a reclining seat for outdoors. The sunlounger can be folded and has 3 possible angles of the back without having an optical interruption in the formal flow. A water resistant neoprene-cushioning is integrated into the sleds.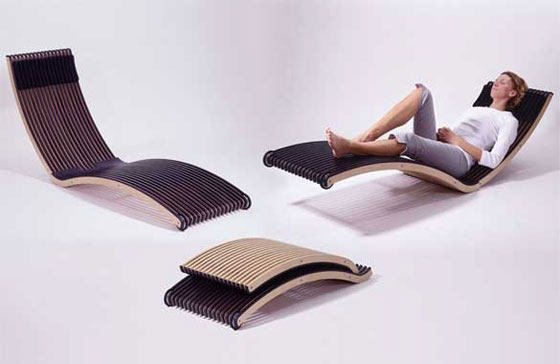 5. Baxton Studio Letterio White Cradle Chair [buy on amazon]
You will like the feeling sitting on this white cradle chair
Clean, simple form sculpted to fit the body
Black Wire legs
features solid ash wood base
it is quite comfortable, sturdy and inexpensive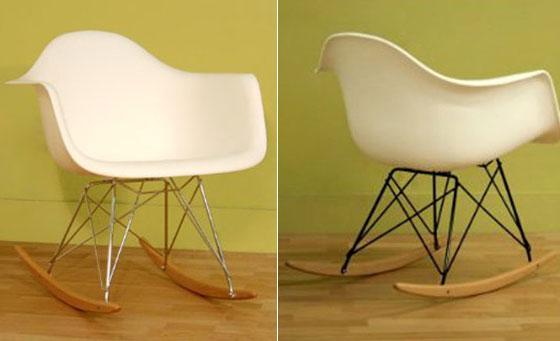 6. The Monarchy Rocking Stool by Yiannis Ghikas [link]
It rocks sideways and it rocks back and forth. Monarchy also swivels. Monarchy is designed not to be overturned, but at the same time allows the user to escape the dullness of the ultimate stability.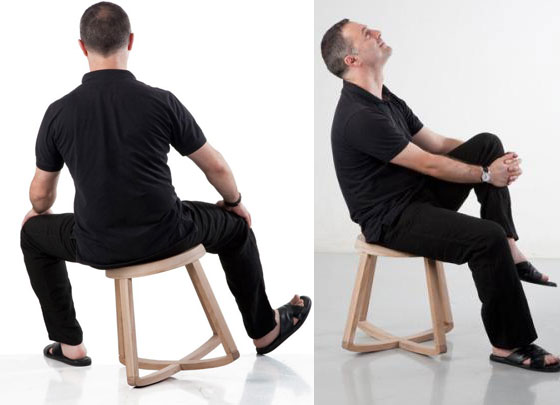 7. Adesso Gramercy Rocker [buy on amazon]
This very comfortable rocking chair has a curved seat and slanted low back. Foamed spring body covered with removable black polyester velvet zippered cover. The cover is washable in mild detergent with cold water and must be hung to dry. Rocker frame is chrome finished metal. 22" Width, 32" Depth, 27" Height. Seat: 19" Depth, 18" Height. Back: 17" Height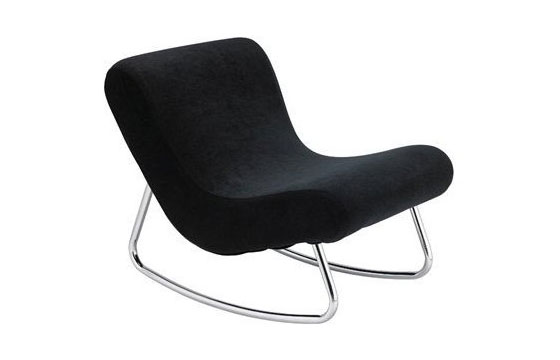 8. Cradle [link]
Beautiful rocking chair provides safe and comfortable environment in which people can relax and dissipate the overstimulation of their senses.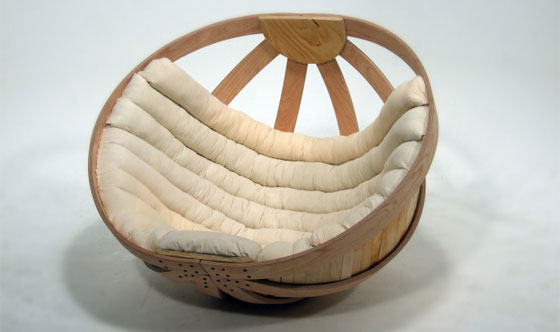 9. Nurseryworks Storytime Rocker [buy on amazon]
This generously proportioned rocker definitely allows for extra cuddling. Wood legs come in two finishes. Upholstery fabric comes in a range of colors of soft and easy-to-clean microsuede. Assembled Dimensions: 36″L x 35.5″W x 29.375″H Seat back height (from Cushion to Top): 18″H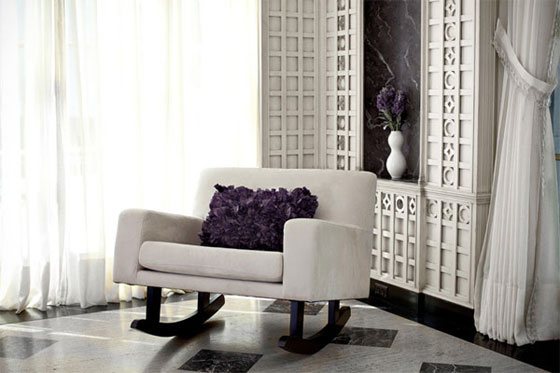 10. KU DIR KA Rocking Chair [link]
A classic concept in a futuristic form! Discover point-to-point linear rocking in the Ku Dir Ka plywood rocking chair. 16.5″W x 23.5″L x 35.5″H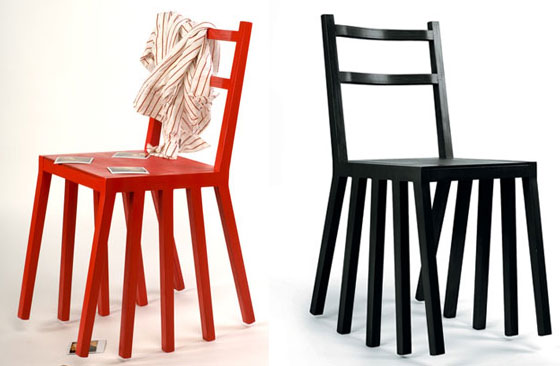 11. Abilene Rocking Chair [discontinued]
This sleek Abilene Rocking Chair is made from stainless steel which is guaranteed for not leaving rust on your seat. Wendell Castle is the designer who made this creation come into life.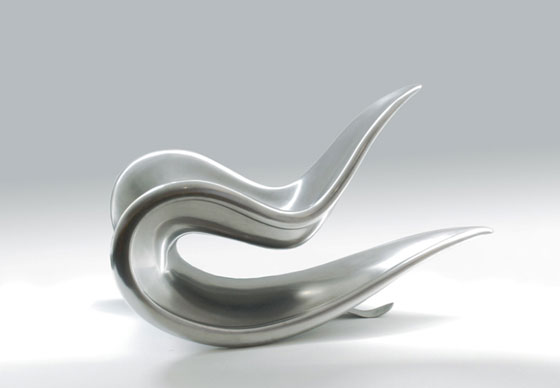 12. Rocking Chair Powers Its Attached OLED Lamp Just by Rocking [link]
The Murakami Chair's attached lamp powered by your rocking back and forth, a good idea! Designed by Rochus Jacob. The Chair's OLED lamp even senses when it's light or dark out. And it has a battery pack which stores 'your rocking' in the daylight .