Seems as though a lot of designers these days are inspired by the age old hand to hand combat weapon, brass knuckles, which is applied in some unexpected daily objects like mug, heal and even wine openers. Here's a collection of 12 Cool and Unusual Brass Knuckle Inspired Designs, hope you like these unusual weapon like products.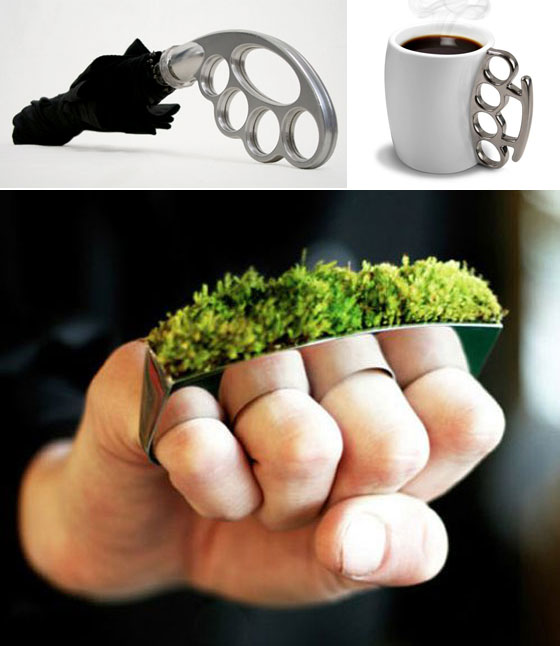 We are a participant in the Amazon Services LLC Associates Program, an affiliate advertising program designed to provide a means for us to earn fees by linking to Amazon.com and affiliated sites.

1. Brass-Knuckle Umbrella [DesignSwan]
According to the designer, this brass knuckle inspired, Umbuster, has been "classified a Class 5 weapon by good and upright men and women of the Victorian Police. To have and to hold this accessory requires a weapons license and, or gun license."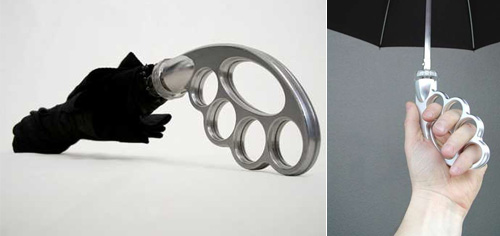 2. 15 inch Triple Edged Fantasy Shark Knife [buy on amazon]
This attractive shark knife would be an excellent addition to anyone's collection. Shred anything just like a shark would with 3 directions of serrated teeth. A knuckled grip with baby teeth and blood red jewel accent this piece. Features: Triple edged blade Overall Length: 15 inches Blade Length: 9 inches Weight: 1.17 lbs Includes display stand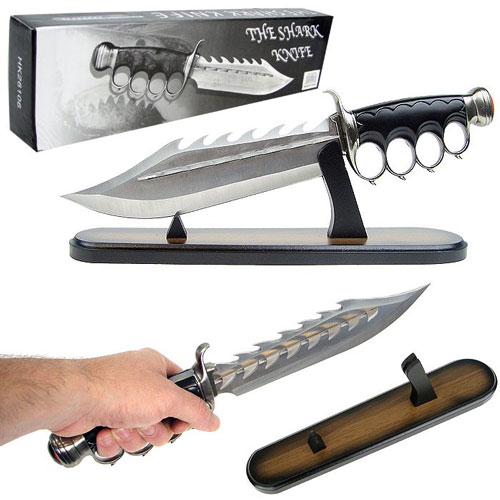 3. Godfather Spaghetti Measuring [DesignSwan]
Godfather Spaghetti Measuring Device($50) looks like brass knuckles. The measuring holes for child, one, couple, triplets and many…(Do your math! It can measure the Spaghetti for 7 person at one time) Designed by David-Louis.
4. Knuckle Duster Corkscrew [source]
Looks like a weapon, but it's really just an awesome corkscrew.
Made out of chrome-plated steel.
Dimensions: approx. 4.25″ x 4″ x 0.25″ (finger hole 1″ diameter).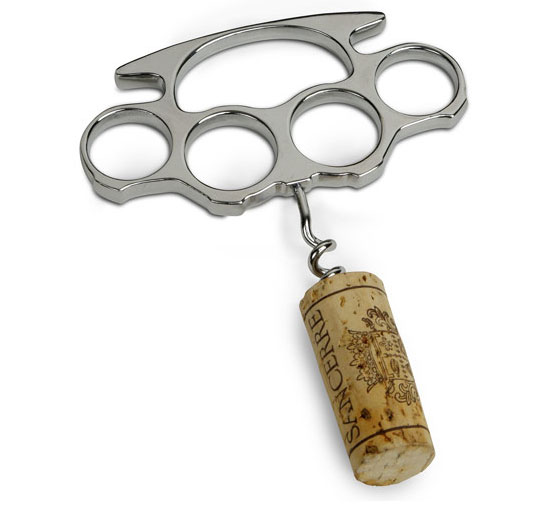 5. Metallic-Handled Ceramic Mug [buy on amazon]
Mug with unique metallic handle brings humor to the daily routine
High-fired ivory ceramic construction
Slightly concave side; smoothly rounded rim and steady base
Arrives handsomely boxed for gifting or storage; hand wash; not microwave-safe
Measures approximately 3 by 5 by 4 inches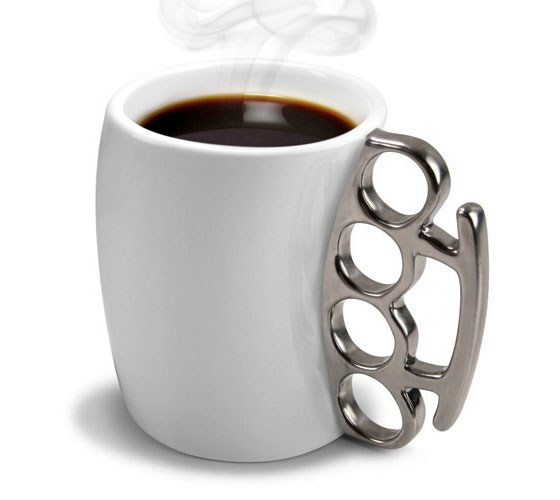 6. Knuckle Pounder Meat Tenderizer [discontinued]
Give your meat a punch! Get out that pent-up aggression while preparing your meat with this cool Kuckle Pounder Meat Tenderizer. Looks just like traditional brass knuckles but instead of "knuckles" there is a tenderizer grid. Its made of heavy aluminum alloy and its grooves make it easy to hold and pound the meat. Now what are you waiting for? Pound it out!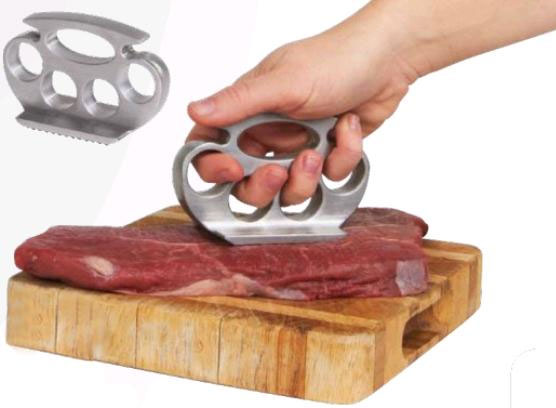 7. Brass Knuckle Gangster Costume Shoes [buy on amazon]
WOMENS ADORABLE PINSTRIPED T-STRAP GANGSTER GIRL D'ORSAY STYLE PUMPS WITH BRASS KNUCKLE HEEL & ADJUSTABLE ANKLE STRAP. UPPER MADE OF CLOTH & PATENT MATERIALS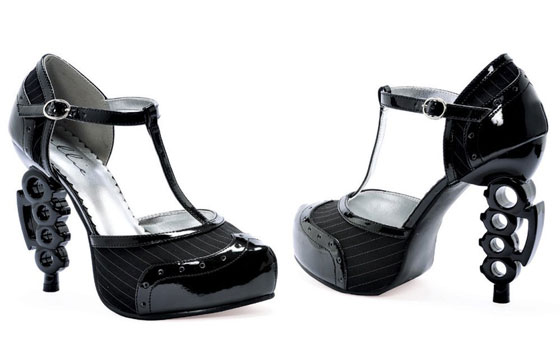 8. Soap knuckles [source]
Slip on a pair of Soap knuckles and hurt some dirt. Casted from genuine brass knuckles this all natural glycerin soap is designed to add a bit of playful subversion to your soap dish. A great gift for the street tough germaphobe or hygienic hipster.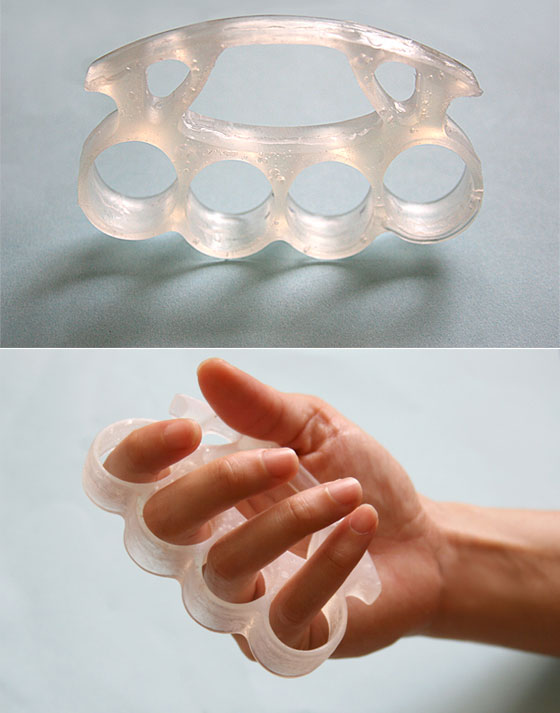 9. Growing Jewelry [DesignSwan]
Growing Jewelry is a redefinition of modern values. It is a clash of jewelry an gardening; couture and organism. The collection of this hand jewelry is designed for people in metropolitan cities and is an experiment in drawing nature toward man, as nature being the presupposition of life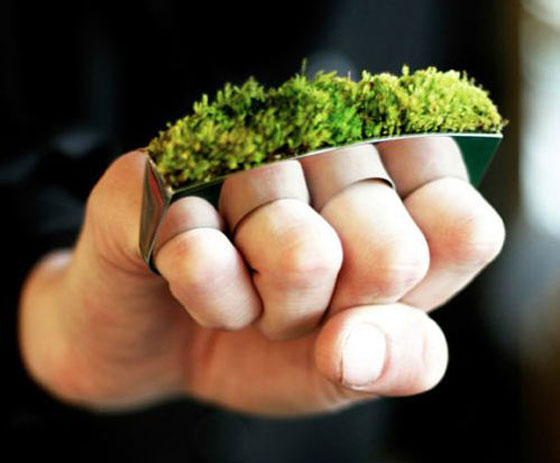 10. Brass Knuckle Metal Art Chair [source]
This chair was inspired by brass knuckles. What are more useful then brass knuckles? And why wouldn't you want a chair to look like some. Disassembles for easy transport. May also be purchased with leveling feet instead of castors. Materials used include steel.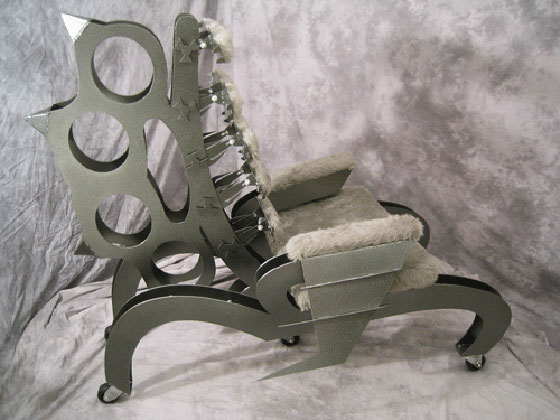 11. Knuckle comb [source]
Designer Ewa Bochen & Maciej Jelski from Poland, keeping in mind the power that characterizes a modern women i.e dynamism and strength, has rolled out a knuckle comb. I'm not sure if a retro comb with brass knuckles will be an ideal weapon, but the fashion aspect and a tinge of coolness definitely makes it a unique, perfect gift for dynamic and strong women.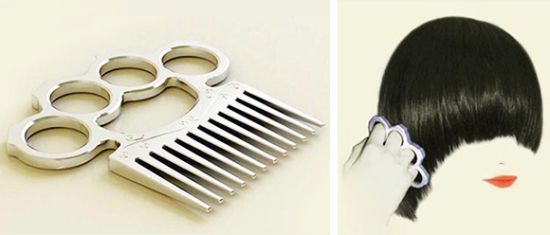 12. Brass-knuckle ring [source]
Brass-knuckle ring with Swarovski crystal trim, made by Alexander McQueen