When the weather gets better and better, the temperate goes up as well. Although most of us have AC at home, having it running whole day is still not a nice experience. Sometimes, we just need some breeze. When I was a kid, my favorite thing in the summer was to eat ice-bar under the ceiling fan. However, with the popularity of AC, ceiling fan starts to fade out from our lives. But, they have come back in a more stylish, efficient, safe and functional way.
From modern to industrial, from luxurious to abstract, it is hard to believe there are so many different designs. In addition, you can also opt for choosing a ceiling fan with an integrated lighting fixture to increase illumination in any room. Take a look at below 12 Cool and Unusual Ceiling Fans handpicked by our editor. Hope there is one fits your home style and need.
Modern Style Fans
The EKIZNSN 20″ ceiling fan
The EKIZNSN 20″ ceiling fan features simple and transparent blandes that keep your home neat and current. The small-size fan blades made with ABS aresafer and more stable tahn other fan lights while ensuring functionality.
Modern design with dimmerable light is quite suitable for your home space, such as bedroom, dinning oom, kid room, etc.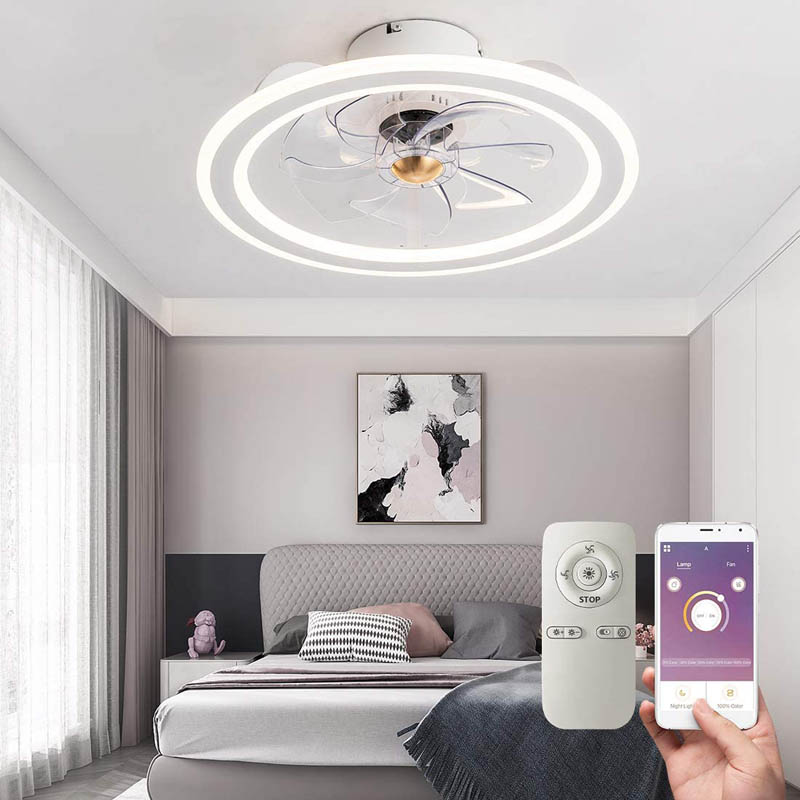 [buy on amazon]
Flush Mount Cage Shape Ceiling Fan with Light
Combine fan and LED ceiling light feature. The hollow shape makes the area affected by wind larger. In the low ceilings at points of installation, allowing more headroom, more friendly to tall people.
Adjustable fan speed & light
Timing function
Slient motro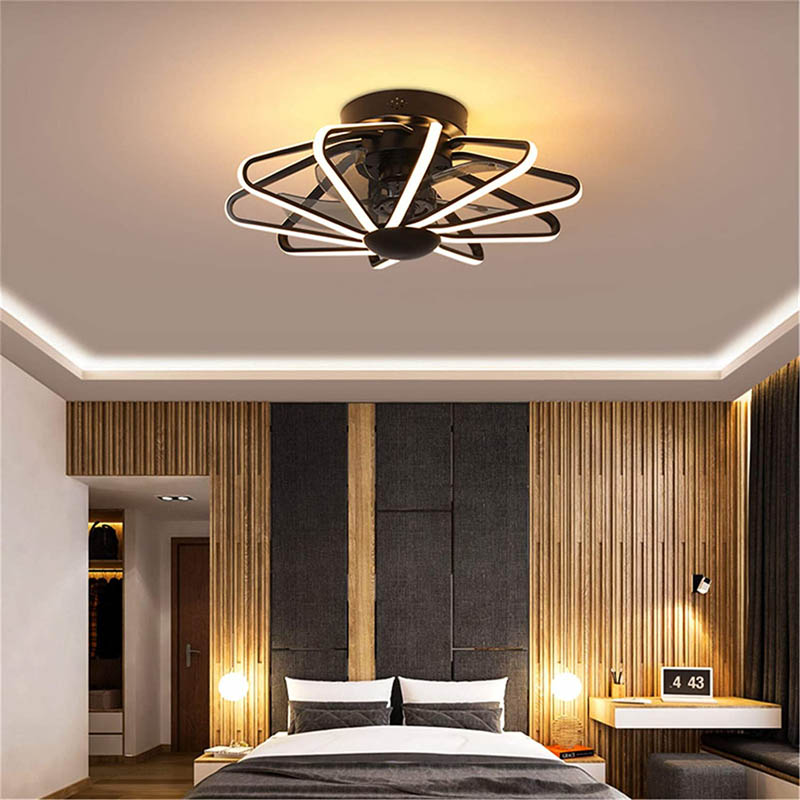 [buy on amazon]
42″ Depuley Industrial Ceiling Fan
The ceiling fan come with 2 rods, one short 3.93 inch and one long 7.87 inch.
The fan lamp with the short pole is approximately 102.4 inches from the ground and can be installed in a wide space, such as kitchen, living room, bedroom, dining room, etc., Stylish and beautiful, provide a comfortable lighting environment and a cool experience.
The long pole fan lamp is about 98.4 inches from the ground and is suitable for low-lying rooms, warehouses, basement or other lighting places that not only light up where you need, but also ventilate and dissipate heat.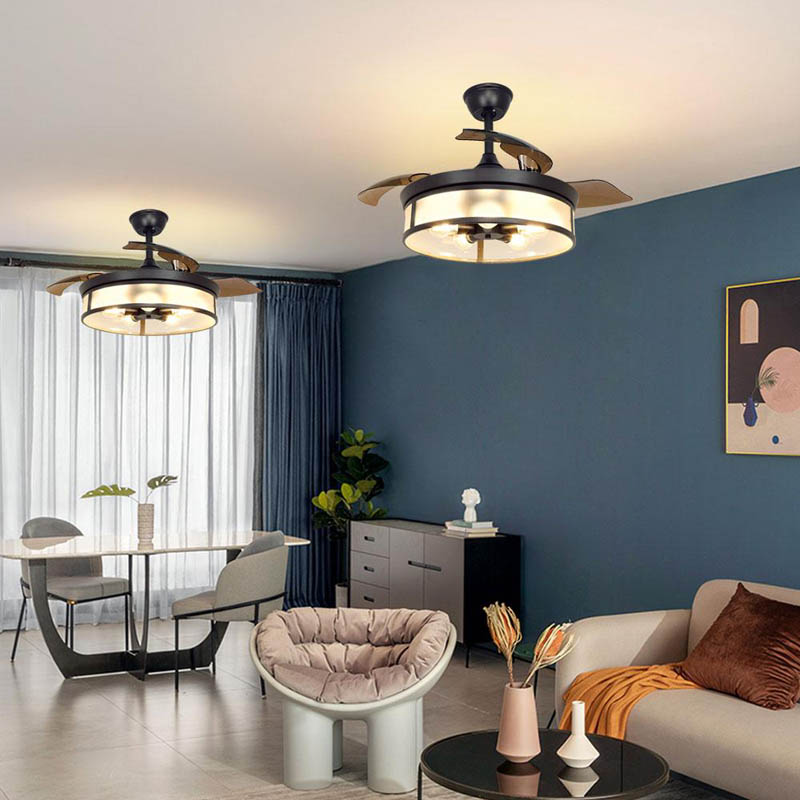 [buy on amazon]
3-Blade Painted Nickel 52-Inch Ceiling Fan
Create a striking focal point with the Willacy Collection 3-Blade Painted Nickel 52-Inch DC Motor Contemporary Ceiling Fan. Swirling, ribbon-like blades and a gleaming center hub are coated in a silver-painted nickel finish. Blades are crafted from a strong, all-weathered ABS material to prevent warping. Includes Wi-Fi smart control compatible with most tablets, smartphones, or voice assistants. A full-function 6-speed remote control with batteries is included so you can adjust full-range dimming and fan speed without breaking a sweat.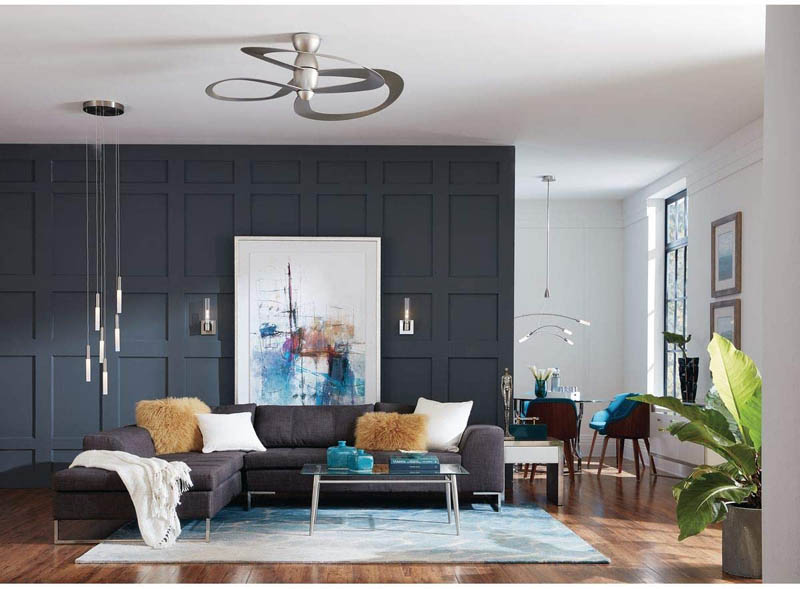 [buy on amazon]
Ceiling Fan Brushed Nickel 15″ Ceiling Fan with Light & Remote Control
Terna offers the fun and whimsy of a pinwheel, modernized. The size and scale make it ideal for use in small spaces or in multiples. Think walk in closets, dining nooks or over a desk.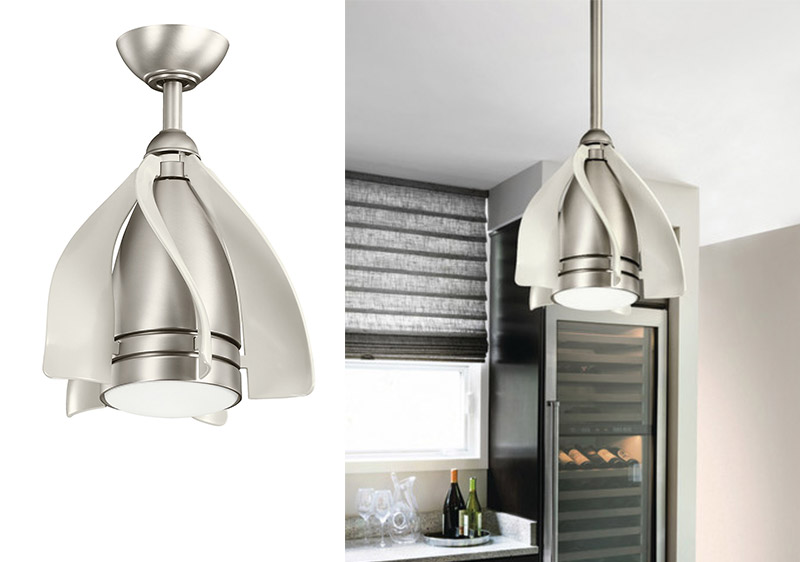 [buy on amazon]
---
Retro and Industrial Style Fans
Tropical Ceiling Fan with LED Light and Remote Control
YITAHOME functional & timeless ceiling fan can freely works together with the light, more energy-efficient and attractive than air conditioning. Textured tropical island palm blades add a touch of the tropics to your indoor decor or outdoor oasis. Three flexible installation ways for a variety of mounting options for low, high or angled ceilings.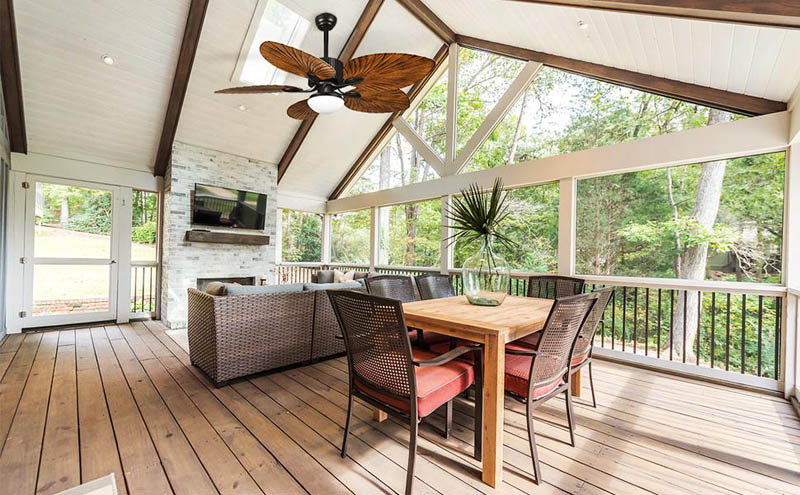 [buy on amazon]
Crestfield Indoor Low Profile Ceiling Fan
The traditional Crestfield fan comes with LED light with clear glass that will keep home interior inspired; Measures 52 x 52 x 15.06 Inch. Whisper Wind motor delivers ultra-powerful airflow with quiet performance; Change the direction from downdraft mode during the summer to updraft mode during the winter. Energy-efficient dimmable LED light bulbs let you control the lighting and ambiance of the living space.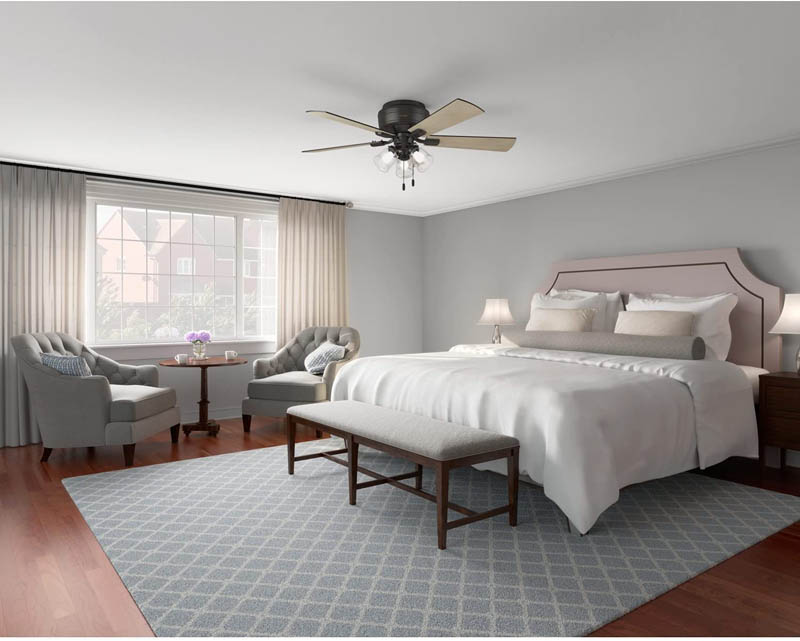 [buy on amazon]
Springer Ceiling Fans
Springer is a statement-making ceiling fan with a rustic flair and Antique Nickel finish and White Barnwood blades. The 12-blade, 60 in ceiling fan was inspired by the form and function of a windmill and is ideal for Farmhouse, Industrial and Transitional interior settings. A full function remote control with batteries is included along with a dual mount canopy that accommodates flat or sloped ceilings.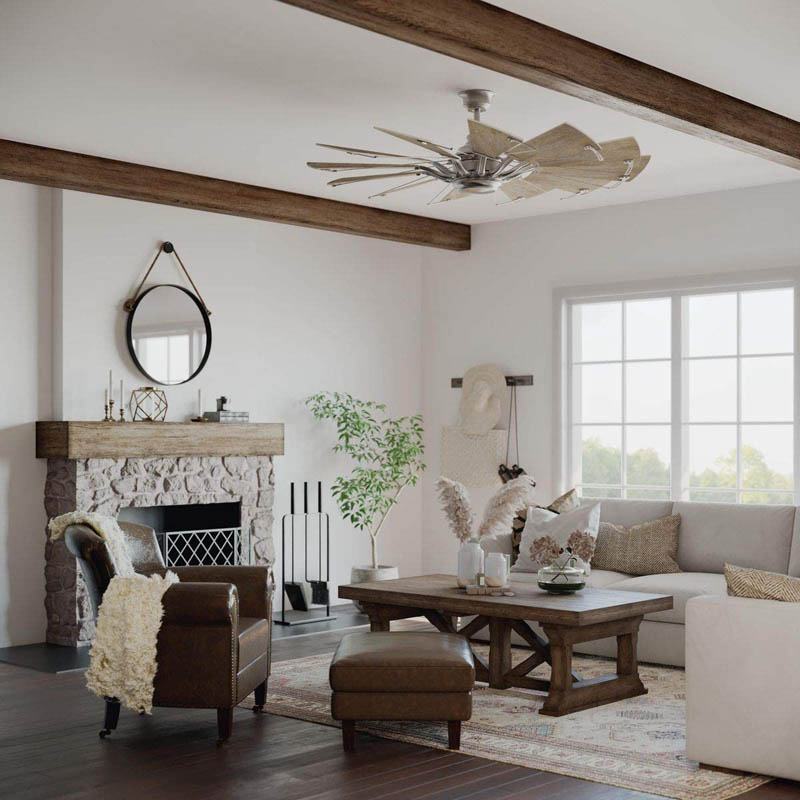 [buy on amazon]
Oiled Bronze Ceiling Fan with Light Kit
Blends rustic and industrial styling for a distinctive appearance. Enhance your indoor living space with this 52 in. ceiling fan. Perfect for use indoor locations like living room, kitchen and bedroom. This fan features clear glass light kit that uses three 4-Watt LED bulbs.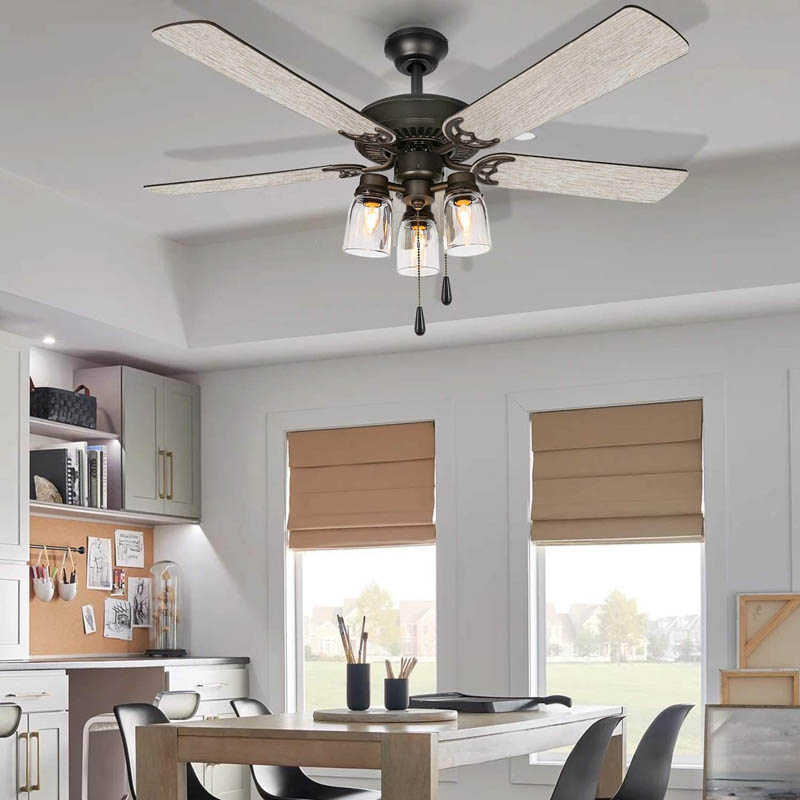 [buy on amazon]
37″ Dual Rotational Ceiling Fan with Light
The double-headed rotational fan, Dagny, with cylindrical central housing and straight, parallel arms, is designed in the retrospective aesthetic. Its movement about its cylindrical center housing is smooth and quiet. Dagny's dual motor heads can be positioned in 180-degree arcs for optimum and customized air movement. With clean, fluid lines, the Dagny rotational fan is a striking centerpiece in any space.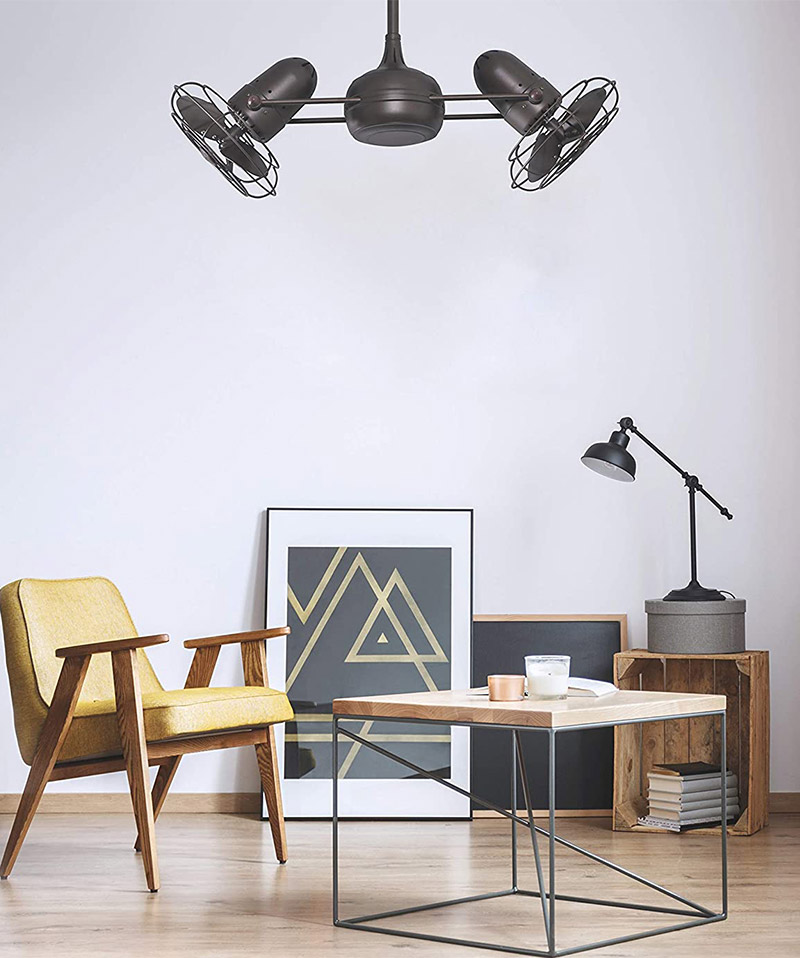 [buy on amazon]
---
Luxurious style fans
52″ Crystal Ceiling Fan with Lights Chandelier
Circle crystal glass white ceiling fan shade and metal blades add unique style to your space. Cast a unique pattern on the surrounding walls through gorgeous crystals and creating an illusion of texture, it adds so much to the room without being over the top. 3 speed remote control. Modern ceiling fan with whisper motor is perfect for bedrooms where quietness is essential.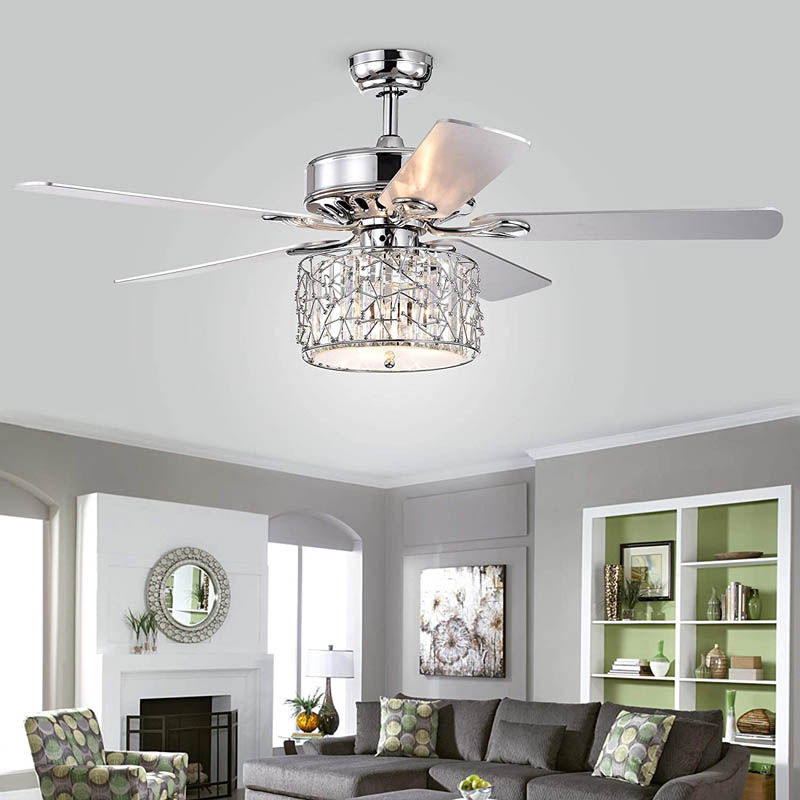 [buy on amazon]
Modern Ceiling Fan with 5 Reversible Blades in Golden Finish
Ultra quiet motor delivers ultra-powerful air movement with whisper-quiet performance so you get the cooling power you want without the noise you don't. 4 candelabra lights (in the motor housing), and 5 regular lights (under the light stand). 5 kinds of lighting effects.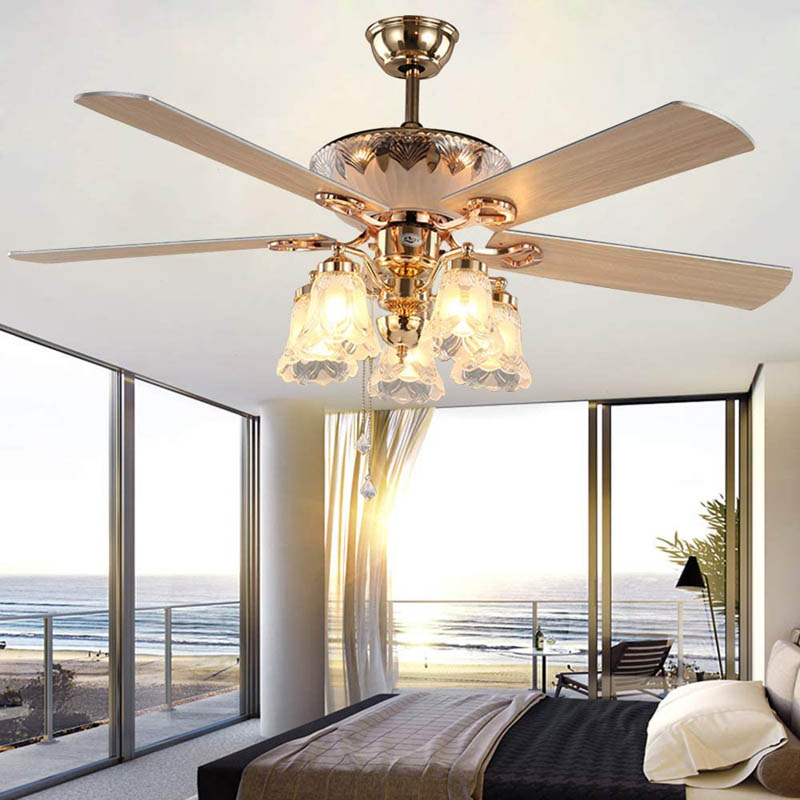 [buy on amazon]