Bench is probably one of the furniture which is overlooked by many people. In their minds, it is just a longer version of chair but it is not as comfortable as sofa. This statement is right in some way – there are many benches like that. But bench can be cool as well, just like the 12 benches listed in this post. They are not only looking cool but also having some interesting functions. Some of them might look a bit weird for you, but we can deny the creativity behind it.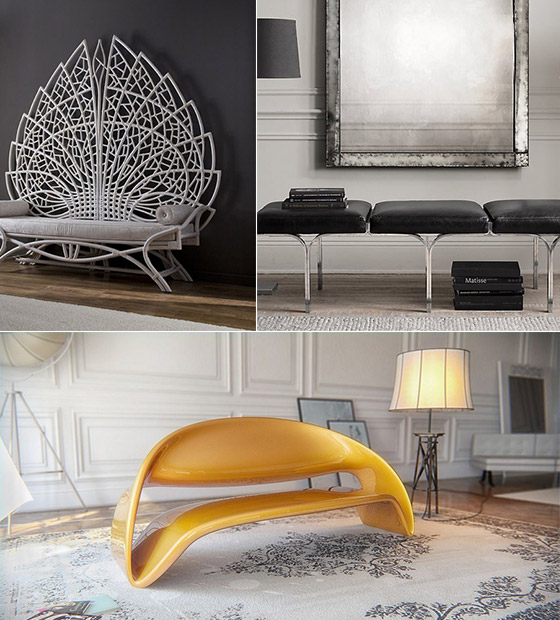 1. Grand Acanthus Rattan Bench
Called "Ethuil", this bench by Dolcefarniente is like a normal straight seater with a headboard attached. Shaped like a huge acanthus leaf from the Greek and Roman times. This is a great statement piece that really pays homage to an old world time and will make you feel like you have your very own "throne".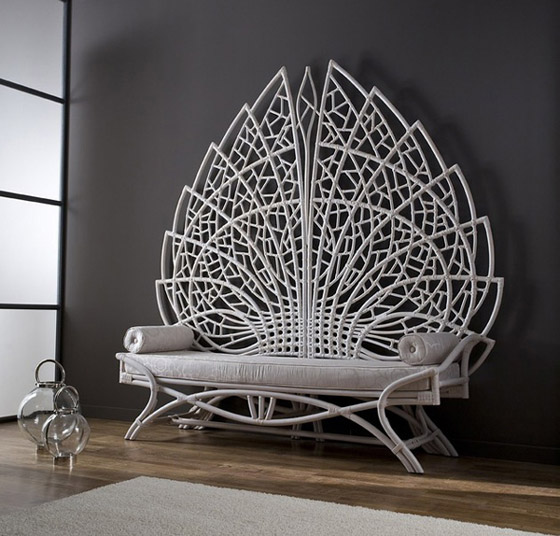 2. Poppins Bench
Named Poppins, this bench gives the illusion of many pillows laying on top of it. The padding protrudes from the surface of wood, is took down and positioned only where is necessary. Through its three-dimensionality and a slight deformation of shapes, you get a dynamic effect, a vibration enhanced by color.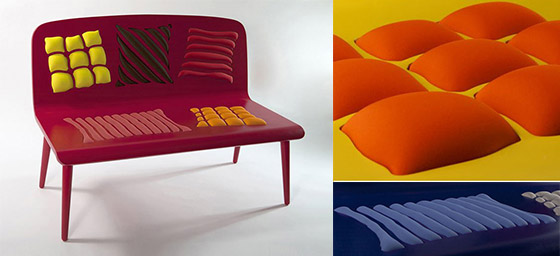 3. Double up Bench
Designed by The Design Laboratory, the "Double Up" bench is a really original and fun design. Amazing shape and adaptability of the sofa/bench in self-skinning polyurethane, element initially closed, that opens in a zoomorphic way in order to show the own structural wealth. Like a flower, Double Up, opens up in order to give infinite aesthetic solutions, and can be adjusted according to your own needs.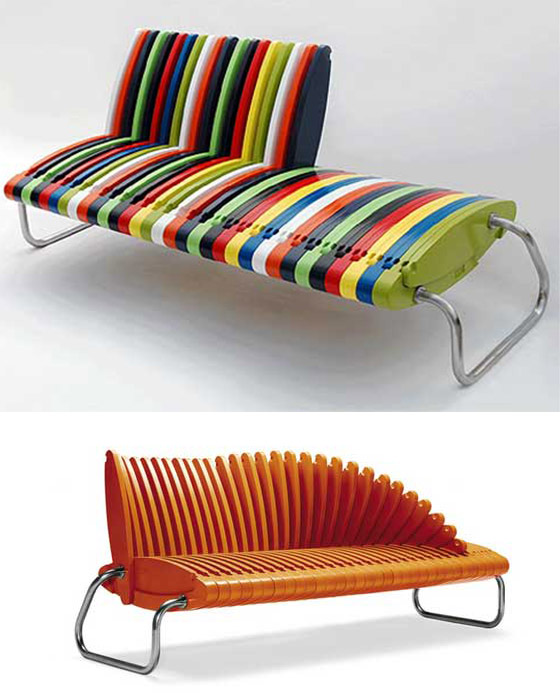 4. Polstergeist
Polstergeist is a beautiful bench with a modern touch. Inner frame of steel and wood. Upholstery of moulded polyurethane foam covered with leather or fabric. Runner in chromed steel. The system provides possibilities of none, one or two backrests. The backrests can also be placed in a tête à tête position.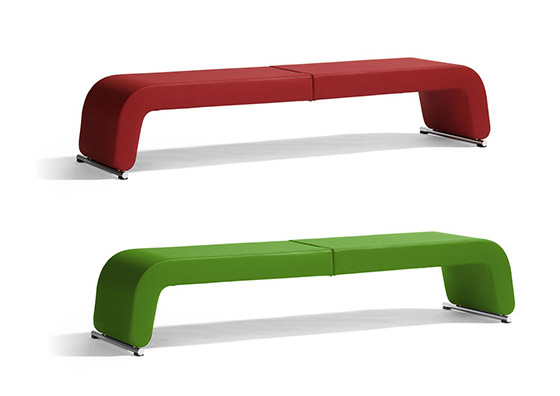 5. På Sofflocket bench
The På Sofflocket bench was designed by Swedish students Emma Nilsson, Johanna Westin & Lisa Frode and comes with quite a few original features. Designed to reinterpret and adapt the common kitchen sofa, this intriguing looking piece of furniture has a minimalist design abundant in practicability. There are many storage space provided by the bench. Even though is not comfortable as sofa, but you still can lay on the side of it if want.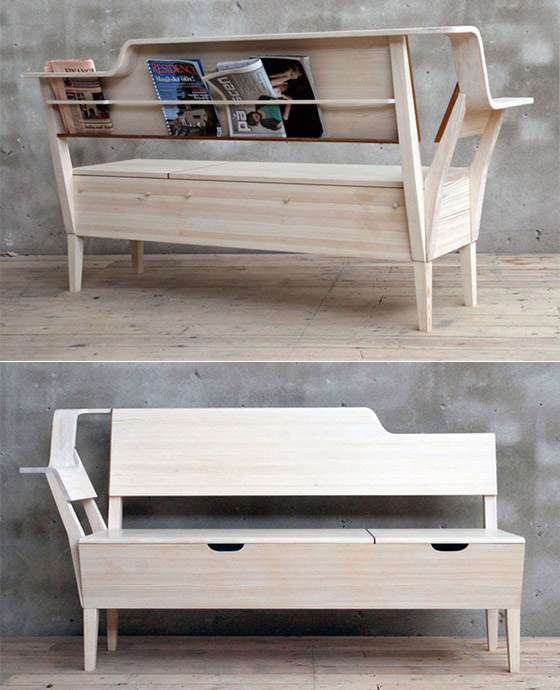 6. G-Full Toliet Bench
Designed by Italian company Hatria, the G-Full system is wall mounted, and boasts a stylish solid wood cover that converts this essential fixture into an elegant bathroom bench when not in use. Hidden away from view, the toilet and bidet are revealed when you flip up the wooden cover.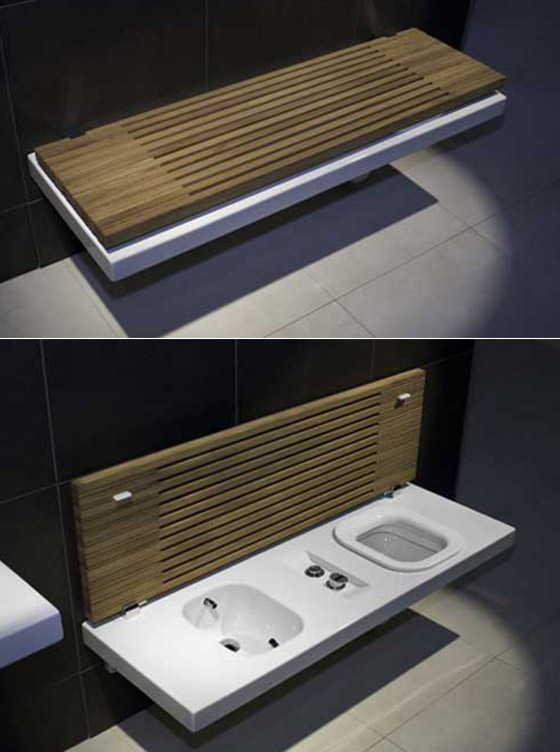 7. Splinter bench
Splinter bench are two chairs and they fit together like puzzle pieces to form a sleek contemporary-looking bench.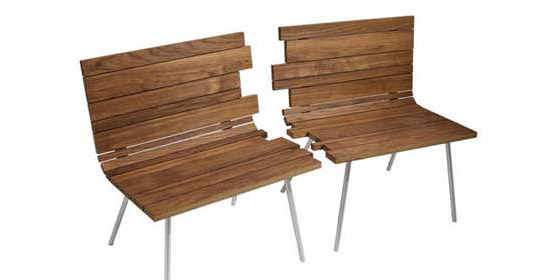 8. Lyubkka seating
With ergonomic and endless loop lines blended in a continuous organic three dimensional surface, this fancy looking bench especially envisioned for indoor spaces with a distinct personality.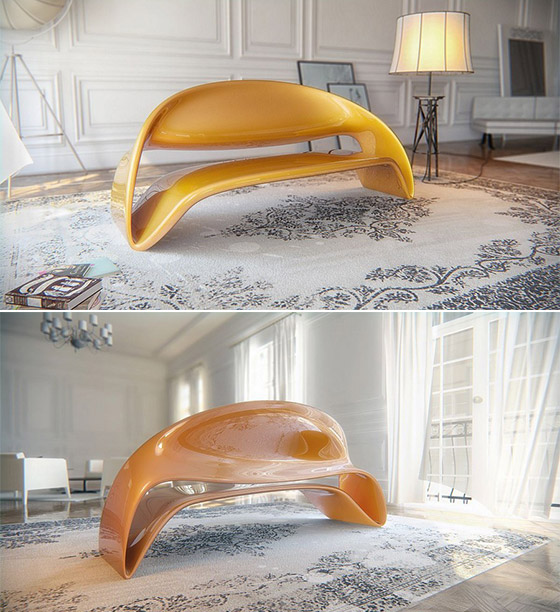 9. Chain Bench
Created by the Danish designer Kerstin Kongsted, 'Chain' is inspired by the principle of the conventional bicycle chain. It is fun to play with and will acommodate your needs whether you are alone or in a larger group. It can be moved in a multitude of ways and is fully flexible.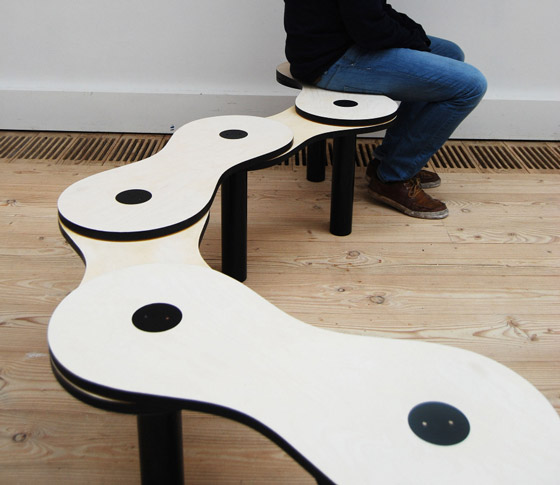 10. Smooth and Smoothie
Called Smooth and Smoothie, this bench and table combo were created by French designer Florent Degourc. They are made of foam and resing, giving the illustion that these puppies are melting right onto the ground.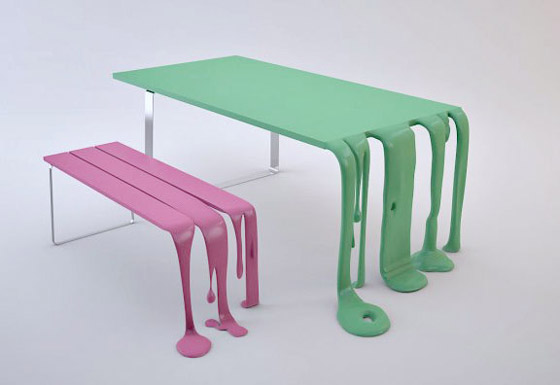 11. Sunset Planter Bench
The Horizon Bench Planter is a streamlined modern interpretation of the standard sitting perch that ends on one side in a planter. Made with a lightweight yet durable fiberglass structure and finished in Matte Black (Zinc) which will age gracefully over time and develop a soft patina.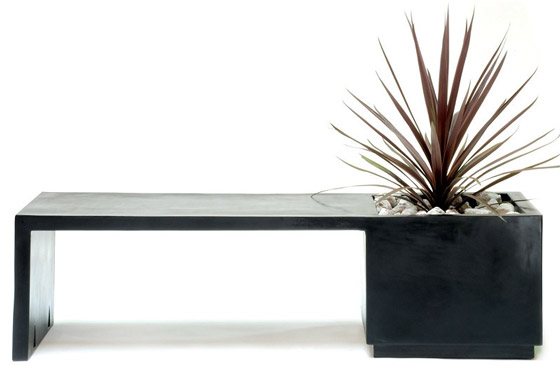 12. 1960s Link Bench
Inspired by mid-century industrialism, this sculptural 1960s Link Bench consists of a seating triptych. Comfortable padded cushions sit atop a steel frame with a polished chrome finish. Steel flat-bar construction is linked by countersunk screws.