It has been a while since our last collection of cool iPhone cases. And apparently, there are more and more new cool and protective cases popping out in the market for our beloved iPhone. After some research, we prepared another collection of 13 Cool and Unusual iPhone 4 and 4S Cases. Some of them are really cool, like the Knuckle Case and Gun shaped case; some are pretty bizarre like the Flip Flop case and big ear case; some come with useful features like built-in charger or dial lens. Pretty cool? Just take a look and hope you like them.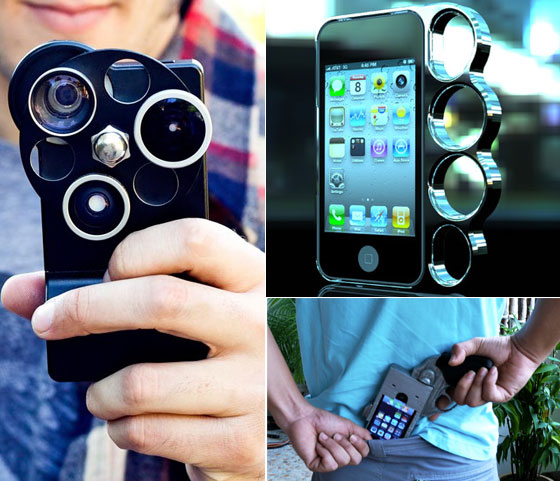 We are a participant in the Amazon Services LLC Associates Program, an affiliate advertising program designed to provide a means for us to earn fees by linking to Amazon.com and affiliated sites.
1. Knuckle Case [source]
Toughen up your iPhone with this knockout accessory. Your will never drop your iPhone again. Made entirely in the USA of machine crafted solid aluminum and totally recyclable. This is the only case with the fit and finish to go toe to toe with the iPhone.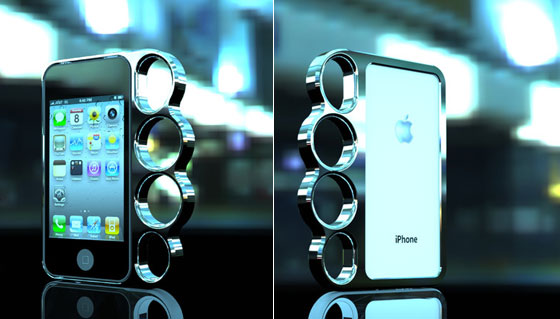 2. Mug Shape iPhone 4/4s Case [buy on amazon]
Made of high quality and Eco-friendly silicone material, this rubber case has a mug shaped handle to the back of the iPhone, perfectly fitting and protecting your iPhone 4/4s. The most useful feature of the case is the ability to use the handle as a built-in stand, as shown in the video below. But the strange part is the mug totally block the rear camera. Not sure about whether the iPhone owner would like that. It's very functional on a desk, but with the coffee mug handle, it may be too bulky to carry around.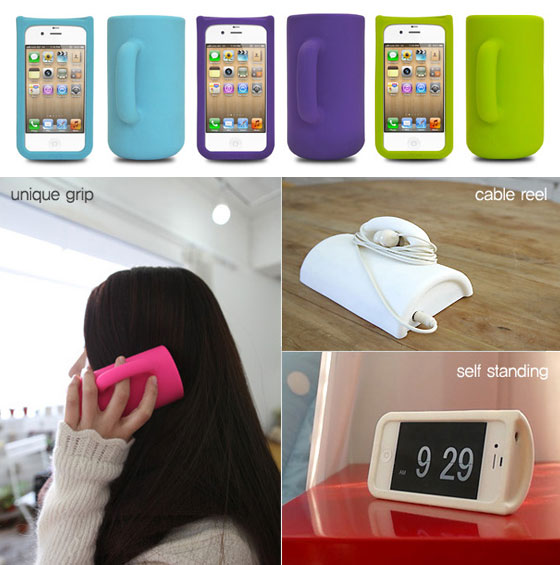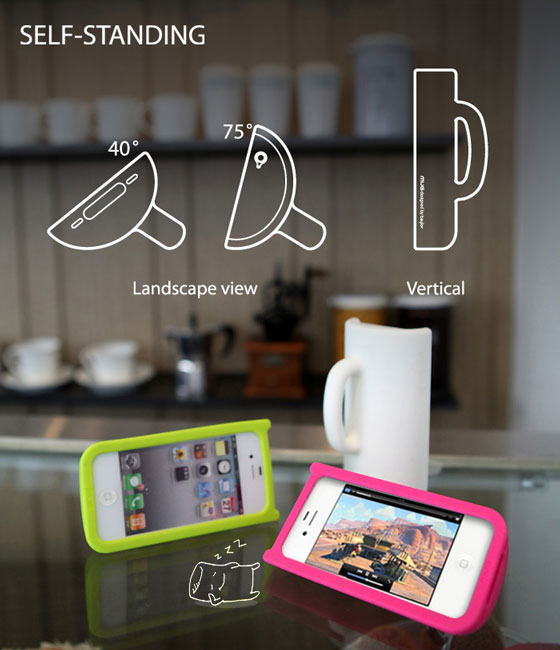 3. Revolver iPhone Case [source]
Gun shaped iPhone case will help you stand out in the crowd; or get you in trouble….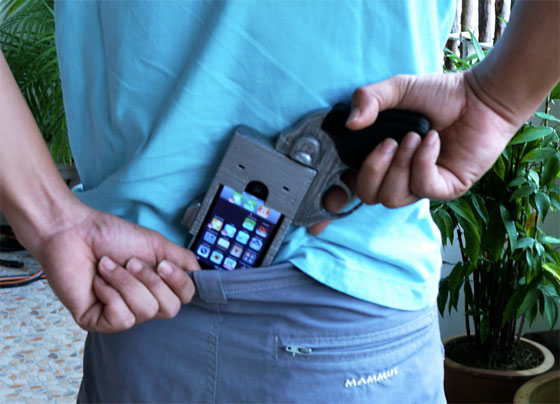 4. Flip Flop TPU Skin Cover for Apple iPhone 4 (AT&T) [buy on amazon]
Form-fitting cover protects your phone from the elements
Fun and stylish flip flops design
Semi-hard, semi-soft Thermoplastic Polyurethane (TPU) material resists taring and deformation
Prevents scratches, chips and fingerprints from accumulating on your phone.
Glossy finish with the look of a hard case while providing shock-absorbing protection; Allows access to all functions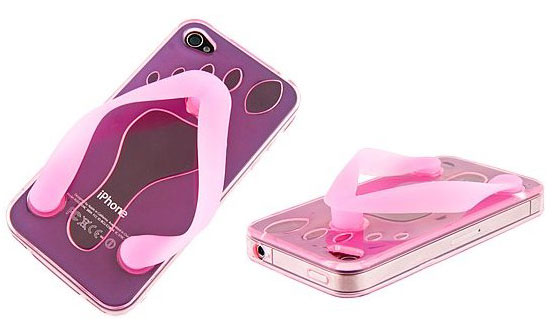 5. iPhone 4/4S guard [source]
Full guard (back+frame) for iPhone 4/4S, made with resin material. This resin material offers superior scratch protection, nice touch&feel, and improved grip. You can even hold for a moment your device on your Mac screen or similar glass surface.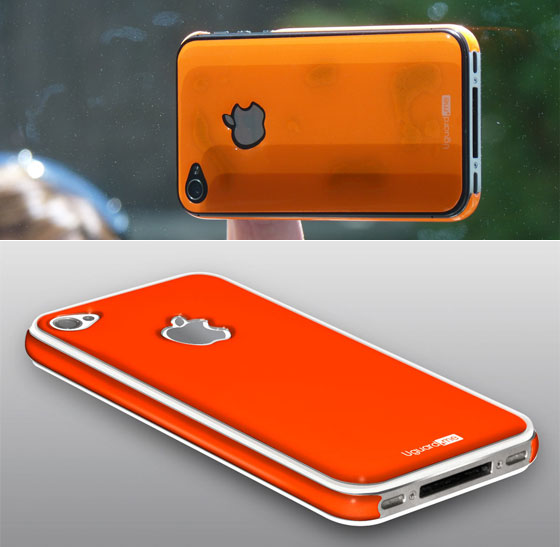 6. iPhone 4 / 4S Quartet Case [buy on amazon]
Custom designed by Erik Arlen, features four interchangeable modular sections
Form fit feature made specifically for the iPhone 4 / 4S
Contains 6 modular pieces in Sensuous Silk, Rustic Tweed and Vintage Flannel color sets
Impact resistant, flexible shell
Access to all ports and functions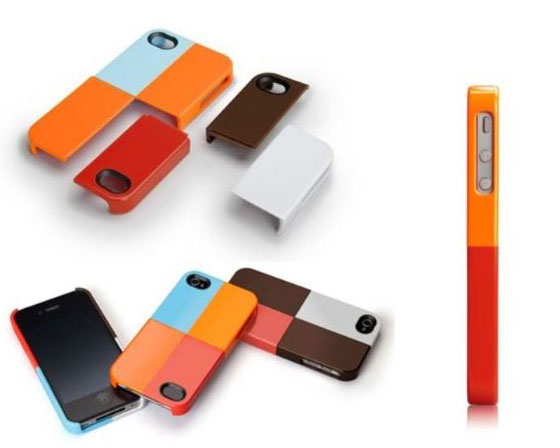 7. Twelve South BookBook for iPhone 4/4S [buy on amazon]
Handmade, genuine leather case protects iPhone with style
Includes wallet pockets for ID, cards and cash
Unique book design disguises iPhone for added security
iPhone 4 (AT&T and Verizon)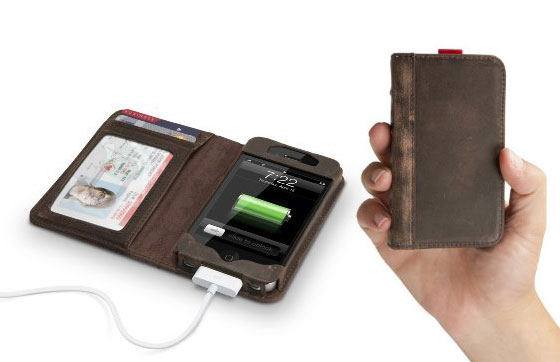 8. Speck ToughSkin Rubberized Phone Case for iPhone 4 [buy on amazon]
To guarantee you receive new, authentic Speck merchandise, please select "ships from and sold by Amazon.com" product only
Rugged and tough dual-layer iPhone 4 protection
Rubberized and textured exterior for maximum protection and grip
Durable protective hard inner case can also be used separately
Detachable holster with rotating belt clip also works as a viewing stand;Fits both Verizon and ATT iPhone 4
9. Ear shape cover for Apple iPhone 4 4G / 4S [buy on amazon]
100% New Soft Case Cover For iPhone 4 4G /4S
Special design and processing,made by high-grade soft silicone material,100% durable and flexible
Shockproof,Well protects your phone from dust,oils,scratches,stains and some other damages
Lovely design,to keep your phone in an outstanding appearance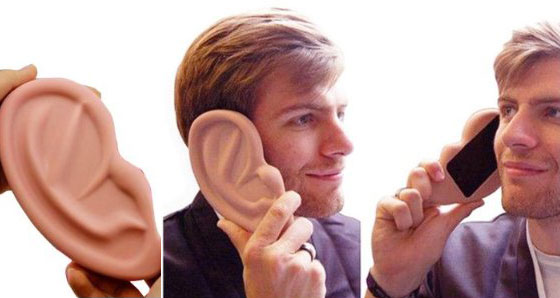 10. Coin IPHONE 4 / 4S Protective Case [buy on amazon]
This coin iphone case, back with different line and you can use a coin to be as a holder front different angle. Six colors show your personality: Yellow, white, red, grey, black, blue.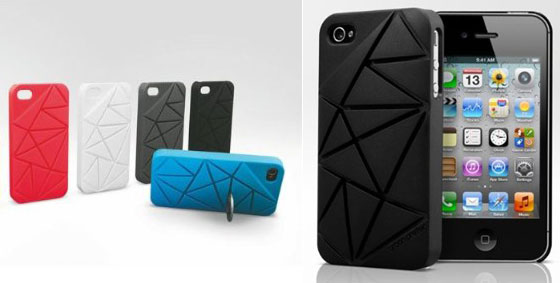 11. Tank Rugged Case for the Apple iPhone 4 and 4s [buy on amazon]
Military grade, protective iPhone case
Polycarbonate hard shell with silicone cushioned interior
Retractable screen shields from impacts, cracking and condensation
Soft touch exterior that easily slides in and out of pockets
Tested #1 in impact resistance against the leading brand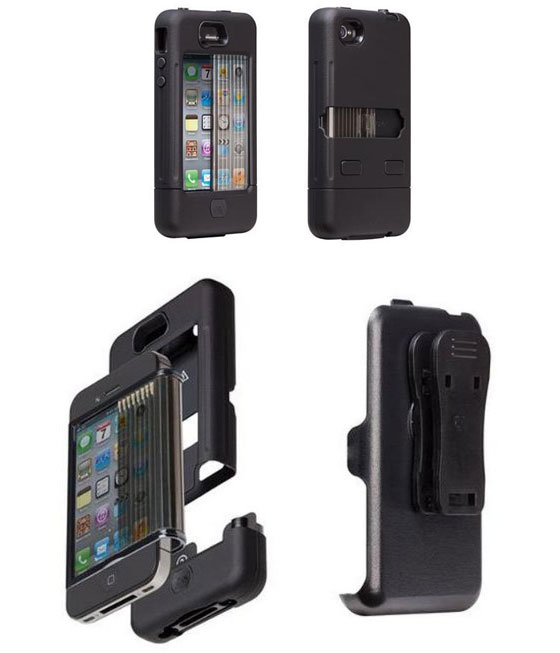 12. JuiceTank iPhone 4S Case [source]
The JuiceTank features a built in wall charger, which means you can just plug your iPhone 4 or iPhone 4S directly into a wall outlet to charge your device.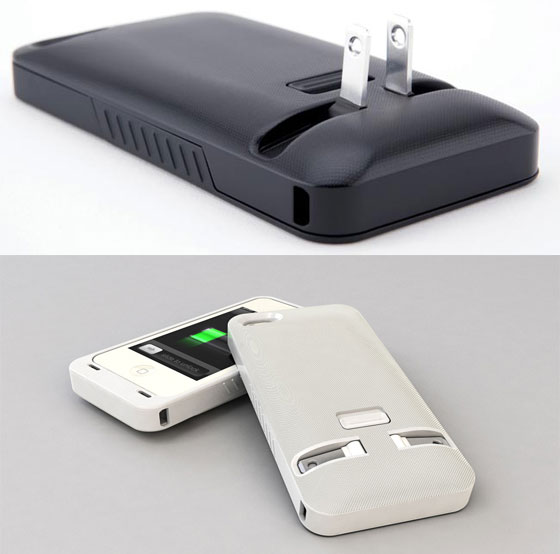 13. Xcesories Tri Eye Lens Dial iPhone case [buy on amazon]
It is a case but also something more just a case:
Conveniently switch between lens just by rotating the dial
Choose between Fisheye Lens, Telephoto Lens, and Wide-Angle Lens without taking them off from your iPhone
Full aluminum body keeps your iPhone safe
Sturdy and extra weight gives more stability while shooting
You can use any standard camera tripod screw to mount your iPhone in landscape and portrait mode (This package does not come with tripod or mount)