Apple's portable devices are sleek, so you need accessories that match them. So if it's cool, useful, or both, it's on this list. When I did research for this post, I was really amazed to see how new ideas and concepts keep coming out whether they hit the market or are just concept ideas to the fan of the iPad. In order to show you just what there is around on the market at the moment, I have compiled this list about 13 Cool and Useful iPad Accessories. They'll make great gifts for a loved one or yourself.
We are a participant in the Amazon Services LLC Associates Program, an affiliate advertising program designed to provide a means for us to earn fees by linking to Amazon.com and affiliated sites.
1. The Typescreen [discontinue]
Now that's one keyboard you never thought you'd associate with an iPad. The Typescreen gives you the retro style of a typewriter fully compatible with the high-tech iPad and iPad 2. If you're wondering, it does type exactly the same way a typewriter does, only no papers needed this time, it will type directly on your iPad.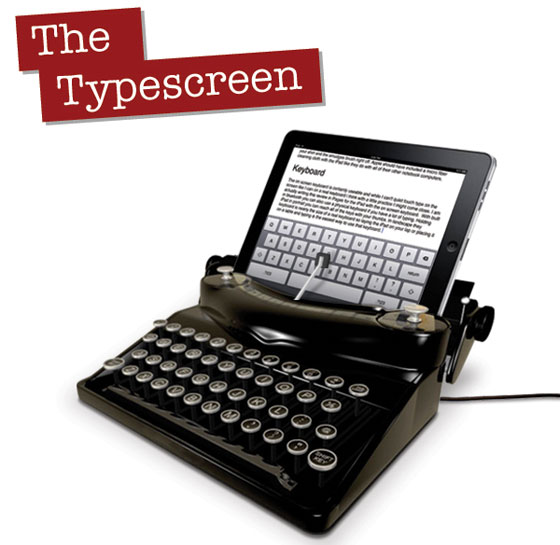 2. I-Log For IPad [discontinue]
Crafted from carefully chosen re-claimed London wood, this i-Pad stand is a purpose built charging station. An ideal way to turn your i-Pad into a TV, a slide show, even a photo frame! Your iPad can fit either verticlly or horizontally. It's functional, useful and makes a lovely antidote to high tech living.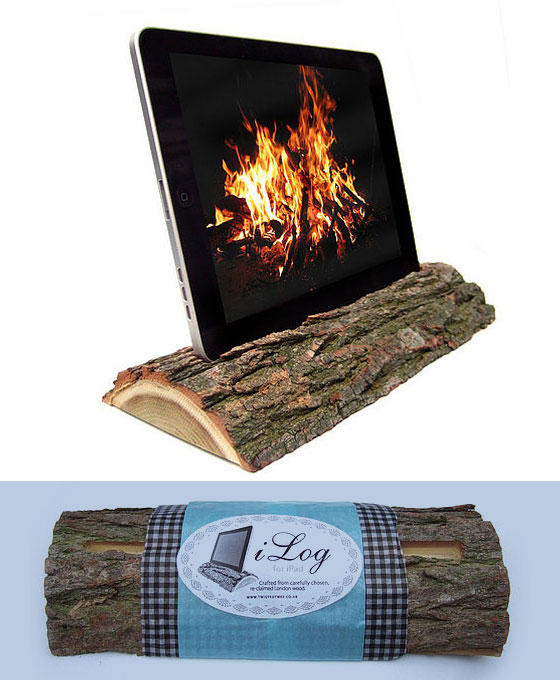 3. PadFoot [link]
PadFoot, the popular portable viewing stand for iPad, has been completely redesigned for iPad 2. Weighing in at an incredible 10 grams, PadFoot is now even lighter and smaller than its predecessor, with an increased viewing angle for even more viewing comfort – while it's as stable and sturdy as ever. PadFoot clips to the corner of your iPad and will securely stand it upright in both landscape and portrait mode. It's great for viewing movies, clips and sideshows, for making FaceTime calls, as well as for use in (shop) displays and presentations.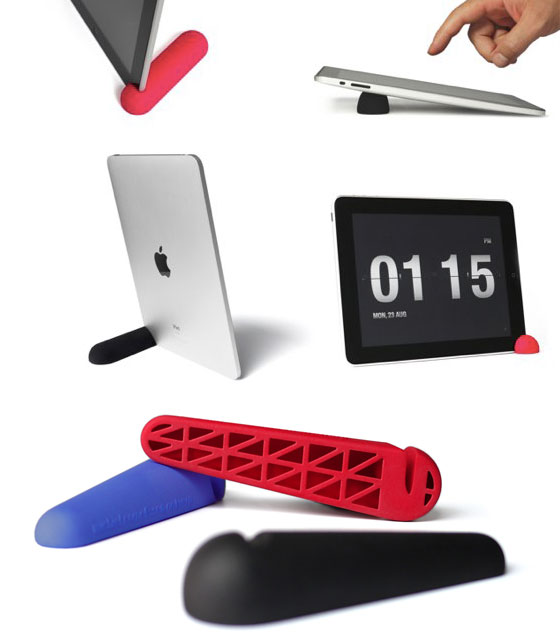 4. Twelve South BookBook for iPad and iPad2 [buy on amazon]
Hardback covers and spine provide impact protection.
Hard protective inner frame offers crush protection.
Rich chocolate brown lined interior protects both the back and the screen from scratching and will not distract your eyes as you read from iPad.
Perforated leather strap enables sound pass through.
Hand crafted for a one-of-a kind uniqueness.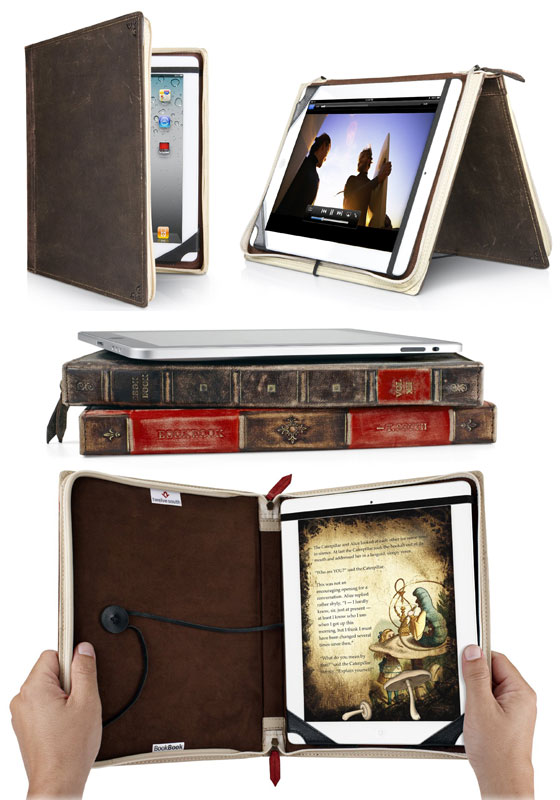 5. Apple iPad Screen Cleaning Cloth [buy on amazon]
Get rid of those pesky finger marks!
This ultra-soft microfiber screen cloth will keep your treasured iPad free of finger-marks!
Perfectly designed to fit easily into your iPad case.
It hangs just right and is also a great way of quickly keeping prying eyes away.
For all iPad cases and dead easy to fit.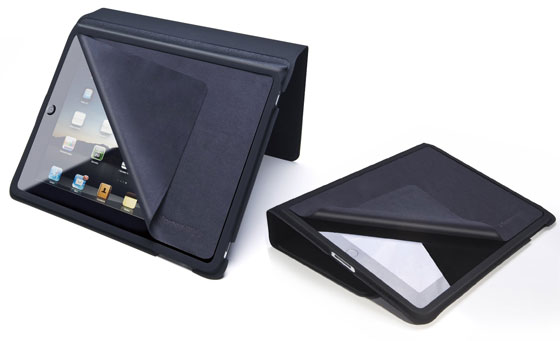 6. BoxWave Capacitive iPad Stylus [buy on amazon]
While capacitive touch screens are great, one flaw is the inability to use a stylus. Not anymore! BoxWave's Capacitive Stylus allows you to use your iPad without ever touching the screen with your finger. Perfect for the ladies out there who have their nails done, or for those who don't want to take their gloves off during a cold day. The Capacitive Stylus is conveniently sized, and designed like a pen to fit just about anywhere.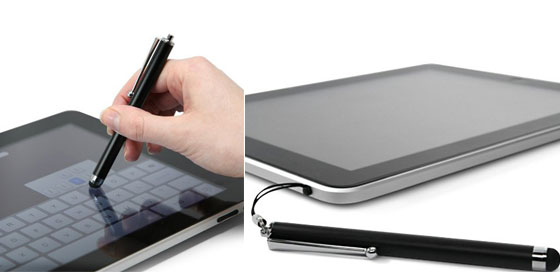 7. Leather iPad Case by temple [discontinue]
This full leather iPad case makes a great and stylish way to carry your iPad around. The case features a padded shoulder strap, internal pocket and a stand that give you vertical and horizontal viewing options.
+ iPad2 compatible*
+ vertical and horizontal viewing stand options
+ padded shoulder strap
+ internal pocket
+ oiled leather & canvas will both age beautifully
+ 8″ wide / 10″ tall / 2.0″ thick
+Securely fits iPad2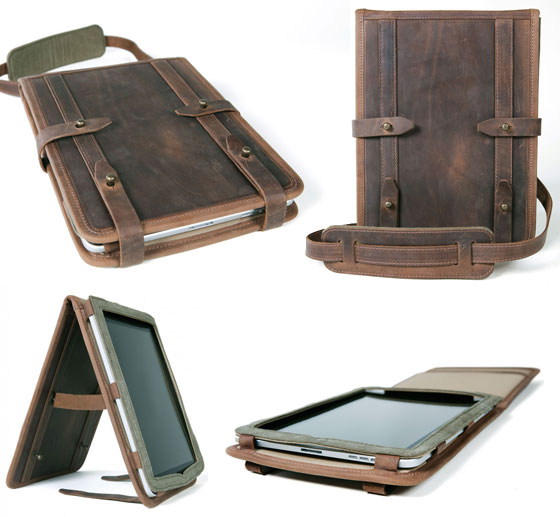 8. Hanfree iPad Accessory: Use the iPad Hands Free [link]
Hands free stand makes using the iPad more fun and comfortable. It combines the best of contemporary product and furniture design to create a new type of iPad experience. Imagine the iPad floating above you… or using the music sheet app hands free. Hanfree can also be positioned in front of you on the bed, and on the couch…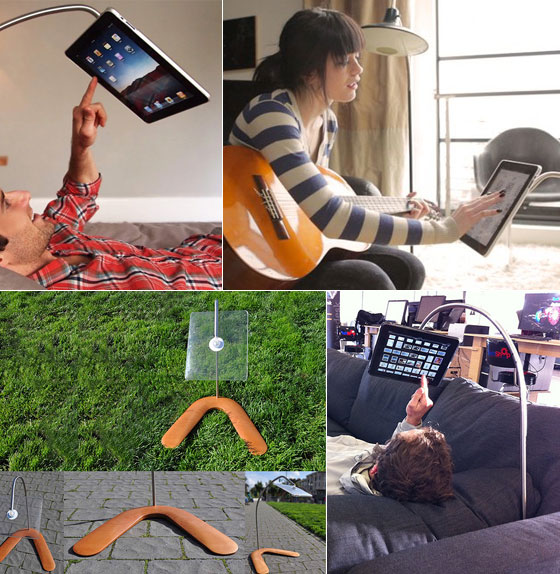 9. Protector: iPad Convertible Back/Front Slim-Pack [link]
For those that do not require a complete mobile office solution, the Protector is the bag for you. A simple front pocket allows space for minimal accessories such as a wallet or phone.
Protection:
Neoprene iPad Sleeve With Velcro to Easily Adjust the Device To a Comfortable Location
Brushed Tricot Fabric iPad/Screen Protector
Convenience:
Flexible as a Front or Back Pack
Low Profile: Wearable Under or Over Clothing
10. Nomad Brush: Perfect tool for drawing on the iPad [link]
Nomad Brush is a paintbrush stylus, and it's unlike any stylus available on the market today. Like your finger on the touch screen, the Nomad Brush works because it is made with exceptionally conductive materials. It features soft, flexible bristles made from a blend of natural and conductive fibers. This combination of materials allows the Nomad Brush to be extremely responsive, making brushstrokes immediate and effortless on any capacitive touchscreen device. The soft ferrule grip will never scratch your screen and is comfortable to hold.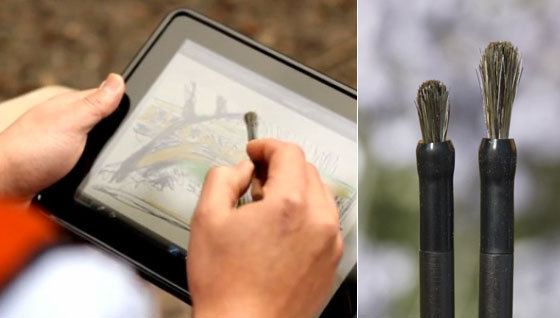 11. JOYSTICK-IT Tablet Arcade Stick [buy on amazon]
Adds the control of a physical joystick for precise gaming
Soft suction-cup installation makes the joystick safe for your screen and easily removable
Works for games with directional pad controls
Compatible with all tablets that have capacitive touchscreen
Great for Games such as: Chinatown Wars HD, Madden 11, Meteor Blitz, Across Age, Super Megaworm, Pac Man, Nintendo / Super Nintendo games, first person shooters, RPG, retro games and THOUSANDS more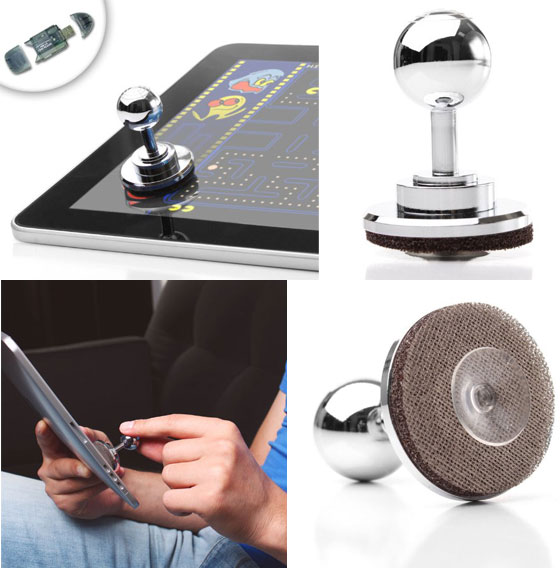 12. ZAGGmate Aluminum iPad Case & Bluetooth Keyboard [buy on amazon]
ZAGGmate with keyboard uses a 510 mAh rechargeable lithium polymer battery that will last several weeks of normal use without charging.
Aircraft-grade aluminum with a bead-blasted, anodized finish that matches the iPad. Military grade high-density padding for superior drop protection
Innovative hinge provides ten angles for viewing and typing in both portrait and landscape mode
Embedded wireless Bluetooth physical keyboard. Special function keys for music control, volume control, slideshow, home, search, etc.
Whats in the box: ZAGGmate, MicroUSB cable for charging, Quickstart guide, Four rubber feet (optional)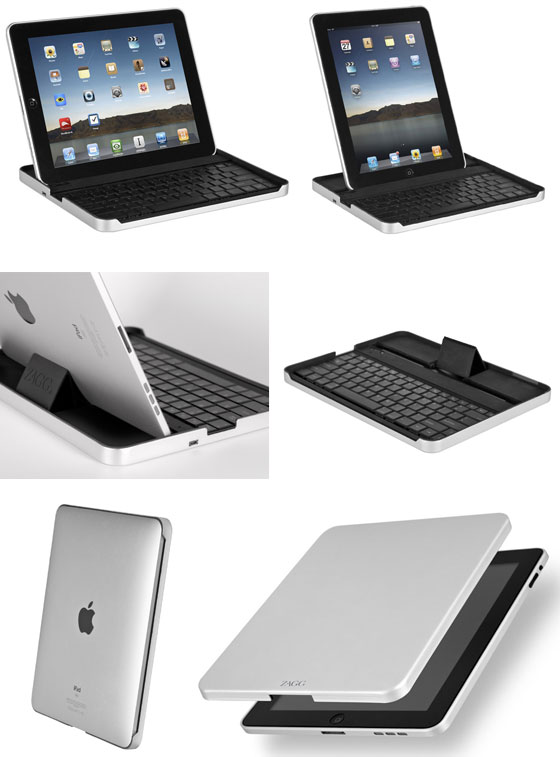 13. Padlette Silicone Grip Handle for iPad 2 [buy on amazon]
Padlette is designed to be a secure yet comfortable support for your iPad®. Simply stretch it over opposing corners of your tablet. The resulting snug fit offers numerous ways to hold your iPad® from its back with one hand.