I am a "tea" person…tea is my regular drinks. Compared with tea bag, I preferred loose tea. While today, I got a new sample of tea bag, it is the most elegant tea bag I ever saw ("Tea Forte", you will find its picture in the middle part of the post). Not very special taste, but definitely great in visual design. Hence, I spent few hours search on internet, to see is there any special tea bag design. Then I got toady's topic – Creative and Interesting Tea Bag Designs. There are 9 creative/interesting/unusual tea bag designs – beautiful, amusing, natural, healthy and disgusting designs, all in this post.
1. origami tea bag [link]
Here is an interesting packaging concept by the Russian designer Natalia Ponomareva. The tea bag is packed like an origami bird.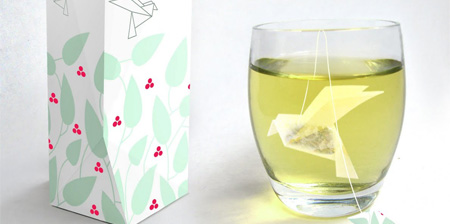 2. WDARU design – small people tea bag [link]
WDARU design studio has created a series of creative tea bags that look like little people with different personalities. Maum tea bags fit most common cup sizes and come packaged inside beautiful tea boxes. It also comes with "Swimming Pool Tea Packaging" design and "Christmas Tree Tea Packaging".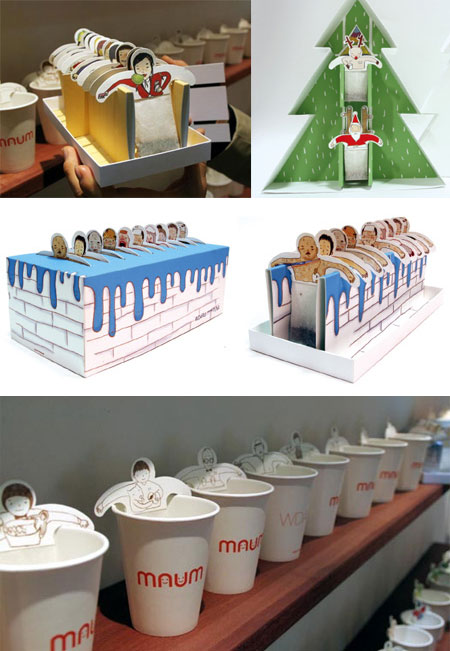 3. Tpod, if tea floats your boat [link]
Tpod is a teabag design concept by Soos that adds fun to the tea steeping process. Well, on second thought, unless you think the paper tag falling into scalding hot tea and you burning your finger while fishing it out is amusing, we'd say tpod makes steeping tea fun. After removing a tpod tea bag from the box, you unfold the tag which then becomes a boat that floats cheerily atop your soon-to-be-ready cup of tasty tea.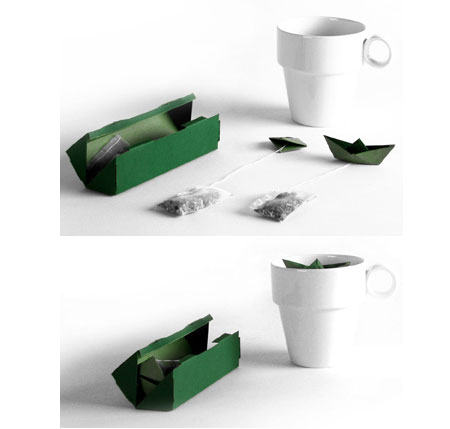 4. Tea Forte [link]
The graphic designer Peter Hewitt, founder of Tea Forte in Concord, in 2003 created the company's signature pyramid-shaped nylon bag.
A pleasing combination of geometric and organic: tall polyhedral infuser packs, each with a disarmingly natural-looking leaf/sprout tag. Although the tall pyramidal shape is not a "close packing" polyhedron, the individual tea-bag/infusers do pack together in a variety of sculpturally intriguing ways.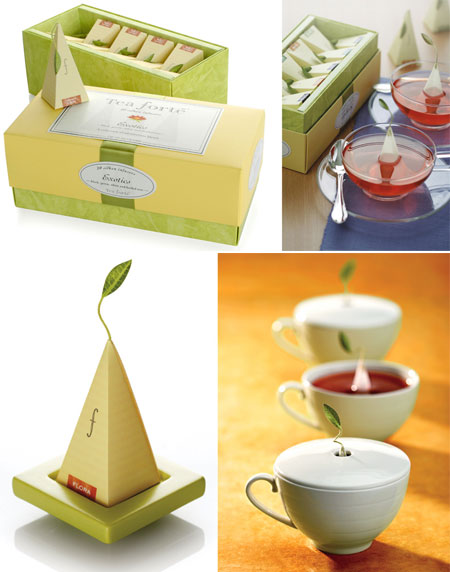 5. The House Cafe "Tea for health" [link]
The House Cafe tried to design packaging for herbal helath-tea and associate it with a healthy life style. They places cut-out images of people doing outdoor sports attached to the strings of their herbal tea-bags. These tea-bags were served at the House Cafés. But after the promotion, people wanted to buy them to take home.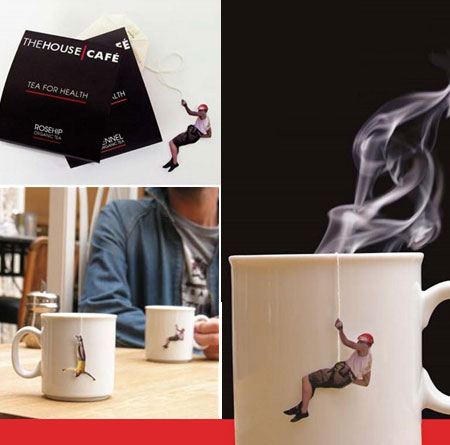 6. RoyalTea Tea [link]
The RoyalTea Tea bags designed by German design company Donkey Products. You can have a "TeaParty" with you favorite characters or strippers with the RoyalTea, DemocraTea and StripTea sets. Each one has five tea bag sachets.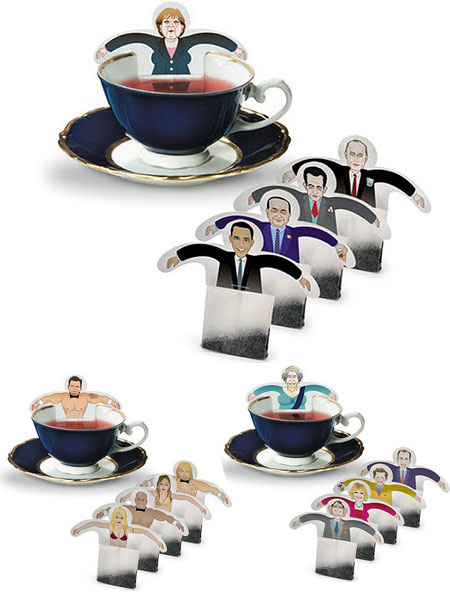 ==========================================================
After seeing so many delicate tea bag, you might think does that go too much for a one-time used tea bag? Now I am to introduce you a really healthy and environmentally friendly tea bag design
==========================================================
7.Tea To Go Sticks [link]
It's a one-ff portable teastick that gives more convenient experience to users. Tea bags are attached inside the teastick so there is no need of using sticks separately for stirring nor to throw away the tea bags. You are also able to purchase different flavours individually without any obligation to buy same ones in a big pack. The form of the design was inspired by Japanese CHASEN (Loose leaf tea stirring equipment). It brings a feel of traditional procedure of making tea and it preserve the essence and value of the history.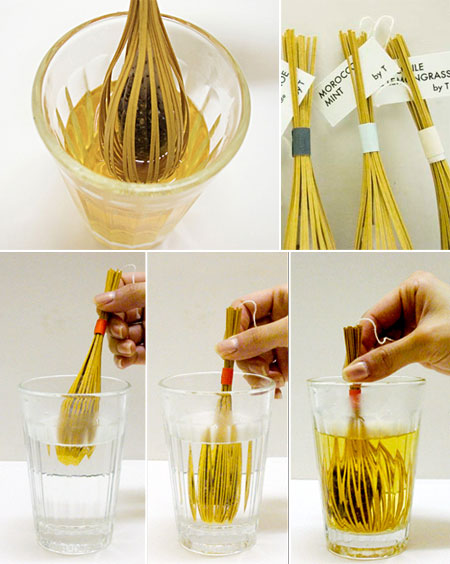 And the last one… I am pretty sure it is not drinkable… That one just look like teabag…
8.Lighting Tea Bag by Wonsik Chae [link]
Creative lighting concept by Wonsik Chae imitates the form of a tea bag. Consisting of a cup filled with a chemical intermediate and a bag containing fluorescent molecules, the light works through a catalyst of this chemical reaction.