Who doesn't like elephant? Elephants hold significant meaning in many cultures and symbols of these majestic creatures have been depicted in mythology and religion for thousands of years. There are many meanings and interpretations behind elephant symbols such as Strength & Power, Wisdom & Loyalty, Patience and Luck. Though elephants hold greater meaning to some more than others, these majestic creatures still make for adorable and aesthetically pleasing decor and accessory items.
Today, we will put our focus on the house hold items to see how these giant creatures can be adorable and playful and help to decorate our home.
This post may contain affiliate links. If you make a purchase, Design Swan may earn an affiliate commission. Please read our disclosure for more info.
1. Elephant Wooden Coasters [buy on amazon]
Palm wood coasters set of three beautifully handcrafted by experienced artisans in north country of Thailand and are perfectly designed to use for drink glasses, beers, tea cups and coffee cups. Each coaster is carved in round design. Specially designed to give maximum area coverage for your glasses, cups, centerpieces decoration etc., these coasters are made of premium hand made quality palm wood which can take hot and cold temperatures equally well while protecting your table and table cloth from any harm.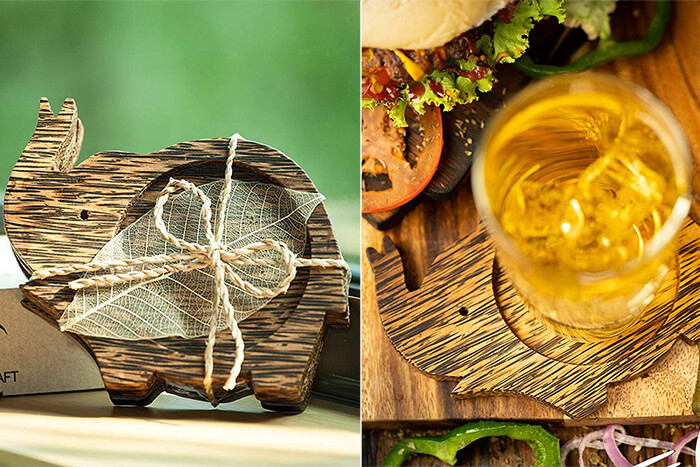 2. Elephant Wine Holder [buy on amazon]
This awesome playful elephant bottle holder figurine is great for holding wine bottles, liquor bottles, or for holding olive oil as part of your kitchen decor. Made of cold cast resin, the holder stands 6 1/2 inches tall, is 10 1/2 inches long, and 6 1/4 inches deep. It makes a great gift for any elephant lover.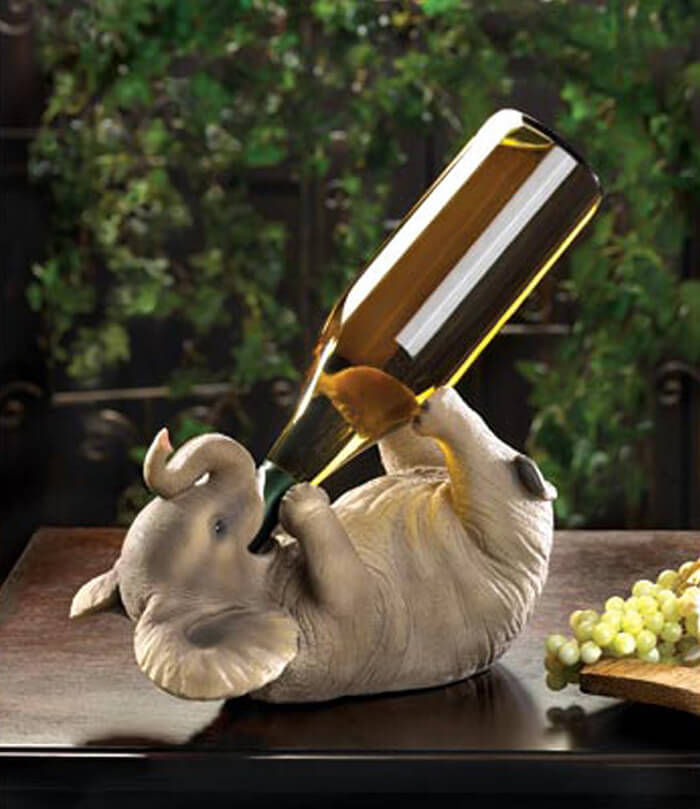 3. Elephant-Jewelry Bowl/Stand-Earring/Necklaces [buy on amazon]
This decorative elephant ring holder displays beautiful etched designs on the body of the elephant and open lotus flower. Rings slide onto the elephant's upturned trunk and small jewelry like earrings, pins and necklaces rest in the lotus flower bowl at its feet. Place this jewelry stand for safe-keeping on the bathroom or kitchen sink, bedside, dresser or closet – anywhere you want to organize and display jewelry.
Measures approximately 2 1/2 inches long x 1 1/2 inches wide x 4 inches high, with a 3 1/4 inch base diameter. Jewelry and accessories not included.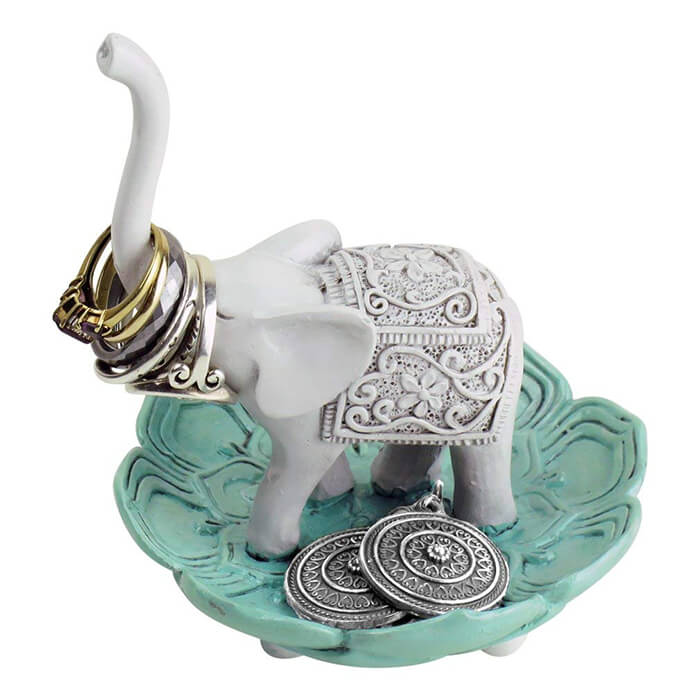 4. Wood Elephant Pen Holder [buy on amazon]
Cute elephant wooden multifunctional pen pencil organizer holder box accessories product features: 100% brand new and good quality. Size: 5.4 x 2.4 x3.5 inches color£ºas picture show specifications: Material: Natural wood grain package includes: 1 x pen holder container 1 x packing box.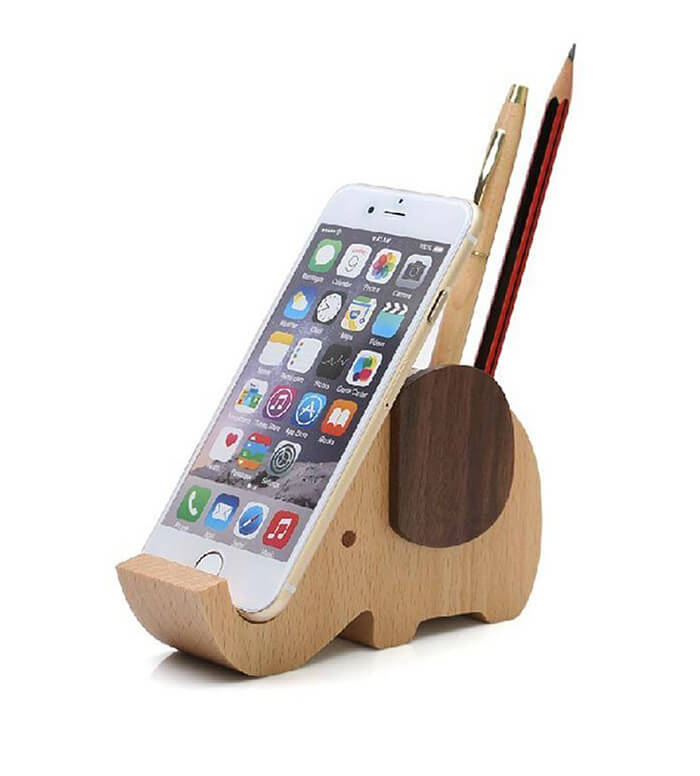 5. Reusable Elephant Straws [buy on amazon]
Drink in style with these Elephant Straws! When you use this animal straw, an elephant will sit at the bottom of your drink and a trunk straw will extend out of your glass.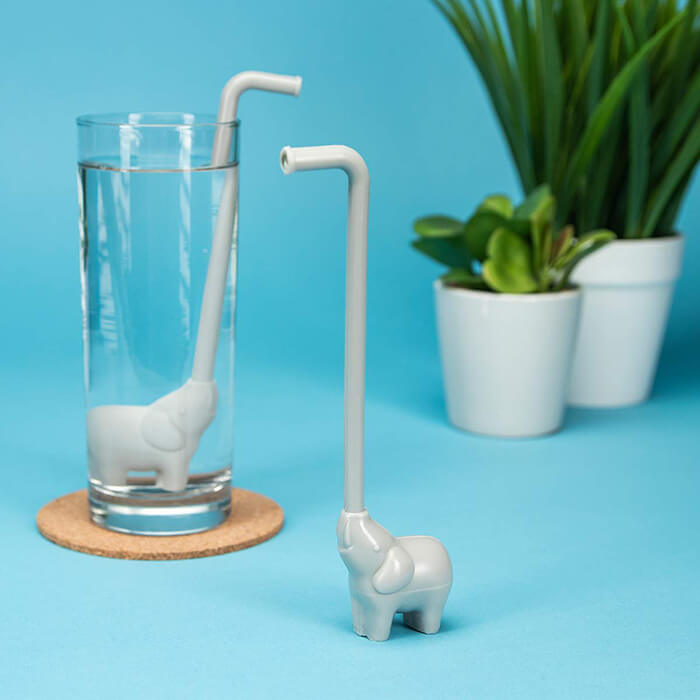 6. Lively Breeze Little Elephant Diffusers [buy on amazon]
A very unique, aesthetically pleasing & effective way to help transform your home or workspace into a more fragrant & inviting place with the goodness of your favorite essential oils – a wonderful way to alleviate stress & unwind after a tiring day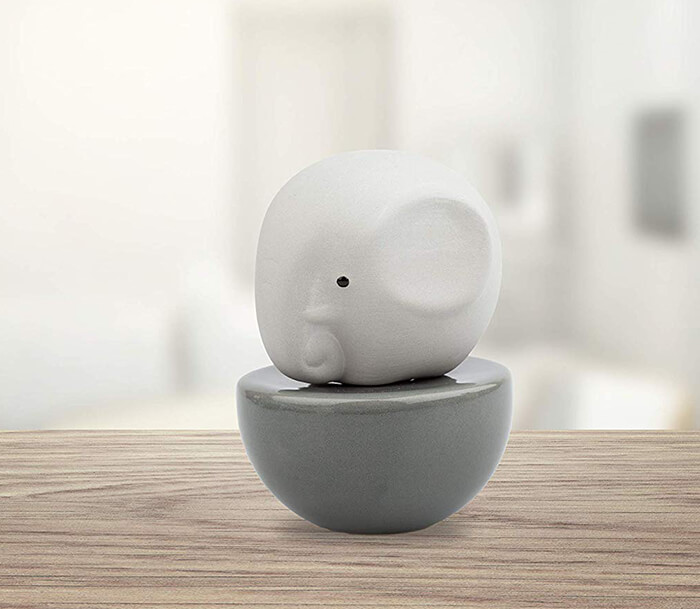 7. Elephant African Decor Glass Topped Side Table [buy on amazon]
This African elefantes brings nothing but good fortune to your home with his long trunk pointing skyward per the Delta Sigma Theta Sorority tradition representing high goals. Hand-cast using real crushed stone bonded with durable designer resin, our African animal end tables are topped with 16 inch diameter, pencil-edged glass table tops.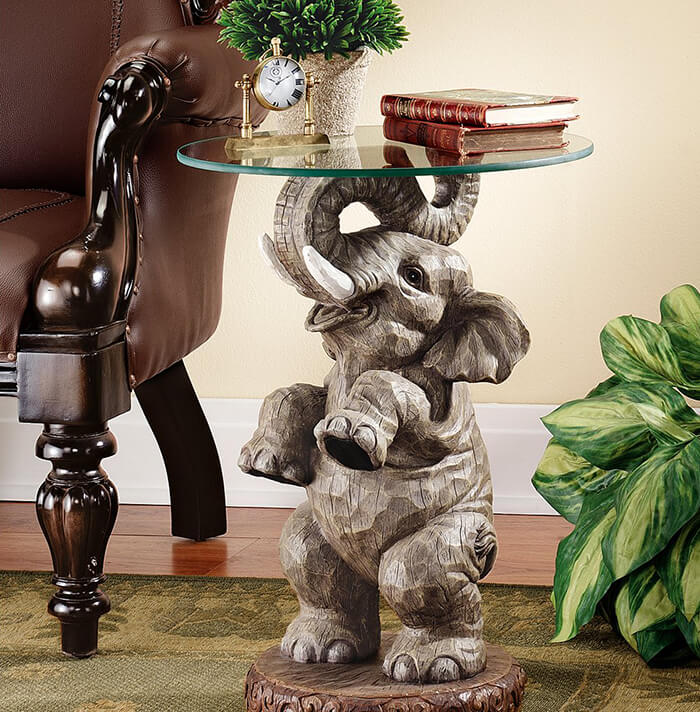 8. Upholstered Ride-on Elephant Storage Ottoman [buy on amazon]
Formatted to be long lasting, Funfair animal ottomans are the perfect foot rest made with thick shape holding padding and quality stitching technology to ensure your animal ottoman will remain comfortable and intact through regular usage. A hidden storage compartment makes this ottoman multi-functional giving it the ability to conceal excess clutter.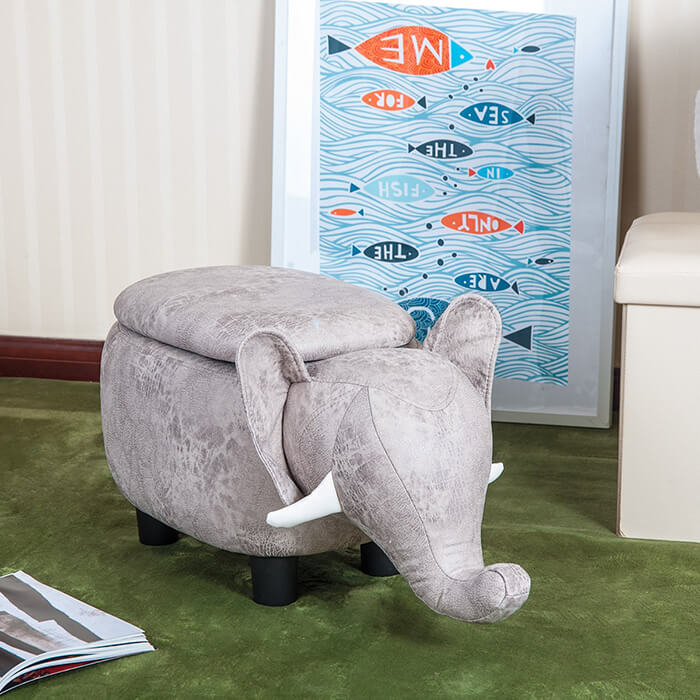 9. Elephant White Ceramic Succulent Planter [buy on amazon]
The classic white, designer inspired planters will complement just about any decor and help brighten up your space. The simple, minimalist design is easy to pair it with any interior design, and highlights what is placed inside of the pot rather than the pot itself. Create a lovely garden oasis by simply setting the pair together filled with your favorite flowers or plants. Each planter has hole on the bottom to allow water to drain through the soil so your plant stays healthy.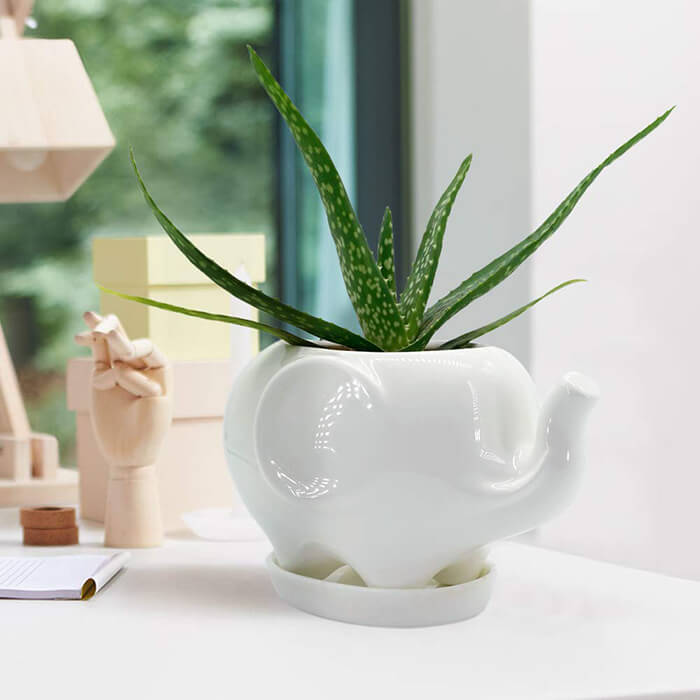 10. Elephant Decorative Table Fan [buy on amazon]
Fashion meets function with an electric figurine fan from DecoBREEZE. Nature's trumpeter in all his glory will brighten your day while keeping you cool. Featuring a two speed 20 watt motor circulating fan and measuring 14 inches tall by 17.5 inches wide, this innovative figurine table fan will look fantastic on any desk, vanity, bedroom or kitchen environment. Handcrafted and painted metal construction in rich brown and brown tones, the DecoBREEZE African Elephant figurine table fan will lend a unique and one of a kind look that will sure to be a great conversation piece.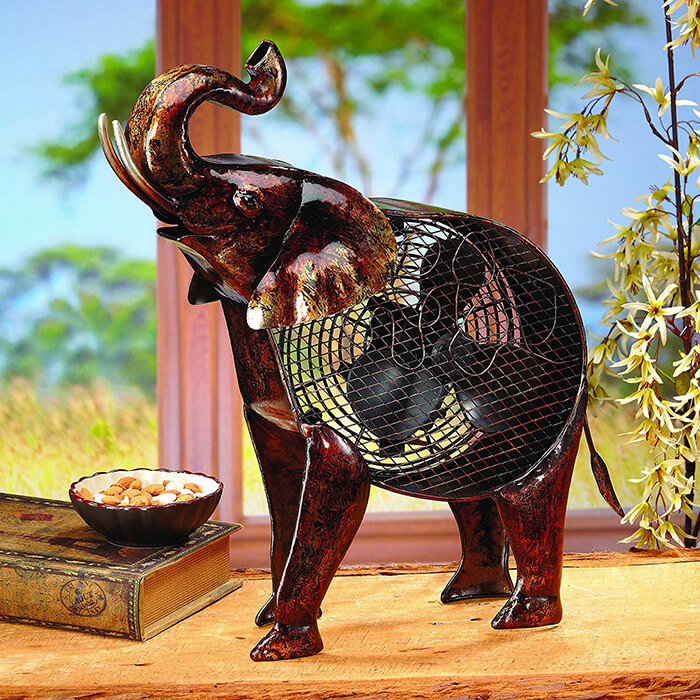 11. Elephant African Decor Candle Holder Wall Sconce [buy on amazon]
Add the flicker of candlelight to sculpture with our sconce that pays tribute to one of nature's most splendid creatures. The Elephant sculpture is fraught with realistic details, from its soulful eyes to its trunk curled around the Torch designed to hold your taper candle. This Toscano exclusive is cast in quality designer resin & hand-painted in natural tones. Candle not included. 12&Frac12″wx8″dx9½"h. 2 lbs.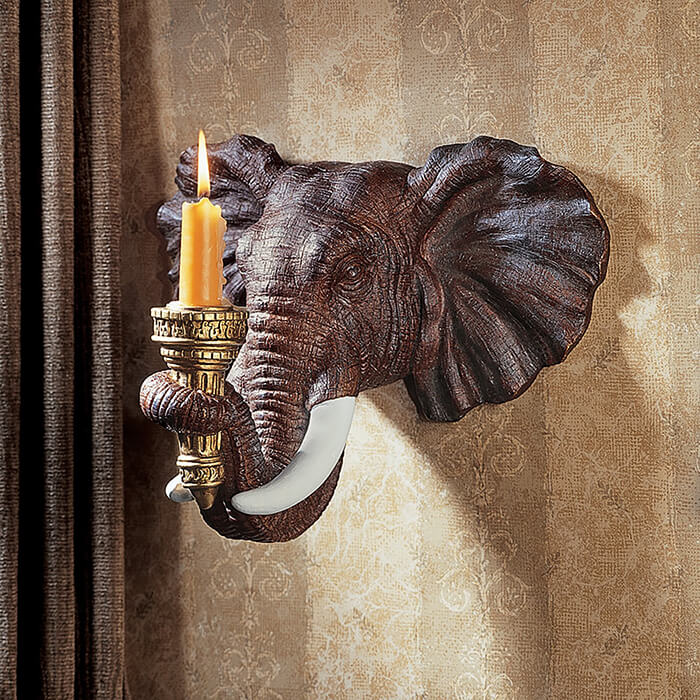 12. Elephant Blanket [buy on amazon]
50″x60″ inches, perfect to use when cold nights watching TV, reading a book on a coach, watching a movie or fireside chats. Reversible super soft printed flannel fleece on one side, plush super warm polyester sherpa on the inside. 100% polyester, fine for people with sensitive skin or allergies, also completely resistant to shrinking and wrinkling.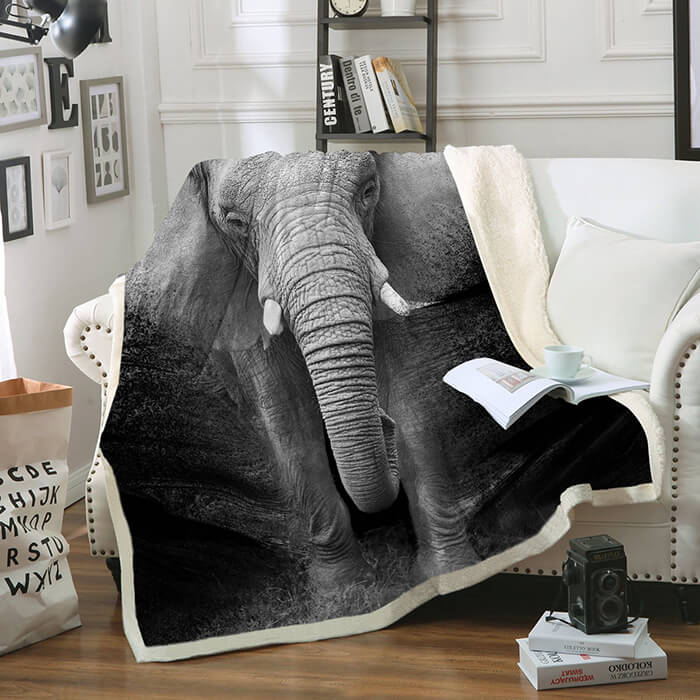 13. Decorative Gold Antiqued Elephant Glass Bowl [buy on amazon]
New Good Luck Decorative Gold Antiqued Elephant Glass Bowl, Terrarium or Candle Holder with Color Gift Box. Can be planted with delicate greenery to create a decorative Terrarium. However you choose to fill your Table Top Aquarium, It is sure to be a beautiful addition to your home or office. A perfect gift for any Elephant lover! Includes One Glass bowl, One Elephant figurine, One decorative accent ring. Crafted from polyresin with a antique finish, Beautiful decor item for a tabletop or mantel, Trunk lifted high for luck.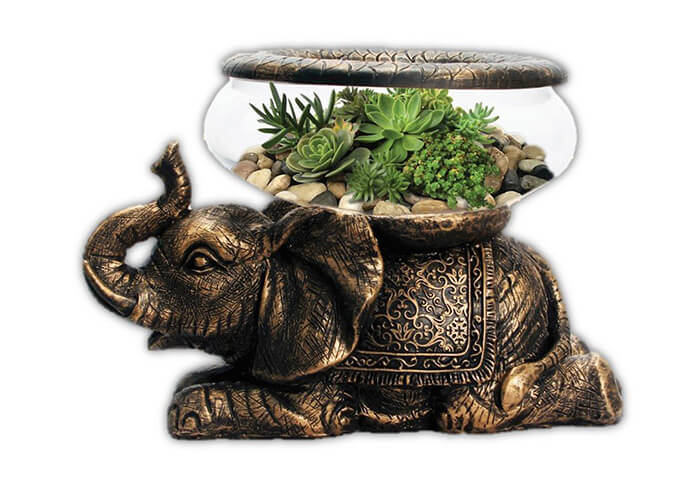 14. Elephant 3D Illusion Lamp [buy on amazon]
The 3D LED Illusion elephant Lamp is a combination of art and technology that creates an optical 3D illusion and plays tricks on the eyes. When you from afar, you will see the design, but as you get little close, you see a thin acrylic plate sheet that's completely flat. It's honor to impress your guests while always lighting up the room and your lives. This playful product combines man made fibers with natural materials and produced using both machines and artisan handwork. Better for displaying in your office,living room, office, bedroom,as a night lamp or any way you want to need it.
15. Elephant Tea Mug [buy on amazon]
Unique elephant design crafted from high heat-resistant ceramic holds 10 ounces of your brew, with a spot for the bag. Intentionally distressed to look like a pottery relic. Dishwasher and microwave safe.