As Apple is capturing market with iPhone, iPod and iPad, accessories of these iDevices are also in huge demand, such as docking system, the topic of today's post. Nowadays you could find an iPhone/iPod/iPad dock station that also could play stereo sound, wake you up, show your photos like digital photo frames, tell you weather, and synchronize your information. This round up will show you 15 Cool Docking Stations for iPad, iPod, and iPhone, coming with different shapes, size and features. If you are looking to a Docking Station for your iDevice or as a present, than hope your list can help to make your choice easy.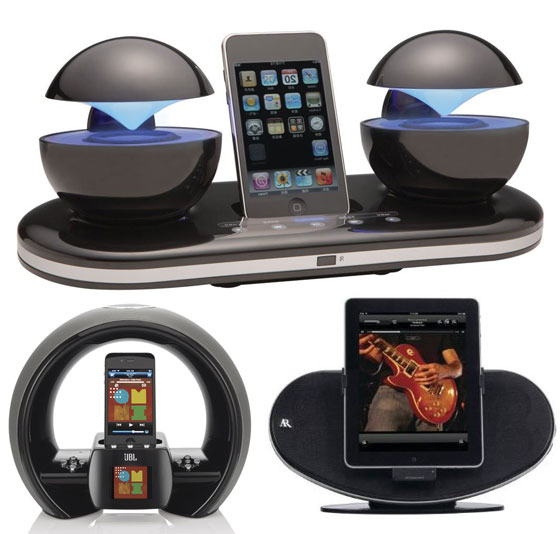 We are a participant in the Amazon Services LLC Associates Program, an affiliate advertising program designed to provide a means for us to earn fees by linking to Amazon.com and affiliated sites.
1. Jensen Docking Station for iPad, iPod, and iPhone [buy on amazon]
Output: 2 X 2.5W RMS
Power: 120V AC Adaptor (included)
Rotating dock for landscape view
Compatible with iPad, iPhone 3GS, iPod nano, iPod touch, iPod classic, iPhone, and iPod (5th generation)
Auxiliary input jack for connecting iPod suffle, MP3, and other digital audio players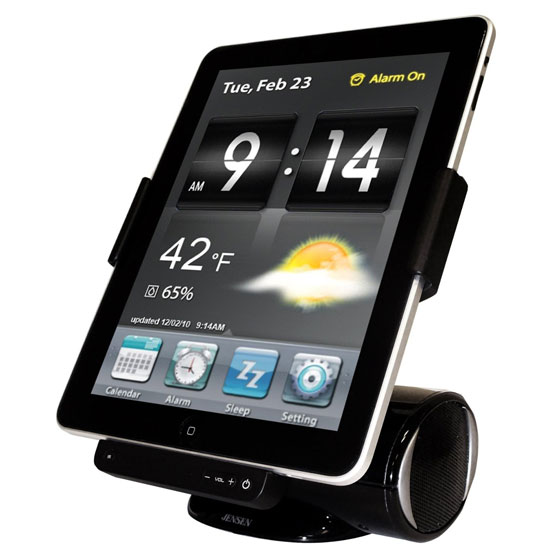 2. iDesign Docking Station for iPad Tablet [buy on amazon]
As it charges, your iPad tablet sits in the docking station at the perfect angle for working, surfing the Web, emailing and more.
Its dock slides down for convenient typing mode, and its housing rotates for vertical or horizontal orientation.
Features volume up/down and play/pause controls, plus a built-in 3.5mm aux-in jack. AC power adapter included.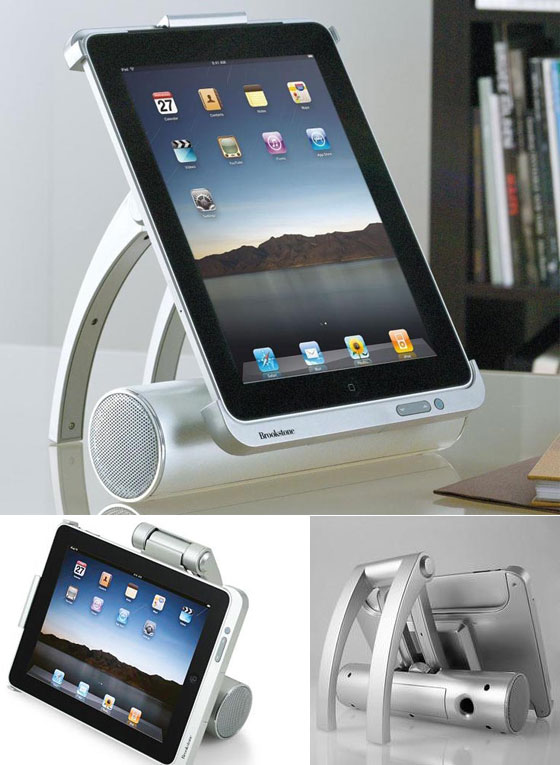 3. iHome Charging Station for iPad, iPod, iPhone, BlackBerrys and eReaders (discontinued)
Charges Apple iPad, iPod and iPhone
Built-in iPad stand
Syncs iPods/iPhones with iTunes
Expandable rest area fits and charges (via USB ports) most eBook readers, including Sony Reader, Amazon Kindle, Barnes & Noble Nook, etc.
Charges BlackBerrys via USB port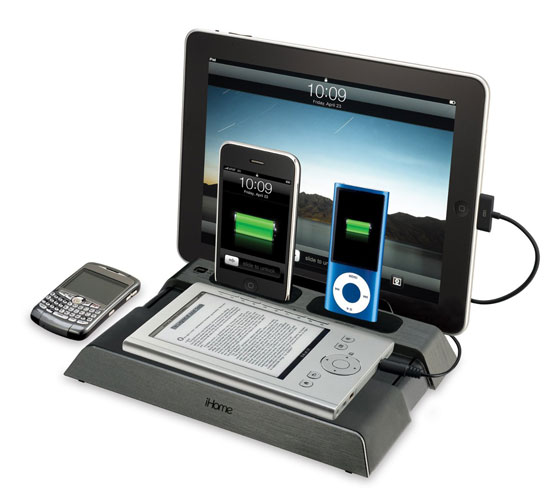 4. Philips Docking system for iPod, iPhone and iPad [buy on amazon]
Play and charge your iPod or iPhone or iPad simultaneously.
Auto clock synchronization with iPod or iPhone or iPad when docked.
Wake up to your iPod or iPhone or iPad music or radio tunes.
Aluminum cabinet for quality look and feel
Neodymium speaker driver for rich and clear sound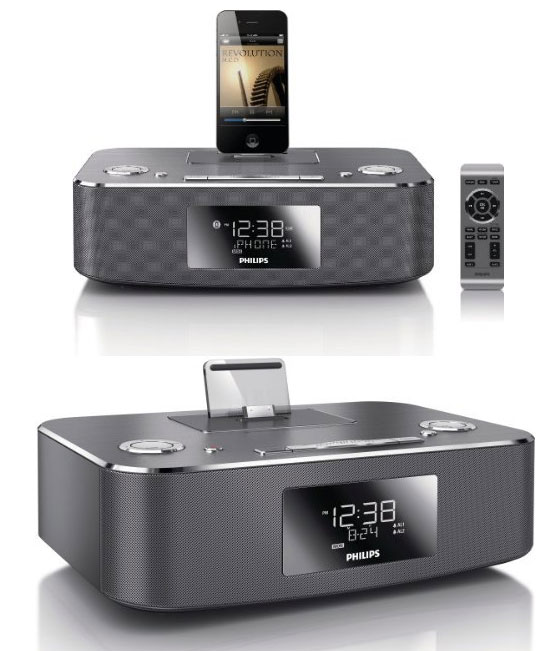 5. Sony Clock Radio for iPod and iPhone with Hidden Sliding Dock Tray (discontinued)
Wake up to iPod, iPhone, Radio or Buzzer
Dual alarms
Digital AM/FM tuner with 15 station presets
Preset alarm volume for iPod, iPhone or radio
ATS (automatic time set) and automatic daylight savings time
Clock radio for iPod & iPhone with sliding dock tray
Dual alarms with preset volume for iPod, iPhone, radio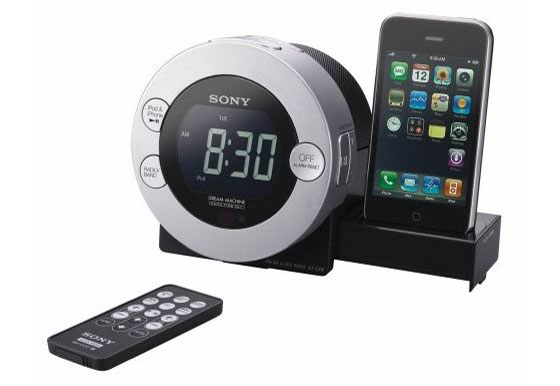 6. Philips Fidelio DS3000 Desktop Speaker Dock for iPod and iPhone [buy on amazon]
Combining style with superior audio performance, the Philips Fidelio DS3000 Docking Speaker allows you to dock and charge your iPhone or iPod while playing your music in rich, detailed audio. This stylish speaker features Dynamic Bass Boost technology, which enriches your music with deep bass at the touch of a button. Designed for versatility, the DS3000 can be connected to PCs and a variety of other entertainment devices, and it operates on battery or AC power for music enjoyment anywhere. Additional features can be unlocked using the complementary Fidelio app, which gives you access to custom alarms, equalizer settings, and more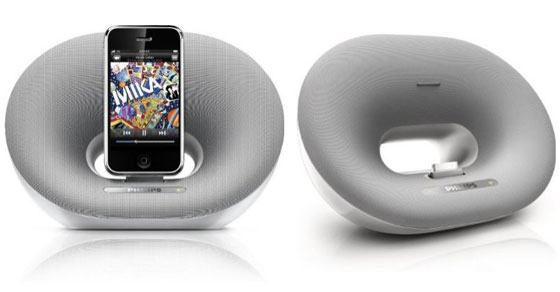 7. Acoustic Research Rotating Docking System for iPod, iPhone and iPad [buy on amazon]
Motorized moving arm for vertical and horizontal viewing
App enhanced functions for iPad, iPod Touch and iPhone
5 adapters included: iPad, iPhone 3, iPhone 4, iPod touch and iPod nano
Features alarm that lets you wake to radio, alarm, iPod or iPhone
Includes an audio input for mp3 player connection and a remote control
Motorized rotation from portrait to landscape view with just the push of a button
Connect and view content on your TV, iPod, iPhone and iPad
Features component video out for added function with other devices
Audio input for MP3 players
Charges iPod, iPhone and iPad while playing audio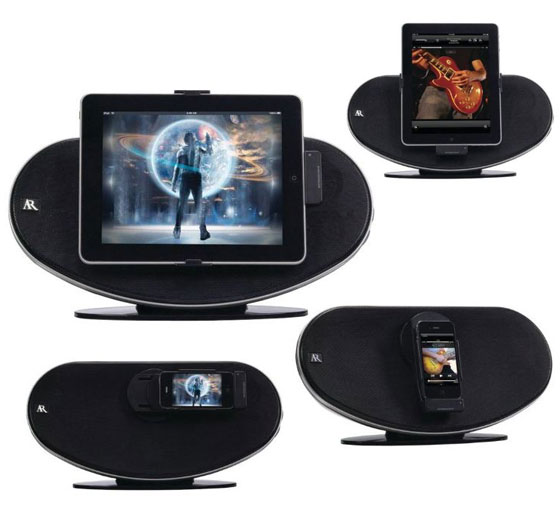 8. i.Sound ISOUND-4531 Power View Pro Charging Dock for iPad/iPad 2, iPhones and iPods [buy on amazon]
Charge 2 iPhones or iPods, and 2 iPads at the same time
Two additional powered USB ports located on back allow you to charge any USB device
Built in slot allows you to view and charge an iPad horizontally.
Perfect charging station for the entire Apple Family
USB ports in the back you can use it to charge another iPad and another iPhone or iPod, or any other USB Device
Fully compatible with the iPad 1 & iPad 2.
Horizontal stand for the iPad makes it perfect for using as a media device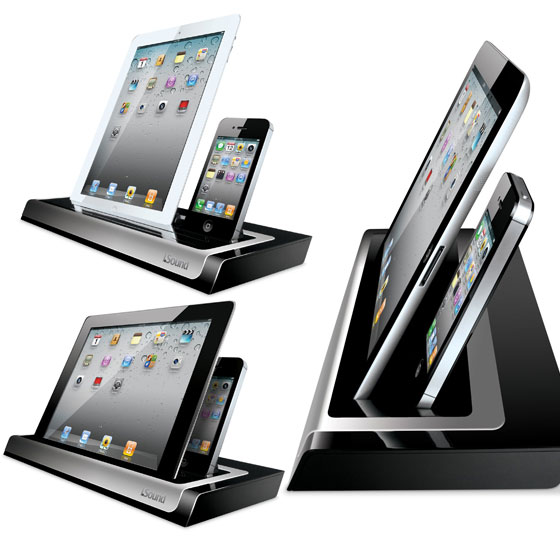 9. JBL On Air Wireless (discontinued)
Three JBL transducers provide a rich soundstage with HALO (Horizontal Acoustic Level Optimization) technology.
AirPlay wireless streaming of your entire iTunes music collection.
Internet radio with playback control (play/pause, skip forward/backward), track metadata display (if available) and full-color album artwork display
Easy access to your favorite music, news and talk programming with FM radio with RDS and 10 station presets
With the included clock and dual alarms, two people can wake at different times to music on an iPod or iPhone, the FM radio or a buzzer tone.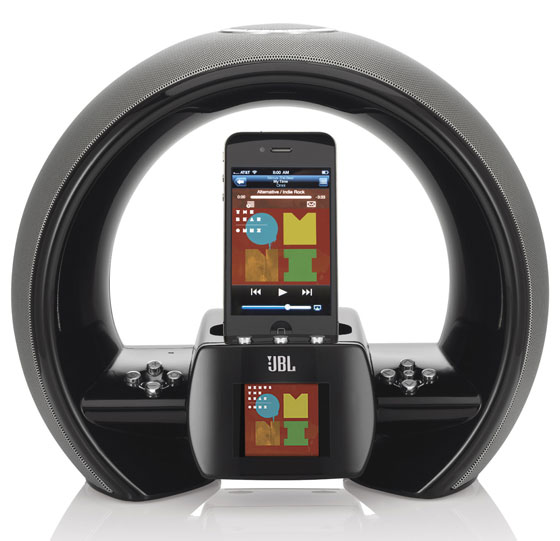 10. Sinjimoru Sync and Charge Dock Stand [[discontinued]]
Sleek and stylish stand that provides upright resting place for iPod and iPhone while it syncs or charges
Supports your iPhone or iPod Touch in both portrait and landscape formats
Convenient and elegant home base stand that will make syncing and charging easier than ever
Works with iPhone 3G, 3GS, 4, Touch 1G, 2G and 3G, iPod Classic, Nano 3G, 4G, and 5G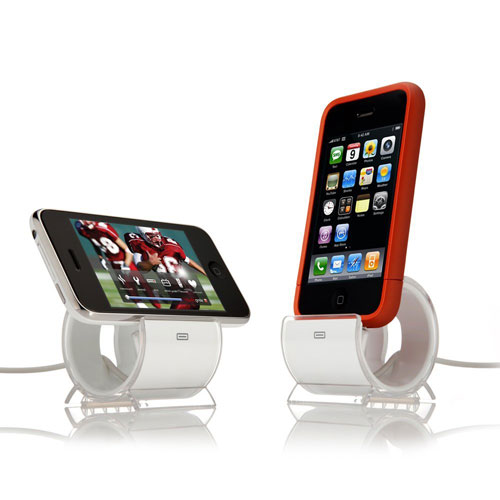 11. Philips Docking Entertainment System[buy on amazon]
Unleash your music in superb sound. from iPhone, iPod, USB, CD & radio. Free your iPhone/iPod music and enjoy it in superb sound on the Philips DCM250. Stylishly designed with a cool metallic finish, the sleek system features smart functions and boasts total 30W RMS power for truly dynamic sound.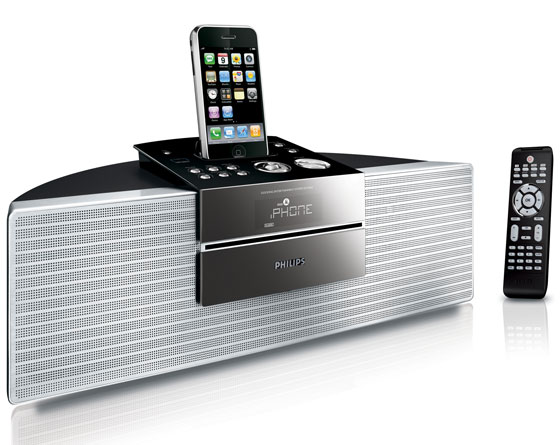 12. Philips Fidelio Docking Speaker iPod, iPhone and iPad [buy on amazon]
Precisely tuned bass pipes for deep, tight bass reproduction, Superb gaming sound effects via Bluetooth.
Compact design for any space, any lifestyle, Design fit for iPod/iPhone/iPad
PC synchronization with your iPod/ iPhone/iPad via USB,Battery or AC power option for music enjoyment anywhere
Dock any iPod/iPhone/iPad, even in its case.
DBB to preserve low tones for deep bass at any volume level
Dock any iPod/iPhone/iPad, even in its case
Preserves low tones for deep bass at any volume level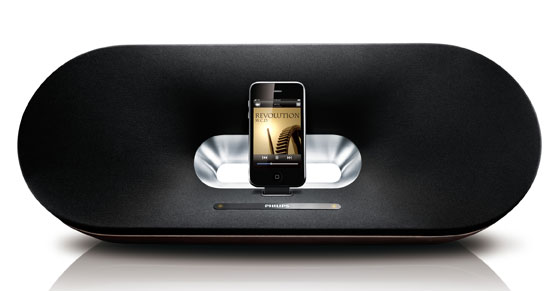 13. Logitech S715i Rechargeable Speaker for iPod and iPhone [buy on amazon]
Plays and charges your iPod and iPhone
Powerful balanced sound from eight custom-tuned speaker drivers
Portable design, travel case and rechargeable battery for up to eight straight hours of music wherever you go
Wireless remote lets you control music functions from up to 30 feet away
Trayless dock works with iPhone and any iPod with a Universal Dock Connector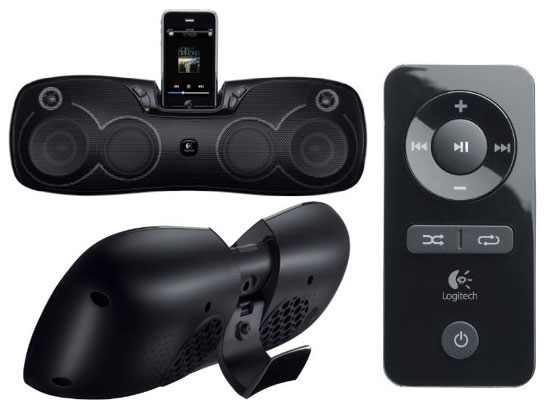 14. Panasonic iPod/iPhone Compact Clock Radio, AM/FM Radio, Dual Alarm [buy on amazon]
Memory Loader application allows quick and easy setup of your alarms and allows you to preset your favorite radio stations
FM/AM Radio
Integrated iPod/iPhone Dock that allows you to conveniently connect your iPhone or iPod
Integrated dock for iPod/iPhone; Dual Alarm Mode; Nap Feature; Event Reminder; Memory Loader Application
Customize 2 alarms with multi-touch interface on iPhone or iPod touch
Customize snooze and alarm sound from buzzer or music in your iPod or radio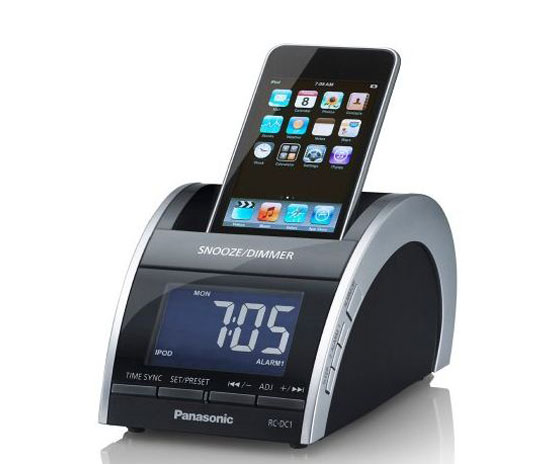 15. Speakal iCrystal Stereo Docking Station with Two Speakers [buy on amazon]
Compatibility: iPod mini; iPod nano 1G, 2G, 3G, 4G, 5G; iPod classic 4G, 5G, 5.5G, 6G; iPod touch 1G, 2G, 3G, 4G; iPhone, 3G, 3GS, 4
Unique spherical speakers with glowing "teardrop" covers for style and 360-degree sound
Touch-sensitive controls for adjusting volume and controlling your iPod
3.5-mm auxiliary input for use with external devices
IR remote control included
Compatibility with iPod mini, iPod nano 1G, 2G, 3G, 4G, 5G, iPod classic 4G, 5G, 5.5G, 6G, iPod touch 1G, 2G, 3G, 4G and iPhone, 3G, 3GS, 4
It has 3.5-mm auxiliary input for use with external devices