Teeth is important to us, helping us enjoying our food and shining our smile. We brush our teeth every day, try to keep them clean and fresh. In this post, we rounded up 15 Innovative and Useful Designs for Dental, which not only help us clean our teeth but also keep our toothbrushes sanitized, organized and travel-friendly.
We are a participant in the Amazon Services LLC Associates Program, an affiliate advertising program designed to provide a means for us to earn fees by linking to Amazon.com and affiliated sites.
1. Two way toothpaste [link]
This "Two way toothpaste" is ideal for those who get angry with their partner for squeezing the toothpaste from the front. Simply open the other end and squeeze from the back as demonstrated below. Also quite useful for getting the last of the paste out of the bottom.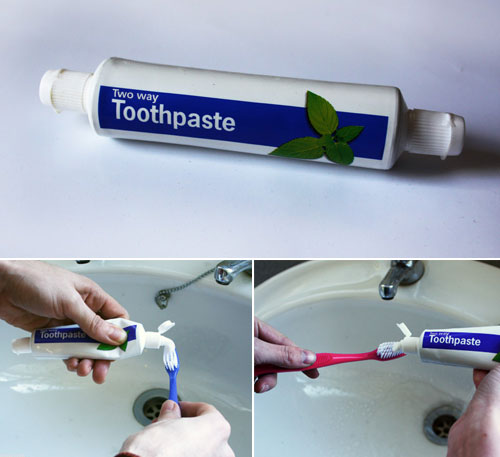 2. DEWS – an upstanding toothbrush [link]
DEWS does away with concerns about whether your toothbrush is resting on an unhygienic surface. This upstanding toothbrush makes use of a weight at the end of its rounded handle to create a centre of gravity at the handle base. When the toothbrush is set down, it will sway momentarily until it reaches a position of balance – much like a tumble doll.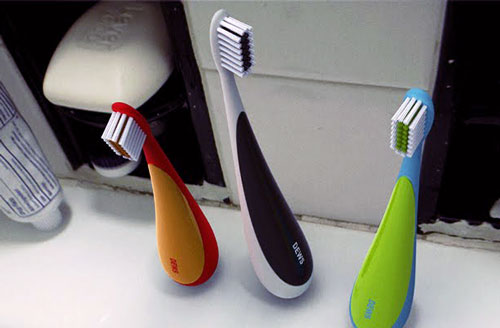 3. Toothpaste Dispenser
[
buy on amazon
]
Touch n Brush Hands Free Toothpaste Dispenser Touch-N-Brush Toothpaste hands-free dispenser prevents waste by dispensing the perfect amount of toothpaste. No mess and no waste! Say goodbye to sticky, messy sinks and counters. A touch of the pump dispenses a perfect strip of fresh toothpaste on your brush. Holds any size toothpaste tube, and is easy to use, install and refill. Vacuum technology forces out every last drop of toothpaste. Suctions to smooth surfaces. Includes a free bonus- a Sonic 4X Toothbrush (electric toothbrush-Requires two AA batteries, not included) Also includes a convenient adhesive disk forporous surfaces like wallpaper.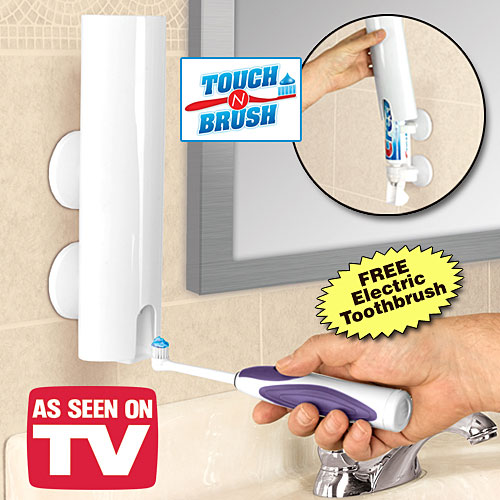 4. Black Lab Toothpaste Head
[
buy on amazon
]
These adorable Toothpaste Heads replace your boring old toothpaste cap with cute little animals. Brushing your teeth will become fun with Toothpaste Oscar. Watch how motivated your children become to brush their teeth. They will be excited to brush with help from their new pal!Toothpaste squeezes out of his mouth and onto your brush. Cover the opening with his paw when finished.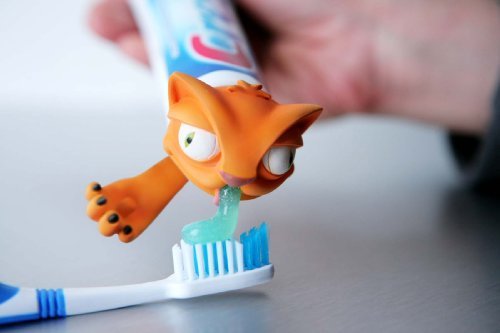 5. Smiley Toothbrush Holder
[
buy on amazon
]
This cleverly designed toothbrush holder puts a happy face on dental hygiene! With its suction cup back, the Smiley Face Toothbrush Holder attaches firmly to mirrors, glass, tile, and stainless steel, protecting your toothbrush from germs. Made of sturdy plastic, it snaps over the head of any size toothbrush, and has quick-dry ventilation slots.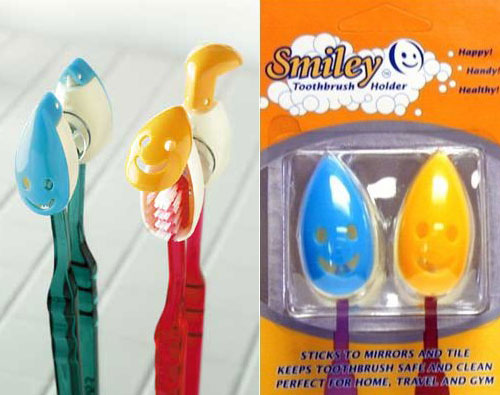 6. Umbra Rubber Grassy Organizer
[
buy on amazon
]
The Umbra Rubber Grassy Organizer in white is a whimsical fun way to organize your toothbrushes and toothpaste. Great for adult and kid's bathrooms alike, this grassy organizer is made of rubber and easy to clean.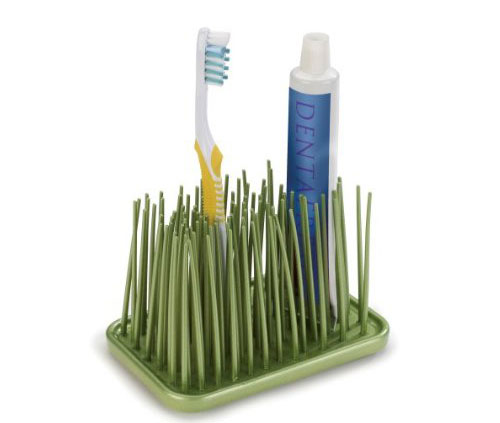 7. Colgate Wisp Peppermint – doesn't require rinsing afterward
[
buy on amazon
]
For those times when you desperately want to freshen up and brush your teeth, the Colgate Wisp Peppermint is exactly what you've been looking for. The Wisp is a single-use disposable mini-toothbrush that has a built-in freshening bead and doesn't require rinsing afterward. It's discreet enough to keep in your pocket or purse—so you can use the Wisp for that freshly brushed feeling anytime, anywhere.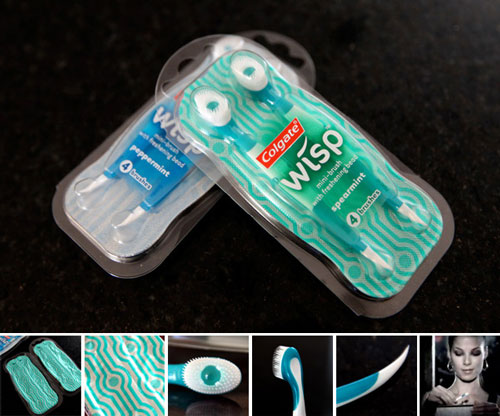 8. Flipper Travel Toothbrush Holder
[
buy on amazon
]
* Double suction cups that adhere to mirror or tile
* Simply flip open or closed and keep your toothbrush accessible
* covered and ventilated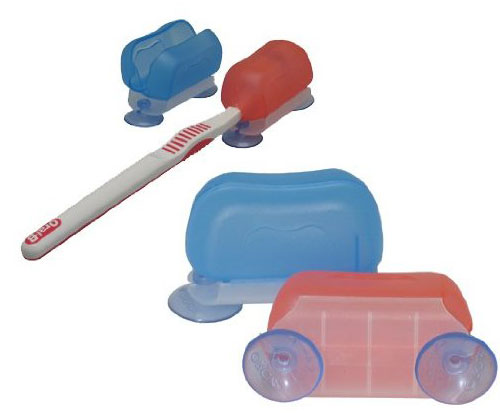 9. Philips Sonicare UV Sanitizer
[
buy on amazon
]
Philips Sonicare introduces a breakthrough innovation with a UV Sanitizer that helps kill up to 99 percent of bacteria* on your toothbrush. With a simple push of a button, UV Clean technology sanitizes your brush head to clean right down to the bristles. The Sonicare UV Sanitizer not only cleans but also offers a storing solution to help ensure you are maximizing your oral hygiene regimen. Once activated, your toothbrush goes through a 10 minute cycle to kill up to 99 percent of bacteria off your brush head.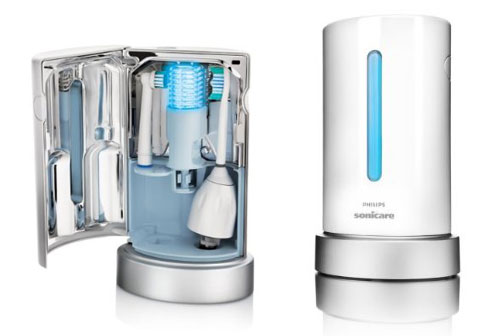 10. Ohso Marko Pocket Toothbrush
[
buy on amazon
]
Combine two travel essentials into one with the OHSO pocket toothbrush. The hollow body holds a week's worth of your favorite toothpaste… turn the knob and it oozes out, right onto the brush. Includes a replacement bristle head, a small tube of toothpaste and a filling adapter.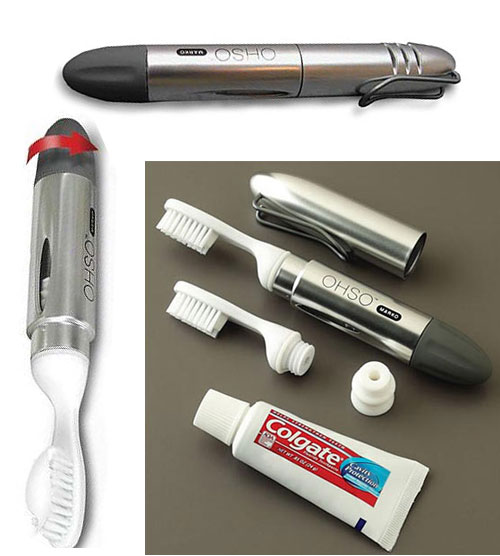 11. Violight VIO200 Travel Toothbrush Sanitizer
[
buy on amazon
]
The VIOlight travel offers the consumer the same benefits of sanitization as the original VIOlight but in the convenience of a travel sized version. Many travellers are exposed to a higher risk of contamination of their toothbrush due to leaving it on a hotel sink or uprotected in a dopp kit. The UV germicidal light bulb kills up to 99.9% of the bacteria, such as E.Coli, salmonella, and other harmful microorganisms. Researchers have found more than 10,000,000 bacteria can be living on a single toothbrush. Bacteria, molds, and fungi love moist environments which are commonly found in most plastic travel toothbrush holders. The ADA and most dentists recommend changing toothbrushes only every 3 to 4 months; however it is important to sanitize your toothbrush every day.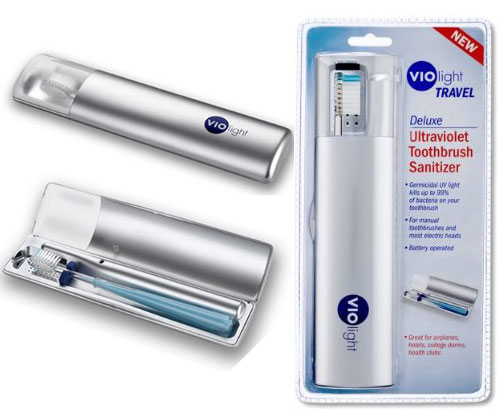 12. Ultreo Ultrasound Toothbrush
[
buy on amazon
]
# The Ultreo is the first to use ultrasonic waves to loosen plaque and kill bacteria, using patented technology
# Comes with a 2-year warranty and a 30-day satisfaction guarantee
# Long lasting battery, that last for 28 brushes on a single full charge
# Programmable brush head replacement indicator, that automatically indicates when to replace the brush head
# Automatically shuts off after the dental professional-recommended 2 minutes of brushing time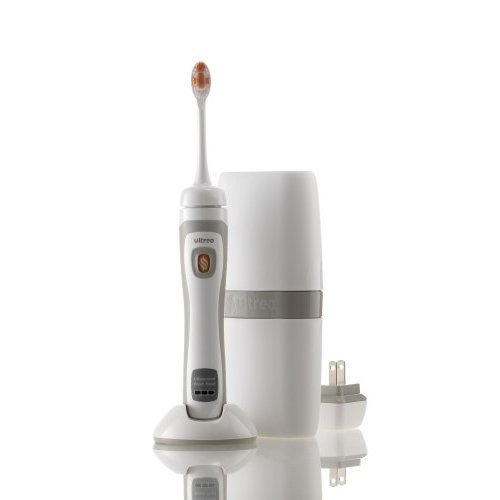 13. Dr. Tungs Toothbrush Ionic System
[
buy on amazon
]
Dr. Tung's IONIC toothbrush may be "the most advanced toothbrush in the world"! Unlike regular toothbrushes which try to force plaque off the teeth by friction, the IONIC brush makes the teeth let go of plaque, like turning off a magnet! Plaque gets released even in hard to reach areas! It is clinically proven to be far more effective than a regular toothbrush and users report cleaner, whiter teeth and little or no plaque when visiting their dentist! It really works!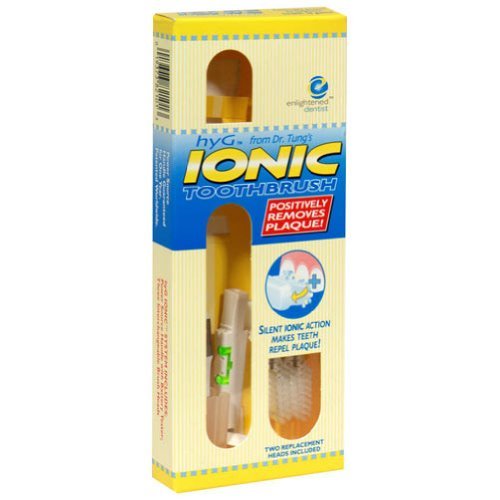 14. Stag Toothbrush Holder – White
(discontinued)
To use the toothpaste tube holder… fold over the bottom of the toothpaste tube. Slide edge along the inside slot, positioned at the stag's mouth, creating a secure hold on the tube. To dispense toothpaste, just remove cap and squeeze.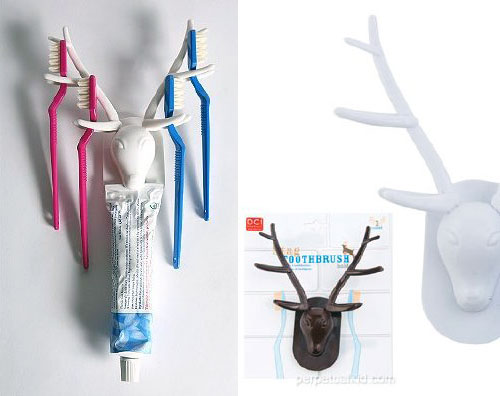 15. Bacon Flavor Dental Floss
[
buy on amazon
]
Dentists recommend flossing and we recommend bacon! Now you can improve your dental hygiene while enjoying the amazing flavor of crispy fried bacon.