Try to find a stylish way to server your ordinary chips and dip? You got the check out this post, where we rounded up 15 Modern and Stylish Chip and Dip Server Designs from world. They are made of different materials and also in various shape, but there is no wonder they will spice your kitchen and impress your guests.
We are a participant in the Amazon Services LLC Associates Program, an affiliate advertising program designed to provide a means for us to earn fees by linking to Amazon.com and affiliated sites.
1. Scoop Chip and Dip Server [link]
When you serve your guests with this modern, two-tiered piece in metal alloy, you're also serving up a conversation-starter. A smaller vessel hangs over the larger bowl in a graceful arc, allowing for easy, all-in-one-place dipping. Place chips and salsa, vegetables and guacamole, or virtually any other gastronomic pairing in this swan-like server, and wait for the inevitable compliments. When your friends have gone home for the evening, fill the bottom with stones and place a tea light in the upper bowl for an elegant non-mealtime look.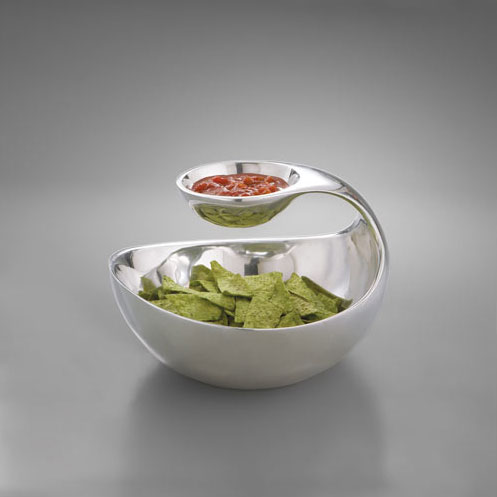 2. Lounge Chip and Dip [buy on amazon]
Chill out and throw a party using this generous crowd-pleasing platter. Designed with subtlety and flair, this tray is the epitome of a lounger lifestyle. Your chips have their own sloping bevel and your dip its own bright hollow.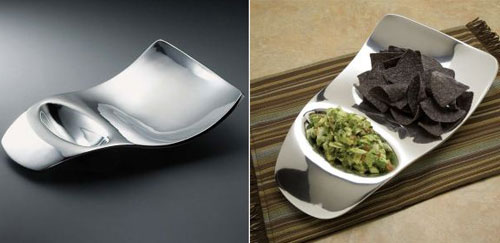 3. Deni Chip and Dip Server
[
buy on amazon
]
The Deni Chip-n-Dip Warmer and Server is great for anyone who likes to entertain. This unit will keep your hot dips warm and at the perfect temperature for long periods of time. Removable heating.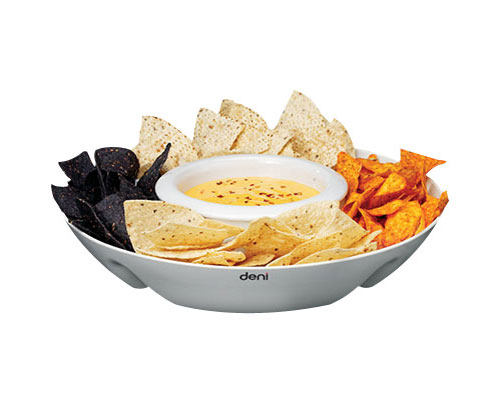 4. Mission Chip and Dip Server
[
link
]
The Mission Chip & Dip Server Set, with a chip and dip bowl inside a stand, will make hosting your next get-together a breeze. Generous sized glass bowls rest in an iron stand. The stand has a rustic finish, nail head design at the top, and twisted rope motif at the bottom.
• Southwest-influenced design
• 3-piece chip & dip server set (stand & 2 bowls)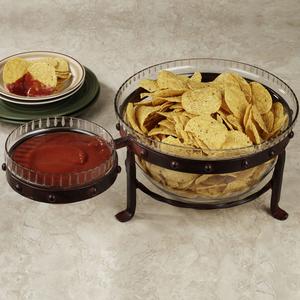 5. Nacho Fiesta Chip and Dip Server with Warmer
[
buy on amazon
]
* Sombrero shape chip and dip serving tray with heated reservoir for cheese or chili
* Dishwasher safe trays
* Easy to assemble, compact storage
* Sombrero tray holds 13 oz. of chips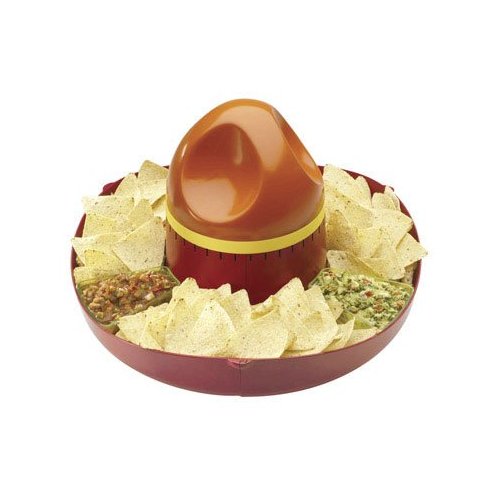 6. Libbey Selene 1-Piece 11-Inch Diameter Chip and Dip
[
buy on amazon
]
Serve chips and dips with a clean, crisp and simple design. Glass chip and dip bowl features a small center bowl for holding dips. An elegant server for salads, seafood, fruit and other appetizers with dips.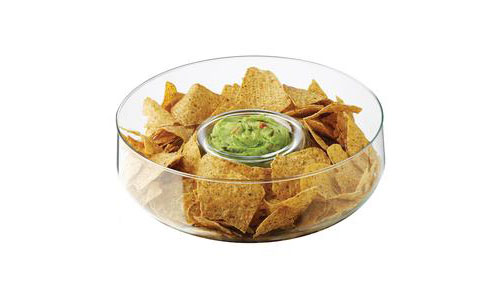 7. Arthur Court "Grape" Chip & Dip Plate
[
buy on amazon
]
Indulge your guests and serve fresh fruits and dip, chips and guacamole, or veggies and dip in this Arthur Court grape design 14 inch round chip and dip tray.The well in the center of this beautiful piece is slightly raised and holds 6 ounces. The decorative metal is manufactured using Arthur Court's signature premium aluminum alloy.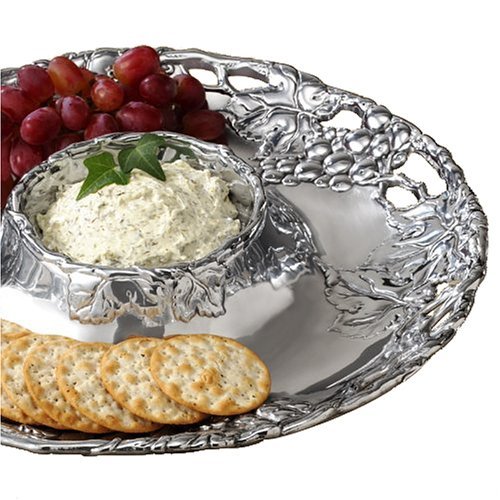 8. Nambe Butterfly Chip and Dip
[
buy on amazon
]
A stunning departure from the everyday serving dish, the Butterfly Chip and Dip seems on the brink of taking flight from the table. Gorgeous in its combination of contour and gleam, the piece is part of the larger Butterfly Collection that has been a Nambé favorite for years. In tribute to its namesake, the chip and dip looks as though it is soaring on an updraft, yet its design is full of substance and strength. Pairing a lustrous metal alloy dip bowl with an airy crystal chip dish, it makes a perfect vessel for home-cooked tortilla chips and fresh guacamole or a dessert of warm chocolate and strawberries.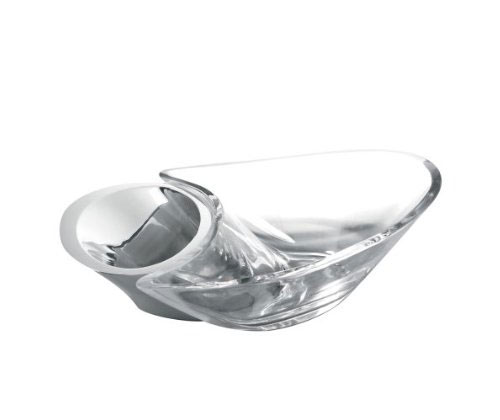 9. VTG Indiana Glass 5 Pc Ruby Chip and Dip Set in Box
[
link
]
This is a pretty vintage chip and dip set in Ruby color. It includes the large bowl (10 inches wide by inches deep), the small bowl (5 inches wide by 3 inches deep), a wire hanger to connect the two and a clear plastic fork and spoon for serving.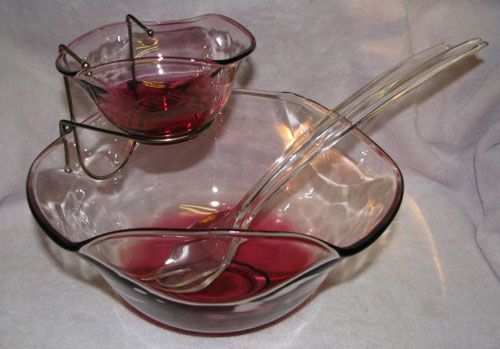 10. Define Red Chip & Dip Bowl
[link]
With a small section on the one side for your favorite dip, and the larger section for crisps, carrot sticks, onion rings, or whatever else takes your fancy, the red Chip & Dip Bowl offers you a way to enjoy a quick snack in style.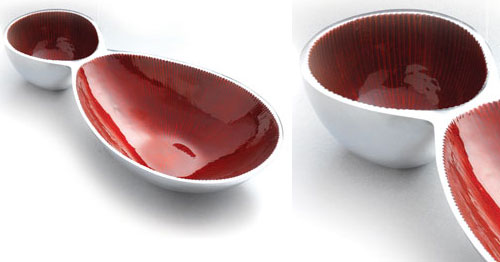 11. Nambé Chip & Dip
[
buy on amazon
]
Combines flared chip bowl and round dip bowl into single serving piece of striking artistry. The piece measures 14-inch long by 12-1/2-inch wide by 3-3/4-inch high. It's designed by karim rashid as part of our contemporary morphik collection of serving/entertaining accessories that feature the curving shapes nature favors.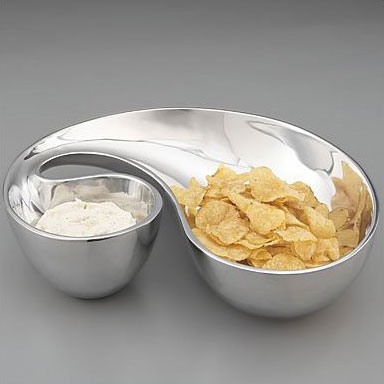 12. Simon Pearce Belmont Chip & Dip
[link]
Handmade Pottery Serving Tray. Perfect for entertaining or casual gatherings, the Simon Pearce Huntington Chip & Dip offers hors d'oeuvres in style.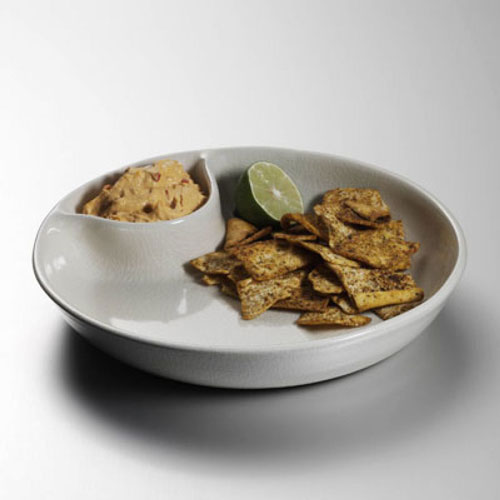 13. Royal Doulton Bay Leaves 3-Piece 14-Inch Chip & Dip Server
[[discontinued]]
Royal Doulton's Bay Leaf Collection is a contemporary, nature inspired pattern making it the perfect canvas for any meal. The leaf shaped accessory pieces and bakeware extend the nature them to the rest of the table making a complete casual concept. It's nature inspired colors and shapes will make any table have an earthy natural feel.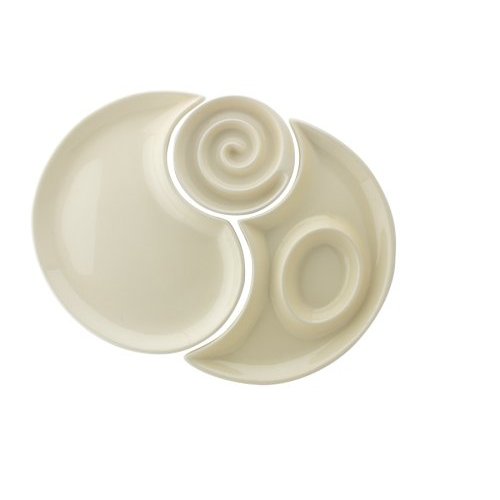 14. Pacific Merchants Acaciaware, Pineapple Chip and Dip
[
buy on amazon
]
Two distinct sections, and a generous size, makes the Acaciaware Pineapple Chip & Dip great for potato chips and dip, salsa and tortilla chips and fresh fruit / vegetables and dressing or dip. Acaciaware, by Pacific Merchants, is the highest quality and best valued Acacia woodenware available on the market; the bowls are hand turned from one solid piece of Acacia hardwood and the serving pieces are hand carved, making each one a unique, sculptured work of art!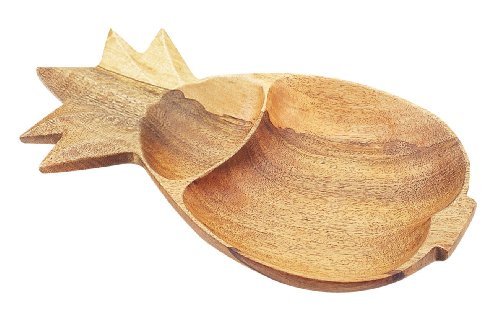 15. Wilton Armetale Shell Chip & Dip Server
[
buy on amazon
]
Even if your hors d'oeuvres don't involve seafood, this beautiful piece makes a most elegant presentation. And if you're serving hot crab dip or shrimp cocktail, so much the better! This metal alloy can go in the oven or the freezer, allowing you to keep hot things warm and cold things cool longer.