With Christmas two weeks away, almost everyone is preparing for gifts. If you are tired of the traditional shopping (walking, searching and lining up), like me, why not try to find some gifts online. We rounded up 20 beautiful gift baskets in this post and hope can help reduce some searching work for you. Hope you find it useful.
We are a participant in the Amazon Services LLC Associates Program, an affiliate advertising program designed to provide a means for us to earn fees by linking to Amazon.com and affiliated sites.
Gifts for Everyone
---
1. Classic Gourmet Food Gift Basket [buy on amazon]
A delightfully classic gourmet gift of goodies for everyone to share! Your beautiful basket is themed in classic black and gold and is just the ticket for friends, family or office gift giving. Enjoy Foccacia Crisp Italian Seasoned Crackers, Sesame Crackers, Camembert Cheese Spread, Lady Walton's Ameretto Cookie, Lady Waltons Dark Chocolate Cookie, Cafe Caramel Cocoa Mix, Angelina's Sweet Butter Cookies, Gourmet Caramel Popcorn, buttery Caramel Candy, crunchy Roasted Almonds and fine Chocolates.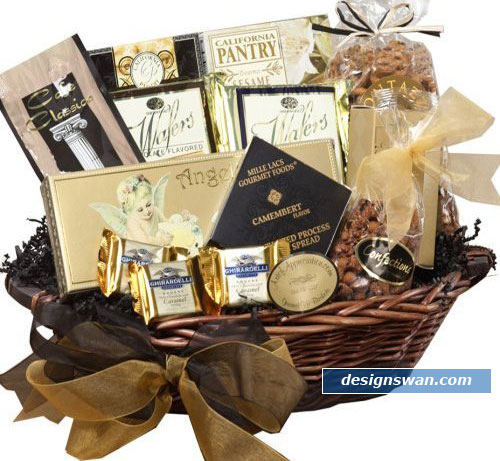 2. Coffee Lovers Care Package Gift Set [buy on amazon]
This thoughtful care package complete with coffee cup is filled overflowing with premium coffee and gourmet go togethers, cleverly wrapped to go and ready for gift giving! Your java loving recipient will enjoy the Tirimisu Cookies, Almond Hazelnut Biscotti, 4 packages of Premium Coffee (Columbian, Morning Blend, Hazelnut and Caramel Creme), Cafe Latte Drink Mix, Dark Chocolate Wafer Cookies, Java Bon Cappuccino Candy, Mama Says Biscotti – Chocolate Almond Nut Biscotti, and a keepsake coffee theme mug in which to enjoy it all.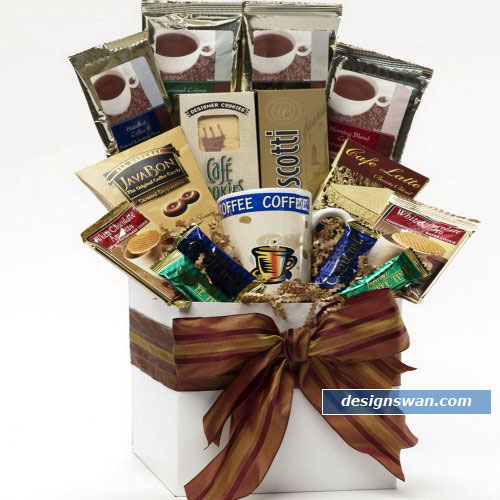 3. Sweet Wishes For You! Gourmet Food Gift Basket
[
buy on amazon
]
Send your sweetest wishes on any gift occasion with this generous – yet affordable – gift basket filled with Angelina's Sweet Butter Cookies, Malto Bello Raspberry Malted Truffles, Almond Roca Candy, 2 packaged Chocolate Supreme Cocoa, Brie Cheese Spread, 2 packages Venus Wheat Crackers, luscious chocolate truffles and fruity Bonbon Candy. It's the perfect gift for someone sweet in your life and makes a wonderful thank you gift for important business associates and clients.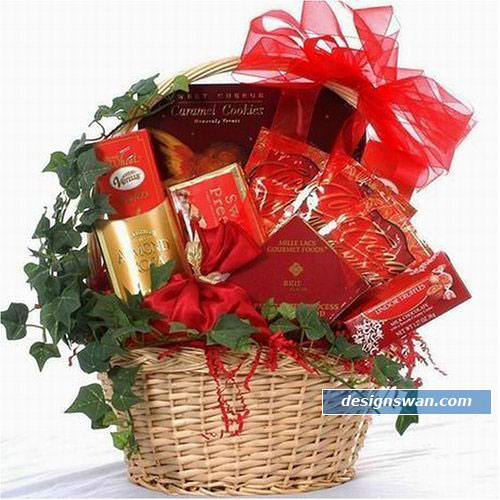 4. Christmas Gift Tower of Sweets
[
buy on amazon
]
Deliver your warm holiday wishes with this shimmering tower, filled with a gourmet spread of treats. A best-seller! In this five box gift tower, you will delight in chocolate covered cherries, salted pistachios, gourmet pretzels and chocolate chip cookies, fruity trail mix, yogurt pretzels, chocolate covered peanuts, and chocolate drizzled caramel popcorn. All holiday gift baskets can ship with a personalized gift message on a gift card; Click on gift options during check-out to enter your unique gift message.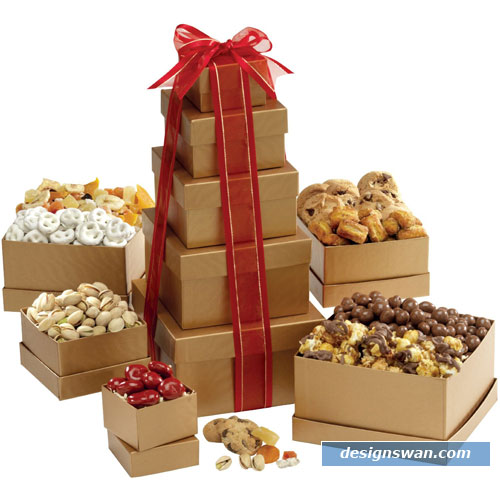 5. Savory Sophisticated Gourmet Food Gift Basket with Caviar
[
buy on amazon
]
Imagine the most cosmopolitan pleasures of the palate arrayed in a simple, willow basket adorned with ivy vines. It is enough to coax a sigh of delight from the most sophisticated gourmet. They'll enjoy fine Capelin Caviar, Sesame Crackers, Focaccia Crisp Italian Crackers, Wine flavored Cheese Spread, Lady Walton Chocolate Wafer Cookie, Angelinas Sweet Butter Cookies, Dipping Pretzels, Stone Ground Mustard, and decadent Belgian Chocolate Truffles.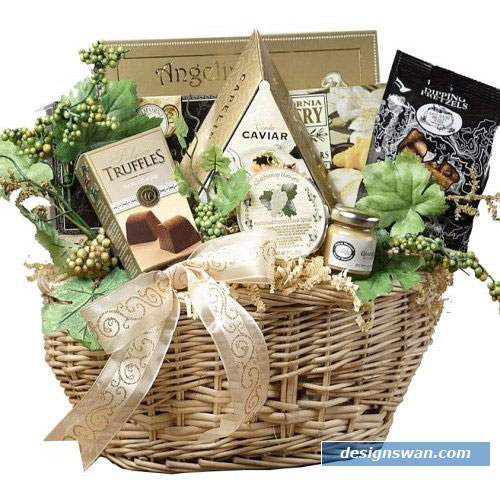 6. Snowman Stacking Tower
[
buy on amazon
]
Frosty is all dressed up in his holiday best, stacked high and filled with sweet surprises for your lucky friends and family. Not only will they enjoy the goodies nestled in each box – each year he can return as favorite fun holiday decor – he is just that cute! Featuring gourmet Snowman Hot Cocoa Mix, Butter Toffee Popcorn, Gourmet Holiday Cookies, Ghirardelli Chocolate Squares (Mint, Caramel, Dark Chocolate), and Candy for sharing.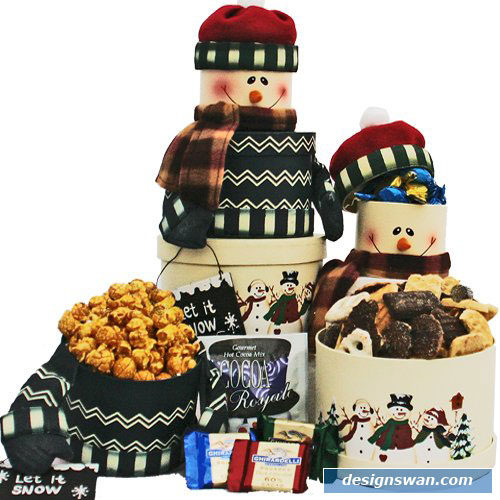 7. Numi Tea Bamboo Flowering Tea Gift Set
[
buy on amazon
]
Packaged in an exotic hand-made dark mahogany bamboo case, this Flowering Gift Set is filled with nine bouquets of tea leaves that blossom into a myriad of flavors from sweet and subtle to rich and bold. The stylish glass teapot included is ideal to observe the flowering tea petals. A simple luxury that heightens the tea experience and makes for a singular conversation piece, these Leaves of Art are a true tea lover's bliss. We invite you to experience the simple elegance of a true tea transformation–elevating loose leaf tea to the next level: art.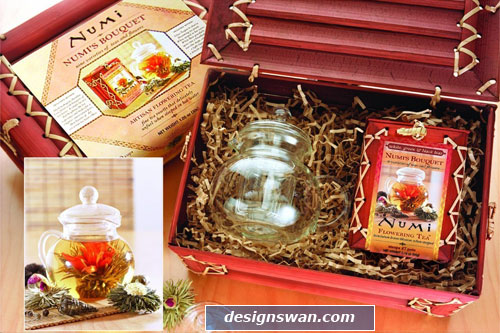 8. Wissotzky Mahogany 9 Flavors Tea Chest Gift Box
[
buy on amazon
]
Warm up to this delicious selection of 90 assorted teas in the eleganty packaged maghogany wooden chest. Our gift boxes provide you and your guests a colorful assortment of 9 black tea, herbal infusions and fruit teas. the chest includes 10 Green with Jasmine teas, 10 Green tea with Verbena and Lemongrass teas, 10 Green tea with Ginger and Lemongrass teas, 10 Earl Grey teas, 10 English Breakfast teas, 10 Chamomile teas, 10 Nana Lemon teas, 10 Mango and Passionfruit teas, 10 Peach teas. Made from a unique generations-old blend, the teas are individually packaged in their own heat-sealed tea packet to preserve freshness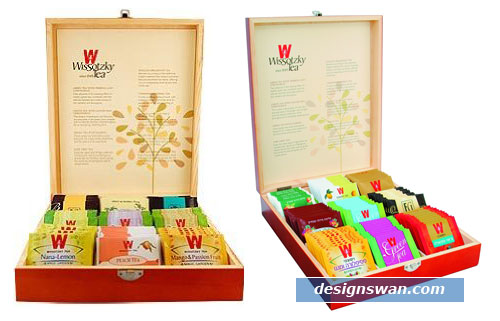 Gifts for SHE
---
9. Ginger Therapy Gift Set [buy on amazon]
Stimulate your skin back to health with this hand- woven gift basket filled with gels, lotions, bath salts and more. Specially formulated with healing ginger. 9 5/8″ diameter x 8 1/2″ high.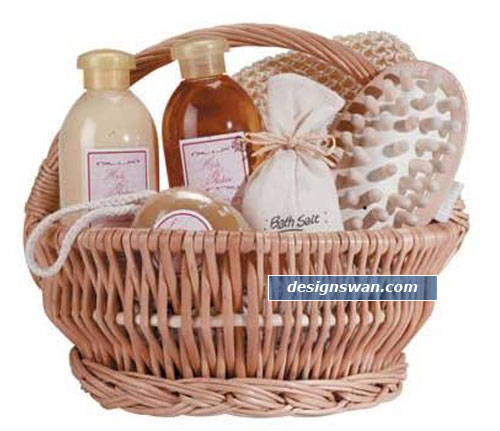 10. Green Tea Zen Calming Spa Bath and Body Set Gift Basket
[
buy on amazon
]
Learn what tranquility is all about and be at peace with our calming Green Tea Zen Spa Set beautifully presented in a spa caddy. Your gift features lightly scented Green Tea Bath Gel, Body Lotion, exfoliating Body Scrub, moisturizing Bath Bar, soothing Bath Salts, an exfoliating Sisal Body Scrubber and 100% Cotton Spa Towel and to make a complete personal spa experience in the privacy of her own home, Green Tea to sip, sooth and unwind with after a long day.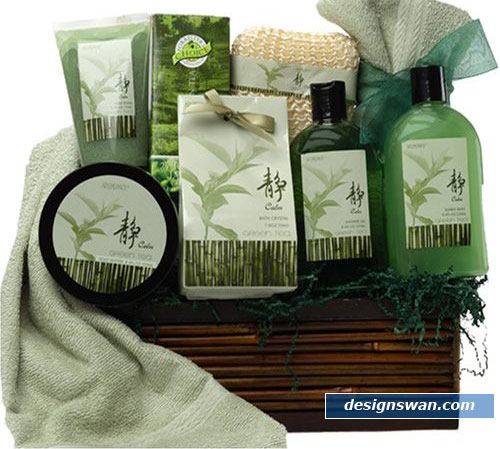 11. Essence of Luxury Spa Bath and Body Gift Basket – Honey Spa Gift Set
[
buy on amazon
]
Send her everything she needs to enjoy a luxurious spa experience in the privacy of her own home. With this gift of simple serenity, she can soak the day away and lavish in our line of relaxing Honey scented spa products at her leisure. Tempt her taste buds with decadent handmade Vanilla Caramels, Angelina's Sweet Butter Cookies, and rich Cafe Latte – pamper her body with Natural Therapy Honey scented moisturizing Body Lotion, Bath and Body Gel, Body Scrub, rich Body Butter, soothing Bath Salts, Hand Soap, fragrant aromatherapy candle to light the room, Sisal Scrubber, Body Scrubber, and 100% Cotton Spa Towel. Your extravagant gift will continue to scent the air around her with fragrant and relaxing Country Cream Potpourri. This home spa collection is all packed into a beautiful keepsake gift basket, perfect for storing treasures for years to come.
12. Renewal Spa Relaxing Lavender Bath and Body Set Gift Basket
[
buy on amazon
]
Pamper her with a personal course in the three R's: Renew… Recharge… Rejuvenate. Our superbly equipped lavender scented spa basket soothes the body and soul starting with a three piece skin reviving loofah set including a sisal back scrubber, mesh body sponge, and body pouf and fragrant potpourri to scent the air.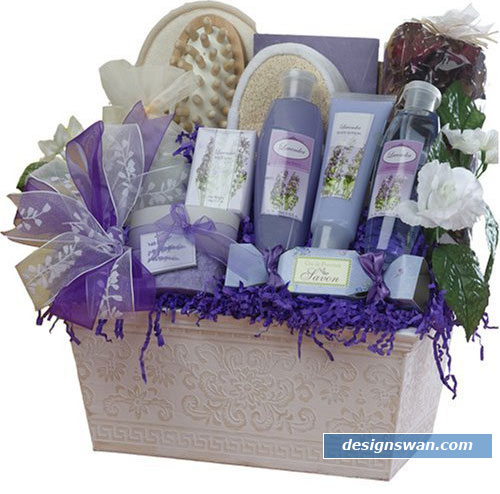 13. Bain D'esprit – Sunflower Spa Bath and Body Set Gift Basket
[
buy on amazon
]
Release the intoxicating floral fragrance of Sunflowers. Some describe it as energetic, refreshing, softly seductive and just plain "happy" making them feel good all day long!Enjoy Sunflower scented Shower Gel, Bubble Bath, Soothing Bath Salts, Moisturizing Body Lotion, Body Wash, Bath Fizzies , Aromatic Sunflower Potpourri and MORE!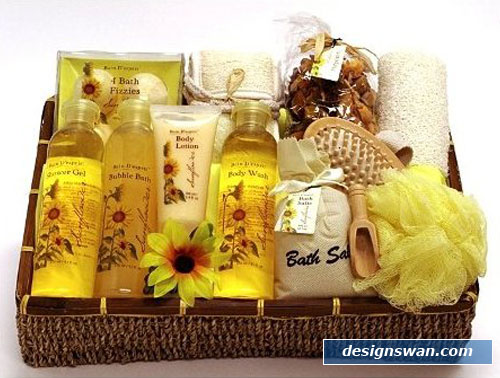 Gifts for CHILD & BABY
---
14. Baby Aspen Five Little Monkeys Five Piece Gift Set [buy on amazon]
Baby Aspen Five Little Monkeys five piece gift set is used to share the cherished memories of your childhood with the beautiful newborn in your life. Bring baby the joy of a timeless nursery rhyme with the "Five Little Monkeys" gift set, delightfully filled with a bunch of adorable baby-sized toys. This charming gift includes a precious, bright-yellow, sweet-faced banana rattle; a plush brown-and-tan monkey; a satin-trimmed, cream-colored "lovie" blanket with a monkey-face appliqué and part of the rhyme embroidered on the satin trim; a door hanger, adorned with a long-tailed monkey hugging a pillow to let company know that "baby's sleeping" and a natural-wood, keepsake basket lined with textured, white fabric featuring part of the rhyme and a smiling monkey on the front.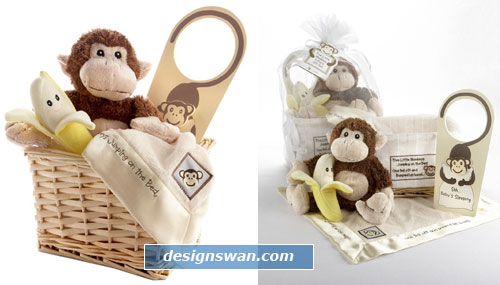 15. 100% Organic Cotton Stuffed Multi Fruit Tote
[
buy on amazon
]
Your child will fall in love with our new fruit tote play set with braided handles! Encouraging children to develop a positive attitude towards vegetables.
* Embroidered message Fresh organic fruit basket.
* Includes Chiquita banana, pear, grape and watermelon.
* Made and stuffed with the finest 100% organic Egyptian cotton.
Gifts for HE
---
16. Military Style Camo Men Gift Set Wallet Watch Knife Pen [buy on amazon]
Create your own Japanese style sushi at home! This kit contains all the basic ingredients and utensils, as well as a detailed recipe book to allow you to make a variety of delicious and exotic sushi. All you provide are the fresh ingredients for filling, such as: avocado, crabmeat, fresh cucumber, shrimp, or whatever suits your fancy! All of the ingredients in the Sushi Chef Kit have been selected for their superior quality and wholesomeness to assure you a satisfying and rewarding adventure into the world of sushi making.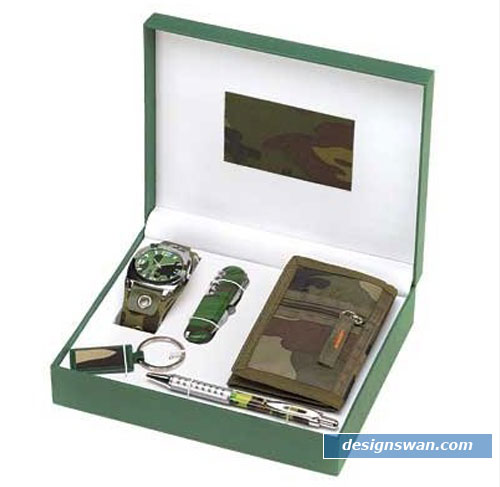 17. Deluxe Wood Wine Gift Set
[
buy on amazon
]
# Military-Style Men'S Gift Set Metal And Plastic Quartz Watch Pocket Knife Wallet Keychain.
# Gift packed in a custom camo-trimmed presentation box.
# This item has high quality with reasonable price.
# Countless millions have doubled over to his jokes, many from laughter, Jackie is quick to point out.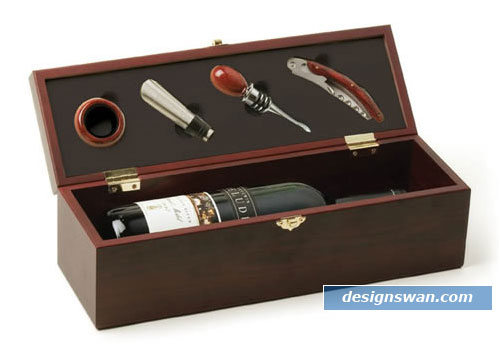 18. Burberry Brit By Burberry For Men
[
buy on amazon
]
Launched by the design house of Burberry in 2005, BURBERRY BRIT is a men's fragrance that possesses a blend of Green Mandarin, Ginger, Bergamot, Wild roses, Cedarwood, Nutmeg and Oriental Woods.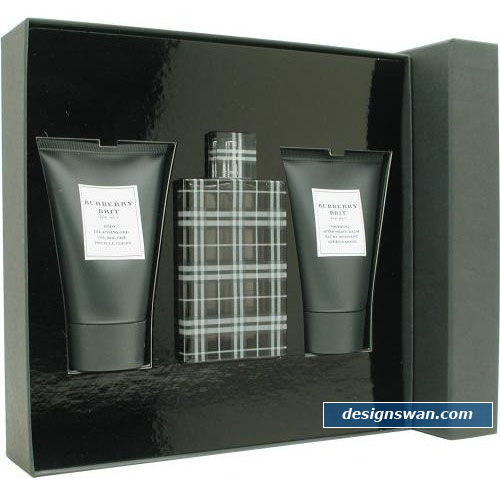 19. Shaving Gift Set with Merkur Safety Razor, Bowl, Shaving Soap, Badger Brush, Stand and Safety Razor
[
buy on amazon
]
A fabulous gift that provides everything one needs for the perfect shave. The set includes a chrome stand that holds a Merkur Classic Safety Razor and a fabulous badger Shaving Brush with a Chrome Handle. Also included in the set is an elegant Chrome Bowl that holds a Colonel Conk Shaving Soap.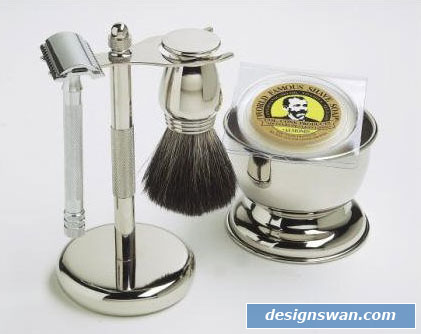 20. 6 oz. Stainless Steel Flask, Funnel & Unique Money Clip
[
buy on amazon
]
This classic gift set includes a hip flask, two stainless steel shot glasses, and a flask funnel. The flask has a leather inset with silver screened print and the Jack Daniel's Simplified Label logo on the front of the ribbed flask with captive top. The shot glasses are decorated with the Jack Daniel's Swing logo on one side and the Old No. 7 button logo on the other. The flask funnel is engraved with "Jack Daniel's," and a stylish black gift box completes the item.