With Christmas around corner, we can see more and more people have started to put up the Christmas decoration. Lights are on and tree is up, everything looks very festive-ish inside. But how about your front door? If you want to add some festive feeling to this always overlooked area, go through the article. We have handpicked 5 different ways to decorate your front door. You can use all or some of them to lighten up your front door and spread the festive feeling.
1. Christmas Garland Over Door 9Ft Prelit Artificial Christmas Garland
9 Foot by 10 inch pre-lit Christmas garland is wrapped around with 100 LED warm white string lights.When you turn on the Xmas garland,the built-in auto timer will be activated, and it will be automatically 6 hours on and 18 hours off each day.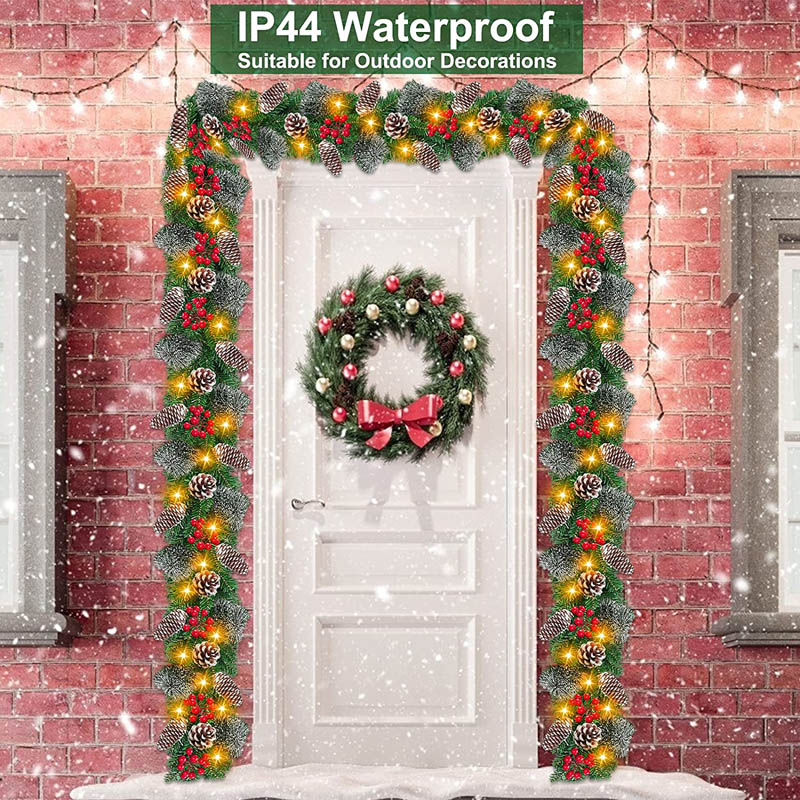 [buy on amazon]
Pre-Lit 6 Feet Elegant Champagne Gold Christmas Garland
This 6ft Christmas garland is full of Christmas balls, flowers, berries, pine cones and other rich elements, creating an elegant scene and bringing festive atmosphere. This lighted garland is 6 hours on, 18 hours off, auto-cycle daily, dimmable with 8 light effects. This hanging garland length is approx 6 feet/1.83m, suitable to use for front door, wall, fireplace or above the mantle.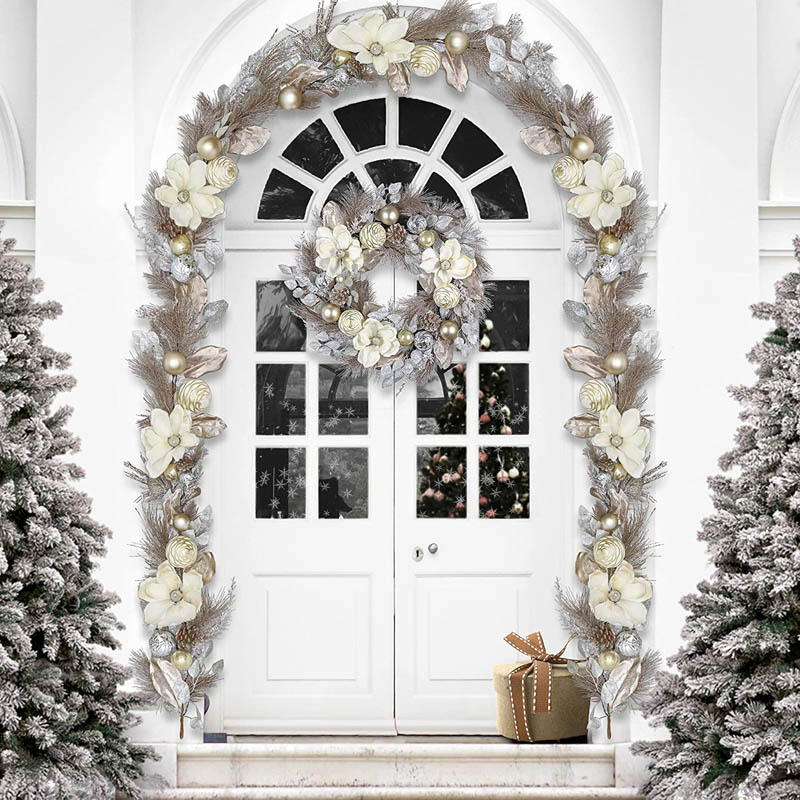 [buy on amazon]
9ft Christmas Garland with 50 Lights
This garland comes with 50 warm yellow LED lights. It can be used indoor and outdoor. 0.1 inch thick branches used flame-resistant, non-toxic PVC material. It will not left any chemical smell after you touching it. The length of the Christmas garland is 9 feet and the width is 10 inches.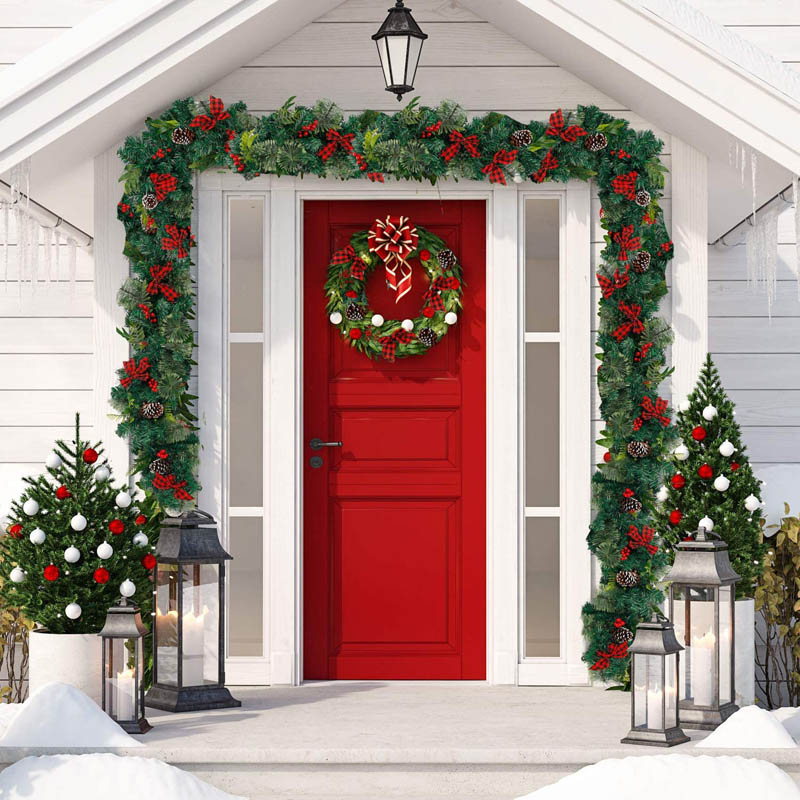 [buy on amazon]
Pre-Lit 9 Feet Frozen Winter Silver White Christmas Garland
This 9ft long Christmas wreath is full of Christmas balls, snowflakes, pine cones, bow ribbons, pine needles and other rich elements, creating a snow-covered scene and bringing festive atmosphere. This wreath with lights is 6 hours on, 18 hours off, auto-cycle daily, dimmable with 8 light effect. This hanging garland length is approx 9 feet/108 inch.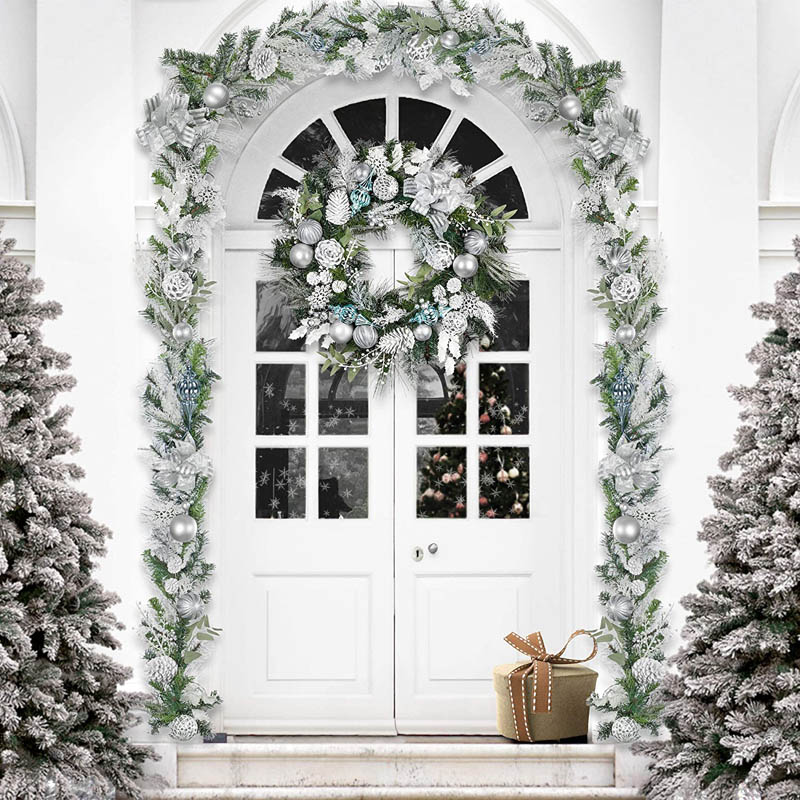 [buy on amazon]
2. Christmas Door Wreath 24 Inches Artificial Wreath with Pinecone Antler Cypress Leaves
he wreath are made of high grade fiber and UV resistant plastic to prevent fading and will look great for years, each ornament is handmade with care. The wreath is made of natural vines, it measures 24″L*24″W*6″H. the rustic design adds a country touch to your door, mirror or wall to bring an enjoyable ambiance all year round, you can hang it on any places.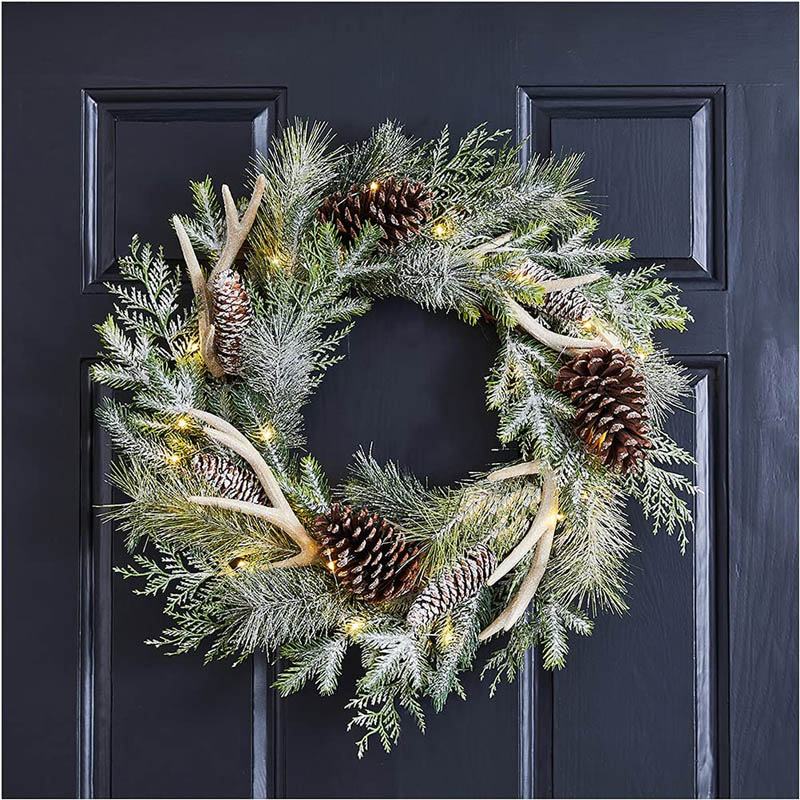 [buy on amazon]
24″ Snow Flocked Pine Cone Grapevine Frosted Wreath
Lifelike and eye-catching Xmas design. Handmade with bright red berries, plump snowy pine cones and lush white greenery on a sturdy thick grapevine base. The eucalyptus leaves and fir branches look full and durable. You can use this adorable Christmas wreath both indoor and outdoor. Hang it above your fireplace, front door, windows or as a indoor wall decoration, this wreath will bring you an enjoyable festival ambiance.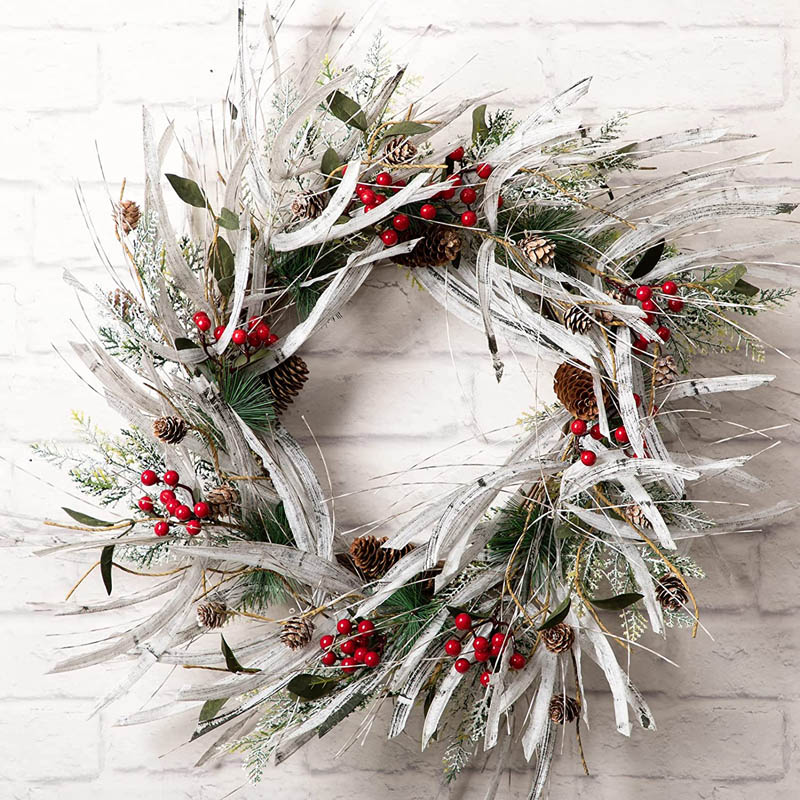 [buy on amazon]
16 x 8 Inch Lighted Snowman Christmas Wreath Decoration
This delightful door wreath features a red hat and brown bow on a sturdy natural rattan base; 15 led light and Green PVC pine leaves and 2 small bells in the middle of the wreath. Measures 16 inch height and 8.51 inch width in maximal side. This holiday wreath is made from rattan, pine cone, plastic leaves and cloth, eco-friendly and harmless.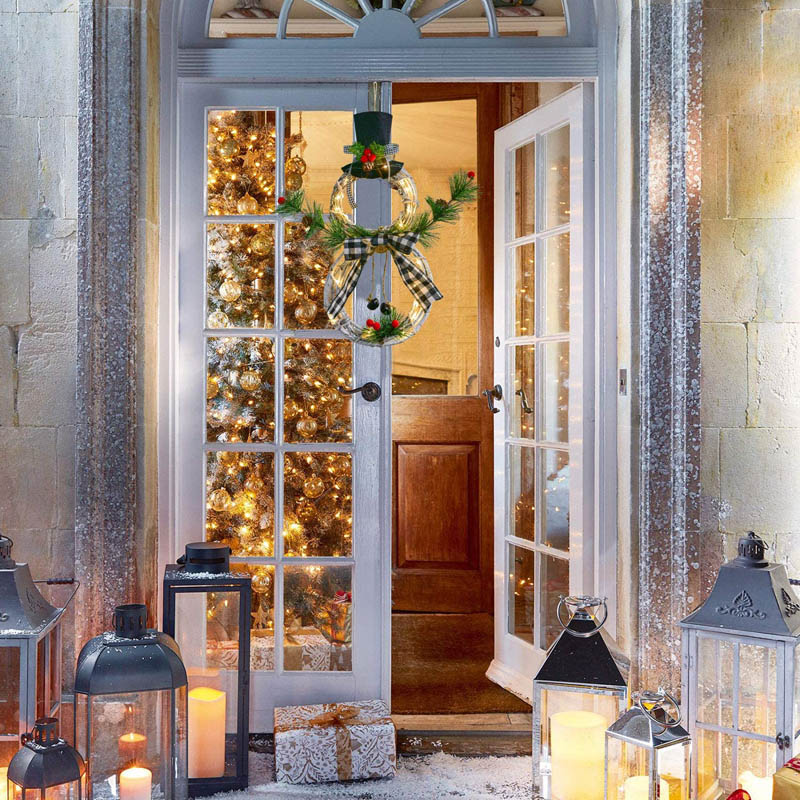 [buy on amazon]
20 Inch Christmas Wreath with Pinecone Berries
This christmas door wreath handcrafted with pine stems, pinecones, red berry clusters, and olive leaves on a substantial natural grapevine wreath,which together add a hint of Christmas flavor. his outdoor christmas wreath measures 50cm/20 inches when fully expanded, its rattan hoop measures 30cm/11.8 inch outer diameter.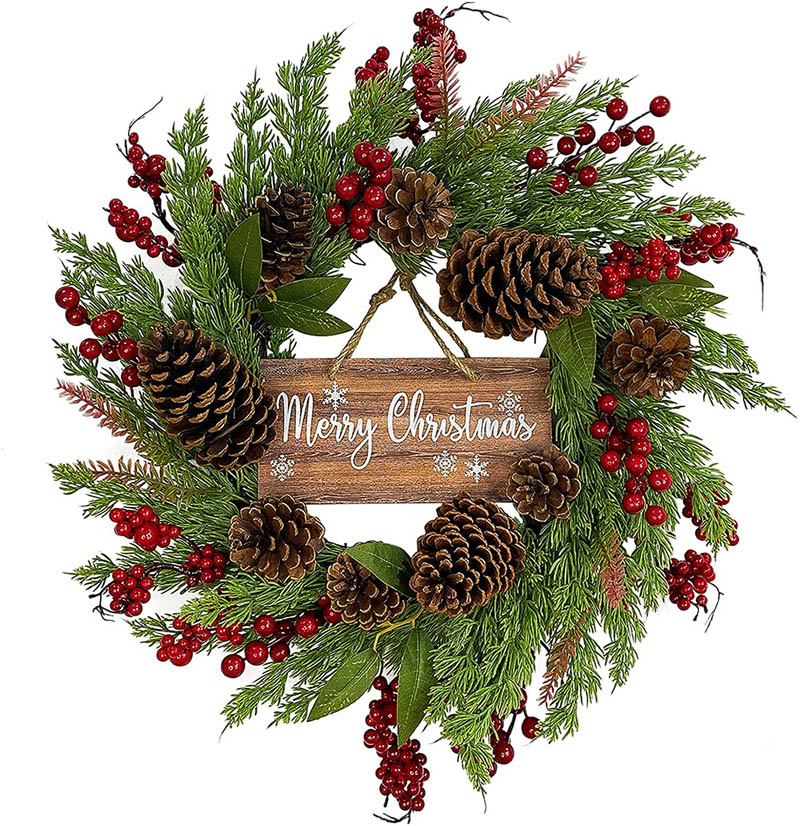 [buy on amazon]
16 Inch Christmas Ball Wreath
Bright colors with harmonious color match and riband; 3 kinds of balls are included: bright colors/matte colors/glittering colors. Plastic, it's not easy to get broken on the shipping way, it's non-allergenic for most people, and it won't injure the people.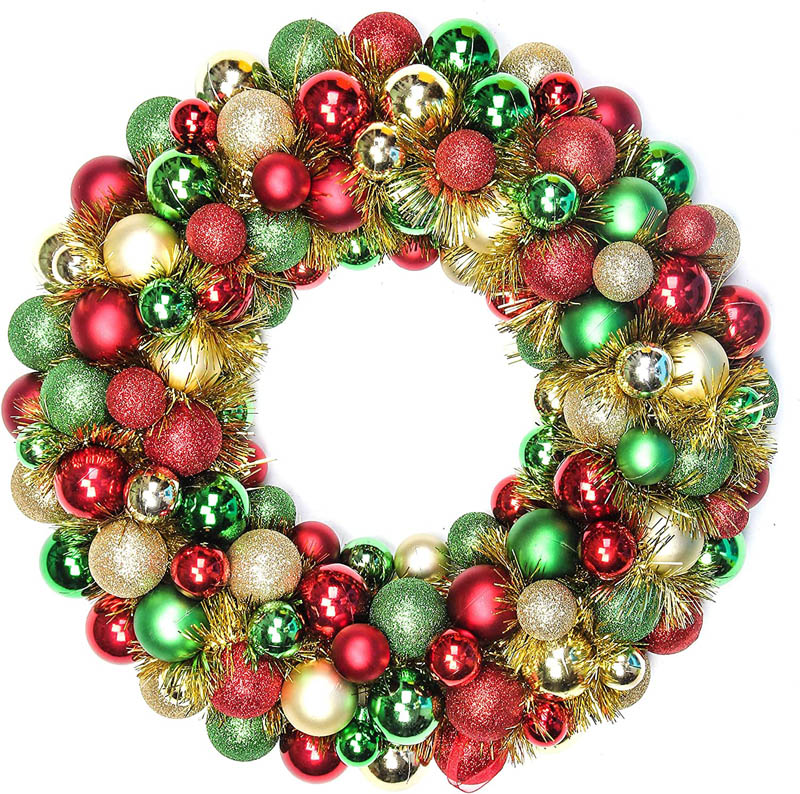 [buy on amazon]
Pre-Lit 24 inch Traditional Red White Lighted Christmas Wreath
The door wreath is suitable to use for indoor, outdoor, wall, fireplace,window or above the mantle in your house. This 24" Christmas wreath is full of Christmas balls, berries, pine cones and other rich elements, creating a classic scene, conveying traditional festive feelings.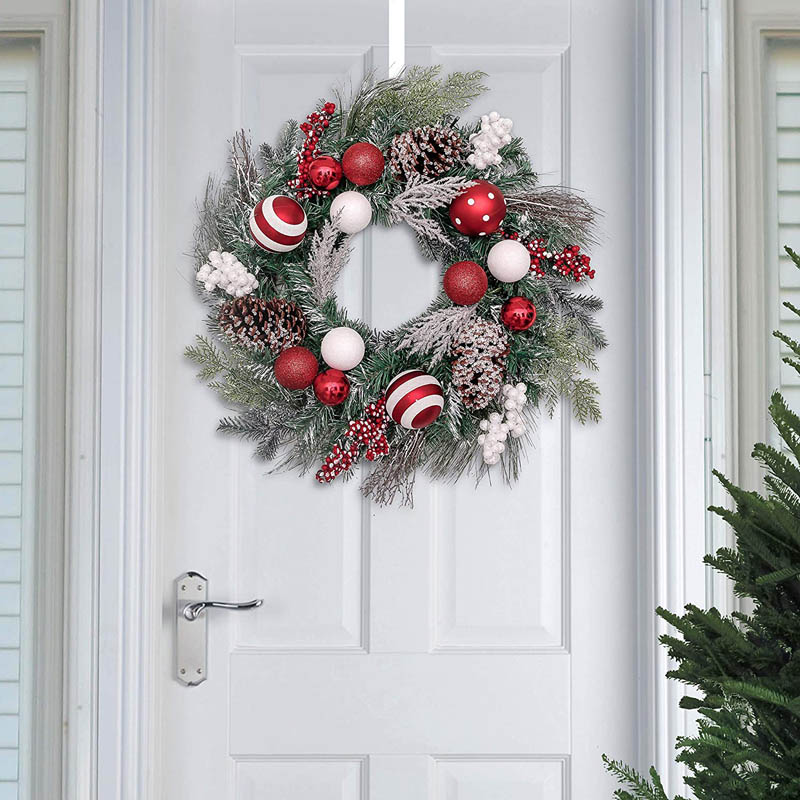 [buy on amazon]
16 Inch Pre-Lit Christmas Wreath
Juegoal 16″ Christmas Wreath with Metal Hanger is pre-lit with 40 warm white LED lights. The needles of this Christmas wreath are made of premium environment-friendly PVC, look ultra-realistic and lifelike, helps to add a touch of color and the feel of nature to your home. Handcrafted with spruce branch tips, large red bowknot, red and gold balls on a plastic wreath base.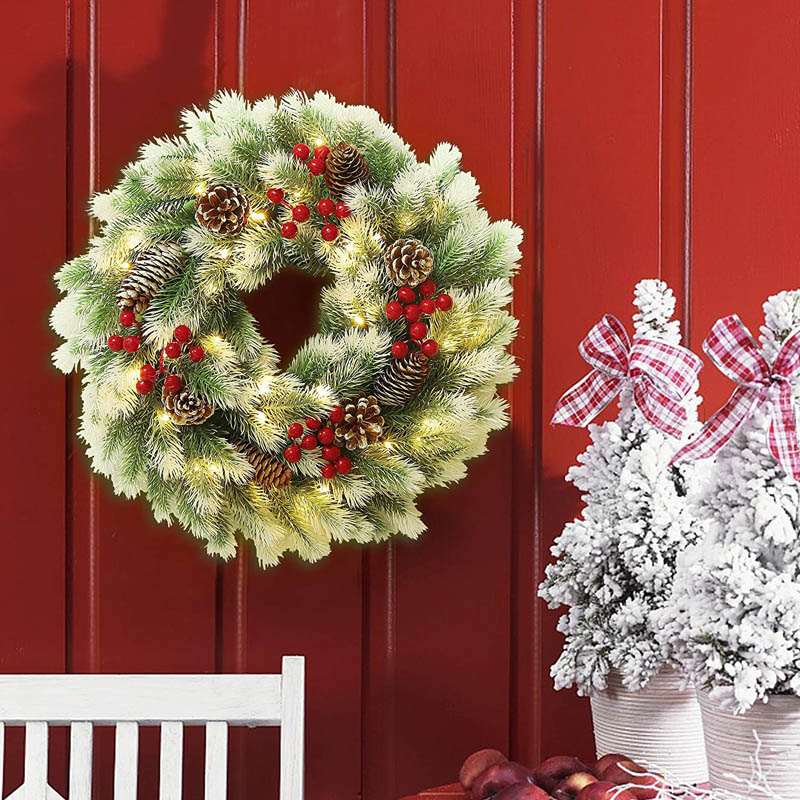 [buy on amazon]
Christmas Wreath Gnome with Pine Needle
The hanging wall decor includes striped knitted hat gnome and artificial pine needle.The gnome holds a card printing MERRY Christmas in hands to greet everyone. Made of high quality polyester materials.Durable, safe and non-toxic.The plush nose gnome has woven hat with faux fur hat trim and soft pom pom.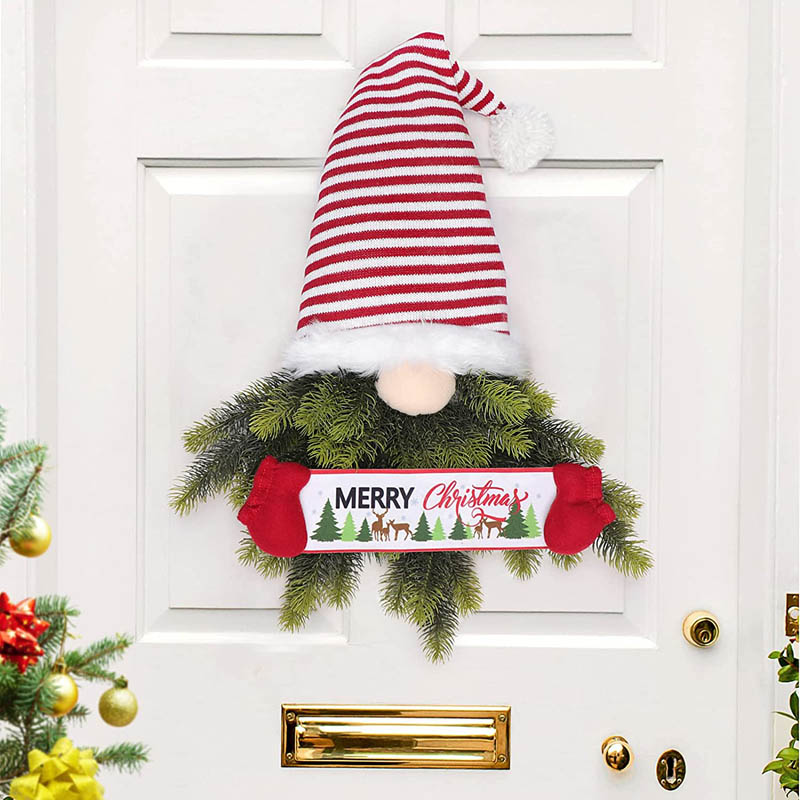 [buy on amazon]
3. Christmas Door Bell Decoration Christmas Bells Door Hanger
A set of two silver bells with pine, berry and ribbon accents. Hang on your door, use as wall decor, hang on your porch, or even top your Christmas tree.
Each bell 5.5 inches tall by 4.75 inches diameter; entire arrangement is 11 x 8 x 5 inches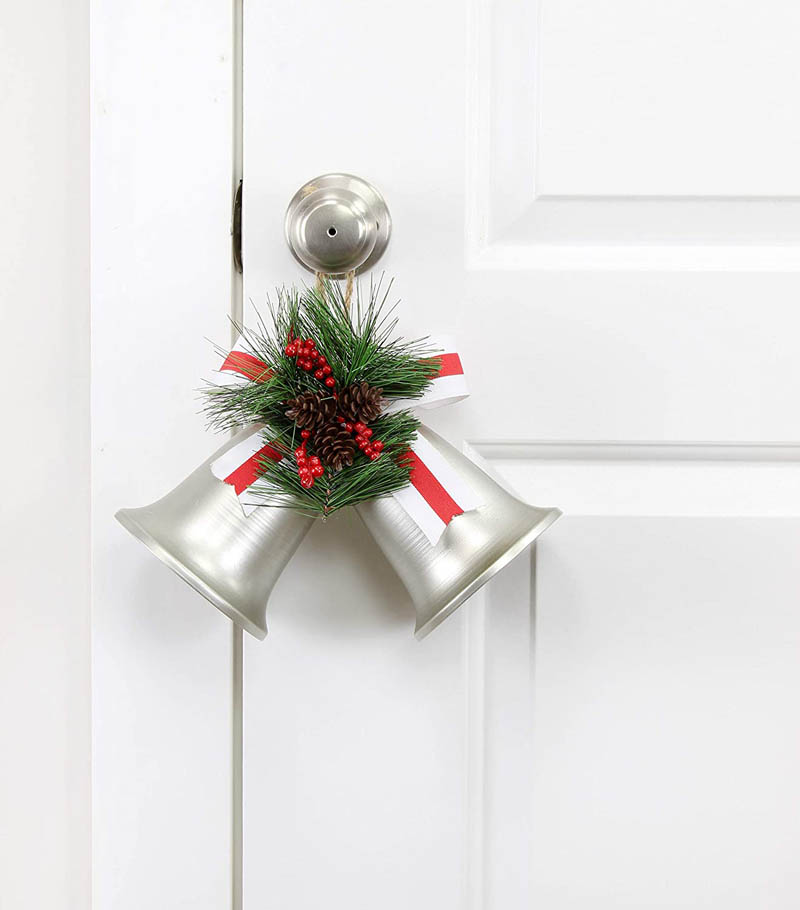 [buy on amazon]
Rustic Liberty Bell Christmas Door Knob Hanger
12.5-INCH RUSTIC LIBERTY BELL CHRISTMAS DOOR KNOB HANGER DECORATION will add a charming touch to your holiday home decor. Hang this classic country decoration on your front door to greet your guests, or inside your home for a cheerful reminder of the holidays.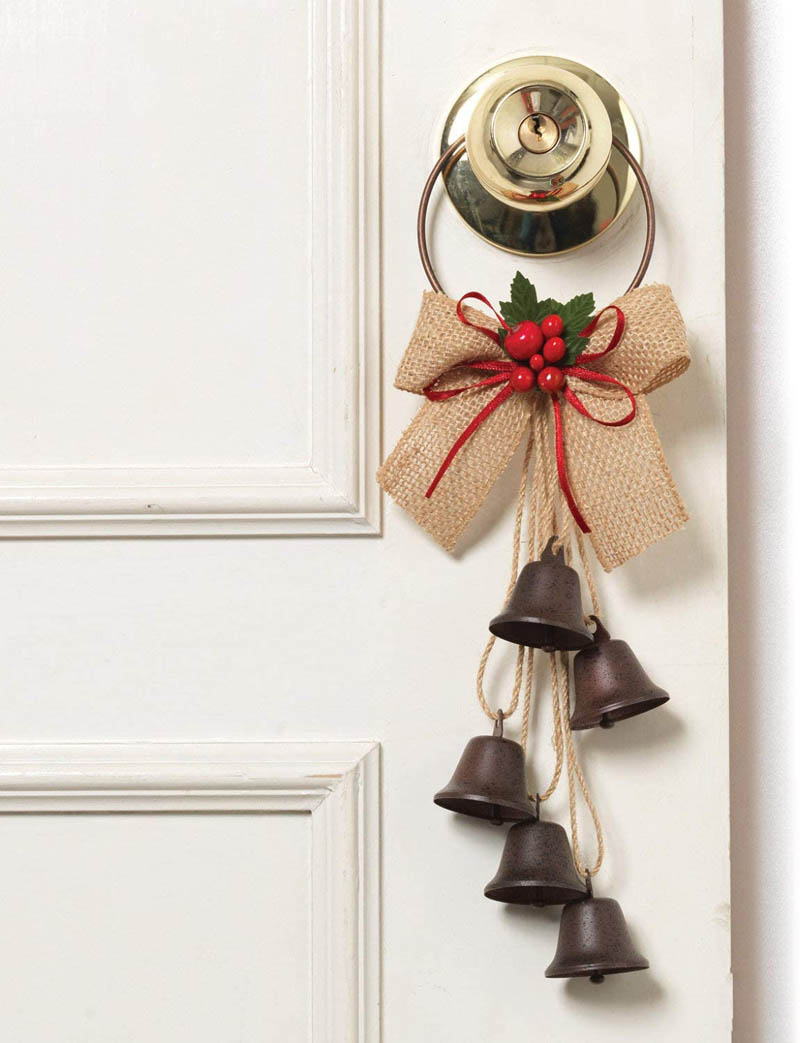 [buy on amazon]
Plush Christmas Door Hangers
Decorated in festive patterns with a snowman and Santa Claus design, these christmas door hangers will add joy and cheer to your holiday decor. Easily hang this set of door hangers on your front door for guest to be greeted with a cute christmas decor. Each plush hanging Christmas decor measures 7 x 2.5 x 12 inches.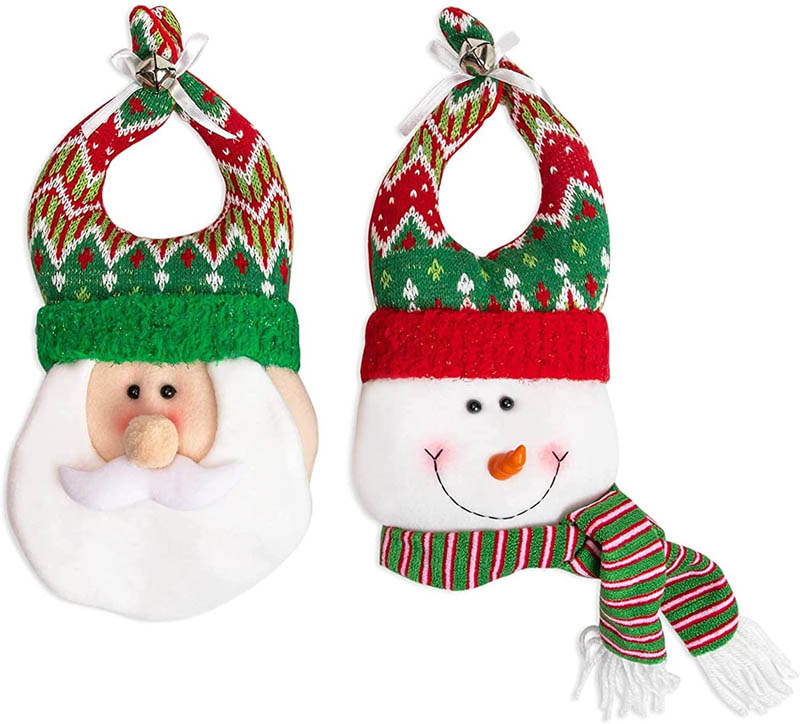 [buy on amazon]
Christmas Door Mat Decoration Christmas Reindeer Door Mat
Outdoor mat is made with durable materials. Non-slip rubber backing of front door mat prevents sliding on the floor surface. Dirt-stopper anti-spill edge keeps all water on the mat. Perfect 18×30 indoor front doormat size and low-profile of outdoor door mat guarantee easy door movement so doors won't get stuck.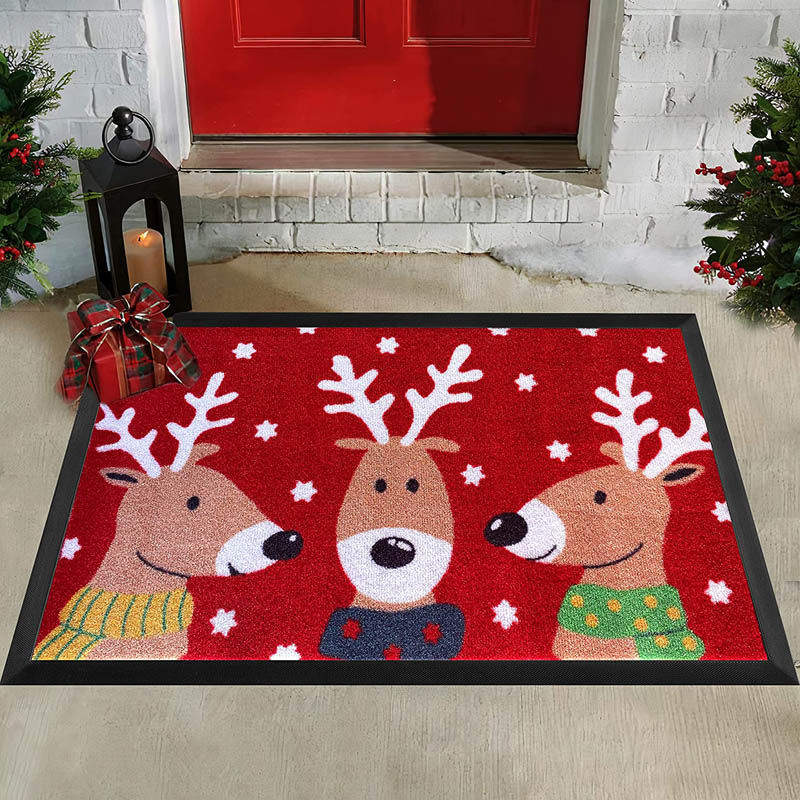 [buy on amazon]
Christmas Dog Door Mat
Sturdy fibers quickly clean messy footwear
Made with Natural, biodegradable coconut fiber (coir)
All-weather resistant & sustainable
Easy to clean, shake it out, vacuum, or spray with hose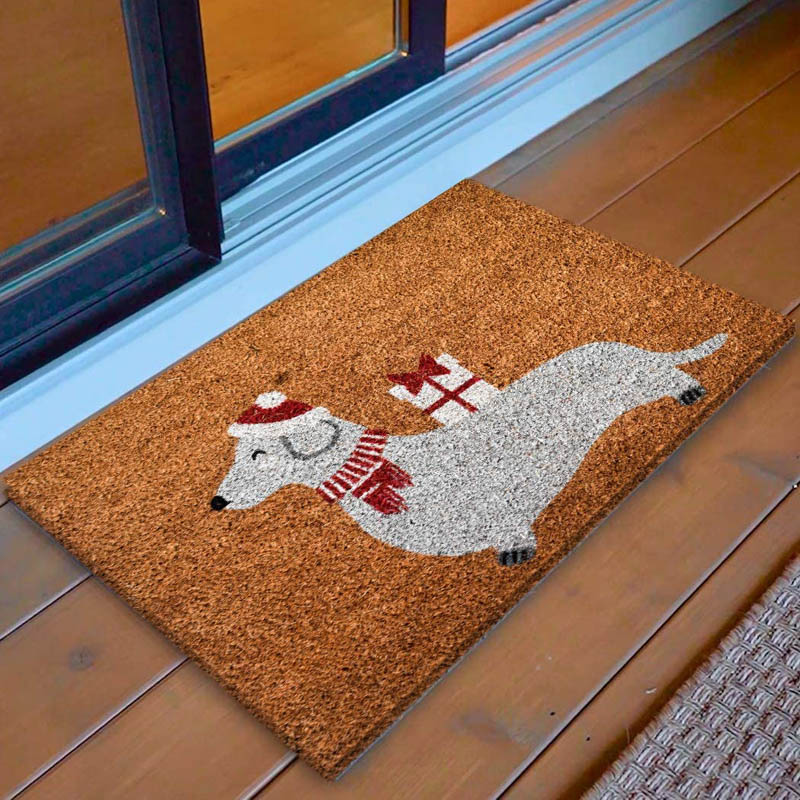 [buy on amazon]
Christmas Non-Slip Visual Door Mat
This Christmas doormat is made of soft flannel, the bottom is PVC, and the middle is sponge, which makes the carpet non-slip. Anti-slip door mats are garage front doors, back doors, exterior courtyard entrance passages, homes, gardens. Carpet adopts illusion and classic pattern design, making you feel like you are in a black hole. This will be the most eye-catching design decoration in your home. Your friends and guests will remember it.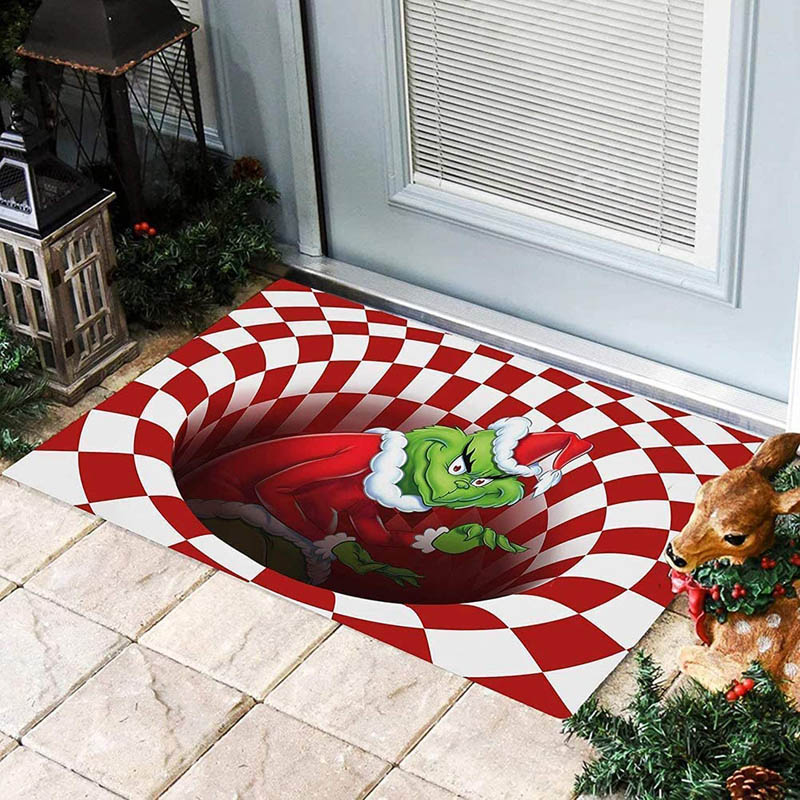 [buy on amazon]
Christmas Outdoor Light Decoration Christmas Outdoor Novelty Hanging 3D Light
3D Jingling Bell acrylic hanging lamp,made with high-quality material and high light transmittance as the light board, and the light source adopted 113 bright led beads,which made the overall look very transparent and bright after lighting.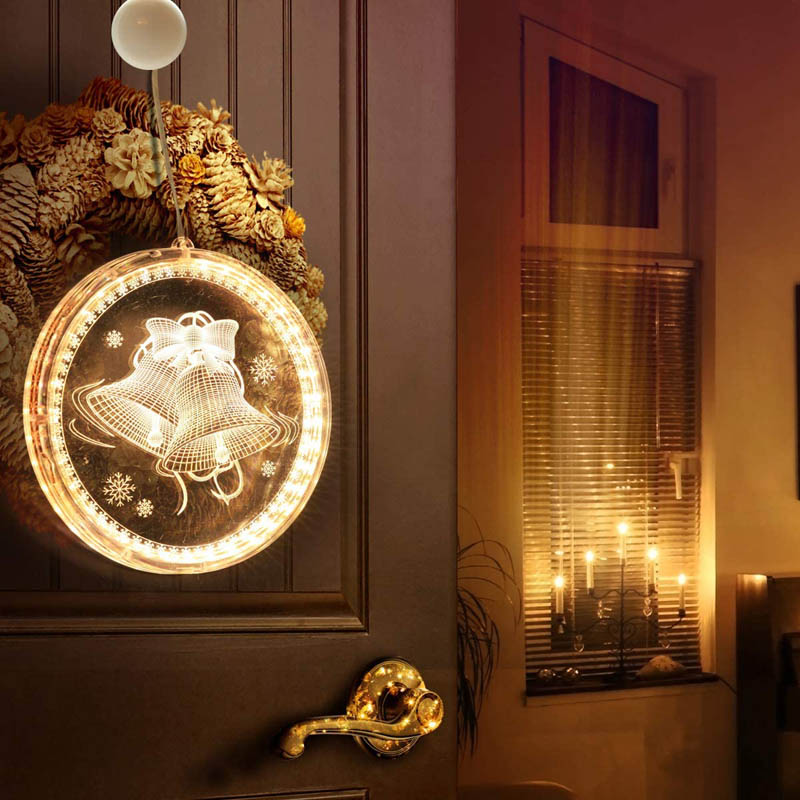 [buy on amazon]
Front Porch Decor Wooden Wall Sign with 12 LED Lights
The handmade welcome sign is composed of 5 color blocks, made of MDF material, braided hanging rope,giving it superior durability. The welcome sign surrounded by 12 LED's which creates a warm atmosphere at night, powered by 3*AA batteriesw(battery not included). Set the button to "Timer" to set the auto on/off feature which turns it off after 6 hours.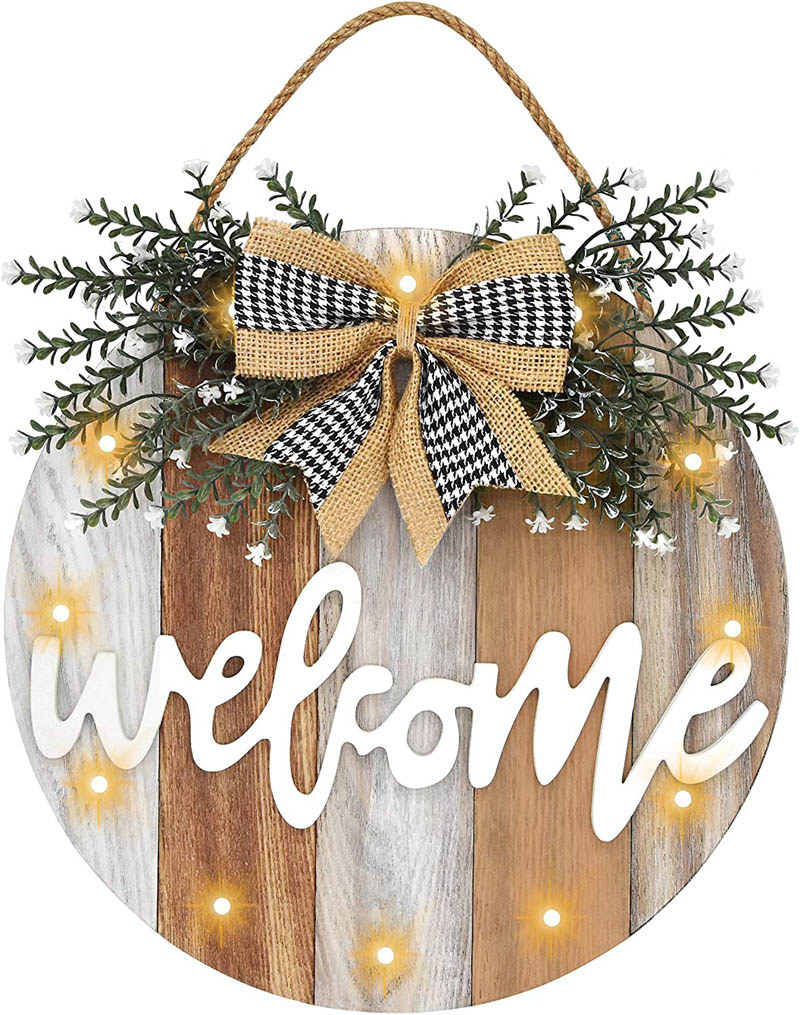 [buy on amazon]
Glory Island Christmas Sign for Front Door
The wooden door hanging sign has an eye-catching appearance, the red letters "Christmas" stands out clearly. Hang it on your front door to create a Xmas atmosphere and welcome your guests and friends. he 3D effect patterns on the sign are carved out of wood, including Christmas trees, reindeer, gift box and village. There is also a big burlap bow, red berries and pine needles on the top, making the hanging wooden sign more attractive.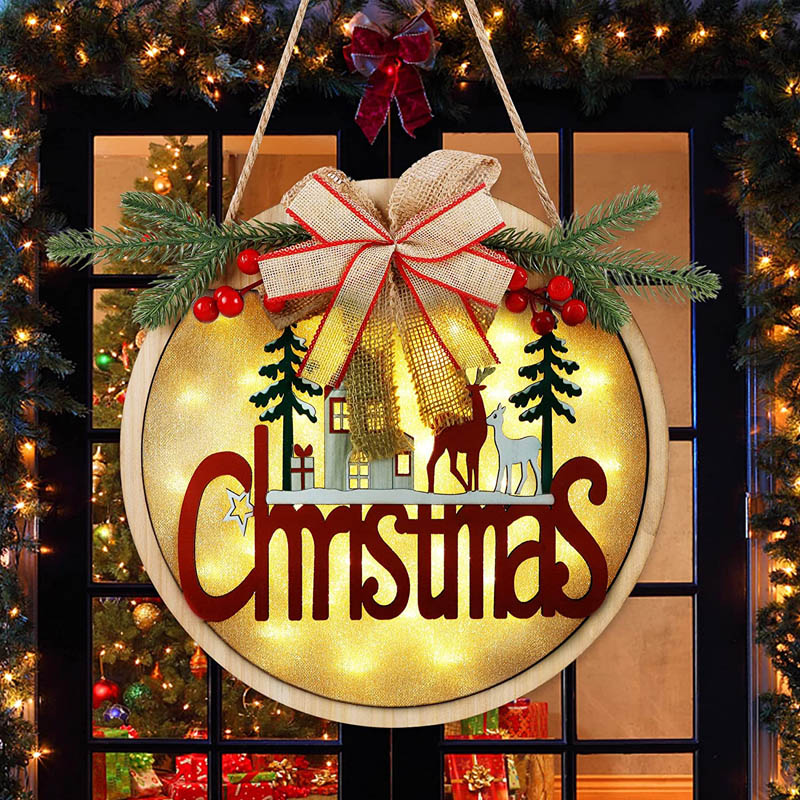 [buy on amazon]