No matter you have a deliciated mudroom or just a short entryway before entering your living space, this part area is often not that pleasant. If you are tired of picking coats off the floor, throwing guests coats on the sofa, or you haven't seen your staircase newel post for several months (years), it's time to fix that.
We have handpicked 22 Hall Tree Benches, which are designed to find your hats, scarves, mittens and hats, scarves, gloves or bags a permanent home. And the shoes will not get into your way any more.
Sounds great? Just take a look at below collection: compact, spacious, open shelf, covered storage, there are so many options available. Give these are pivotal furniture moments a chance since they will turn your place around and win back an organized hallway.
---
Multi-functional Hall Tree For Spacious Area
---
Open Shelf Solution
VASAGLE ALINRU Hall Tree
A coat stand, grid memo board, sitting bench, and shoe shelves unite on this multifunctional hall tree! Put on your shoes while sitting on the bench (max. static load: 220 lb), grab your coat, and leave a loving note on the grid board for your loved one.
1 Shoe Rack, 2 Shelves, 3 Possibilities: The two stable grid shelves of this coat rack can accommodate a variety of shoes.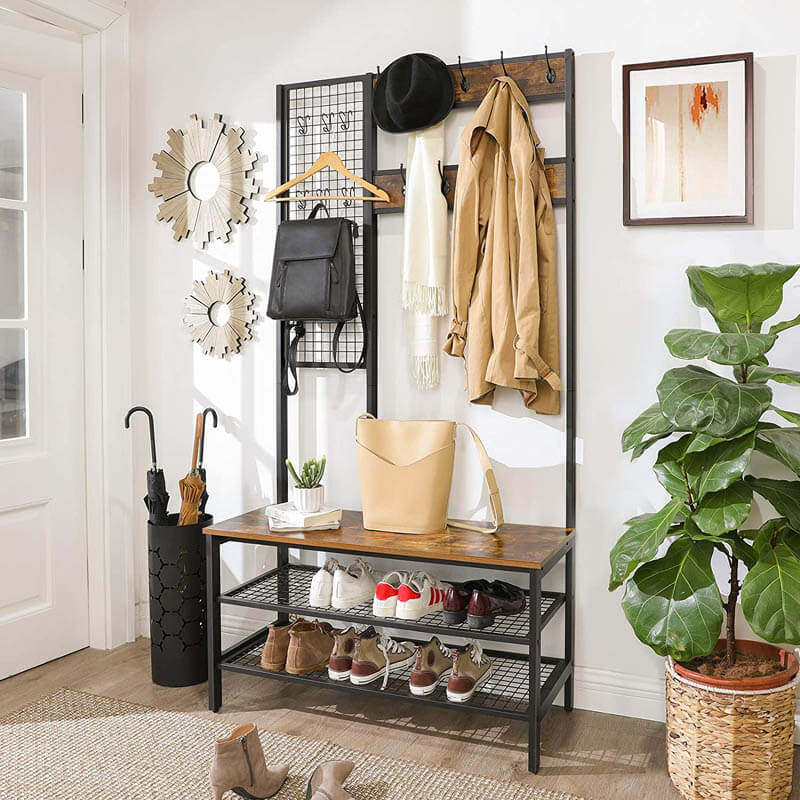 VIPEK Wooden Entryway Coat Rack Shoe Bench, 4-in-1
Featuring 5 storage cubes, 2 shelves and a shoe bench, a perfect combo of multifunction storage space ensures you enough space to place your clothes, scarves, shoes, or handbags. It is carefully crafted to fit all spaces, whether it's a entryway, hall, foyer, hallway, bedroom, mud room or office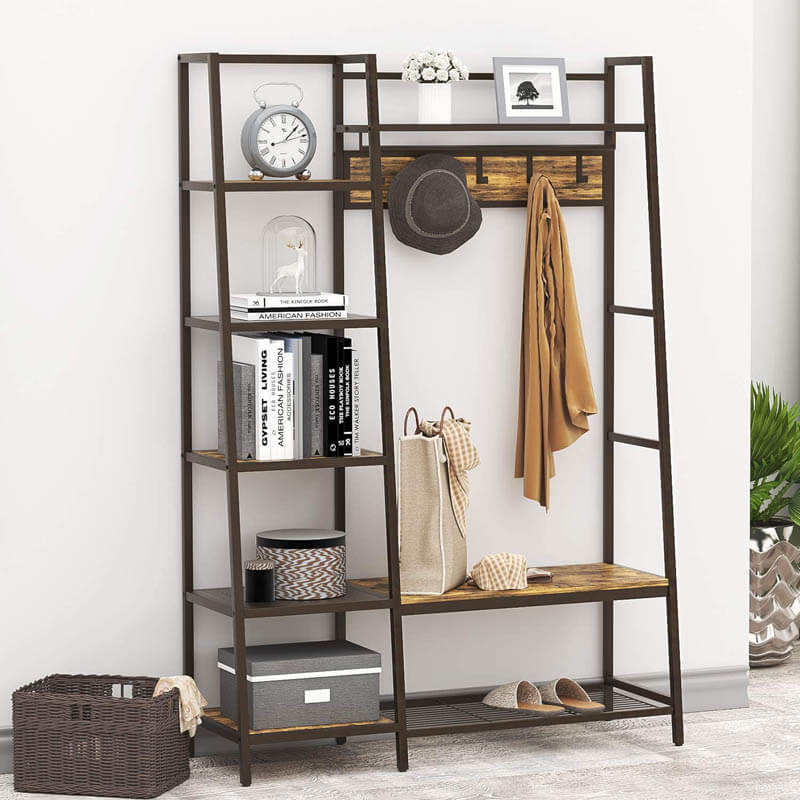 Rolanstar Hall Tree Bench
Keep your room free of clutter with this functional hall tree. This hall tree perfectly combines a 5-tier side shelf, coat racks, hanging rail, shoe bench with storage shelf for better organization in your home.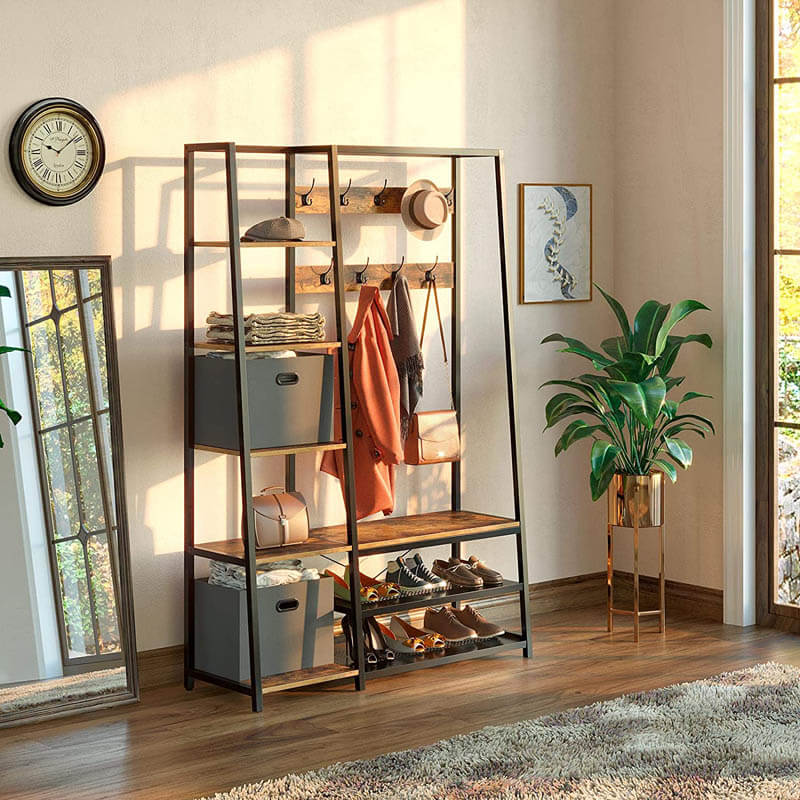 HOMYSHOPY Industrial Hall Tree Shoe Bench, 5 in 1
Featuring a hanging rail, several hooks and 2-shelves shoe bench, which allow person to sit on(holds up to 250 pounds), and the lower shelf is perfect for organizing slipper and shoes. The middle grid panel give you a personal free-zone, use it for clamping photos, memos or postcards; it also comes with 4 extra movable hooks for keys, umbrella or other things.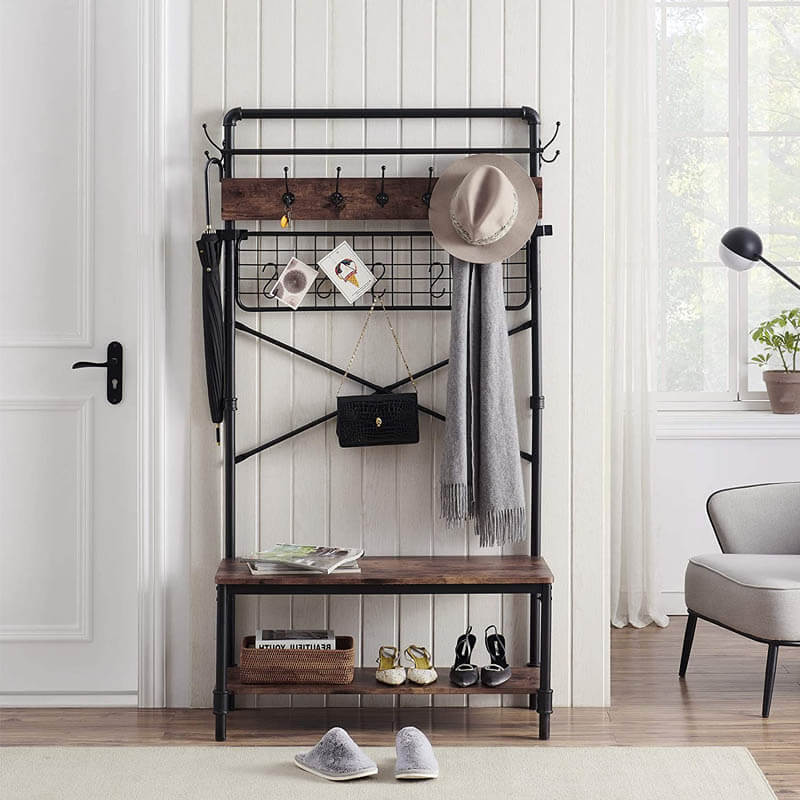 HOMYSHOPY Entryway Hall Tree with Removable Hooks
Featuring 5 storage cubes, 2 shelves and a long bench, the storage shelves are spacious for storing books and displaying your favorate showpieces. Bench included to sit on or keep your bags, and a lower shelf for organizing shoes. Five removable hooks and a garment rod, it's sure to help clear up home clutter. Set a place to hang your coat, scarf and hat when you walk in the door, and have everything you need to walk out of the door in one place.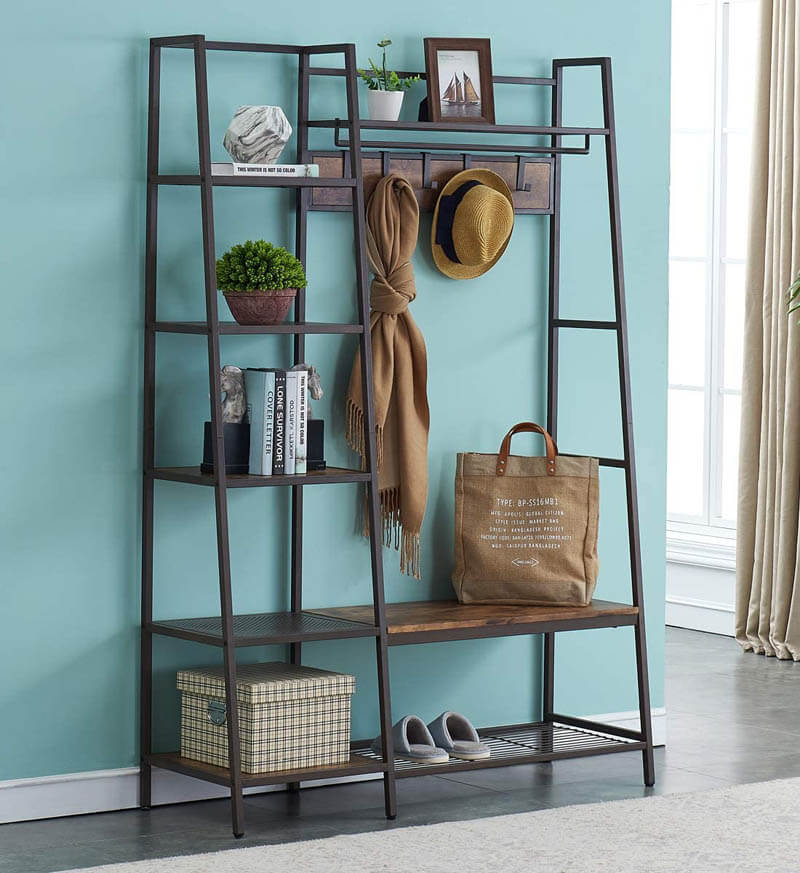 Prepac 60″ 24 Shoe Cubbies Wide Hall Tree
Organize and style your entryway with the Prepack 60″ Wide HALL Tree. Standing at 77″ Tall and 60″ Wide, This hall tree will provide all the storage space needed for your entryway belongings. Store your larger items in the 3 upper compartments, and hang your jackets, scarves, purses and hats on the 6 h4 double coat Hooks. A wide bench, with plenty of room, sits on top of 24 individual shoe cubbies. Each shoe cubby is spacious enough to hold a pair of size 13 Men's shoes, keeping them neatly stored and out of the way.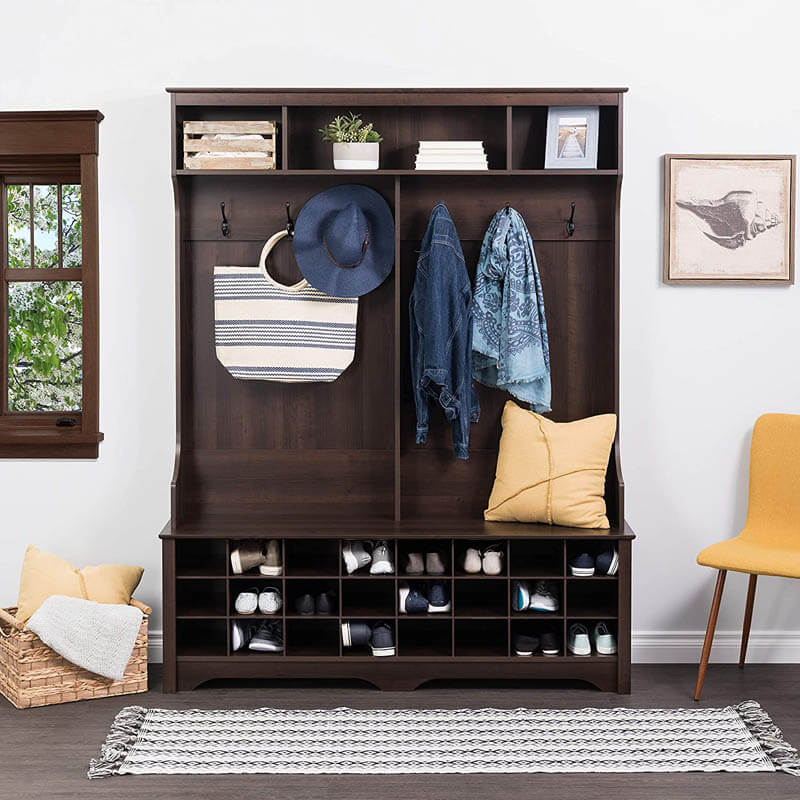 HOMEKOKO Hall Tree Entryway Storage Bench
This industrial-style coat rack combines 3 major functions: It offers numerous hooks for hanging jackets or bags, a shoe rack with two mesh shelves for storage and a seat for sitting. The top of the shoe bench board with a load capacity of 330 lbs can be used to store handbags or storage boxes.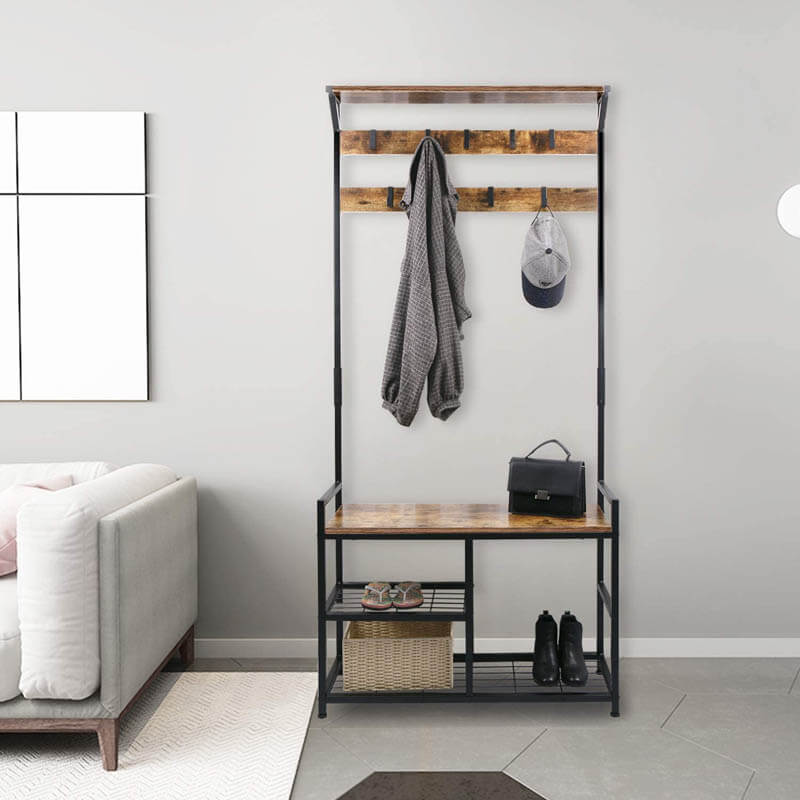 Close Storage Solution
Wood Hall Tree Coat Rack with Open Storage
The bone-chilling wind may blow you into the house, but you won't mind removing your coat, boots, and hat to place them on this trendy hall tree, once you get inside. The four-pronged hooks are screaming for something to hold onto and you do them a favor when you hang up umbrellas or jackets. Put a blanket and some slippers on shelves hidden behind peek-a-boo doors for immediate comfort on entering your home.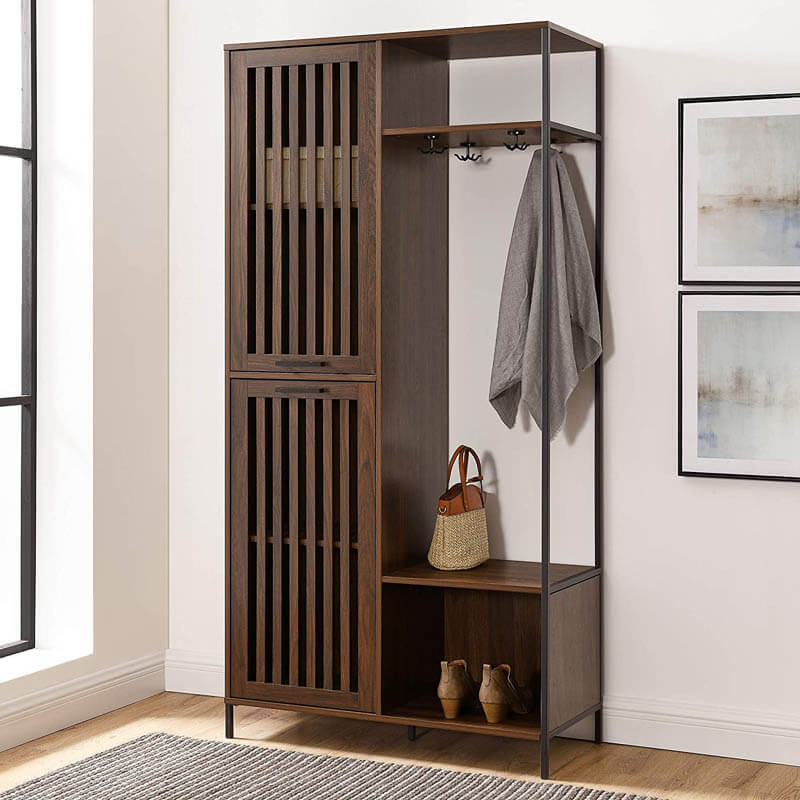 Seaside Hall Tree – Distressed White
Capture the feeling of an effortless beach home with the Seaside Hall Tree from Crosley.
Have a seat on the full-sized bench seat, perfect for getting ready for the day. Constructed from solid hardwood and veneers, the weathered surface softens the classical lines and suits any home. Pull the drop-down drawers forward with genuine metal hardware and find two spacious cubbies inside, perfect for storing shoes, scarves, and other clutter best kept out of sight.
The tall, slatted back is equipped with hooks for hanging coats out of the way, and two more overhead cubbies offer space for decor or storage. Drop-down door has a magnetic closure.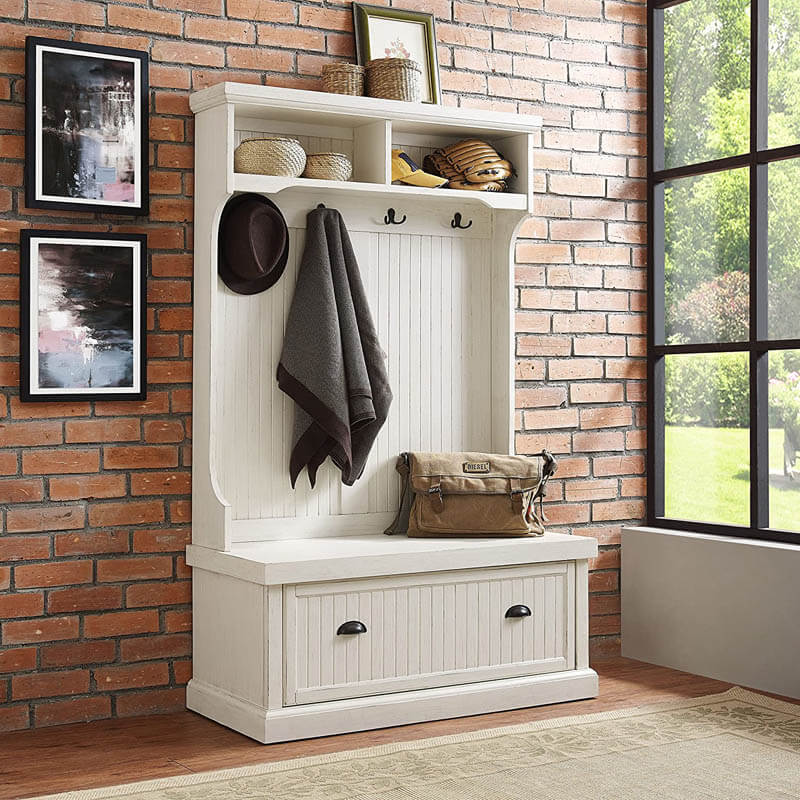 Hall Tree Bench, Weathered Finish
It features an upright back that includes five double hooks for convenient and easy access storage of items like coats, scarves, backpacks and more! Above the hooks is a large, decorative mirror that is ideal for checking your hair and makeup before you head out the door.
This entryway storage solution also features a comfortable bench seat so you can sit down while you tie your shoes or kick off your boots. Below the bench is cubbyhole storage that is compatible with Better Homes & Gardens 15-inch storage bins for easy containment of other miscellaneous items. Its beautiful Weathered finish will give your home that rustic charm that you love.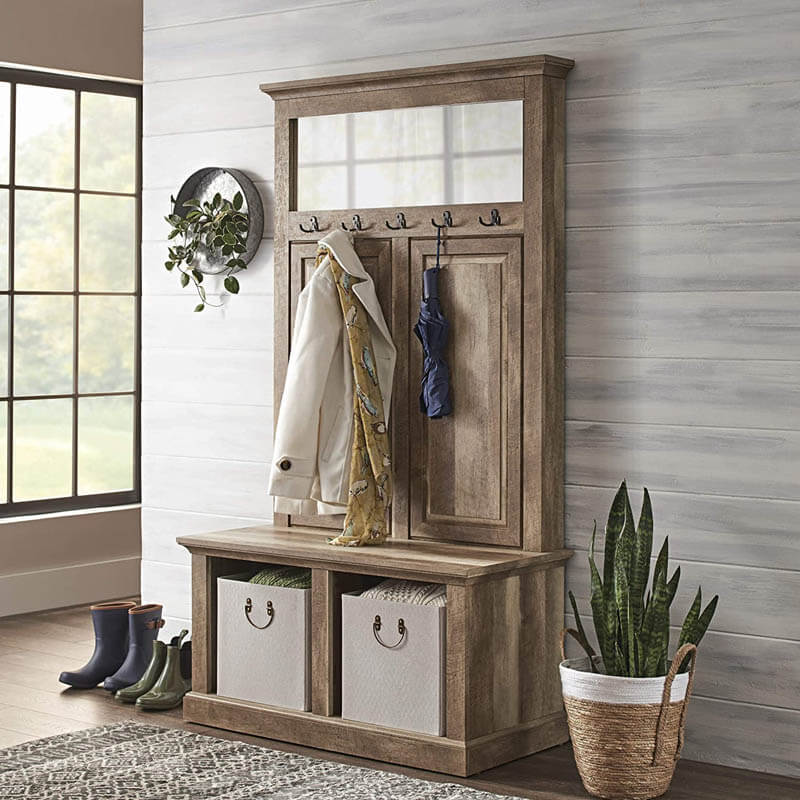 Rustic Entryway Coat Garment Rack Shoes Storage Shelves
Open Compartment with Mirrrored Back Panel & Hanging Rod, 1 Doors (Inside 10 Shoe Compartments), 1 Drawer. Wooden Case Frame: Rustic Finish. Metal Straight Leg
Materials: Mirror, Wood, Veneer, Composite Wood
Storage : 1 Door, 1 Drawer, Mirrored Back Panel w/Hanging Rod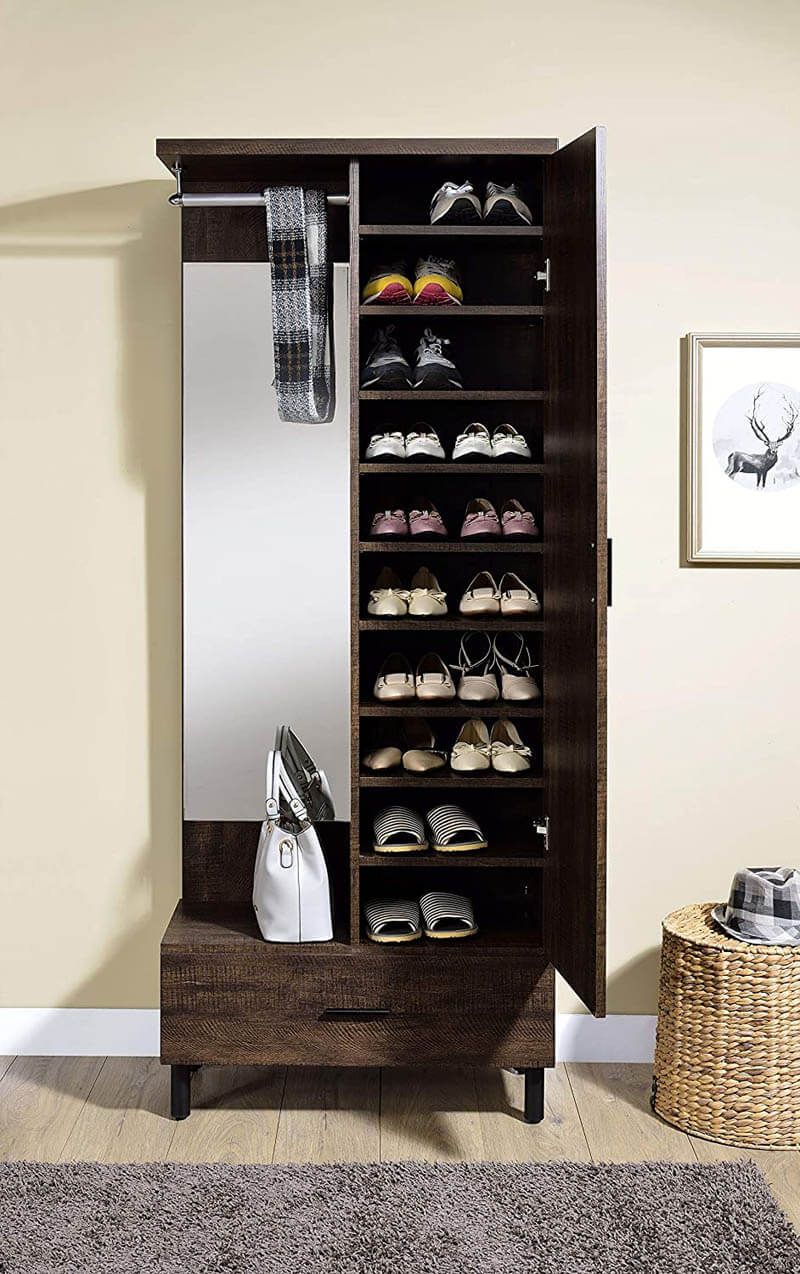 Skinny Entryway Bench Hall, 68 Inch
Constructed from responsibly harvested solid pine, this sturdy storage unit offers you a durable, yet elegant design.
The three-paneled, open model breathes a nostalgic air of schoolyard cubbies and oak door college halls. Six, round, wooden hooks are yours to use for outdoor gear. A single drawer is available on the bottom of the hall tree, adding a touch of closed storage. And a wall anchor keeps this unit safe and steady. Stage this storage unit in a mudroom, laundry room, entryway, or anywhere else you like!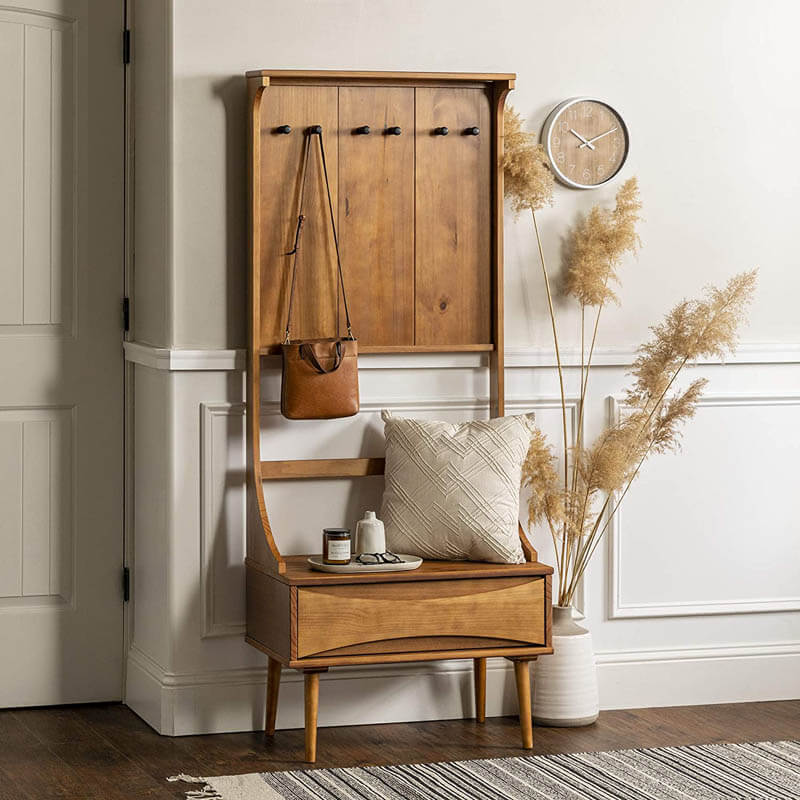 Sebastien Hall Tree with tilt-out shoe storage
This one-of-a-kind Sebastien Hall Tree includes three tilt-out doors that feature a hidden shoe compartment for convenient and easy-access storage of all your miscellaneous shoes and sandals. Never kick around shoes as you walk in the front door again, it has room for them all.
Style it how you like – each door offers a reversible in front of your choice of coffee oak or a chalkboard surface. Use the chalkboard surface to write messages to your family or have the kids draw pictures and doodle until their hearts are content. Its bench seating makes a handy spot to sit down to tie shoes or take them off after a long day.
The lower storage cubicles make the perfect space for storage of bins, tote bags, games and more! It also includes a hanging hook on each end panel so you can hang your coat or purse as you walk in the door.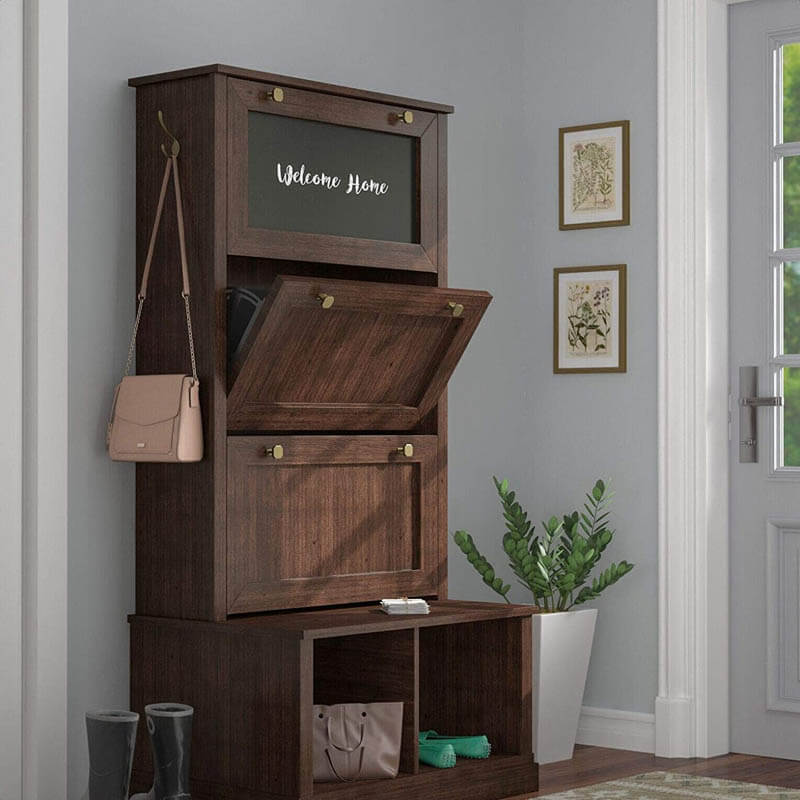 ---
Compact Hall Tree for Limited Space
---
HOMCOM Coat Rack Wooden Hall Tree Storage Organizer Shoe Bench
This hall tree with shoe storage with a 3-in-1 design can be used as a coat rack, a shoe bench, and a shoe rack. Perfect for your hallway, bedroom, living room, and more. This deluxe coat rack organizer features 3 hooks for coats, hats, or scarves, as well as a lower shoe rack for storing shoes, storage bins, and other accessories. The top shelf can be used as a bench for quick seating while you get ready.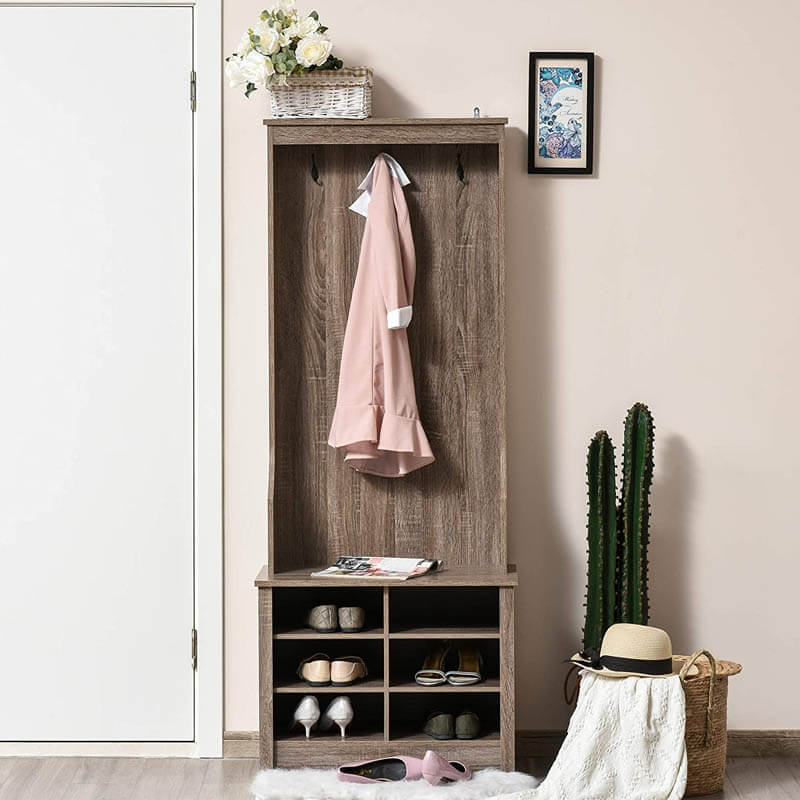 Powell Furniture Elliana Hall Tree
The Elliana hall tree beautifully mixes style with function, and is an easy storage solution for small spaces. The multi-functional 48″ hall tree has bead board detailing on the lower back, front and sides for added look. Four hooks and a mirror inlay panel offer convenience. The lift top bench has a deep storage space as well as child safe hinges and breath holes for safety.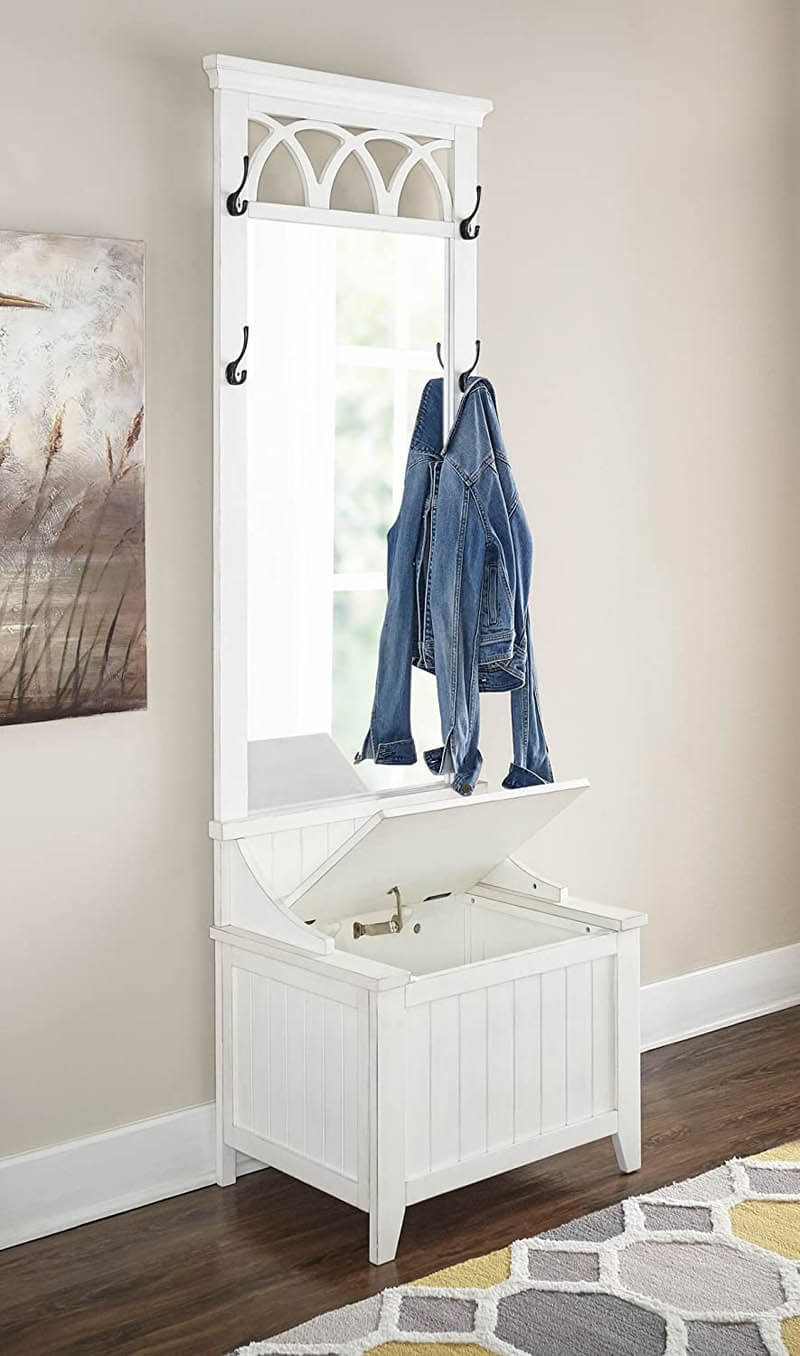 Prepac 27″ 9 Shoe Cubbies Narrow Hall Tree
he stylish and minimalist design allows the hall tree to fit in compact spaces, while still providing plenty of space for your all your entryway belongings. Place your jackets, hats, purses and scarves on the 3 h4 double coat Hooks, and store your shoes in the 9 convenient shoe cubbies, which double as a bench. The space saving design will add essential storage to your home.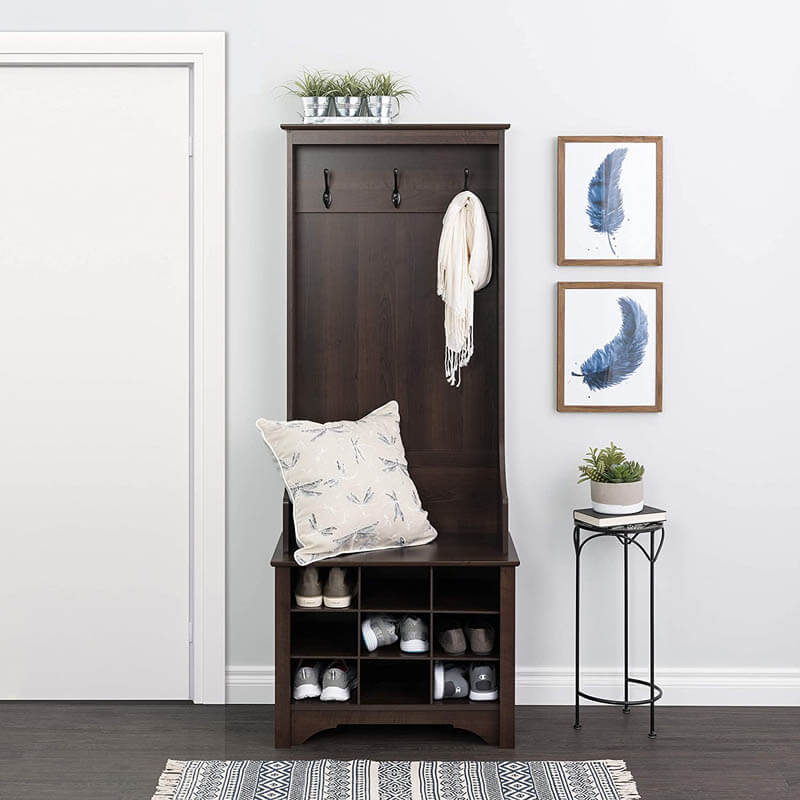 Reclaimed Barnwood Hall Tree
Don't let a small space Keep you from having the hall tree you've always wanted, instead let this slim coat rack with a bench blow you away with its possibilities. Movable accessories like four hooks or the wire basket help you organize mail, scarves, coats, and keys in a way that suits you. The Bottom shelf and bench top are made of sturdy MDF, a premium laminate, and finished with a melamine coat for increased durability and moisture resistance.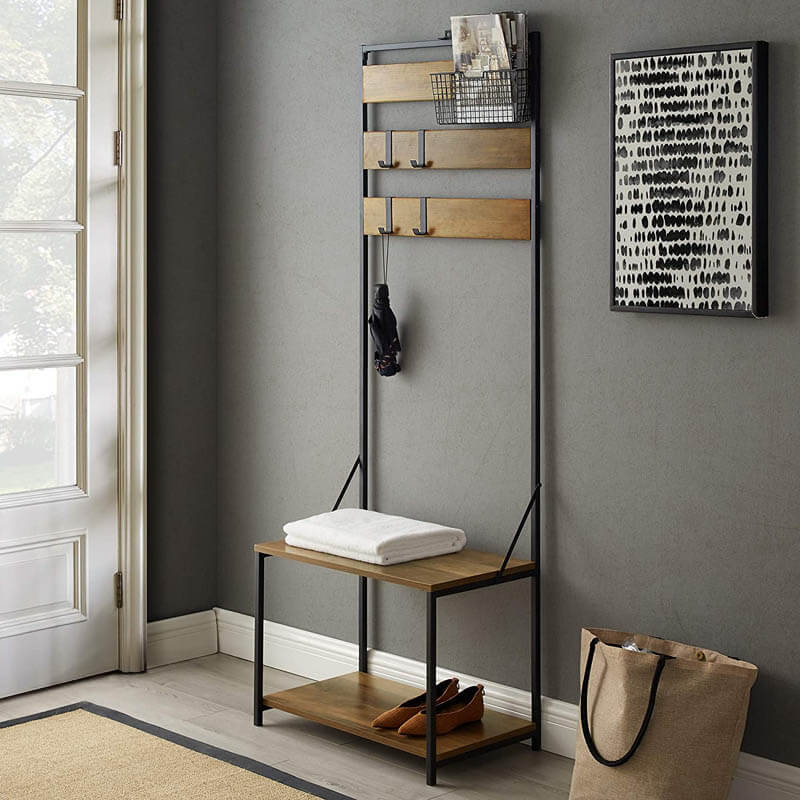 Corner Hall Tree
Simple molding and beadboard paneling form a classic coastal look, while four metal hooks create functional hanging space for coats, scarves and hats. The base of the hall tree features a storage compartment with hinged door and removable shelf, perfect for shoes and other items you want out of sight. With its slim corner hugging design and variety of storage options, the Seaside Corner Hall Tree helps you stay organized without overwhelming your living space.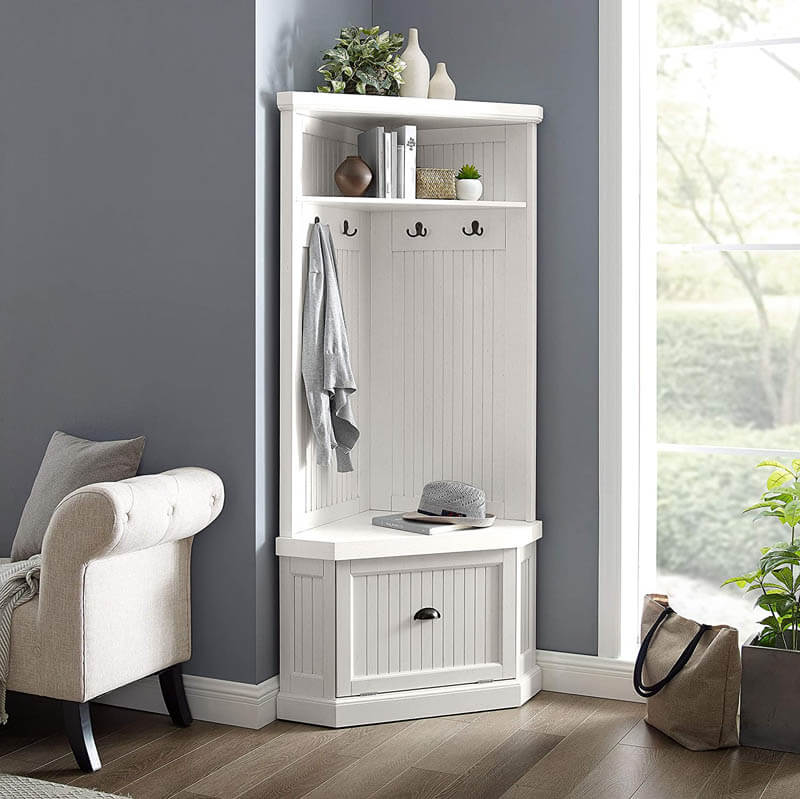 Copper Metal Corner Entryway Hallway
This corner hallway bench is designed to keep your entryway stylish and organized. A compact corner fit is ideal for tight spaces. A row of hooks keeps scarves, hats, and jackets at hand.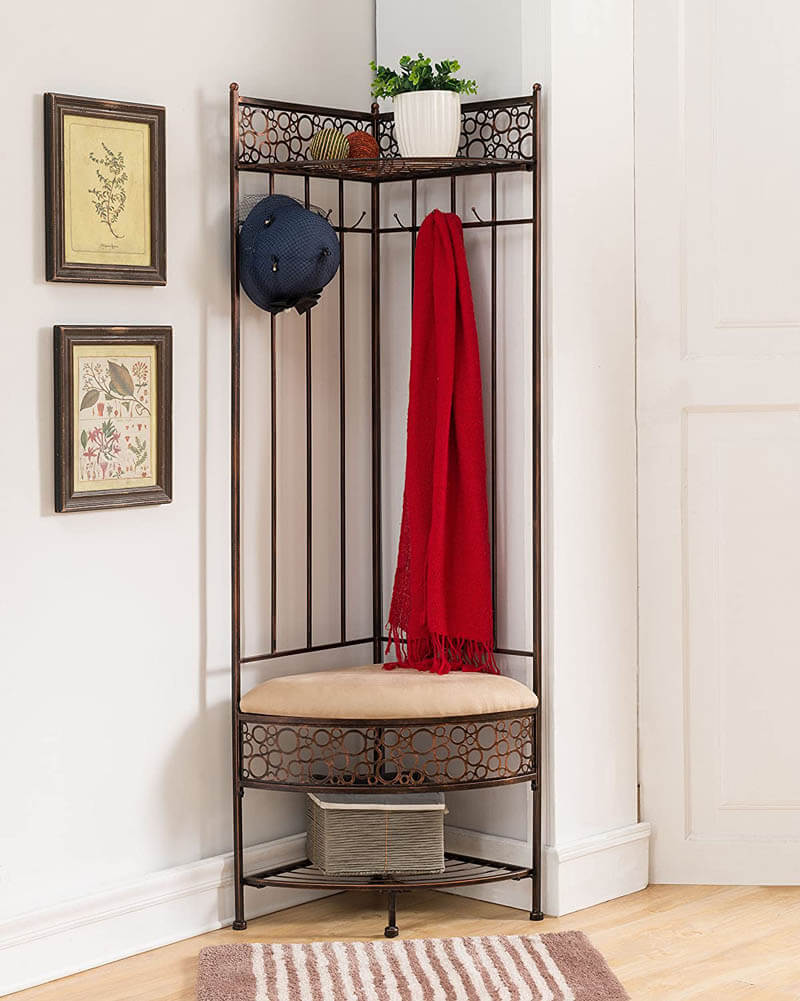 Prepac Corner Hall Tree
This organizer has a compact functional design that is ideal for tight entryways, hallways, mudrooms, etc. A row of 4 hooks keeps scarves, jackets, umbrellas at hand and the 3 compartments are a convenient spot for storing baskets, shoes, keys, mail and any other entryway clutter. Constructed from non-toxic, laminated composite woods with a sturdy MDF backer.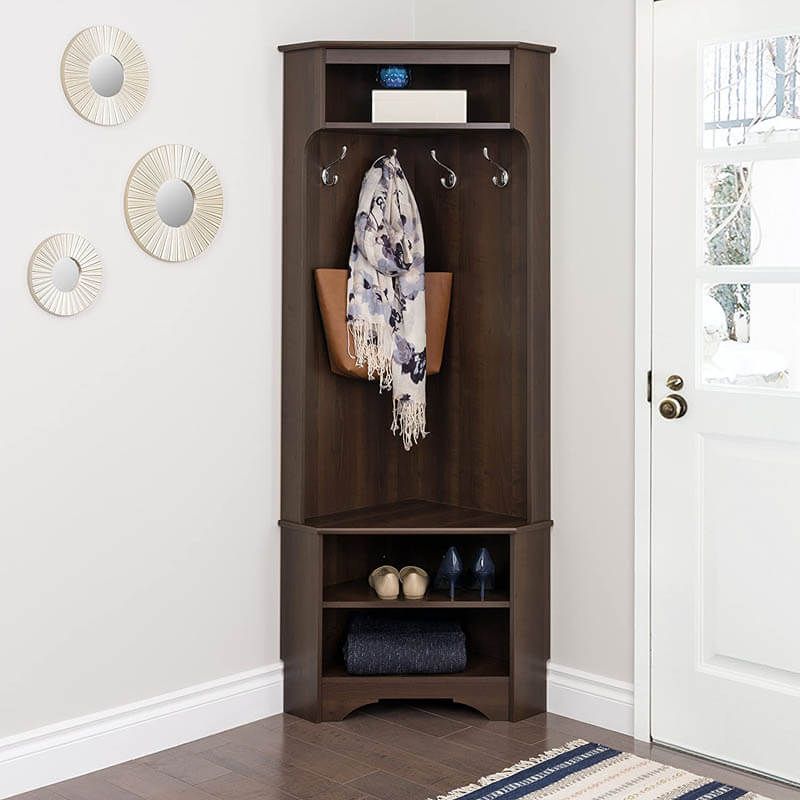 ---
Or just the simple rack with seat
---
Standing Coat Rack With Hanger Clothes
1. There are 4 hooks and 1 stool to change the shoes.
2. It's made of high quality solid bamboo, steady and non-slip, can place at will. And the appearance is beautiful.
3. The design of it is stylish and novel, you'll experience the quality and artistic at the same time.
4. It usually used for hanging coats, hats, umbrellas and so or.
5. The smooth surface bring the good touch to your clothes.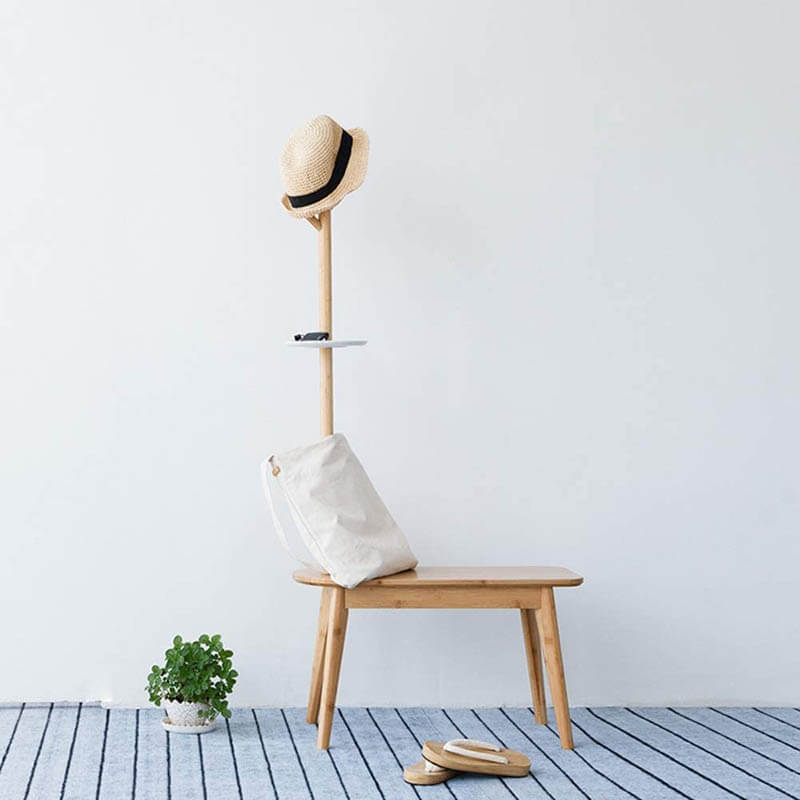 Entrance Hall Floor Coat Rack
Select high-quality rubber wood, hard texture, elegant color, h4 wear resistance, not easy to deform and crack, easy to maintain. All solid wood frame, rigorous design, nuanced, h4 stability and high security. Non-slip wear pad to avoid damage to the floor during use and prevent wear and tear on the product itself.