Carving pumpkin is fun but messy and sometimes, the end result doesn't really match your expectation as well. Especially, when you have kids around, cutting isn't always safe and you kids want more than a messy, smelly, broken pumpkin. Maybe it is time for change.
Now you can help your pumpkin and turn it into a Cute Halloween Character of its own with these fun, lightweight Halloween Pumpkin Appendages. Most of these enchanted-vine arms, legs, features and heads are made with foam-covered bendable metal. So you can easily shape them and stake them into the pumpkin. It is a great way to add a unique touch to your Halloween decorating-without the mess of carving a pumpkin. Moreover, the decoration/appendages are re-usable. After the holiday, simply wash appendages with warm water, dry thoroughly, and store until the spooky season returns for another frightful visit!
1. HearthSong Spider Pumpkin Appendages [buy on amazon]
Transform your gourd into a creepy spider!
Appendages are foam-covered bendable metal;
Includes 2 Sets of Legs (12″ L), 2 Palps (5″ L), and 2 Eyes (2″ W)
Insert into real or artificial pumpkin (or any gourd)
Rearrange appendages for creepy and unique decorations
Wash with warm water, dry thoroughly, and reuse year after year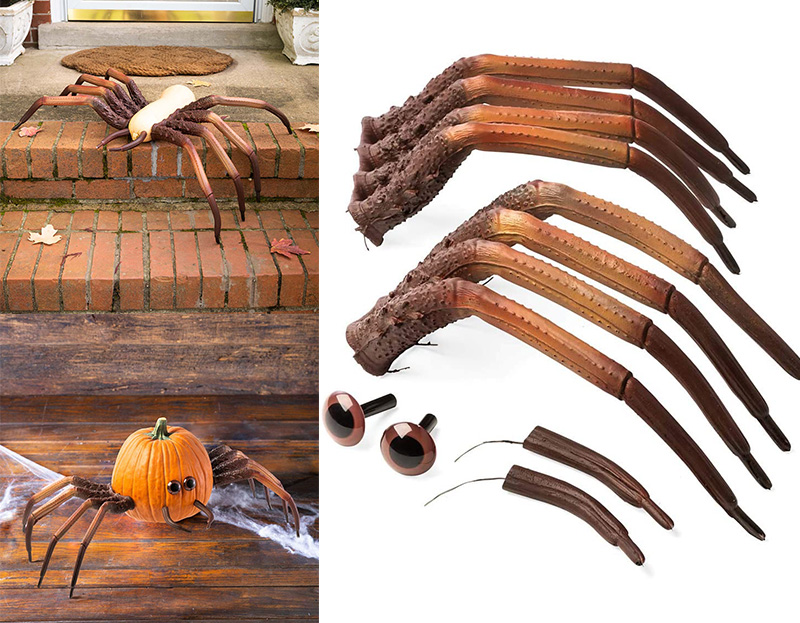 2. Turkey Pumpkin Making Kit [buy on amazon]
Turkey Pumpkin Making Kit contains 8 colorful metal pieces, including 5 tail feathers, 2 wings and 1 turkey head.
The Making Kit are made of premium metal for durable and long lasting use. Advanced technology and dye make the bright colors not easily fade.
Each part is separated and you can easily poke them into your pumpkin as you wish. Then you can create classic turkey image pumpkin. It will complement any Thanksgiving decor theme and is sure to bring the Thanksgiving spirit into your home.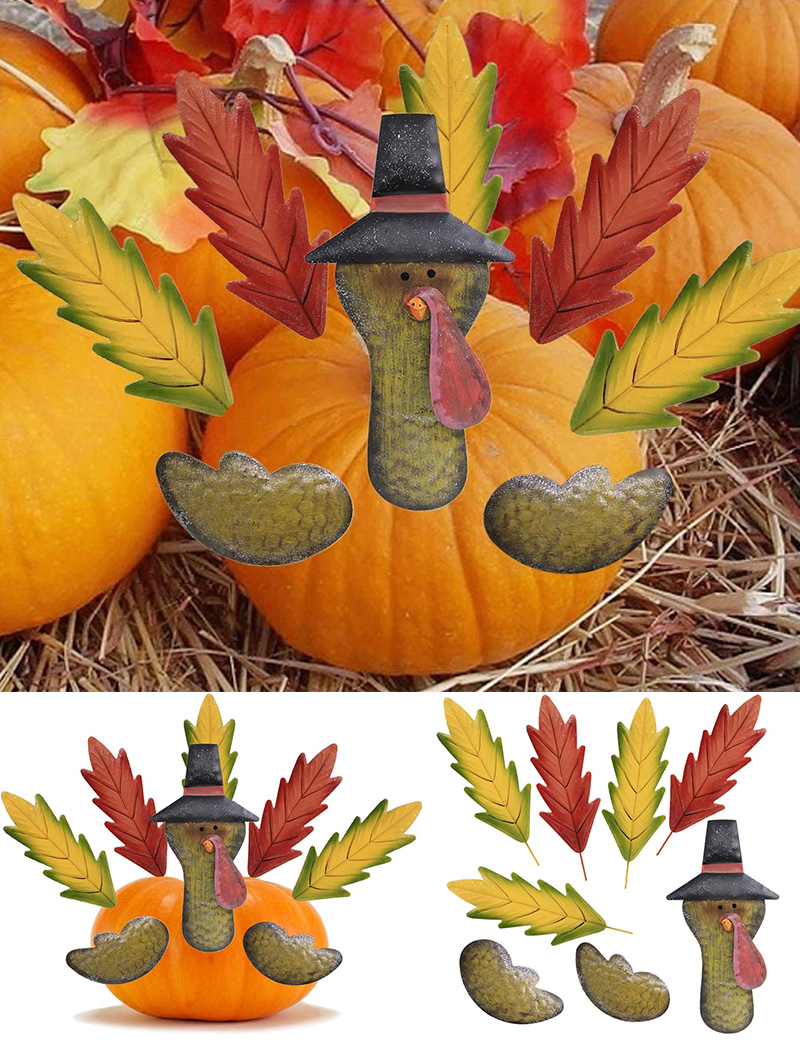 3. Prextex Halloween Pumpkin Accessories [buy on amazon]
Instantly Add Some True Halloween Zest to your Pumpkins with Prextex Halloween Pumpkin Kit.
Set Includes: 3 Skulls and 1 Dinosaur Skeleton with Stakes that Measure 6" from Bottom of Stake to Tip of Skull- 2.5" Plastic Stakes Attached.
1 Skull Covered with Black Cloth, 1 Skull Covered with Scare Crow Hat and Straw Hair, 1 Simple Skull & 1 Dinosaur Skeleton.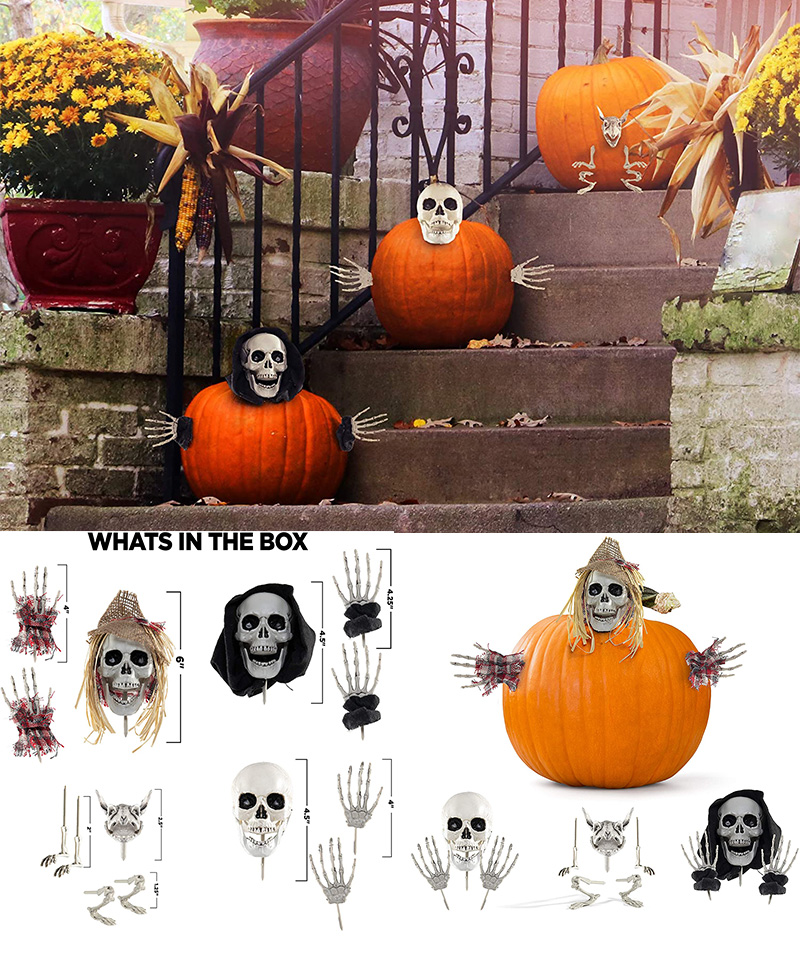 4. Halloween Pumpkin Decorating Kit BUNDLE 4 [buy on amazon]
A safer alternative to traditional carving. Kits let you create fun and creative jack-o-lantern designs without knives and cutting — great for younger kids. Over 20 pcs. All four (4) kits included. Use on real or foam pumpkins and pump up the fun when you mix and match sets.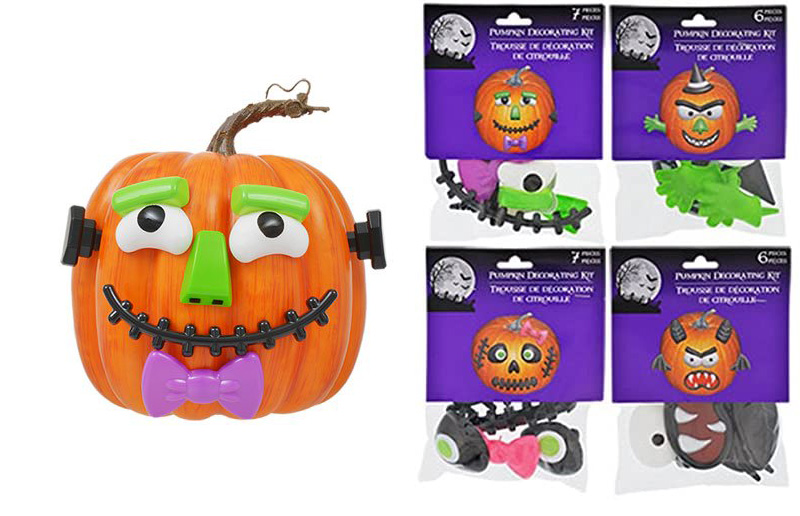 5. Pumpkin Appendages with Bendable Wire Core [buy on hearthsong]
Seasonal pumpkin decorations for autumn and Halloween fun
Set includes two arms and two legs to attach to real pumpkins (pumpkins not included)
Made of realistically detailed foam over bendable metal
Rearrange appendages over and over for funny – or creepy – decoration!
Wash with warm water, dry thoroughly, and reuse year after year